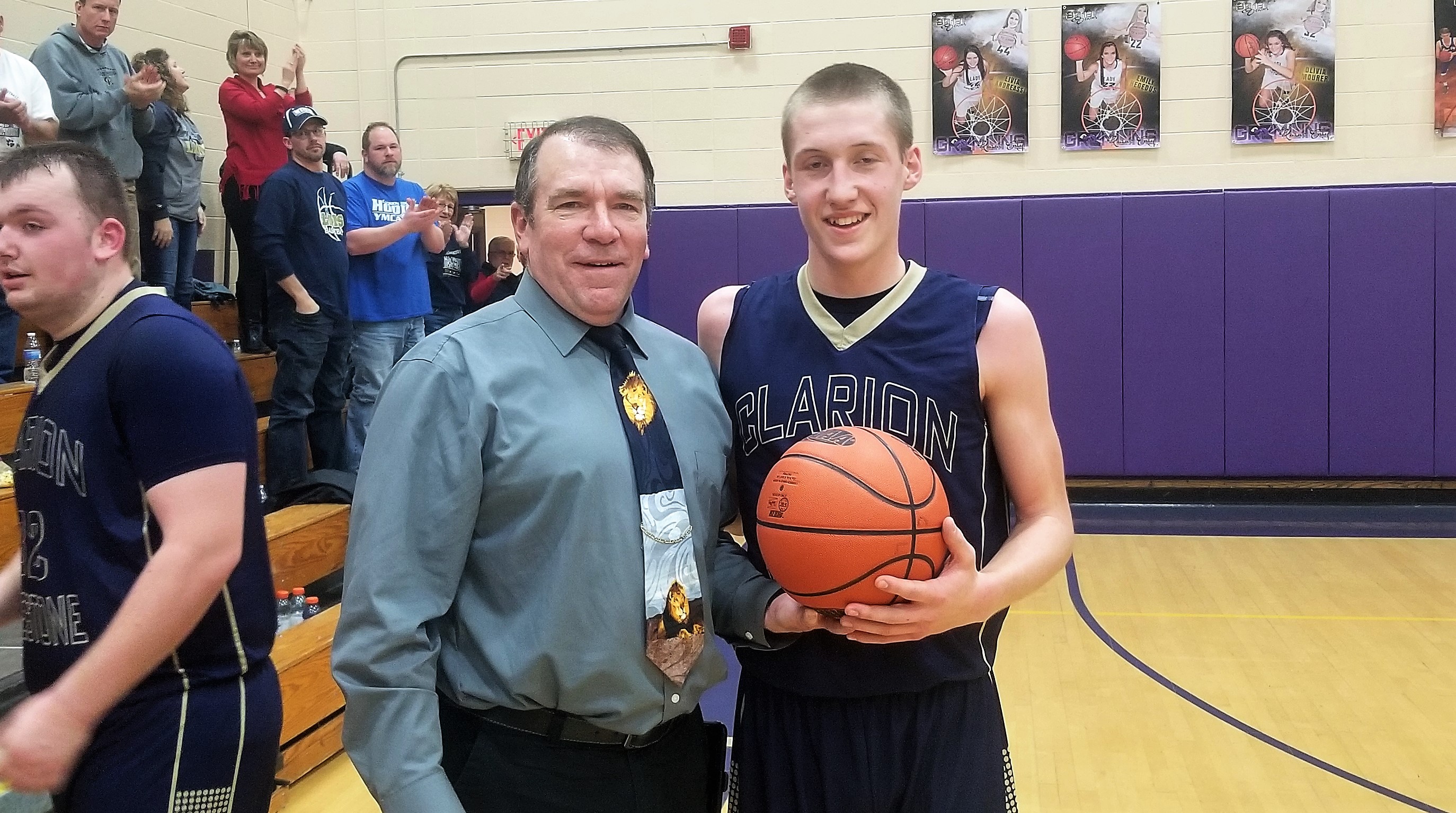 Feb. 14 recaps.
(Photo: Ian Callen with head coach Joe Ferguson moments after scoring his 1,000th career point Wednesday. Photo by Chris Rossetti)
KARNS CITY 66, CLARION-LIMESTONE 54
KARNS CITY, Pa. – On a night when Clarion-Limestone junior Ian Callen scored his 1,000th career point, Karns City turned to freshman Nathan Waltman to deliver the Gremlins their first KSAC Divisional title with a 66-54 win over the visiting Lions.
Waltman had 18 points, seven rebounds and two steals, as Karns City claimed the KSAC South over Keystone thanks to a win a month ago over North Clarion and the Panthers loss to North Clarion last week (the teams split their regular-season meeting forcing the tiebreaker, which would have gone to Keystone if Karns City had lost to C-L because the Panthers had beaten the Lions.)
Waltman talked about the victory.
While Waltman was delivering the win for Karns City, Callen was joining his brother, Dan, as 1,000-point scorers as juniors for C-L.
Ian Callen needed 15 points entering the night to reach 1,000, and after scoring only three in the first half when he was in foul trouble, he exploded for nine in the third quarter to bring himself within three of the magic number. Then a basket early in the quarter got him within a point before he drained a jumper off a Julian Laugand pass with 6:19 left in the game to record points 1,000 and 1,001.
Watch Callen score his 1,000th point.
Callen's milestone pulled C-L within nine points, 53-44, but moments later the junior exited the game after going down hard and hurting his shoulder. By the time he returned to the gym after being looked over by the Karns City athletic trainer, Karns City's lead had grown to 15 points and C-L head coach Joe Ferguson elected to rest his star player the rest of the night.
Callen did finish with 16 points and nine rebounds to lead C-L, while Christian Smith added 15 points, three rebounds and three steals. Hayden Callen, Ian's younger brother, added a double-double with 11 points and 10 rebounds.
Austin Fahlor chipped in 15 points, four rebounds, two steals and two assists for Karns City with Nolan Riley contributing eight points and 14 rebounds and Chase Beighley nine points, four assists and four rebounds.
The teams, who split a pair of regular-season meetings, will meet in the KSAC Championship game Friday night at 6 p.m. at Clarion University's Tippin Gym.
It is the first divisional title for Karns City since KSAC division play started in 2007. Karns City's last KSAC Title game in 2002. C-L, meanwhile, has won five KSAC North championships in a row and six of the last seven. The Lions have won three of the past four KSAC titles and four of the last six dating back to 2012. Last year, C-L lost to Keystone in the championship game.
CAMERON COUNTY 53, SMETHPORT 31
EMPORIUM, Pa. – Adam Shaffer led a trio of Cameron County players in double figures with 16 points to help the Red Raiders secure the third seed in the upcoming District 9 Class 1A playoffs with a 53-31 win over visiting Smethport in North Tier League action.
Dino Brown and Caden Beldin each added 11 points for Cameron County, which put the game away early leading 17-5 after a quarter and 32-11 at halftime.
Eric Szarowicz paced Smethport with eight points.
A-C VALLEY 96, FOREST AREA 62
FOXBURG, Pa. – Dalton Callander netted 24 points, handed out seven assists and came away with five steals to lead A-C Valley to a 96-62 win over visiting Forest Area.
Jeff Ginn added a double-double for the Falcons with 11 points and 13 rebounds while also handing out four helpers with Brendan Price chipping in 14 points, five assists and four steals. It was the final home game for Ginn and Price.
Levi Orton also had 15 points and Russ Carr 14 points, 12 assists and five steals for A-C Valley.
Seth Berlin had a career-high 34 points, his fifth 30-point game of the year, while adding 16 rebounds. Berlin closes out his senior season as the KSAC's leading scorer at 21.7 points per game. Dillon DiCorpo contributed 14 points and five assists for the Fires.
PUNXSUTAWNEY 47, BROOKVILLE 40
PUNXSUTAWNEY, Pa. – Winning its sixth straight game, Punxsutawney earned the season split with Brookville in a 47-40 D9 League victory.
The Chucks led 32-31 going into the fourth quarter and outscored the Raiders 15-6 over the final eight minutes. Tyler Richardson scored seven of his game-high 20 points in the fourth quarter, including a 5-of-6 effort from the foul line. Brandon Matthews added 15 points.
Punxsutawney visits Bradford Friday looking to spoil the Owls' chance at sharing the D9 League title with Elk County Catholic with a win on the road.
Trenton Gilhousen led Brookville with 11 points, the lone Raider in double-figure scoring.
DUBOIS 60, WARREN 56
DuBOIS, Pa. – Jonathan Cruz scored 14 of his 23 points in the first half and helped lead DuBois to a 60-56 non-league win over Warren.
The Beavers and Dragons played to a 30-30 halftime tie, then DuBois owned a 30-26 second-half edge to grab the win. Chase Husted added 13 points and Justin Manduley had 10 points.
Devin McMeans scored 25 points for Warren.
ST. MARYS 83, COUDERSPORT 81
ST. MARYS, Pa. – In a non-league shootout against Coudersport, St. Marys put up its sixth 80-point performance of the season in an 83-81 win.
Three different players scored over 30 points with the Dutch's Nathan Schneider pouring in 36 points. The Falcons had the other two with Owen Chambers and Jared Green scoring 31 and 30 points respectively.
In a closely fought game, St. Marys led 39-36 at halftime and 63-56 going into the fourth quarter where the Falcons outscored the Dutch 25-20 over the final eight minutes.
Jared Groll added 15 points for St. Marys.
REDBANK VALLEY 60, VENANGO CATHOLIC 37
NEW BETHLEHEM, Pa. – Brock Barrett turned in a double-double with 19 points and 14 rebounds to lead Redbank Valley to a 60-37 win over Venango Catholic.
Cyle Bowser added 12 points for the Bulldogs, who led 32-16 at halftime.
Andrew Burda led the Vikings with 12 points. Josh Puleo scored 11 points.
CURWENSVILLE 71, HARMONY 66
WESTOVER, Pa. – Scoring 47 points in the second half, Curwensville needed just about all of them in getting by Harmony in a 71-66 Moshannon Valley League game.
Josh Terry led the Tide with 32 points, 14 coming in the fourth quarter, with Christian Bakaysa and Avery Francisco scoring 15 and 11 points respectively.
Curwensville trailed the Owls 27-24 at halftime and outscored them 47-39 in the second half.
Michael Koblosky led Harmony with 25 points.