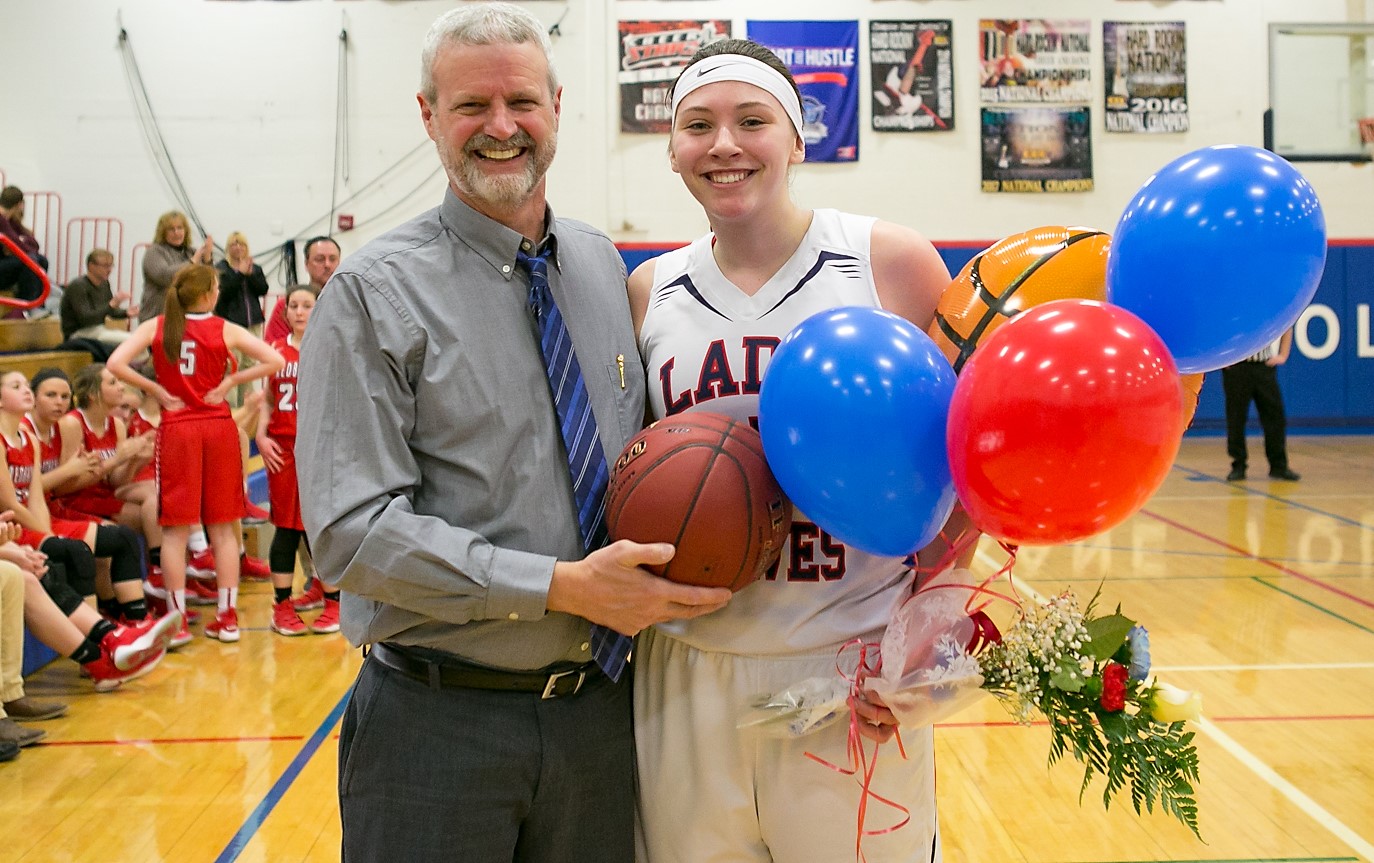 Feb. 14 recaps.
(Photo: Kane's Ella Marconi with Lady Wolves head coach Dave Kiehl after Marconi became the second Kane girls' player this season to reach 1,000 career points. Photo by Tessa Boschert. Check out more of Boschert's work here)
KANE 70, REDBANK VALLEY 39
KANE, Pa. – Ella Marconi became the second Kane girls' player to reach 1,000 points this season when she scored on a layup early in the fourth quarter of the Lady Wolves 70-39 win over visiting Redbank Valley.
Marconi, a junior, came into the night needing 20 points for 1,000 and ended up netting 23 giving her 1,003 in her career joining teammate Trinity Clark, who reached the mark earlier in the season. She is the fifth Kane girls' player to 1,000 career points.
Finishing off a solid night with a double-double, Marconi added 12 rebounds and six blocked shots.
Clark also had a double-double with 16 points and 10 rebounds while adding three blocks, three assists and four steals. Rachael Morgan made it three Lady Wolves with double-doubles thanks to 10 points and 11 rebounds with Hannah Buhl adding 11 points and six helpers and Caitlin O'Hara four points and five assists.
Lexi Holt paced Redbank Valley with 18 points with Tara Hinderliter adding 17.
CRANBERRY 52, FOREST AREA 20
SENECA, Pa. – Behind 19 points, 14 rebounds and six assists from Malliah Schreck, Cranberry closed out the regular season with a 52-20 KSAC North win over Forest Area, the Berries second win over the Fires in three days.
Hannah Duncan added 14 points in the victory.
Emily Everett paced Forest Area with nine points.
KARNS CITY 60, CLARION-LIMESTONE 17
STRATTANVILLE, Pa. – Emily Hegedus and Livia Andreassi both had double-doubles to help Karns City to a 60-17 road win over Clarion-Limestone.
Hegedus led the Lady Gremlins with 17 points and 15 boards with Andreassi adding 16 points and 10 rebounds. Emma Clark chipped in eight tallies.
Anna Kennemuth led C-L with six points.
ROCKY GROVE 37, SHEFFIELD 28
SHEFFIELD, Pa. – Mariah Vincent scored 12 points to help visiting Rocky Grove to a 37-28 win over Sheffield.
Emmy Ekis added 11 points for the Orioles with Mallary Wetjen scoring eight.
Mya Grubbs paced Sheffield with 10 points and Lexi Lyon scored eight.
BROCKWAY 48, CURWENSVILLE 25
BROCKWAY, Pa. – Leah Lindemuth recorded her 14th double-double of the season with 16 points and 11 rebounds to help Brockway to a 48-25 home AML win over Curwensville.
Lindemuth moved into third place in school history in scoring with her 16 points. She now has 1,081 passing Kim Tonsch, who scored 1,066 in her career.
Kaitlyn Morelli added 14 points and seven steals for the Lady Rovers with Morgan Lindemuth adding 14 points and six steals.
Madi Weber and Sabrina Spencer each netted 11 points for Curwensville.
NORTHERN POTTER 54, BUCKTAIL 18
ULYSSES, Pa. – Kalie Cowburn and Mikayla Lewis combined for 27 points and 27 rebounds as Northern Potter rolled past visiting Bucktail, 54-18.
Both Cowburn and Lewis had double-doubles with Cowburn netting 15 points to go with 13 rebounds and Lewis 12 points to go with 14 boards.
Rebecca Morgan also added 13 points and seven steals in the win for the Lady Panthers.