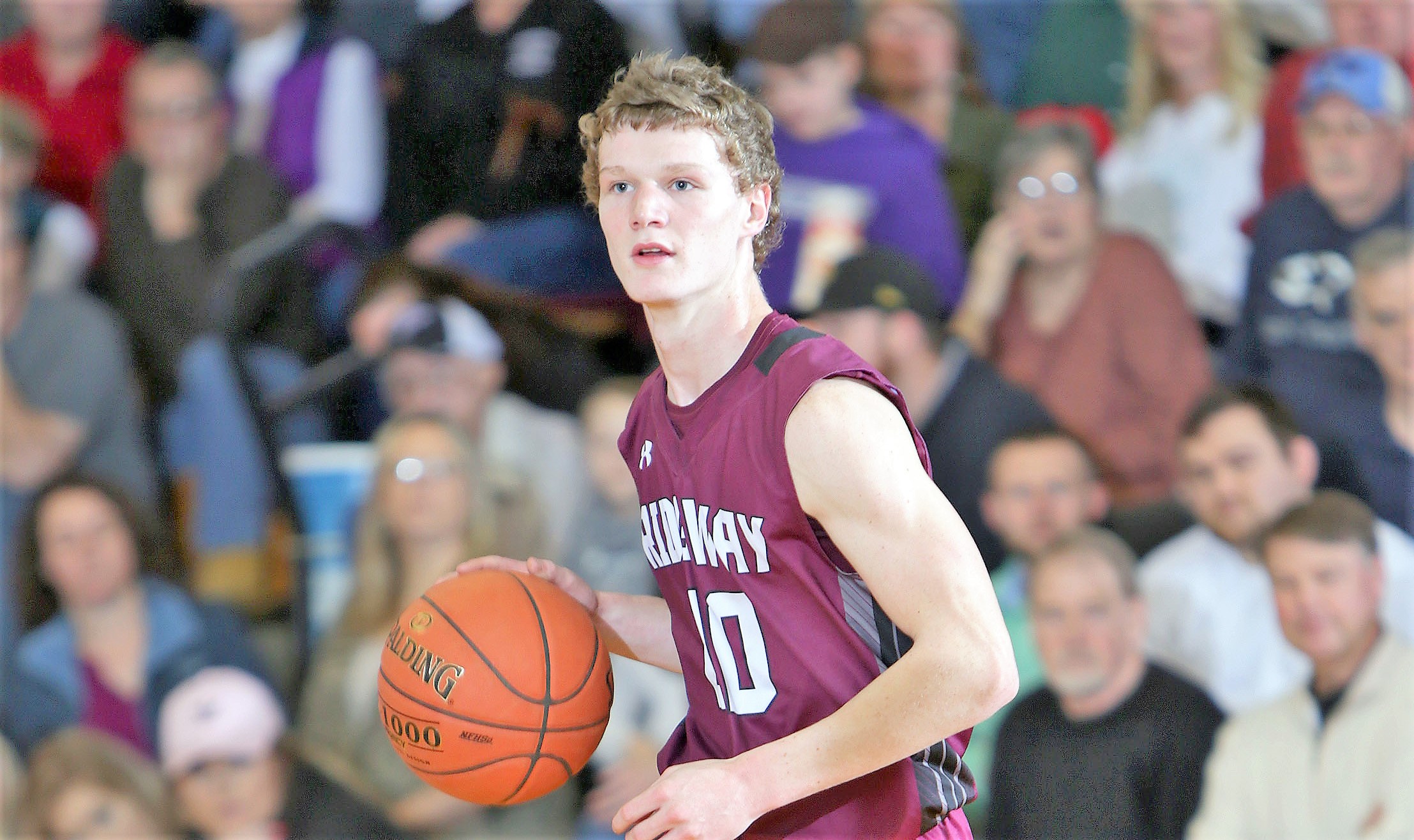 Feb. 14 boys' basketball recaps.
(Photo: Matt Dush of Ridgway had 13 points in the Elkers AML semifinal win over Johnsonburg. Photo by Paul Burdick. Check out more of Burdick's work here)
RIDGWAY 46, JOHNSONBURG 36
RIDGWAY, Pa. – Jake Reynolds hit three second-quarter 3-pointers on his way to 15 points, as defending AML Champion Ridgway advanced to the 2019 AML Title Game with a 46-36 win over visiting Johnsonburg in the AML Semifinals.
The Elkers trailed 11-10 after one quarter but behind Reynold's hot shooting took a 23-20 halftime lead. Neither team scored much in the third quarter, but Ridgway was able to move its lead out to six points, 29-23, before the Elkers scored all 15 of their fourth-quarter points from the free-throw line going 15 of 23 from the charity stripe in the final eight minutes.
Matt Dush added 13 points in the win for Ridgway.
Austin Green scored a game-high 17 points for Johnsonburg.
Ridgway will rematch with ECC, who it beat, 48-37, in last year's title game, at 8 p.m. Saturday, Feb. 16, at St. Marys High School. This will be the fifth straight AML Title game between the Elkers and the Crusaders with ECC winning in 2015, 2016 and 2017.
ELK COUNTY CATHOLIC 61, DUBOIS CENTRAL CATHOLIC 35
ST. MARYS, Pa. – Led by 15 points from Regis Wortman, 11 different Elk County Catholic players scored while helping the Crusaders reach the AML Championship Game for the seventh straight season and for the 12th time in the 14 years of the game with a 61-35 throttling of visiting DuBois Central Catholic in the AML Semifinals.
ECC led 31-21 at halftime and then outscored the Cardinals 12-0 in the third quarter to take complete control of the game.
Ben Hoffman and Carter Lindemuth each added seven points in the win.
Jonathan Kurtz led DCC with 14 points with Justin Miknis scoring 13.
ECC will take on Ridgway for the fifth straight year in the AML Title game at 8 p.m. Saturday, Feb. 16, at St. Marys High School. A year ago, Ridgway broke ECC's run of three straight AML titles with a 48-37 win. The Crusaders beat the Elkers in 2015, 2016 and 2017. In all, ECC has gone 6-5 in AML Title Games winning titles in 2006, 2010, 2011, 2015, 2016 and 2017 and finishing second in 2007, 2008, 2013, 2014 and 2018.
GALETON 58, AUSTIN 50
GALETON, Pa .- Evan Brooks led all scorers with 21 points to guide Galeton to a 58-50 victory over Austin in NTL play.
Isaiah Shuemaker almost matched Brooks with 19 tallies while Joel Griffin had 10.
Dempsey Glover paced Austin with 12 points and Jackson Glover posted 11 points and 10 rebounds. Jackson also dished out five assists.
COUDERSPORT 80, ST. MARYS 51
COUDERSPORT, Pa.- Owen Chambers had a 33 point-performance to lead Coudersport to an 80-51 win over visiting St. Marys.
Hayden Keck netted 19 points while Dillon Keglovits had 12 tallies for the Falcons.
Luke Lasko and Nick Catalone each led Saint Marys with 13 points and Cahil Parrish chipped in 10.
CURWENSVILLE 45, MOSHANNON VALLEY 35
CURWENSVILLE, Pa. – Christian Bakaysa's 24 points helped Curwensville pick up a 45-35 road victory over Moshannon Valley in Mo Valley League action.
Ty Terry was the second-leading scorer for Golden Tide finishing with 14 points.
Jacob Matchok paced Moshannon Valley with 11 points.
CAMERON COUNTY 54, SMETHPORT 31
SMETHPORT, Pa. – Caden Beldin led Cameron County with 23 points as the Red Raiders picked up a 54-31 road win over Smethport in NTL action.
Dino Brown also added 12 points for the Red Raiders and Matt Swartz contributed eight tallies.
Ian Woodruff led Smethport with seven points while Eric Szarowicz chipped in six.
KEYSTONE 67, VENANGO CATHOLIC 45
KNOX, Pa. – Keystone's balanced offensive attack led it to a convincing 67-45 victory over Venango Catholic.
Andrew Lauer scored a team-high 14 points and added eight rebounds while Issak Jones and Dawson Steele had 10 tallies apiece. Brooks LaVan dished out four assists.
Ben Gillispie had a game-high 20 points for Venango Catholic while Parker Slagle netted 14.
NORTHERN POTTER 65, OSWAYO VALLEY 43
ULYSSES, Pa. – Thanks to Carter Anderson's 23 points, Northern Potter defeated visiting Oswayo Valley, 65-43, in NTL action.
Ezra Sprow added 12 tallies with Wyatt Kosa chipped in 10 for the Panthers.
Gunner Bean paced Oswayo Valley with 17 points while Michael Welch nearly matched his teammate finishing with 16 tallies.
KARNS CITY 69, UNION 48
KARNS CITY, Pa. – Ethan McElroy exploded for a career-high 21 points while hitting five 3-pointers to lead Karns City to a 69-48 win over visiting Union in KSAC South action.
Nathan Waltman added a double-double of 10 points and 12 rebounds for the Gremlins, while Austin Fahlor had 15 points and eight rebounds and Chase Beighley 15 points and seven assists.
Nolan Cumberland led Union with 14 points, Truman Vereb chipped in 10 tallies with Luke Bowser and Caden Rainey each scoring seven.