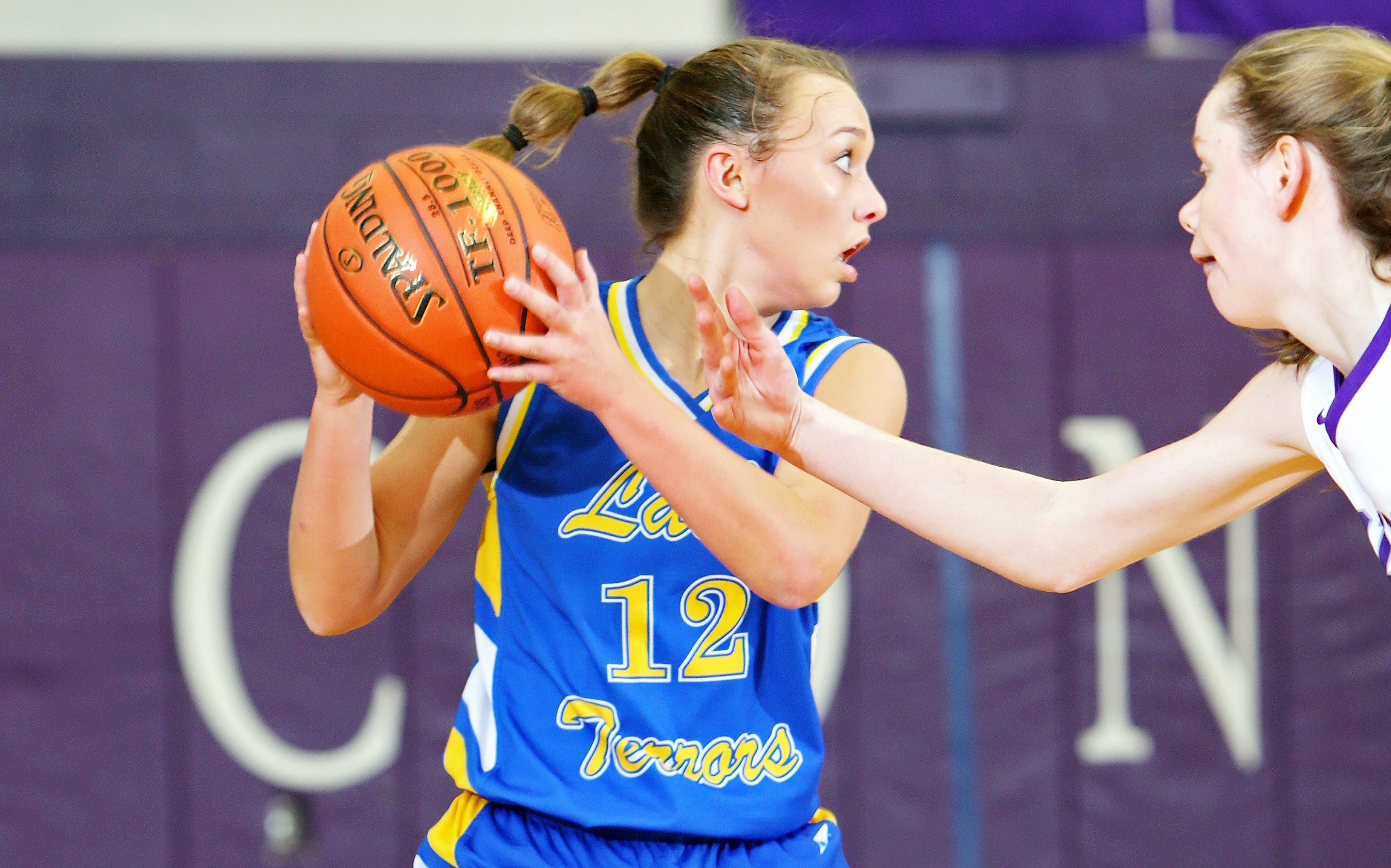 Feb. 14 girls' basketball recaps.
(Photo of Otto-Eldred's Autumn Smith, who had 11 points and eight rebounds in the Lady Terrors win over Northern Potter Thursday. Photo by Paul Burdick. Check out more of Burdick's work here)
OTTO-ELDRED 37, NORTHERN POTTER 27
DUKE CENTER, Pa. – Led by 11 points and eight rebounds from Autumn Smith, Otto-Eldred had eight players score in a 37-27 NTL win over visiting Northern Potter.
Haylee Frederick chipped in seven points for the Lady Terrors while Britney Greeley had two points, eight rebounds and three steals and Italian exchange student Veronica Benini four points, five rebounds and two assists.
Abbi Anderson led Northern Potter with a game-high 12 points with Courtney Martin adding nine.
KEYSTONE 72, CLARION-LIMESTONE 18
STRATTANVILLE, Pa. – Needing to win to go the District 9 playoffs, Keystone got 19 apiece points from Emily Lauer and McKenzie Hovis on its way to a 72-18 win at Clarion-Limestone.
Ceayra Altman and Trinity Thomas each added nine points in the victory with Alyssa Dunlap scoring seven.
Anna Kennemuth, Maddy Craig and Francis Milliron each scored five points for C-L.
MOSHANNON VALLEY 73, CURWENSVILLE 51
HOUTZDALE, Pa. – Emma Kitko scored 29 points to lead Moshannon Valley to a 73-51 win over visiting Curwensville in Mo Valley League action.
Chloe Blake added 16 points for the Black Knights.
Madi Weber exploded for 33 points for Curwensville.
ELK COUNTY CATHOLIC 47, DUBOIS 44
DUBOIS, Pa. – Taylor Newton's double-double helped Elk County Catholic edge out a 47-44 road victory over DuBois in D9 League play.
Newton posted 15 points and 10 rebounds while Sady VanAlstine chipped in 13 tallies. Maddie Kear also had a double-double of her own finishing with 12 points and 10 rebounds for the Lady Crusaders.
Chelsea DeSalve led DuBois with 11 points while Maddie Smith, Saige Weible and Olivia Johnson netted eight points apiece.
KARNS CITY 39, UNION 36
RIMERSBURG, Pa. – A three-point third-quarter edge for visiting Karns City proved to be the difference in a 39-36 KSAC South victory for the Lady Gremlins over Union.
The other three quarters the teams had identical point totals with both scoring 13 points in the first quarter, eight in the second and two in the fourth. But in the third quarter, Karns City outscored Union 16-13 thanks to a pair of 3-pointers each from Alyssa Stitt and Emma Johns.
Johns led the Lady Gremlins with 14 points with Stitt adding 12.
Dominika Logue and Maggie Minnick both scored 10 points apiece for Union.