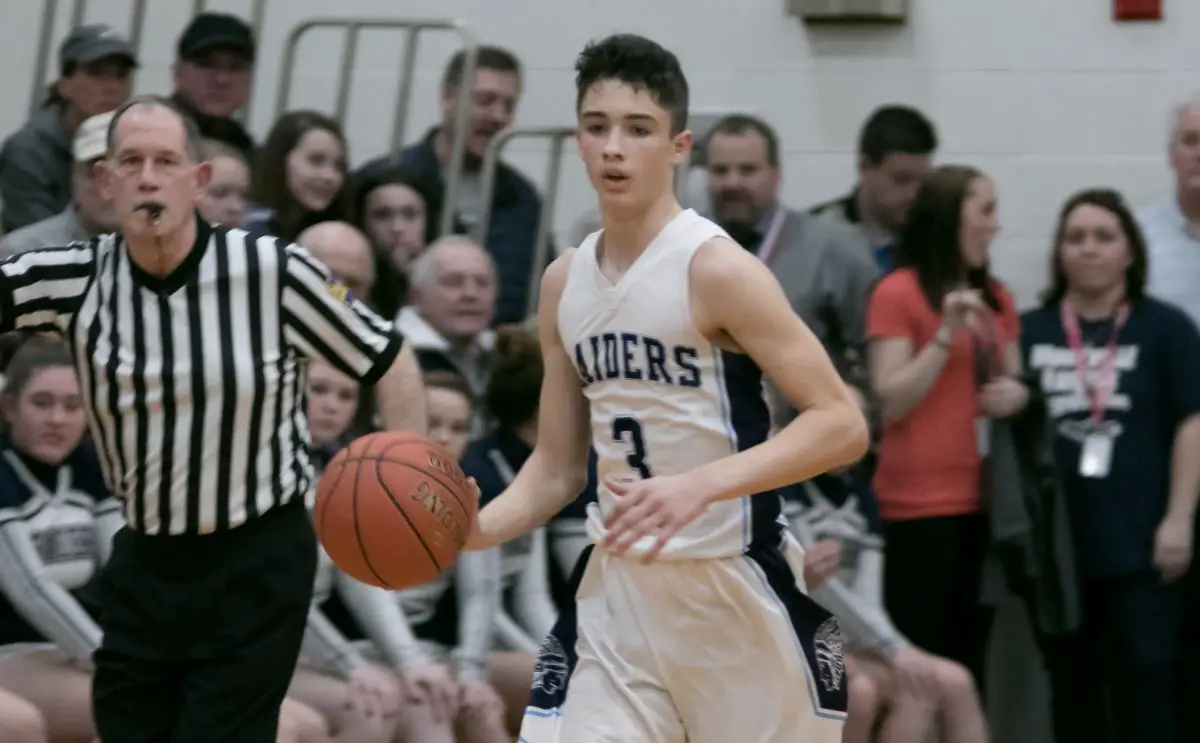 Feb. 14 boys' and girls' basketball recaps.
(Photo of Brookville's Jace Miner. Photo by Jared Bakaysa of JB Graphics. See more of Bakaysa's work here)
BROOKVILLE 52, DUBOIS 30
BROOKVILLE, Pa. – Denying DuBois a chance at sharing the D9 League title with Elk County Catholic, Brookville played the spoiler's role in a 52-30 rout of the visiting Beavers.
The Raiders led for good less than two minutes into the game and pulled away with the win, which also secured themselves the top seed in the three-team Class 3A playoffs with Moniteau and Kane. Jace Miner and Jack Krug scored 19 and 14 points respectively.
The Raiders led 15-12 after the first quarter, 25-16 at halftime, 39-24 after the third quarter and their largest lead came in the fourth quarter at 50-24 with 2:28 left after a Raiders 11-0 run to start the quarter. During that run, Miner turned a steal into a dunk at the 4:51 mark.
Brookville limited DuBois to its lowest point total in over seven years and limited the Beavers to just 34 percent (12-for-35) shooting. The Beavers were just 1-for-8 from the foul line and committed 16 turnovers.
Lennon Lindholm led the Beavers with nine points. Chooch Husted scored eight points off the bench and leading scorer Chase Husted was limited to a season-low five points on 2-for-6 shooting from the field and 1-for-5 from the line. He led all rebounders with 10.
The 30 points scored by the Beavers was the lowest since they lost 29-27 to Elk County Catholic in December of 2012.
BRADFORD 67, PUNXSUTAWNEY 60, 3 OTS
BRADFORD, Pa. – Evan Schmidt scored seven of Bradford's 11 points in the third overtime, as the Owls beat visiting Punxsutawney, 67-60, in three overtimes in D9 League action.
Steven Knowlton hit a layup as time expired in regulation to tie the game at 45, and the teams each scored five points in the first extra session and six in the second one setting up a third four-minute overtime period.
That is when Schmitt took over scoring seven of his 9 points to lift Bradford to the win. In fact, Schmidt scored all his points after regulation.
Tyler Gigliotti added four points in the third overtime and eight in the three overtimes combined while finishing with a game-high 23 points for Bradford.
Knowlton also added 20 in the win for the Owls.
Micah Kriebel led Punxsutawney with 19 points with Daren Byers adding 16 and Nick Humble 10.
It was the second straight multiple overtime contest for the Chucks, who beat Homer-Center in double overtime earlier in the week. It was also the longest game in District 9 this season.
CURWENSVILLE 62, SHEFFIELD 61
SHEFFIELD, Pa. – Ty Terry scored a game-high 23 points to lead Curwensville to a 62-61 road win over Sheffield in AML action.
Adam Miller, who hit a free throw with 4.4 seconds left to put the Golden Tide up four at the time, and Trevor Lansberry each scored 14 points.
Tyler Hepinger led Sheffield with 21 points, Walker Kyler added 16.
CAMERON COUNTY 58, GALETON 13
EMPORIUM, Pa. – Dino Brown and Cameron Harrier combined to score 30 points, as Cameron County cruised past visiting Galeton, 58-13, in NTL action.
Brown led the Red Raiders with 16 points with Harrier adding 14 points.
Caden Beldin chipped in 11 points in the win.
Trey Kalacinski led Galeton with six points with Ty Stover adding five points.
PORTVILLE (N.Y.) 60, OSWAYO VALLEY 58
SHINGLEHOUSE, Pa. – Dalton Tobola scored a game-high 24 points to lead visiting Portville (N.Y) to a 60-58 win over Oswayo Valley.
Noah Wichert had a double-double for Oswayo Valley with 14 points and 16 rebounds with Carter Steadman scoring a team-best 20 points.
GIRLS
CURWENSVILLE 51, SHEFFIELD 19
CURWENSVILLE, Pa. – Tarah Jacobson exploded for 23 points to lift Curwensville past visiting Sheffield, 51-19, in AML action.
Briana Swindell added 12 points for the Lady Tide with Alyssa Bakaysa scoring nine.
Alyssa Dunham scored 10 points for Sheffield.
PUNXSUTAWNEY 44, BRADFORD 37
PUNXSUTAWNEY, Pa. – A strong third quarter helped Punxsutawney top visiting Bradford, 44-37, in D9 League action.
The Lady Chucks trailed 23-22 at halftime but outscored the Lady Owls 14-5 in the third quarter thanks in part to six points from Sarah Weaver and four from Abby Gigliotti.
Weaver led Punxsutawney with 16 points, eight rebounds and three assists with Chloe Presloid adding 10 points, five rebounds, two assists and two blocked shots. Ryley Casaday added nine points, eight rebounds and two assists and Gigliotti had four points, five rebounds and two helpers.
Hannah Lary scored a game-high 22 points for Bradford with Erica Marshall adding 10 tallies.