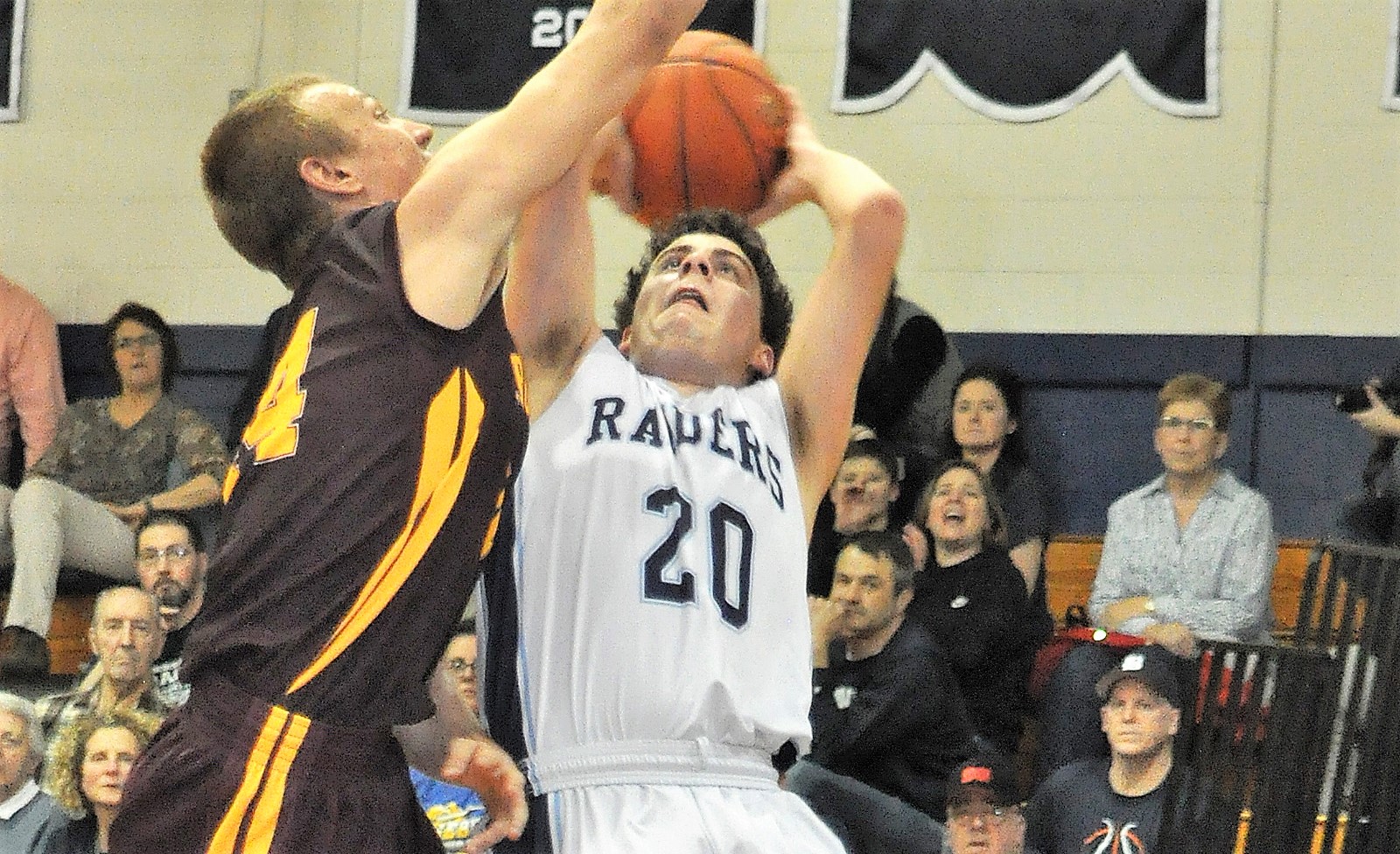 Feb. 15 boys' basketball recaps.
(Photo: David Cable hit the go-ahead 3-pointer for Brookville with 28 seconds left in overtime to lead Brookville over DuBois)
BROOKVILLE 53, DUBOIS 52, OVERTIME
DUBOIS, Pa. – David Cable hit a go-ahead 3-pointer with 28 seconds left in overtime, and Brookville rallied from a six-point deficit in the extra session to pick up a 53-52 road D9 League win.
After leading 21-19 at halftime, Brookville trailed 35-32 going to the fourth quarter but outscored the Beavers, 12-9, in the fourth to force overtime. Robert Keth and Bryce Baughman both hit big 3-pointers in the fourth quarter for the Raiders.
But DuBois jumped out early in overtime to get up six before Brookville rallied again with Keth, who finished with a team-high 15 points, hitting another big 3-pointer to help spark the comeback before Cable drilled his second triple of the game to give the Raiders the lead for good.
Aaron Park added eight points for Brookville with Jake Miner scoring seven and Cable and Logan Byerly six each.
Chase Husted had a game-high 16 points for DUBois with Jonathan Cruz scoring 13 and Alex Beers and Justin Manduley eight each.
PUNXSUTAWNEY 62, BRADFORD 58
PUNXSUTAWNEY, Pa. – Ethan Blose and Daren Byers combined to score 30 points to lead Punxsutawney to a 62-58 win over visiting Bradford in D9 League action.
Blose led the Chucks with 16 points with Byers adding 14.
Micah Kriebel added nine points and Nick Humble eight.
Caleb Nuzzo paced Bradford with 16 points, six rebounds and five assists with Tyler Gigliotti adding 12 points and Donny Pattison seven points and nine rebounds.
CURWENSVILLE 59, HARMONY 50
CURWENSVILLE, Pa. – Christian Bakaysa exploded for 28 points to lead Curwensville to a 59-50 win over visiting Harmony in Mo Valley League action.
Ty Terry added 21 points for the Golden Tide.
Daniel Rorabaugh led Harmony with 21 points with Adam McGarvey adding 14 points.
COUDERSPORT 106, OSWAYO VALLEY 35
SHINGLEHOUSE, Pa. – Owen Chambers scored 31 points as visiting Coudersport destroyed Oswayo Valley, 106-35.
Kolby VanWhy added 18 points for the Falcons, who led 37-8 at the end of the first quarter, 65-20 at halftime and 91-26 after three quarters.
Dillon Keglovits chipped in 15 points in the win with Matt Daniels scoring 13 and Travis Gleason 12.
Carter Stedman paced Oswayo Valley with 10 points with Michael Welch adding nine.
BELLEFONTE 53, ST. MARYS 29
BELLEFONTE, Pa. – Nate Tice scored 17 points to lead Bellefonte to a 53-29 win over visiting St. Marys.
Caleb Rockey added 10 points for the Red Raiders.
Nick Catalone led St. Marys with nine points and Cahil Parrish eight.