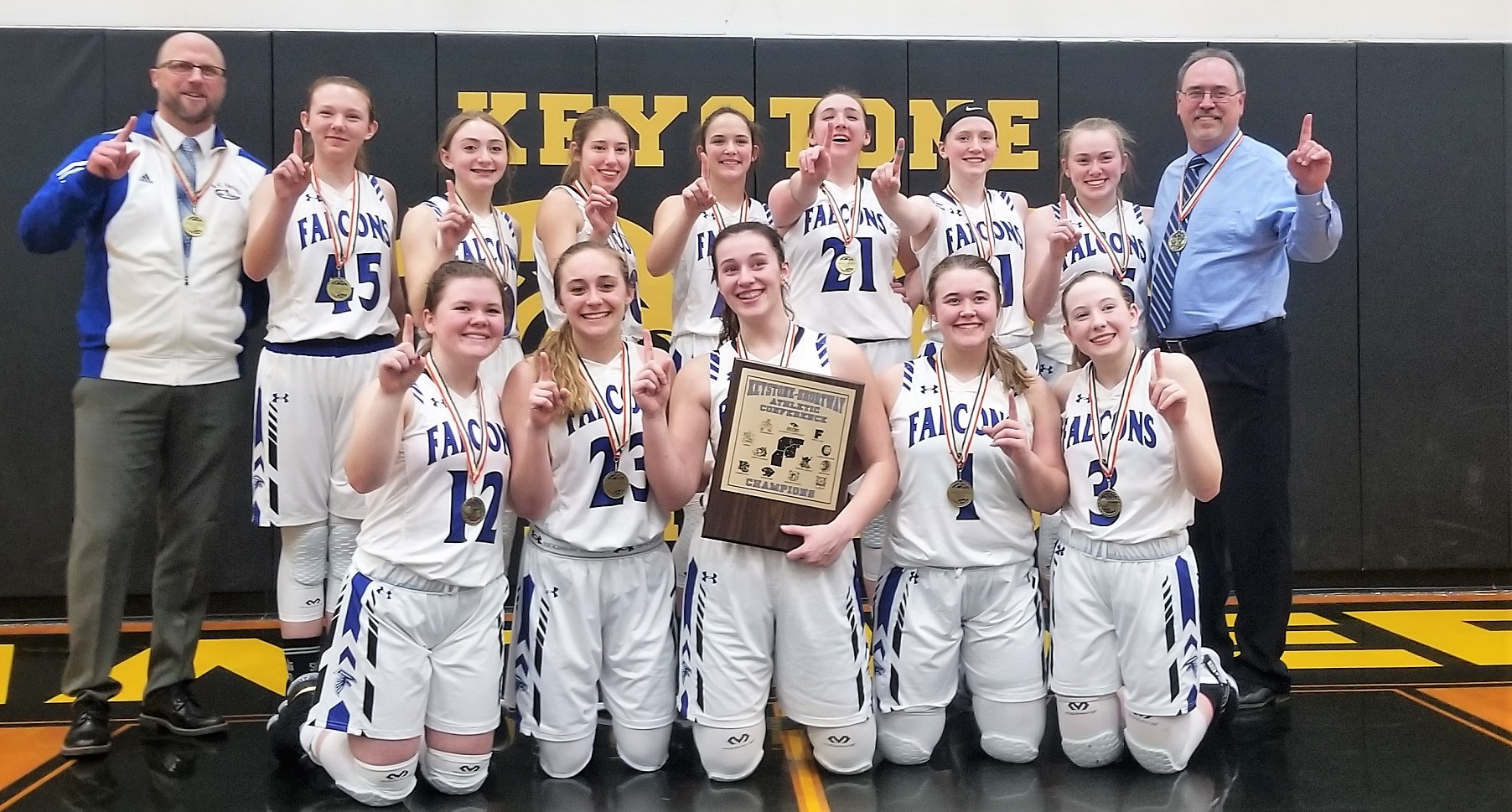 Feb. 15 girls' recaps.
A-C VALLEY 38, NORTH CLARION 35
KNOX, Pa. – Behind 18 points from Olivia Boocks, A-C Valley won its first KSAC title while avenging three straight postseason losses to North Clarion with a 38-35 win over the She-Wolves in the KSAC Championship Game at Keystone High School.
Boocks hit four of her five 3-pointers in the first half to help the Lady Falcons, who lost to North Clarion in last year's KSAC Title game as well as the D9 Class 1A championship game after losing the She-Wolves in the 2017 D9 1A semifinals, build a 27-20 halftime lead.
Another three by Boocks, who was named the game's MVP, early in the second half extended the lead to 10, 30-20, but North Clarion clawed its way back cutting the deficit to two, 30-28, on a Gabby Schmader 3-pointer 53 seconds into the fourth quarter.
But the She-Wolves missed their next nine shots while turning the ball over three times, and A-C Valley, despite going 10:53 between Boocks basket and a field goal by Andrea Meals with 2:24 left in the fourth quarter with a field goal, was able to stretch the lead to 37-29.
Boocks, who added four rebounds and four steals, talked about the win.
Kylee Eaton and Cami McNany each added nine points for A-C Valley with Eaton grabbing nine rebounds and McNany hauling in six boards and coming away with two steals. Rachel Cullen also had three steals for the Lady Falcons.
Gabby Carll hit five 3-pointers of her own on her way to a team-high 15 points for North Clarion, while Abby Gatesman had a double-double with 11 points and 10 rebounds while adding two steals.
Rewatch the game
JOHNSONBURG 33, DUBOIS CENTRAL CATHOLIC 18
DUBOIS, Pa. – Visiting Johnsonburg used a strong start to knock off DuBois Central Catholic, 33-18, in the AML Semifinals.
The Ramettes led 10-2 at the end of the first quarter thanks to a pair of Rylee Casilio 3-pointers and were up 14-7 at halftime.
Cassidy King led Johnsonburg with 11 points with Casilio and Mario Jones each scoring eight points and Lindsey Kocjancic six.
Alyssa Bittner paced DCC with nine points with Abbey Pettenati adding five.
Johnsonburg will take on Kane in the AML Title game at 6:30 p.m. Saturday at St. Marys High School.
KANE 57, RIDGWAY 48
KANE, Pa. – Behind Ella Marconi's monster night, defending champion Kane secured a trip to the AML Title game for the fourth straight year with a 57-48 win over visiting Ridgway.
Marconi had 30 points, 15 rebounds and four blocked shots to lead the Lady Wolves, while Hannah Buhl added 13 points, eight assists and four steals. Sarri Swanson chipped in two points and six rebounds and Emily Bucheit had three points and five rebounds.
Kane led 40-25 after three quarters of play before holding off a Ridgway comeback attempt that law the Lady Elkers scored 23 fourth-quarter points, including 12 from Gabby Rohr, who hit three 3-pointers in the quarter.
Rohr led Ridgway with 16 points with Casey Woodford adding 10 points and six rebounds and Eva Cobaugh eight points. Christina Fullem had an all-around strong game with five points, six rebounds, three steals, two blocks and two assists.
Kane, which beat Elk County Catholic in last year's AML Title Game, will take on Johnsonburg at 6:30 p.m. at St. Marys High School. The Lady Wolves lost to ECC in the 2017 title game and to DuBois Central Catholic in the 2016 championship contest.
BRADFORD 44, PUNXSUTAWNEY 43
BRADFORD, Pa. – Erica Marshall hit a free throw with no time on the clock, and Bradford stunned previously unbeaten Punxsutawney, 44-43.
The Lady Owls came into the game at 6-14 while the Lady Chucks were looking to complete an unbeaten regular season entering the contest at 21-0.
And things started out strong for Punxsutawney, as it took an 18-11 lead after on quarter of play.
But Bradford got back within five, 26-21, at halftime and then outscored the Lady Chucks 11-2 in the third quarter to take a 32-28 lead.
Punxsutawney fought back, and the game was tied at 43 when Marshall was fouled at the horn and hit her free throw to give the Lady Owls the improbable win against a team it lost to 55-23 Jan. 18 in Punxsutawney.
Hannah Lary had a big night for Bradford with a game-high 22 points. Marshall added nine tallies.
Riley Presloid led Punxsutawney with 11 points, Sarah Weaver added 10 and Kate Horner seven points and four assists.
BROOKVILLE 66, DUBOIS 30
BROOKVILLE, Pa. – Leading 20-0 after the first quarter, Brookville cruised to a 66-30 win over DuBois in both team's final regular season game before the playoffs.
The Lady Raiders forced 32 turnovers, led 33-7 at halftime and their largest lead was the final score. Twin sisters Morgan and Madison Johnson scored 15 and 11 points respectively. Marcy Schindler and Lexis Hatzinikolas each scored eight points and grabbed eight rebounds.
Chelsea DeSalve led DuBois with nine points.
CLEARFIELD 59, CURWENSVILLE 38
CURWENSVILLE, Pa. – Alayna Ryan scored 36 points, one off her career high, to lead visiting Clearfield to a 59-38 win over Curwensville.
Tesa Miller added eight points for the Lady Bison.
Madi Weber paced Curwensville with 18 points with Tarah Jacobson adding eight.
WARREN 53, ST. MARYS 41
ST. MARYS, Pa. – Gannon recruit Margo Loutzenhiser netted a game-high 25 points to help Warren hold off St. Marys for a 53-41 road win.
The Lady Dragons trailed 25-23 at halftime and led by just two, 35-33, after three quarters before outscoring the Lady Dutch 18-8 in the fourth quarter.
Riley Childress added 12 points for Warren with Emma Ruhlman scoring 11.
Abigail Adamski paced a balanced St. Marys attack with eight points with Megan Quesenberry adding seven and Kyla Johnson six.
GALETON 56, BUCKTAIL 29
GALETON, Pa. – Outscoring visiting Bucktail 16-0 in the first quarter, Galeton rolled to a 56-29 win.
Haylee Lundington had a double-double for the Lady Tigers with 12 points and 13 rebounds while adding three assists and a steal, while Jessie Evans had a team-high 14 points to go with seven rebounds and Lauren Sauley added nine points. Cara Parsell chipepd in five points, 12 rebounds and five assists.
Myka Poorman scored 19 for Bucktail.
PORTVILLE (N.Y.) 55, SMETHPORT 6
SMETHPORT, Pa. – Sydney Colligan scored 13 points to help visiting Portville (N.Y.) beat Smethport, 55-6.
Karly Welty added 12 points and Sierra Kiem 11 for the Lady Panthers.
Erin Herzog scored four points for Smethport.