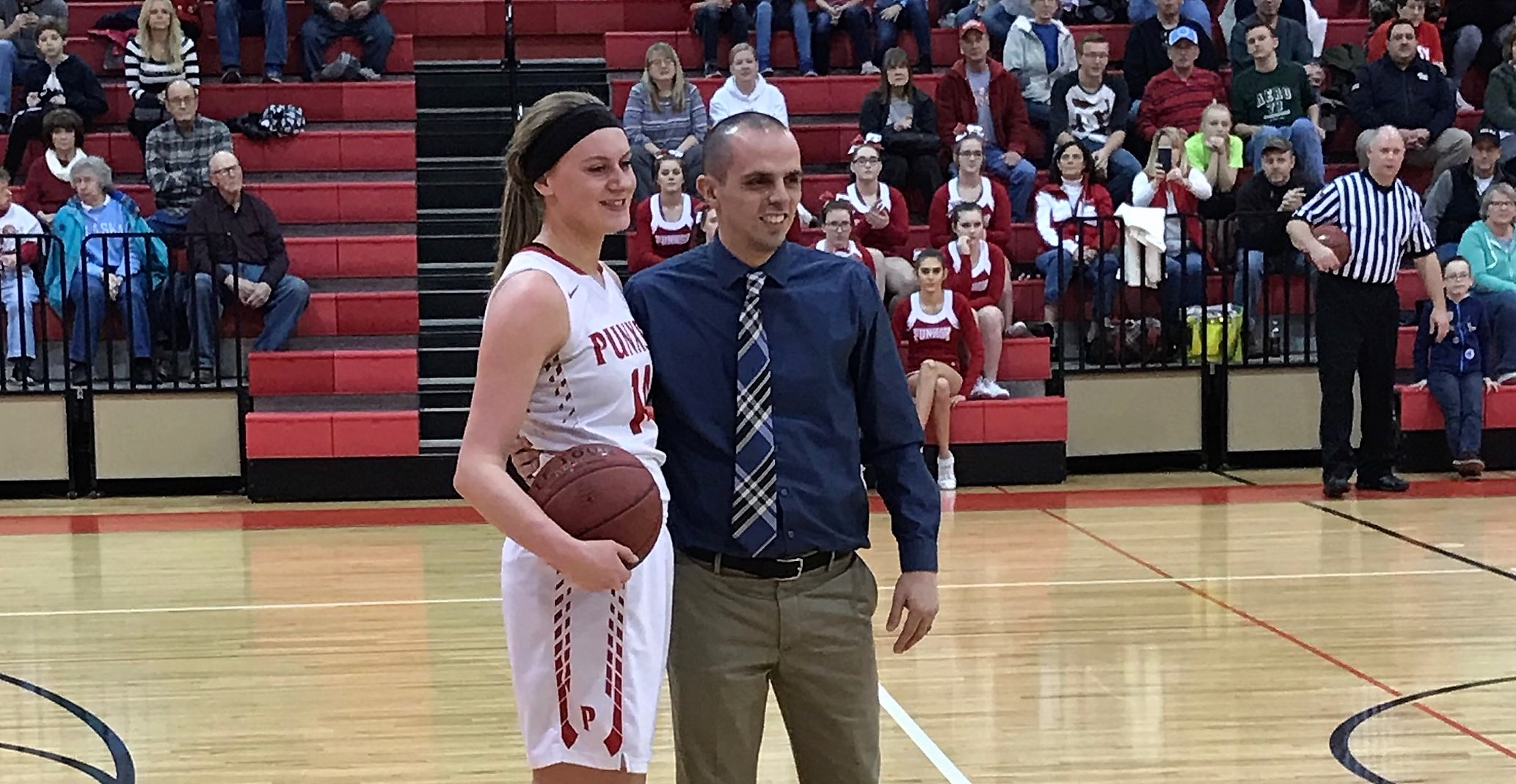 Feb. 16 recaps.
(Photo of Punxsutawney's Leah Miller with Lady Chucks head coach Mike Carlson after scoring her 1,000th career point Friday night. Photo submitted by Carlson)
Even with only 11 games going on Friday night in District 9, it was a busy night with Elk County Catholic and Ridgway punching their tickets to the AML Boys' Title Game, North Clarion and Clarion-Limestone winning KSAC titles, North Clarion's Tori Obenrader scoring her 2,000th career point, Punxsutawney's Leah Miller netting her 1,000th career tally and Bradford earning a share of the boys' D9 League title.
See KSAC Girls' Title Game Recap – Obenrader scores 2,000th career points as North Clarion grabs championship
See KSAC Boys' Title Game Recap – Deas Leads C-L to Title
GIRLS' RECAPS
PUNXSUTAWNEY 70, BRADFORD 32
PUNXSUTAWNEY, Pa. – With a first-quarter basket, Punxsutawney senior Leah Miller became the fifth girls' player in school history to score 1,000 career points.
Miller, who recorded her 1,000th career rebounds earlier this week, came into Friday night's 70-32 D9 League win over visiting Bradford needing three points to reach 1,000 and wasted little time in hitting the mark scoring 12 first-quarter points on her way to a game-high 22 giving her 1,019 in her career. She scored points 1,000 and 1,001 1:06 into the contest on an offensive rebound, and she needed just 71 games to reach the milestone.
Watch Miller score her 1,000th point courtesy of Don Powell's Facebook video.
She is the first Lady Chucks player to hit 1,000 points in 11 years since Lauren Martino (1,046 points) did it in 2007. All five 1,000-point scorers for Punxsutawney have come since 2000 and include Staci Heberling (1,575), Kim Duke (1,071), Brittany Nelson (1,069), Martino and now Miller.
Miller finished off her seventh straight double-double with 17 rebounds and finished the regular season averaging 15.9 points and 16.1 rebounds per game including 21 points and 19 rebounds per game over the last seven.
Sarah Weaver added 15 points for Punxsutawney and Kate Horner 12. Riley Presloid had seven assists to go with five points.
Erica Marshall paced Bradford with 12 points.
PORTVILLE (N.Y.) 57, SMETHPORT 34
PORTVILLE, N.Y. – Behind 26 points from Karly Welty, Portville (N.Y) beat visiting Smethport, 57-34.
Abbey Woodard paced Smethport with 15 points.
BOYS' RECAPS
ELK COUNTY CATHOLIC 79, BROCKWAY 37
ST. MARYS, Pa. – AML North champion Elk County Catholic took out two straight losses worth of frustration on visiting Brockway rolling past the Rovers into Saturday's AML Championship Game with a 79-37 victory.
Ryan Newton scored 23 points for the Crusaders (20-3), who led 46-23 at halftime and 70-30 after three quarters.
Alex Breindel chipped in 15 points in the win, Brady Schneider had nine and Leo Gregory eight.
Carter Adams paced Brockway (11-12) with 12 points with Jon Wood adding eight and Noah Vokes seven.
RIDGWAY 53, JOHNSONBURG 34
RIDGWAY, Pa. – AML South champion Ridgway outscored visiting Johnsonburg by 17 points in the second half to break open a two-point halftime lead and punch its ticket to the AML Title Game with a 53-34 win.
The Elkers (23-0) led 19-17 at halftime before outscoring the Rams (16-7) 16-6 in the third quarter and 18-11 in the fourth.
Daunte Allegretto had eight of his game-high 14 points in the third quarter for Ridgway.
Andy Breier added 11 points for the Elkers with Johnny Mitchell scoring eight and Neil MacDonald seven.
Austin Green paced Johnsonburg with nine tallies.
BRADFORD 69, PUNXSUTAWNEY 44
BRADFORD, Pa. – Racing out to a 33-19 halftime lead, Bradford cruised past visiting Punxsutawney, 69-44, to earn a share of the D9 League title with Elk County Catholic.
It is the first time Bradford has claimed at least a share of the league crown since 2010 and is the first time ECC hasn't won the title outright since DuBois claimed the league in 2012. It is also the first shared D9 League boys' championship since 2011 when Brookville and ECC were co-champions. Bradford and ECC were both 9-1 in league play with each team winning on the other's home court.
It was a balanced offensive effort Friday for Bradford with four players reaching double digits led by 14 points from Deondre Terwilliger. Danny Manion added 13 points, Steve Knowlton had 11 and Adam Boyer 10. Boyer also handed out five assists.
Brandon Matthews paced Punxsutawney with 18 points with Tyler Richardson adding 10.
DUBOIS 47, BROOKVILLE 46
BROOKVILLE, Pa. – Chase Husted's basket off an offensive rebound with less than a minute left gave DuBois a 47-46 D9 League win at Brookville.
Husted finished with 14 points and 11 rebounds to lead the Beavers, who finished the year at 10-12. Justin Manduley scored 11 points and Jonathan Cruz finished with 10 points.
Aaron Park and Brady Caylor each scored 11 points for the Raiders, who fell to 13-9. The Raiders will enter the Class 3A playoffs.
WEST BRANCH 52, CURWENSVILLE 46
ALLPORT, Pa. – Larry Cowder and Matt Fluck combined for 37 points, as West Branch captured a share of the Moshannon Valley League title with a 52-46 win over visiting Curwensville, which will share the title with the Warriors.
Cowder led the Warriors with 20 points with Fluck adding 17.
Avery Francisco paced Curwensville, which will be the seventh seed in the District 9 Class 2A playoffs, with 16 points and Josh Terry added 10.
GALETON 65, NORTHERN POTTER 31
ULYSSES, Pa. – Evan Brooks and Isaiah Shuemaker teamed up to net 35 points as visiting Galeton rolled to a 65-31 North Tier League win over Northern Potter.
Brooks led the Tigers with 18 points with Shuemaker chipping in 17.
Holden Cowburn had 13 points for Northern Potter.
HOLLIDAYSBURG 71, ST. MARYS 58
HOLLIDAYSBURG, Pa. – Behind 22 points for Casey Ottaway Hollidaysburg knocked off visiting St. Marys, 71-58.
Josh Holsopple added 14 points for Hollidaysburg, while Nathan Schneider netted 20 points for St. Marys.