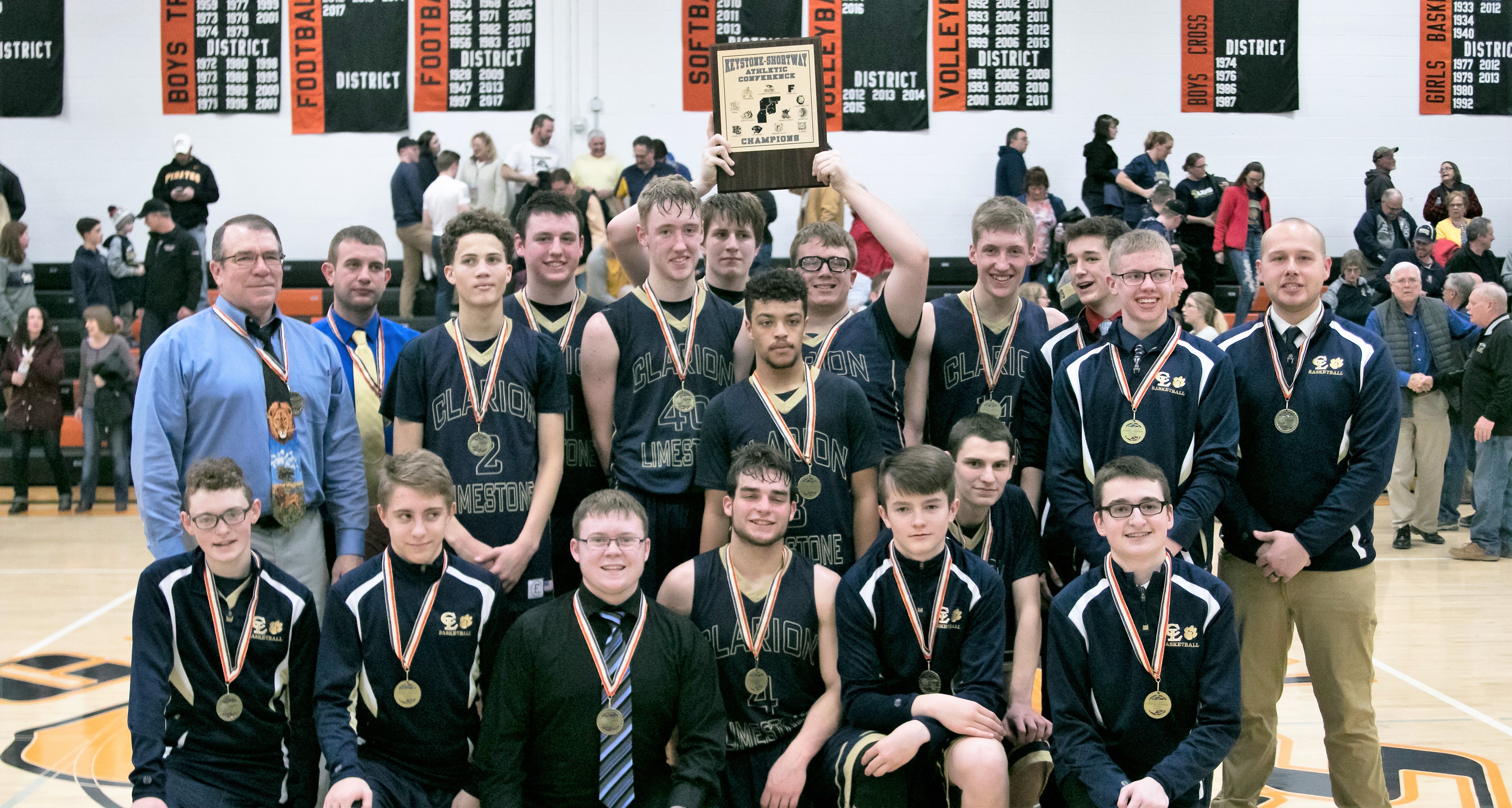 CLARION, Pa. – Clarion-Limestone built a 22-point second-half lead and then held off a furious Keystone rally to claim its second straight KSAC Title and its fifth in six years with a 57-52 win over the Panthers in the KSAC Boys' Championship Game Saturday night at a packed Clarion High School.
(Photo by Jared Bakaysa of JB Graphics. See more of Bakaysa's work here)
C-L led 38-16 44 seconds into the second half and still led by 17, 46-29, going to the fourth quarter.
But Keystone rallied.
Brooks LaVan started the final eight minutes with a 3-pointer, one of six second-half long balls from the Panthers, and Troy Johnson added a basket inside to cut the deficit back to 12, 46-34, with 7:17 to play.
An old-school 3-point play by Curven Goheen, who finished with 11 points and four rebounds off the bench, pushed the lead back to 15, 49-34, with just 7:01 to play.
But again Keystone answered going on a 15-4 run over the next 4:15 to close the gap all the way to four points, 53-49, on a 3-pointer by Isaak Jones with 2:35 to play.
Deion Deas, who finished with 16 points while scoring his 1,000th career point despite originally being thought to be lost for the season with an ankle injury suffered a couple of weeks ago,  answered with a floater to make it 55-49 with 1:39 left, but Jones hit another triple seconds later to cut the C-L lead to three, 55-52.
Following a timeout by the Lions with just over a minute to play, the strategy seemed to be to make Keystone foul. But Deas saw an opening and tried for a basket that wouldn't fall, and Keystone called timeout with 38.2 to play.
Ian Callen then came up with the first of two big steals down the stretch.
But again the Lions rushed a shot, this time Ayden Wiles missed, and Keystone had another chance to tie the game.
Dawson Steele, however, fumbled the ball in the corner trying to catch it and was called for a walk with 15.8 seconds to play.
All looked good for the Lions, as they were inbounding the ball. But Ian Callen misfired on the inbounds pass and it went out of bounds giving Keystone another chance.
The Panthers, though, settled for a tough 3-pointer attempt by Johnson with 10 seconds left that was off the mark, and Ian Callen was fouled.
The senior, Callen, however, missed the free throw, and Steele collected the rebound. But Ian Callen made up for the miscue when he stole the ball and was fouled again this time hitting both charity shots with 4.9 seconds left to seal the win.
Hayden Callen was named the game's MVP after scoring a game-high 18 points, 12 in the second half. He talked about the win.
Deas chipped in a team-best seven rebounds to go with his 16 points, while Ian Callen had eight points, four rebounds and three steals for the Lions. Julian Laugand had a team-best six swipes and added four points and four rebounds.
Jones had 14 points to lead Keystone with Johnson adding 11 points and nine rebounds, Andrew Lauer nine points and nine rebounds, LaVan nine points and Steele three points and nine boards.
Rewatch the game.
RIDGWAY 45, ELK COUNTY CATHOLIC 43, OT
ST. MARYS, Pa. – The Ridgway Elkers scored the final 10 points of regulation to erase a 10-point Elk County Catholic lead and went on to knock off the previously undefeated Crusaders 45-43 in overtime to win the AML Championship Saturday night at St. Marys Area High School.
Ridgway's run began with just under three minutes left to play in the fourth quarter when Jake Reynolds hit a deep 3-pointer and ended when Reynolds calmly sank two tying free throws with 11 seconds left to send the game to overtime.
In the overtime, Daunte Allegretto scored first for the Elkers to give them a 34-32 lead. Alex Breindel hit a 3-pointer that gave the Crusaders the lead back, 35-34. Another three from Allegretto and a short jumper from Regis Wortman, who was fouled and converted the free throw, had the score 38-37 favor of ECC. But Allegretto nailed another 3-pointer from the top of the key to put the Elkers ahead to stay 40-38.
Unlike the previous meeting when Ridgway was just 5 of 13 from the free line, the Elkers went 5 of 6 in the waning seconds of overtime when it mattered most to secure the 45-43 win and the AML title.
Matt Dush had 12 points and four rebounds to lead Ridgway. Allegretto and Will Thompson both finished with 11 points. Reynolds chipped in seven points, including four big free throws at the end of regulation and two in overtime.
Breindel had a game-high 20 points for ECC with Wortman adding 15.
ECC/Ridgway Recap by Rich Quiggle
COUDERSPORT 78, SMETHPORT 35
COUDERSPORT, Pa. – Coudersport closed out its regular season with a 78-35 win over visiting Smethport.
Owen Chambers had another big night for the Falcons with a game-high 28 points. Hayden Keck added 14 points and Travis Gleason had 11.
Ian Woodruff led the Hubbers with 12 points.