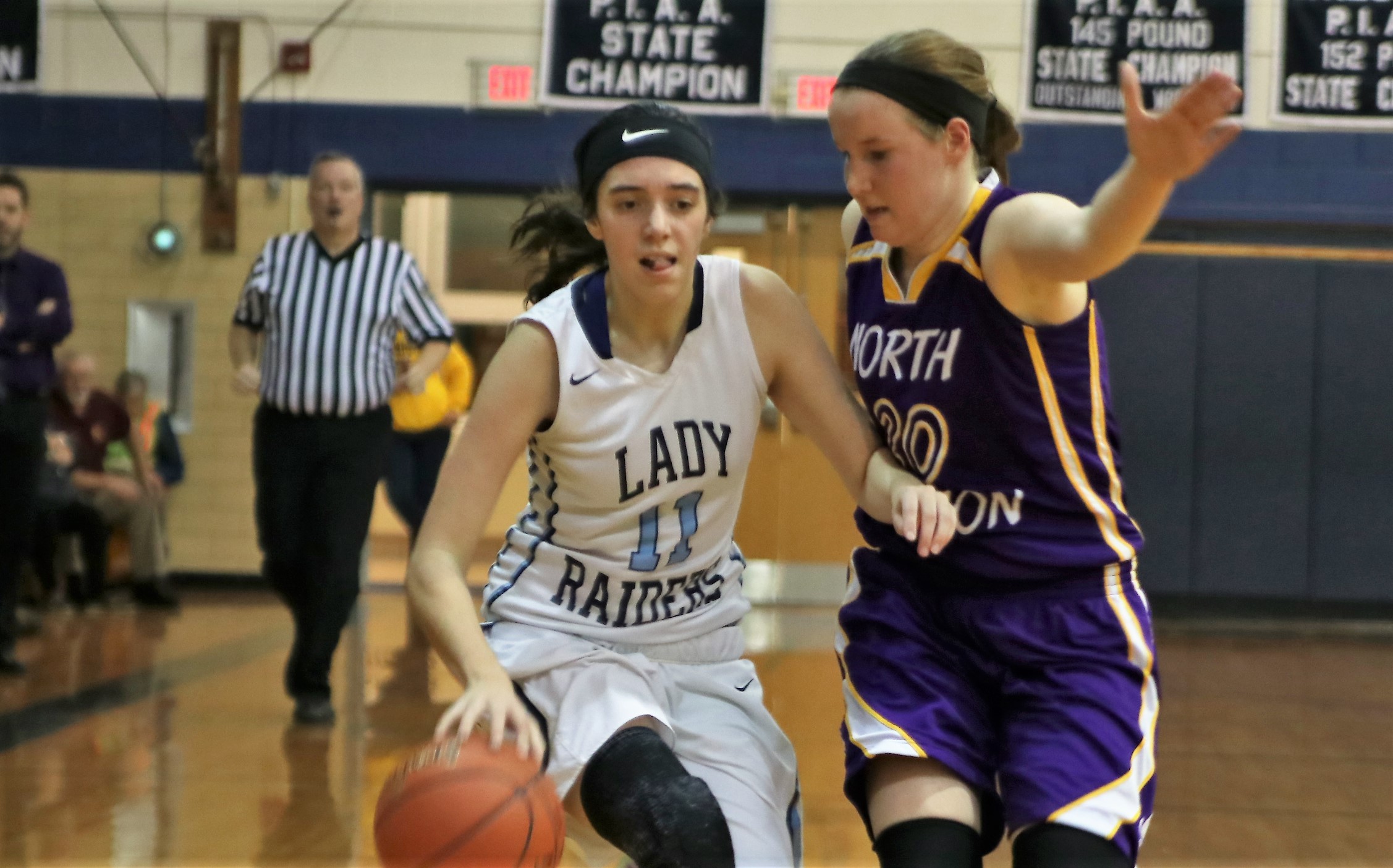 BRADFORD, Pa. – Marcy Schindler scored a game-tying high 19 points, as visiting Brookville held off a late charge by Bradford to pick up a 45-41 D9 League win.
(Photo of Brookville's Marcy Schindler. Photo by Jared Bakaysa of JB Graphics. See more of Bakaysa's work here)
The Lady Raiders, who were up 31-25 after the third quarter, led by seven, 43-36, with under two minutes to play before Bradford ended the game on a 5-2 spurt.
Hannah Lary led the Bradford comeback attempt scoring 12 of the Lady Owls' 16 fourth-quarter points on her way to also scoring 19 points.
Lauren Hergert added 12 points in the win for Brookville with Madison Johnson adding 11 points.
Erica Marshall added 16 points in the loss for Bradford. Marshall also collected her 500th career rebound in the game. Marshall is the all-time leading rebounder in Lady Owls' history.
DISTRICT 10 CLASS 5A CHAMPIONSHIP GAME
EDINBORO, Pa. – Lamero Husband's offensive putback with 8.4 seconds left lifted Meadville to a 54-52 upset win over Erie Cathedral Prep in the District 10 Class 5A championship game at Edinboro University.
The Bulldogs will play DuBois in the District 8-9-10 semifinals Feb. 25 at Clarion University's Tippin Gym.
With the game tied at 52, Meadville's Dayvon Butler isolated and drove to the hoop. He missed the layup, but Husband, coming from outside the arc, got the offensive putback to put Meadville in the lead.
Watch the play courtesy of John Lydic of Erie News Now.
Lamero Husband to give Meadville a 54-52 lead with 8.4 seconds to play. pic.twitter.com/5Mxol9sk20

— John Lydic (@ENNJohnLydic) February 19, 2020
Husband had tied the game with a 3-pointer with 38.9 seconds left.
Cathedral Prep (16-7), which had beaten Meadville twice this year by double digits (78-42 Jan. 21 and 73-55 Feb. 7), led 11-5 at the end of the first quarter and 20-19 at halftime before falling behind 34-24 in the third quarter.
The Ramblers got back within two, 34-32, by the end of the third quarter and then took a 39-36 lead in the fourth quarter and still led by three, 52-49, with only a minute to play only to watch Meadville (12-11) rally for the win.
Butler paced Meadville with 19 points with Sam Burchard adding 13 and Charlie Waid 11. Husband finished with seven but scored five in the final 40 seconds.
Liam Galla led Prep with a game-high 22 points.