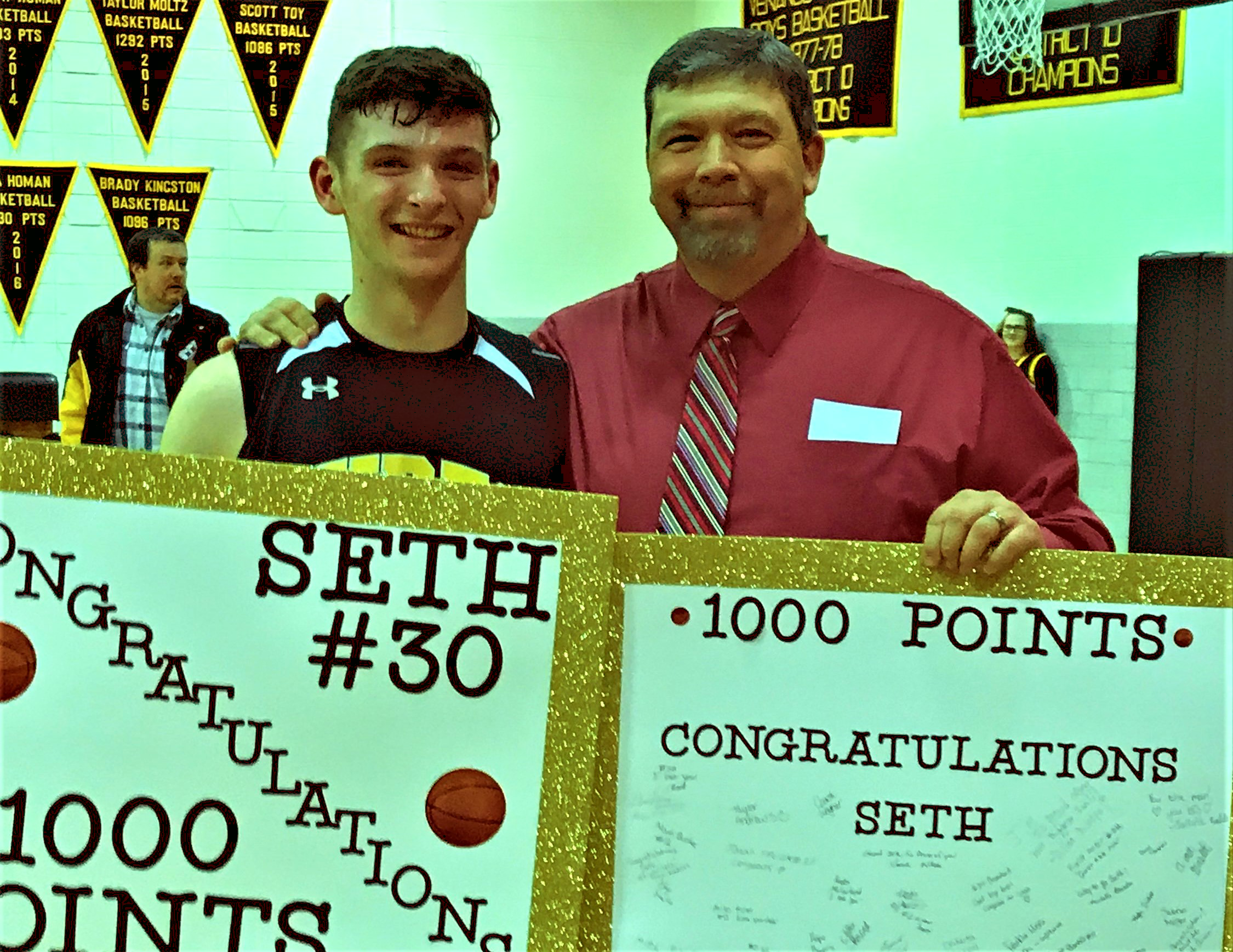 Feb. 2 recaps.
(Photo: Seth Berlin of Forest Area, with head coach Dan Miller, scored his 1,000th career point Friday in a win over VenangoCatholic. Submitted photo)
FOREST AREA 72, VENANGO CATHOLIC 59
OIL CITY, Pa. – Seth Berlin became the first boy in the Forest Area co-op to score 1,000 points in a career when he netted a game-high 24 points to go with 16 rebounds and three blocked shots in a 72-59 Fires win at Venango Catholic in KSAC North play.
Berlin came into the game needing 15 points for 1,000 and became just the third player to attend West Forest High School to reach 1,000 points joining Kirk Riddell (1,118 points in a career that ended in 1999) and Mike Vermillion (1,042 points in a career that ended in 1969). He is also the 15th player in the Forest Area School District to reach 1,000 points, as 11 players from East Forest reached 1,000 before the co-op between East and West started. The last player in the Forest Area School District to reach 1,000 before Friday night was Corey Snyder of East Forest in 2008 (1,105).
Dillon DiCorpo added 13 points, seven rebounds and six assists for Forest Area with Jarrett Kahle chipping in 12 points and five assists, Randy Moyer 12 points and 14 rebounds and Franklin Meals 11 points and five assists.
Josh Puleo led all scorers with 28 points for Venango Catholic, Ben Gillispie added nine points, Parker Slagle eight points and Andrew Burda eight tallies.
NORTH CLARION 66, CLARION-LIMESTONE 48
STRATTANVILLE, Pa. – Visiting North Clarion tightened up the race in the KSAC North with a 66-48 win over Clarion-Limestone.
Nathan Banner netted 19 points, grabbed nine rebounds, dished out four assists, had two steals and two blocked shots to lead the Wolves, who are now tied for first with the Lions.
Banner talked about the win.
Keeven Weaver chipped in 10 points, 10 rebounds and three assists for North Clarion with Matson Higgins adding nine points and Jesse Schmader seven. Logan Minich added five steals, three assists and seven points while hitting a monster three early in the fourth quarter when C-L cut the North Clarion lead to 44-40.
Ian Callen paced C-L with 22 points, 10 rebounds and eight steals. Hayden Callen added 11 points and seven rebounds.
North Clarion has two KSAC North games left. The Wolves host Clarion Tuesday and then travel to Venango Catholic Friday. C-L has one KSAC North game left. The Lions host Venango Catholic Tuesday. If the teams end up tied in the KSAC North, the tiebreaker would most likely be determined by who wins the KSAC South, which is currently tied between Karns City and Keystone.
ST. MARYS 69, DUBOIS 65
DUBOIS, Pa. – Nathan Schneider exploded for 31 points to help St. Marys rally past DuBois, 69-65, in D9 League action.
Schneider scored 9 of his points in a 22-point fourth quarter for the Dutch, who outscored DuBois 22-17 in the fourth quarter.
Cahil Parrish added 15 points for St. Marys.
Justin Manduley led DuBois with 18 points, Chase Husted had 14 points and 12 rebounds and Jonathan Cruz scored 17 points.
KARNS CITY 56, UNION 50
RIMERSBURG, Pa. – Chase Beighley scored 15 points to help Karns City avoid an upset at Union in KSAC South with a 56-50 win.
Ethan McElroy added 11 points with Jacob Friel chipping in seven points and seven rebounds and Austin Fahlor seven points and seven assists.
Nolan Cumberland paced Union with 14 points, Lucas Bowser had 12 points, seven rebounds and four steals, Reice Saylor added nine points and nine rebounds and Luke Bowser nine points.
KEYSTONE 39, MONITEAU 33
KNOX, Pa. – Trailing 19-14 at halftime, Keystone rallied in the second half to knock off upset-minded and visiting Moniteau, 39-33.
Dalton Jones scored 10 of his 12 points after the break with Corey Rapp also scoring 12 points.
Jared Lominski led Moniteau with 12 points with Gage Neal adding eight points and Ethan McDevitt seven tallies.
REDBANK VALLEY 58, A-C VALLEY 55
FOXBURG, Pa. – Tanner Kerle scored all eight of his points in the fourth quarter, as Redbank Valley rallied for a 58-55 road KSAC South win over A-C Valley.
The Bulldogs trailed 43-39 going to the fourth quarter but outscored the Falcons 19-12 in the final eight minutes.
Brock Barrett led Redbank Valley with 15 points, Keaton Kahle added 13 points, Ethan Hetrick 12 points and Nick Smith 10 points.
Dalton Callander led A-C Valley with 14 points, Russ Carr scored 13 points, Eddie Stevanus 12 points and Levi Orton 10 points.
CLARION 72, CRANBERRY 41
SENECA, Pa. – Freshman Calvin German netted a career-high 20 points to help visiting Clarion to a 72-41 KSAC North over Cranberry.
Austin Hummell added 16 points for the Bobcats with Zak Bauer and Josh Craig eight points.
Dan McQuaide led Cranberry with 17 points with Thomas Flinspach adding 11 points and Matt Meehan 10 points.
CLEARFIELD 64, BALD EAGLE AREA 46
HYDE, Pa. – Reese Wilson netted 22 points to lead Clearfield to a 64-46 win over visiting Bald Eagle Area.
Taye Lynch added 10 points with Jon Gates adding eight points, Ryan Chew seven points, six rebounds and five assists and Cade Walker seven points.
BRADFORD 61, BROCKWAY 42
BRADFORD, Pa. – Tyler Gigliotti netted 18 points to help Bradford to a 61-42 win over visiting Brockway.
Steve Knowlton added 17 points for the Owls with Deonte Terwilliger having a double-double with 10 points and 11 rebounds.
Carter Adams and Jon Wood each scored 13 points for Brockway with Zane Puhala scoring 11.
JOHNSONBURG 49, CURWENSVILLE 33
CURWENSVILLE, Pa. – Austin Green and Kacey Raubenstrauch combined for 29 points to lead visiting Johnsonburg to a 49-33 win over Curwensville in AML Action.
Green led the Rams with 15 points with Raubenstrauch chipping in 14 tallies.
Josh Terry had a game-high 19 points for Curwensville.
RIDGWAY 55, SMETHPORT 32
SMETHPORT, Pa. – Neil MacDonald and Andy Breier teamed up to score 23 points to help visiting Ridgway to a 55-32 win at Smethport.
MacDonald netted a game-high 12 points for the Elkers with Breier adding 11. Daunte Allegretto chipped in eight points in the win with Josh Thorwart scoring seven.
Eric Szarowicz led Smethport with 11 points with Caleb Lutz adding nine.
ELK COUNTY CATHOLIC 81, SHEFFIELD 33
SHEFFIELD, Pa. – Brady Schneider led a trio of Elk County Catholic players in double digits with 15 points to help the visiting Crusaders roll to an 81-33 AML win over Sheffield.
Alex Breindel added 14 points for ECC with Logan Hoffman chipping in 10. Brennen Klawuhn also scored nine for the Crusaders.
Cale Albaugh had 11 points for Sheffield.
CAMERON COUNTY 75, KANE 36
KANE, Pa. – Adam Shaffer was one of four Cameron County players in double figures with 19 points, as the visiting Red Raiders rolled to a 75-36 win over Kane.
Caden Beldin added 16 points for Cameron County with Dino Brown adding 15 and Marcus Brown 11.
Chad Greville paced Kane with 17 points.