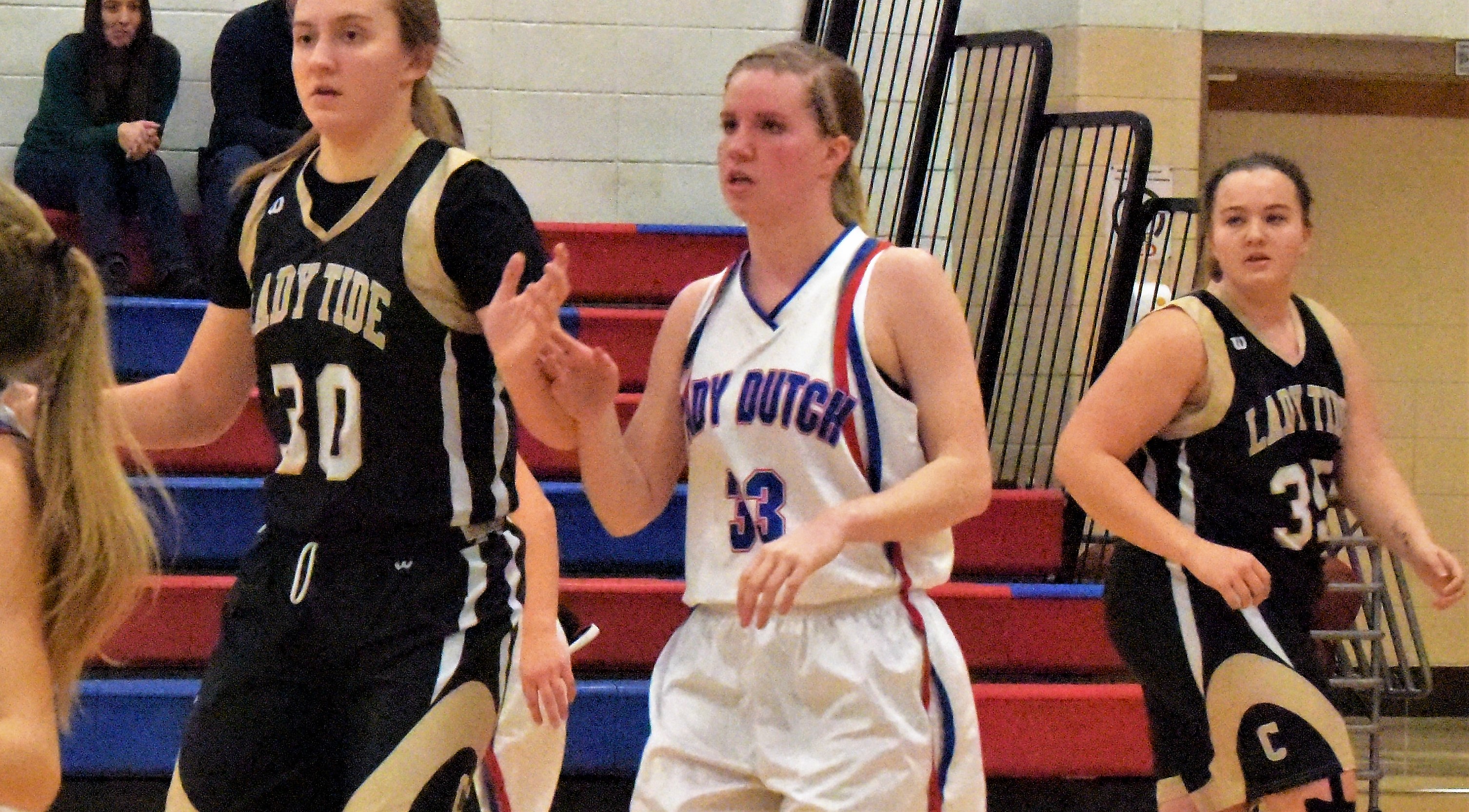 Feb. 2 recaps.
(Photo: Bekka Bauer of St. Marys (No. 33) hit the game-winning layup in the Lady Dutch's 43-42 win over DuBois Friday. Photo by Rhonda Beimel)
ST. MARYS 43, DUBOIS 42
ST. MARYS, Pa. – Bekka Bauer's layup with seven seconds left helped St. Marys knock off visiting DuBois, 43-42, in D9 League action.
In a back-and-forth affair, the lead changed hands four times in the final 1:33 with one tie during that span.
DuBois took a 42-41 advantage when Caitlin Drashusak hit a free with 24 seconds left. It was the third time the Lady Beavers held the lead in the final 1:33. They were also up 39-38 with 1:33 to go and again ahead 41-40 after a Chelsea DeSalve basket with a little less than a minute to play.
St. Marys answered each time taking a 40-39 lead on a Lauren Eckert basket then tying the game at 41 on a Megan Quesenberry free throw.
Samantha Hayes and Eckert led St. Marys with eight points each. Quesenberry chipped in seven tallies.
DeSalve had a game-high 16 points for DuBois while hitting four 3-pointers. Ashley Hallowell chipped in 11 points and 13 rebounds.
CLEARFIELD 35, BALD EAGLE AREA 33
WINGATE, Pa. – Alayna Ryan scored nine of her game-high 19 points in the fourth quarter including the go-ahead basket with about 30 seconds left and three key free throws down the stretch, as Clearfield beat Bald Eagle Area, 35-33.
Brooke Cline added seven points in the win for the Lady Bison.
Lacee Barnhart paced Bald Eagle Area with nine points.
OTTO-ELDRED 46, CAMERON COUNTY 41
EMPORIUM, Pa. – Visiting Otto-Eldred raced out to a 12-point lead after a quarter and a 15-point lead at halftime then held off a strong second-half comeback from Cameron County to secure a 46-41 North Tier League win.
The Lady Terrors led 21-9 after one and 30-15 at halftime but were outscored 26-16 in the second half including 16-8 in the third quarter.
The Lady Raiders got to within two with 17 seconds left and had ball before turning it over. Ali Cousins, who had 11 points, then sealed the victory at the line for Otto-Eldred.
Camryn Thomas led Otto-Eldred with 14 points, 11 rebounds and four steals.
Kaelee Bresslin had 13 points and two assists for Cameron County with Alyvia McKimm adding 12 points and Amily Schatz nine points and 11 rebounds.
CLARION 56, CRANBERRY 45
CLARION, Pa. – Wendy Beveridge netted a team-high 22 points and added nine rebounds and four blocked shots, as Clarion stunned visiting Cranberry, 56-45, in KSAC North play.
Kait Constantino chipped in 19 points for the Lady Cats with Sadie Rudesyle adding nine points and seven rebounds.
Malliah Schreck had a game-high 24 points for Cranberry, which played without Erin Merryman.
NORTH CLARION 64, CLARION-LIMESTONE 18
FRILLS CORNERS, Pa. – On Senior Night at North Clarion, the She-Wolves lone senior Tori Obenrader delivered another memorable performance with 29 points, 16 rebounds, six steals, five assists and two blocked shots to lift unbeaten North Clarion to a 64-18 win over Clarion-Limestone.
Abby Gatesman had a strong game as well with 11 points, eight steals and seven assists, while Gabby Schmader added nine tallies and Haley Sherman seven for the She-Wolves.
Anna Kennemuth paced C-L with six points.
KEYSTONE 44, MONITEAU 36
WEST SUNBURY, Pa. – Surging Keystone got 20 points from Taylor Geer to win for the third straight time and for the ninth time in 13 games with a 44-36 victory at Moniteau.
Mackenzie Byerley added eight points and Tessa Weaver six in the win.
Emma Bair led Moniteau with 14 points, nine rebounds and five blocked shots. Andie Arblaster added 10 tallies for the Lady Warriors and Kristin Auvil eight points.
A-C VALLEY 69, REDBANK VALLEY 33
FOXBURG, Pa. – Led by 19 points from Cami McNany A-C Valley had four players reach double digits in a 69-33 win over visiting Redbank Valley.
Ellie Thompson chipped in 12 points for the Lady Falcons, who have won five in a row, with Brooke Irwin adding 11 and Kylee Eaton 10.
Tara Hinderliter had 17 points for Redbank Valley with Lexi Holt adding nine.
KARNS CITY 57, UNION 17
KARNS CITY, Pa. – District 9's leading scorer Emily Hegedus exploded for a season-high 33 points in a 57-17 Karns City win over visiting Union.
The 33 points tied for the second most in the four-year career for Hegedus, the all-time leading scorer in Karns City history and the most since she netted 34 as a sophomore.
Livia Andreassi added nine points for the Lady Gremlins.
Bryn Davis had five points to lead Union, but Karns City shutout the Golden Damsels leading scorer, Frankee Remmick, who came into the game averaging 16.2 points per game.
BROOKVILLE 57, RIDGWAY 39
BROOKVILLE, Pa. – arcy Schindler turned in a double-double with 13 points and 10 rebounds while Madison Johnson scored 12 points to lead Brookville to a 57-39 non-league win over Ridgway Friday night.
The Lady Raiders used a 14-2 run to pull away for good after Ridgway got to within 24-21 early in the third quarter.
Ridgway's Emily Fullem had a productive night with 25 points, 18 rebounds, eight blocked shots, four steals and two assists. Alyssa Kasmierski added eight points, four assists, three rebounds and three steals.
KANE 69, DUBOIS CENTRAL CATHOLIC 31
KANE, Pa. – Up by six at halftime, Kane outscored visiting DuBois Central Catholic 39-7 in the second half on its way to a 68-31 non-conference win.
The Lady Wolves held a 30-24 halftime lead thanks to a 23-5 first-quarter advantage before outscoring the Lady Cardinals 24-5 in the third quarter and 15-2 in the fourth.
Ella Marconi had a monster night for Kane with 22 points, 13 rebounds and six blocked shots. Rachael Morgan and Trinity Clark both had double-doubles as well with Morgan scoring 17 points and grabbing 12 rebounds and Clark adding 17 points, 11 rebounds and three blocked shots. Hannah Buhl chipped in four points, six assists and three steals.
Ashley Wruble hit six 3-pointers and scored a game-high 23 points for DCC.
JOHNSONBURG 50, CURWENSVILLE 37
JOHNSONBURG, Pa. – Behind 23 points from Cassidy King Johnsonburg dispatched visiting Curwensville, 50-37, in AML action.
Rylee Casilio added 14 points in the win for the Ramettes.
Madi Weber had a game-high 27 points for Curwensville.
ELK COUNTY CATHOLIC 54, SHEFFIELD 14
ST. MARYS, Pa. – Led by 12 points from Josie Smith nine different Elk County Catholic players scored in a 54-14 win over visiting Sheffield in AML action.
Taylor Newton chipped in 11 points for the Lady Crusaders.
Lexi Lyon paced Sheffield with five points.
OSWAYO VALLEY 45, AUSTIN 33
SHINGLEHOUSE, Pa. – Shayla Bickel tickled the twine for a game-high 27 points to lead Oswayo Valley past visiting Austin, 45-33, in North Tier League play.
Jordan Brewer had a double-double for Austin with 19 points and 10 rebounds. Shea Setzer added 11 tallies for the Lady Panthers.
COUDERSPORT 81, SMETHPORT 39
COUDERSPORT, Pa. – The trio of Shaelyn Black, Haley Keck and Sarah Chamber netted 61 points to lift Coudersport to an 81-39 win over visiting Smethport in North Tier League action.
Black led the Lady Falcons with 23 points, Keck added 20 and Chambers, a freshman, 18.
Abbey Woodard led Smethport with 18 points with Hailey Wright adding 12.
PORT ALLEGANY 47, GALETON 30
PORT ALLEGANY, Pa. – Cailey Barnett netted a game-high 20 points to help Port Allegany to a 47-30 home North Tier League win over Galeton.
Bree Garzel chipped in seven points for the Lady Gators.
Makaya Shadle led Galeton with 15 points with Brielle Kalacinski adding eight.