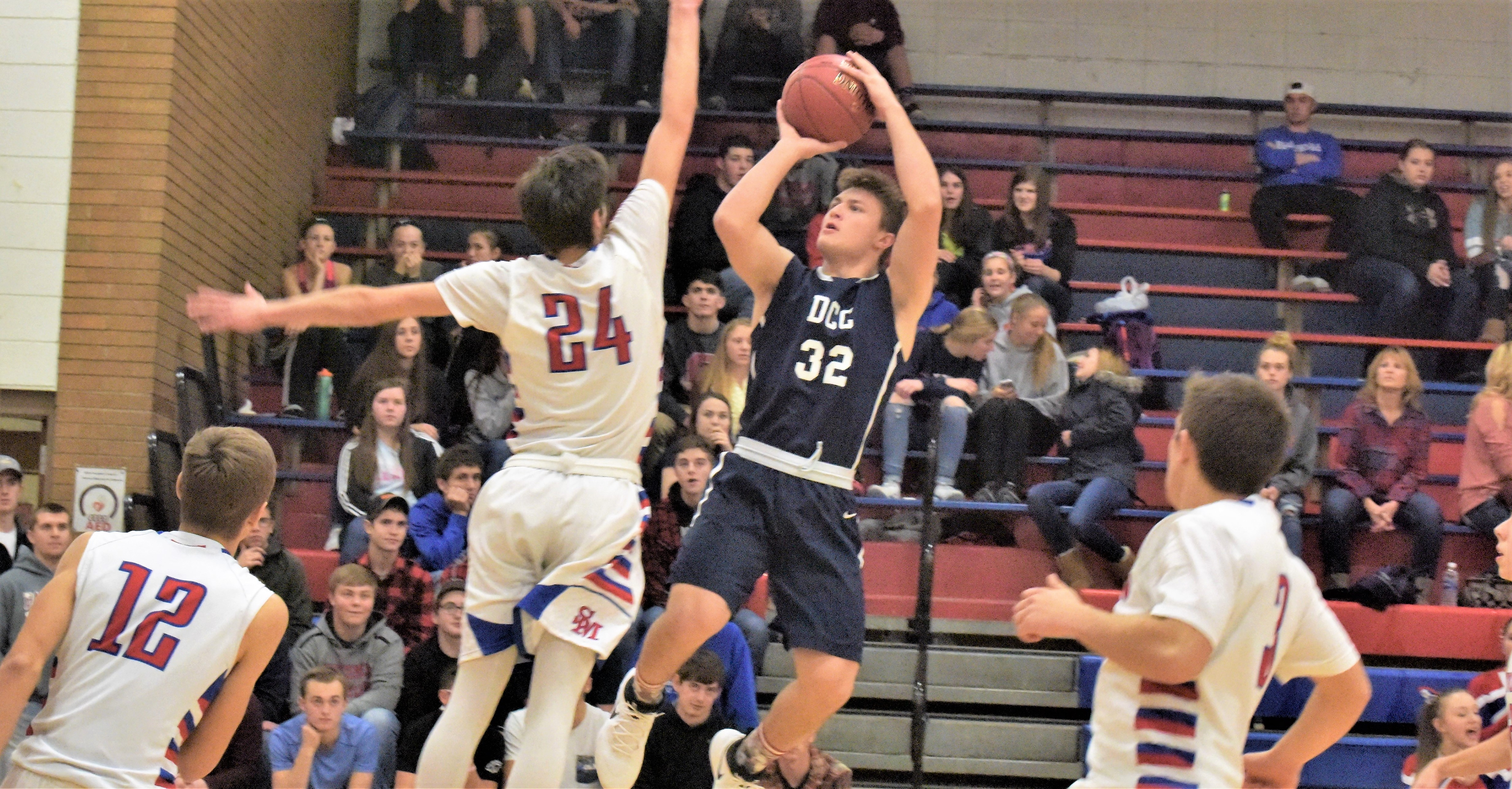 Feb. 2 boys' and girls' basketball recaps.
(Photo: Justin Miknis of DCC had 34 points and 10 rebounds. Photo by Ronda Beimel)
BOYS
DUBOIS CENTRAL CATHOLIC 73, A-C VALLEY 64
FOXBURG, Pa. – Justin Miknis scored 14 of his game-high 34 points in the fourth quarter to help visiting DuBois Central Catholic pull away from A-C Valley for a 73-64 win.
DCC led, 37-29, at halftime before A-C Valley fought back to tie the game at 46 after three quarters of play. But behind Miknis the Cardinals outscored the Falcons 27-18 in the fourth quarter to get the win.
Miknis completed a double-double with 10 rebounds, while Brandon Walker chipped in 12 points and Jonathan Kurtz 10 for DCC.
Levi Orton and Eddie Stevanus both had double-doubles for A-C Valley with Orton recording 27 points, 13 rebounds and five assists and Stevanus adding 14 points and 12 rebounds. Caleb Penny also had 14 points and eight points for the Falcons.
RIDGWAY 71, KANE 37
RIDGWAY, Pa. – Matt Dush led a trio of Ridgway players in double digits with 21 points, as the Elkers ran past visiting Kane, 71-37.
Will Thompson added 16 points in the victory with Daunte Allegretto scoring 10.
Alex Rezzelle paced Kane with 13 points with Chad Greville adding eight.
AUSTIN 55, SMETHPORT 44
SMETHPORT, Pa. – Visiting Austin used a balanced attack to knock off Smethport, 55-44, in NTL action.
Dempsey Glover led the Panthers with 14 points and seven rebounds, Garrett Rees added 12 points, six rebounds and five blocked shots, Jackson Glover had 11 points, eight rebounds and seven assists and Blake Burgett contributed 10 points and four helpers.
Conner Alfieri led all scorers with 16 points for Smethport with Caleb Lutz adding nine points.
GALETON 63, OSWAYO VALLEY 24
SHINGLEHOUSE, Pa. – A monster double-double of 20 points and 24 rebounds from Evan Brooks helped visiting Galeton topple Oswayo Valley, 63-24, in NTL play.
Isaiah Shuemaker scored a game-high 22 points for the Tigers and added six steals, while Joel Griffen had 12 points and five steals.
Honor Gross paced Oswayo Valley with nine points with Carter Steadman adding eight.
YOUNGSVILLE 58, SHEFFIELD 34
YOUNGSVILLE, Pa. – A 23-point day from Gage Hendrickson helped Youngsville beat visiting Sheffield, 58-34.
Brady Olewine added nine points for the Eagles.
Tyler Hepinger led Sheffield with 15 points.
GIRLS
NORTH CLARION 29, CRANBERRY 26
FRILLS CORNERS, Pa. – Abby Gatesman had 13 points and 11 rebounds to help North Clarion edge visiting Cranberry, 29-26, in a KSAC North matchup.
Haley Sherman added seven points for the She-Wolves.
Malliah Schreck paced Cranberry with 13 points, 15 rebounds and five steals. Maddie Cornelius added nine points for the Berries.
GALETON 44, BUCKTAIL 18
RENOVO, Pa. – Jessie Evans scored 17 points to lead visiting Galeton to a 44-18 win over Bucktail.
Katelyn Pagano added seven points in the win for the Lady Tigers.
Tessa Cowfer and Carlie Gentzyel each scored four points for Bucktail.