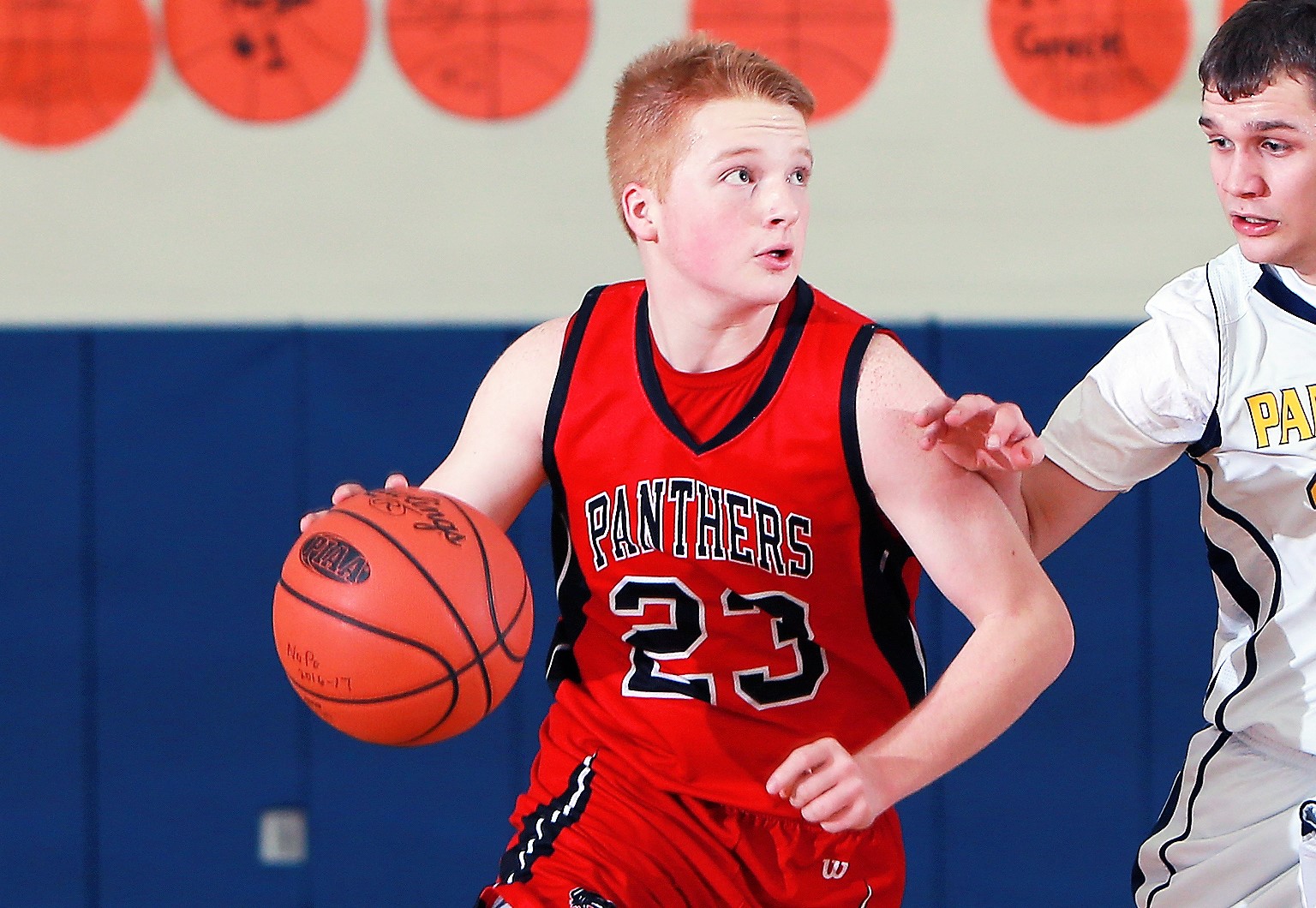 Feb. 2 boys' and girls' roundup.
(Cover photo of Austin's Blake Burgett. Photo by Paul Burdick. Check out more of Burdick's work here)
AUSTIN 48, SMETHPORT 44
SMETHPORT, Pa. – Blake Burgett scored eight of his career-high 20 points in the fourth quarter to help visiting Austin rally past Smethport, 48-44, and end a 59-game North Tier League losing streak.
The Panthers, who also ended a 30-game overall losing skid, trailed 34-33 going to the final eight minutes but rode the play of Burgett to their first NTL win since a 44-31 victory over Otto-Eldred Feb. 13, 2013. It was also Austin's first win since beating Smethport, 51-41, in the consolation game of the Port Allegany Christmas Tournament last year – that game was a non-conference contest.
Mason Valenti added nine points for Austin, while Caleb Lutz led Smethport with 11 tallies.
OSWAYO VALLEY 62, PORT ALLEGANY 60
PORT ALLEGANY, Pa. – Garren Black's long-range jumper off a steal with 3.1 seconds left gave visiting Oswayo Valley to a 62-60 North Tier League win over Port Allegany.
With the game tied at 60, Port Allegany had the basketball with under 10 seconds to play. But Black, who scored eight of his 10 points in the fourth quarter, stole the ball and quickly pushed it up court. He released a shot from around the 3-point arc – the official on that side actually signaled 3-pointer but the book recorded it as a two – that found nothing but net.
In a close game throughout, the teams were tied at 42 going to the fourth quarter.
Theo Henry led Oswayo Valley with 21 points and scored five fourth-quarter points including a big 3-pointer. Garrett Babcock chipped in 13 points while also scoring five in the fourth, and Gavin Babcock chipped in 11 points for the Green Wave.
Brandon McCaslin paced Port Allegany with 20 points. Howie Stuckey added 16 tallies for the Gators with eight coming in the fourth quarter. David Talkington chipped in with 14 points.
COUDERSPORT 78, CAMERON COUNTY 23
COUDERSPORT, Pa. – Behind seven first-quarter points from Jared Green, Coudersport raced out to a 20-point lead after one and never looked back in downing visiting Cameron County, 78-23, in North Tier League action.
The Falcons led 22-2 after a quarter and 43-10 at halftime.
Green had a game-high 18 points to pace Coudy with Owen Chambers adding 18, Aaron Wolfinger 13 and Derek Keglovits 12.
Adam Shaffer's eight points led Cameron County with Jake Walters adding six points.
OTTO-ELDRED 53, NORTHERN POTTER 33
ULYSSES, Pa. – Sawyer Drummond scored a team-high 14 points to go with 11 rebounds, as visiting Otto-Eldred used a strong second half to down Northern Potter, 53-33, in North Tier League play.
The Terrors led by one, 23-22, at halftime but outscored the Panthers 18-2 in the third quarter thanks in part to seven points from Drummond.
Bosco Ramiro-Alonso chipped in seven points, eight rebounds, five assists and four steals for Otto, who also got nine points and nine rebounds from Dylan Close and seven points from Jordan Sherwood.
Tucker Kosa had a game-high 18 points for NoPo with Blake Jeffers adding 13.
DUBOIS CENTRAL CATHOLIC 71, VENANGO CATHOLIC 35
DUBOIS, Pa. – Justin Miknis led a trio of DuBois Central Catholic players in double digits with 23 points, as the Cardinals pounded visiting Venango Catholic, 71-35.
Austen Cogley added 12 points for DCC with Michael Misiewicz chipping in 10 and Thomas Grecco nine.
Tim Wagner led Venango Catholic with 17 points and Josh Puelo added 12.
FOREST AREA 41, TIDIOUTE CHARTER 37
TIDIOUTE, Pa. – Visiting Forest Area outscored Tidioute Charter by eight in the second half to get a come-from-behind 41-37 win over the Bulldogs.
The Fires, who won for the second time this season while avenging an earlier loss to Tidioute, trailed 20-16 at halftime but got within a point, 28-27, going to the fourth quarter. Then in the final eight minutes five different Forest Area players scored led by four points from Seth Berlin as it outscored the Bulldogs 14-9 to get the win.
Berlin had a double-double with 13 points and 11 rebounds while also adding four steals. Jarrett Kahle had a game-high 15 points for the Fires.
Mason Deloe paced Tidioute Charter with 13 points.
GIRLS' RECAPS
FOREST AREA 43, TIDIOUTE CHARTER 22
MARIENVILLE, Pa. – Led by nine points from Jasmine Ginnery, nine different Forest Area Fires scored to help Forest to a 43-22 win over visiting Tidioute Charter at East Forest in the lone girls' game of the night in District 9.
The Fires led 14-0 at the end of the first quarter and 21-6 at halftime.
Bianca Hetrick added eight points for Forest Area with Glory Wagner chipping in seven.