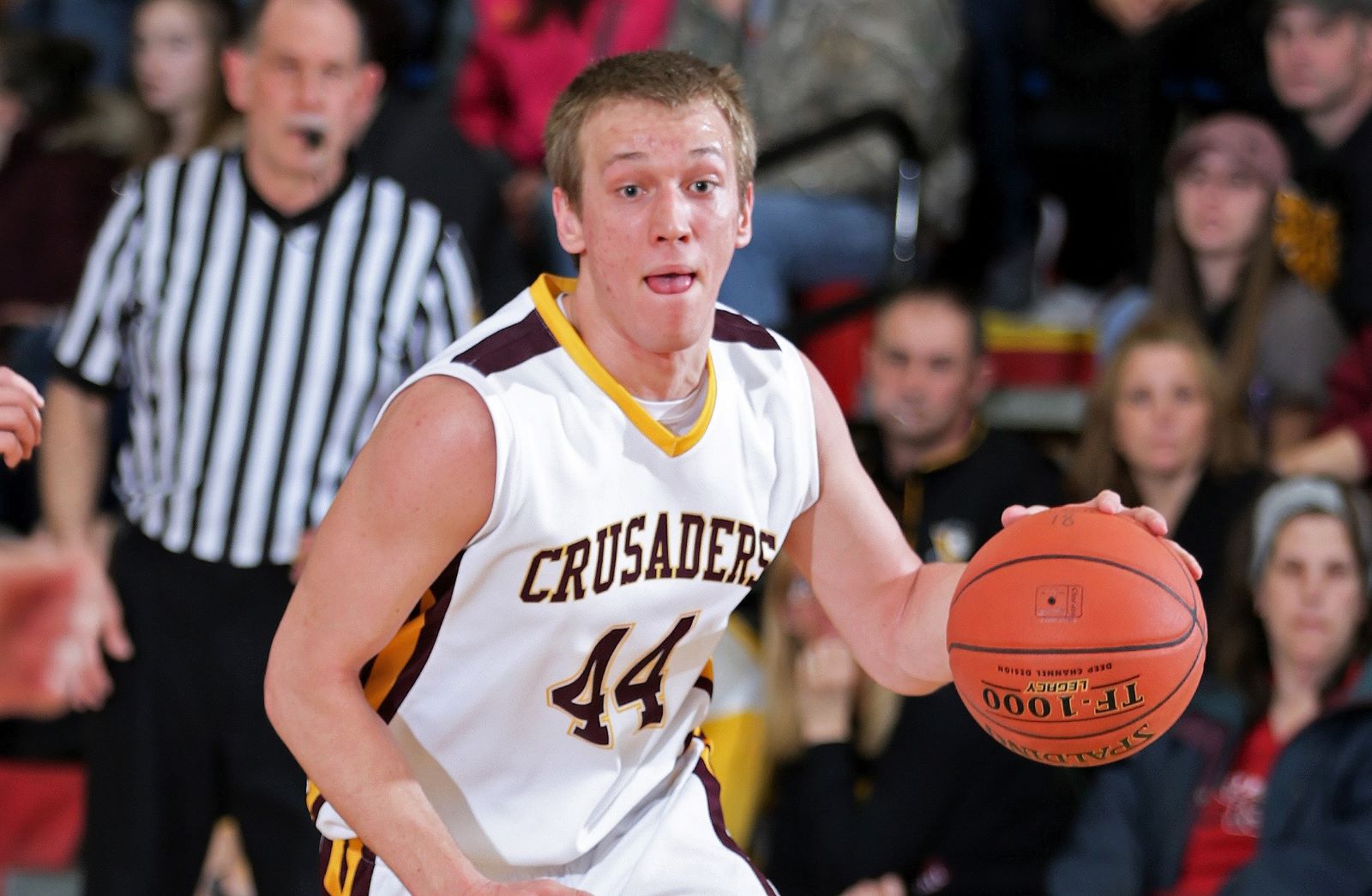 Feb. 26 boys' basketball playoff recaps.
(Photo: Alex Breindel of ECC hit eight 3-pointers on his way to 26 points in the Crusaders semifinal win over Johnsonburg Tuesday. Photo by Paul Burdick. Check out more of Burdick's work here)
ELK COUNTY CATHOLIC 62, JOHNSONBURG 44
ST. MARYS, Pa. – Alex Breindel hit three third-quarter 3-pointers to help top-seeded Elk County Catholic advance to the District 9 Class 1A title game for the fourth straight season and for the fifth time in six years with a 62-44 win over defending champion and fifth-seeded Johnsonburg.
"I am happy with the win," ECC head coach Aaron Straub said. 'We beat a very good team that always has an excellent play. We shot the ball well tonight, and when you shoot the ball well you look good."
The Crusaders (25-1) led by five, 27-22, at intermission but extended the lead to 12, 47-35, at the end of the third quarter thanks to the hot shooting from Breindel, who hit eight 3-pointers in the game on his way to a game-high 26 points.
"Alex Breindel continues to play well," Straub said. "He really stretched the zone with his ability to spot up and make shots."
Alec Wehler added 15 points in the victory for ECC.
"Alec Wehler did a very good job of penetrating the zone and getting to the basket," Straub said.
Austin Green paced Johnsonburg (16-9) with 15 points, including three 3-pointers, while Isaac Schloder and Nick Bliss each added 11 points.
"I thought we did a better job defensively as we limited our fouls and did not put them in the 1-and-1," Straub said. "We also did a better job defensively staying in front of our man.
"We still need to clean up giving our opponents second-chance opportunities."
ECC will face the winner of Wednesday's other semifinal between Clarion-Limestone and North Clarion, in the title game at 7:30 p.m. Friday, March 1, at DuBois High School.
Johnsonburg, which has qualified for the PIAA playoffs, will take on the loser of the C-L/North Clarion game in the consolation contest at 6 p.m. Friday, March 1, at DuBois High School.
KEYSTONE 56, KARNS CITY 54, OVERTIME
RIMERSBURG, Pa. – Brooks LaVan's 3-pointer at the buzzer in overtime sent Keystone into the PIAA playoffs for the first time in nine seasons while leaving Karns City stunned that its season was over, as Keystone took third place in District 9 Class 2A with a 56-54 victory at Union High School.
"You could tell that when the ball left his hand that it was going in," Keystone head coach Greg Heath said. "Brooks has got the rhythm, and he was not at all phased by that moment. I was glad that Isaak Jones was able to find him."
Here's LaVan's winner @D9Sports pic.twitter.com/lBdFaw5WZy

— Shane Lux (@luxy_aLLin) February 27, 2019
Down one, Keystone (18-7) got the ball back with 20 seconds left following a pair of missed free throws by Karns City's Chance Beighley, who was 6 of 9 from the line on the night, while scoring a game-high 20 points.
Following a timeout, Dawson Steele drove inside and put up a layup shot that came up short.
Grabbing the loose ball, Isaak Jones was able to find LaVan open who made no mistake and sent the crowd into a frenzy.
"I feel for the Karns City kids," Heath said. "I know what it's like to lose a game like that, but I'm so happy and proud for our kids right now."
Karns City (16-9) had its own heroics to send the game into overtime when Austin Fahlor, who tied Beighley for game-high honors with 20 points, hit a game-tying trey with one second to play in the fourth quarter to tie the game at 47.
"Austin's 3-pointer was huge to send the game to overtime," Karns City head coach Chris Bellis said.
Neither team led by more than eight points the entire game with the Panthers gaining an 8-point lead in the third quarter only to see Karns City rally behind Beighley, who scored 11 in the quarter, to take a 36-35 lead into the fourth quarter. The Gremlins then went ahead 41-37 early in the fourth before Keystone punched back with a 10-3 run to take the 47-44 lead late in regulation.
"If these teams played 10 times each team would win five games," Heath, whose team won two of three from the Gremlins this season, said. "That is how close and even these teams are. Both games prior this year were very close. This has become a very close and competitive rivalry."
Troy Johnson led the Panthers with 16 points while LaVan chipped in with 11 and Steele with 12.
Keystone, which is in the PIAA playoffs for the first time since qualifying in Class 1A in 2010, will take on the second-place team out of District 10, either Farrell or Wilmington, in the opening round of the PIAA playoffs Saturday, March 9, at a District 10 site to be announced.