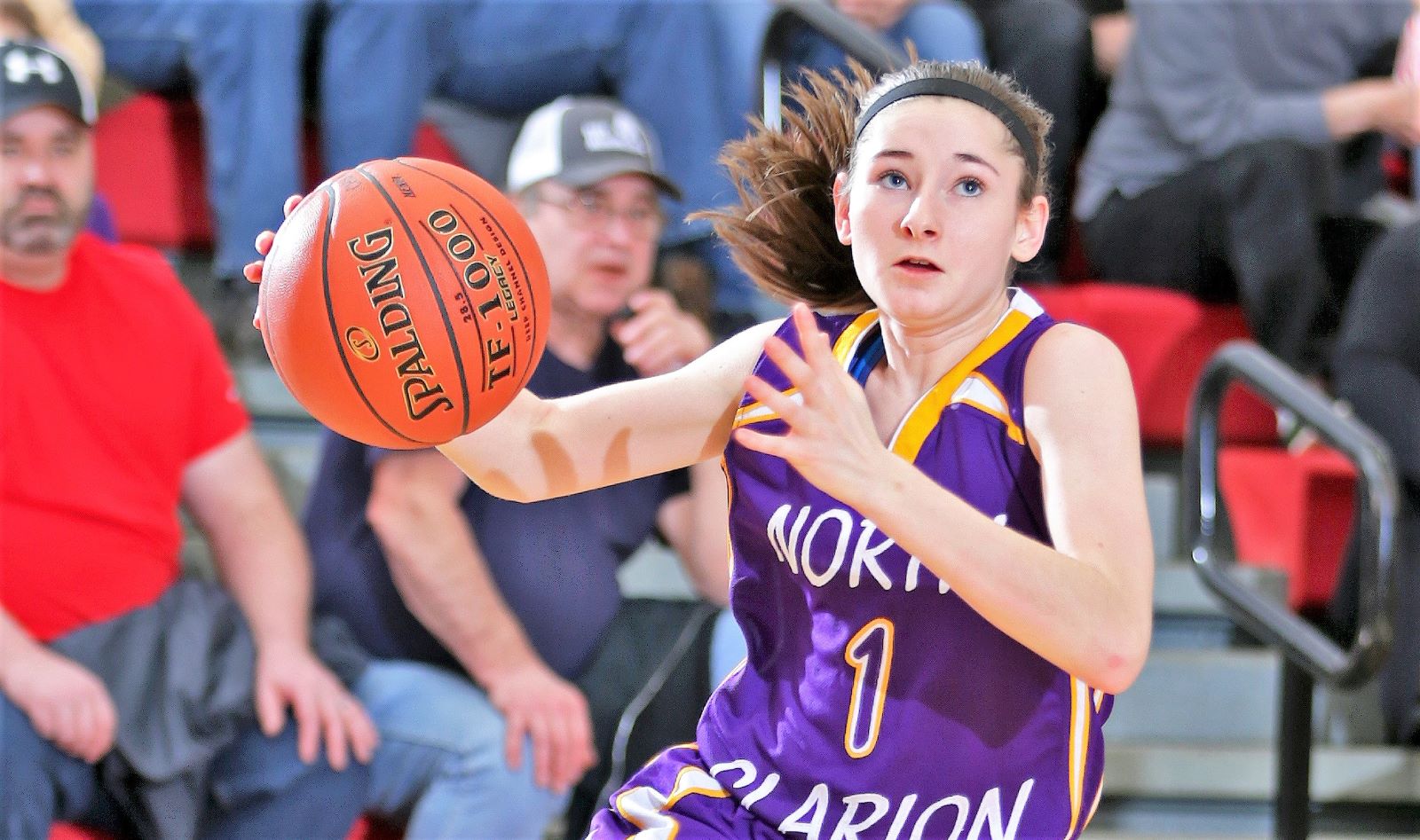 Feb. 26 girls' playoff recaps.
(Photo of North Clarion's Mackenzie Bauer, who had 15 points in the She-Wolves semifinals win over Coudersport Tuesday. Photo by Paul Burdick. Check out more of Burdick's work here)
ST. MARYS, Pa. – North Clarion closed the first half on a 10-0 run and never looked back on its way to a 50-29 win over Coudersport in the District 9 Class 1A semifinals at St. Marys High School.
"I am super proud," North Clarion head coach Terry Dreihaup said. "Coach (Terri) Obenrader and I, we have put in a lot of time with these girls, teach them fundamentals, teach them how to properly play the game. I believe that winning is contagious. It is just the way it is. We have more girls coming out every year. They are all excited. They all want to play all the time, all summer. That is just great for the program."
The third-seeded and two-time defending D9 1A champion She-Wolves (17-7) led by just one, 12-11, following a Sarah Chamber steal and layup with around four-and-a-half minutes to play in the opening half.
But Chambers shot was the last points the second-seeded Lady Falcons (18-5), who had won back-to-back D9 2A titles before moving down to 1A this year, scored in the opening 16 minutes.
Hayley Sherman started the North Clarion run when she was fouled by Shay Black, the third of the first half by Coudy's leading scorer, and hit one of two free throws to make it 13-11 with 4:19 to play.
Forty seconds later, Gaby Carll drilled her second of three 3-pointers in the game to make it 16-11.
The lead remained 16-11 until the final minute of the first half when North Clarion scored six straight points to build the lead to double digits, 22-11, at halftime.
First, Abby Gatesman scored on a layup off a feed from Carll with 57.2 seconds left to make it 18-11. Gabby Schmader then scored to make it 20-11, and in the final 10 seconds, Mackenzie Bauer ran the break to make it 22-11.
"I stressed to the girls the last few games, we run the ball," Dreihaup said. "We pushed the ball in transition. We made some great passes and some nice shots."
Bauer, who had a game-high 15 points to go with five steals, talked about the victory.
It was more of the same for North Clarion in the second half, as the She-Wolves built the lead to 19, 37-18, after three quarters and pushed it into the high 20s in the fourth quarter.
Gatesman added a double-double of 14 points and 10 rebounds while also coming away with five steals in the victory, while Sherman had eight points and 10 boards, Carll nine points on the three 3-pointers and Schmader two points and six assists.
"To win comes like this, everyone has to contribute," Dreihaup said. "We have seen it all year long. We saw it in the playoffs last year. We just need to continue to get better on defense and running our offense when we get pressure and continue to push the ball going forward."
Black led Coudersport with 10 points despite fouling out with over six minutes to play. Rosalyn Page added seven points and Chambers five.
"We had a game plan tonight to kind of focus our attention on 22 (Chambers) and 32 (Black), and the girls did an absolutely great job of holding those two under their averages and putting pressure on them all night long."
North Clarion will take on top-seeded Johnsonburg in the title game, which is set for Thursday, Feb. 28, at Brookville at a time to be announced.
Coudersport, which has qualified for the PIAA playoffs, will face Otto-Eldred in the consolation game at 6 p.m. Thursday, Feb. 28, at St. Marys High School.
BROOKVILLE 70, CHESTNUT RIDGE 39
HYDE, Pa. – District 9 champion Brookville outscored the lone 3A team out of District 5, Chestnut Ridge, by 24 points in the middle two quarters on its way to a 70-39 win in a District 5-9 sub-regional 3A contest at Clearfield High School.
With the win, the Lady Raiders (19-5) secured a PIAA playoff berth for the second straight year.
Brookville led by just two, 8-6, at the end of the first quarter but outscored the Lady Lions (3-19), 43-19, over the next two quarters to put the game on ice. That included a 20-11 advantage in the second quarter and a 23-8 edge in the third quarter.
The Johnson twins of Morgan and Madison combined to score 30 points with each scoring 15. Marcy Schindler also scored 15 tallies for the well-balanced Lady Raiders, while Lauren Hergert had 10 points.
Madelyn Hyde had a game-high 20 points for Chestnut Ridge with Makayla Weyant adding seven.
Brookville will play the third-place team out of District 6 – either Tyrone or Central Cambria – in the opening round of the PIAA playoffs Friday, March 8, at a District 9 site to be announced.
A-C VALLEY 38, KEYSTONE 27
RIMERSBURG, Pa. – Second-seeded A-C Valley outscored Keystone 16-2 in the third quarter to break open a 1-point halftime lead and advance to the District 9 Class 2A title game with a 38-27 win in the semifinals at Union High School.
The 16-2 third-quarter was part of a bigger 23-4 run by the Lady Falcons (20-3), who trailed 15-9 with just over three minutes to play in the second quarter.
"One thing I told them before the game was that we beat this team twice and they had nothing to lose," A-C Valley head coach Dave Sherman said. "I told them that we have to adjust to whatever they do and not beat ourselves with poor decisions.
"Once we got in the flow of the game and got our rhythm going, things changed for us."
Cami McNany and Kylee Eaton both scored in double figures for A-C Valley scoring 12 and 14 points respectively. The two combined to score all but two of the Lady Falcons points in the third quarter.
Sophomore Emily Lauer led Keystone (11-12) with 12 points.
A-C Valley is in a District 9 title game for the second straight year. The Lady Falcons, who lost to North Clarion in the Class 1A title game last season before moving up to 2A this year, will face top-seeded Kane at a date, time and location to be announced.
Keystone still has a shot at the PIAA playoffs with District 9 taking three teams. The Lady Panthers will play Clarion in the consolation game at a date, time and location to be announced.
KANE 63, CLARION 51
BROOKVILLE, Pa. – In a game that became secondary to a medical emergency suffered by Kane head coach Dave Kiehl just after the game, the top-seeded Kane Lady Wolves knocked off fourth-seeded Clarion, 63-51 in the D9 Class 2A semifinals.
Kiehl suffered the medical emergency either during or just after the final handshake line, and had to be rushed to a local hospital. His condition isn't currently unknown.
During the game, Ella Marconi exploded for 30 points to lead Kane (22-3) to the victory. Marconi netted 12 first-half points to help the Lady Wolves to a 31-20 halftime lead and then helped Kane maintain the lead with 18 points after halftime, including 10 in the third quarter.
Hannah Buhl chipped in 12 points for Kane with Ainsley Saf scoring nine, all on three first-half 3-pointers.
Kait Constantino led a trio of Clarion players in double digits with 16 points with Ali Troese added 12 and Wendy Beveridge 10.
Kane will play second-seeded A-C Valley in the title game at a site, date and time to be announced.
Clarion (16-8) will have a chance to qualify for the PIAA playoffs when it takes on Keystone in the consolation game at a site, date and time to be determined, as D9 gets three PIAA bids.