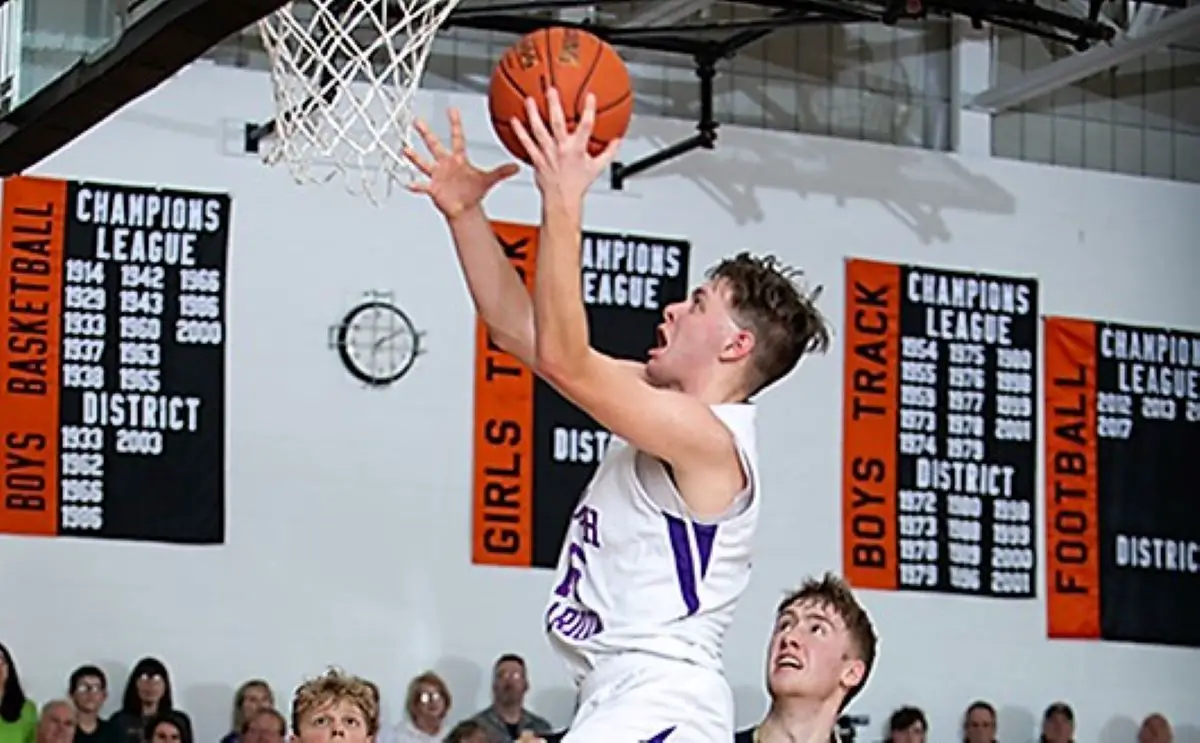 Feb. 27 boys' basketball playoff recaps.
(Photo: Korey Mills of North Clarion drives in for what would be the game-winning layup with just under a minute to play Wednesday night. Photo by Dave Cyphert of ProPoint Media.www.propointmedia.com)
NORTH CLARION 42, CLARION-LIMESTONE 40
CLARION, Pa. – Scoring the final seven points of the game, North Clarion advanced to its first District 9 title game in 20 years with a 42-40 win over Clarion-Limestone in the District 9 Class 1A semifinals at Clarion High School.
View a full photo gallery of the game from Dave Cyphert at ProPoint Media
"It feels amazing," North Clarion head coach Andy Bish, who saw his team fall in the semifinals in each of the previous two seasons, said. "It's a hurdle we haven't been able t get over the last couple of years."
Relisten to the game:
The Wolves (21-2), the second seed, trailed by five, 40-35, following a Hayden Callen basket with 4:09 to play.
But Korey Mills, who had been held scoreless the first 28:25 of the game, hit a shot with 3:34 left to bring North Clarion within three then tied the game on a 3-pointer with 2:53 to play. Finally, with around 56.1 seconds left, Korey Mills drove the lane and layed the ball in to give North Clarion the lead for good, 42-40.
"That layup was huge," Bish said. "I kept trying to them them the whole second half that they were in foul trouble and to penetrate, go, go, go. We kind of got that going there towards the end. Korey just found a lane and went right in with the left hand and put it up and in."
C-L had a couple of opportunities to tie or win the game in the final 30 seconds, but Ian Callen missed the front end of a one-and-one with 14 seconds left, and then, after the third-seeded Lions (21-4) got the ball back with 12.4 seconds to play, Jacob Bauer deflected a Hayden Callen pass intended for Deion Deas that took C-L out of its rhythm and forced Ian Callen to take a desperation three at the horn that didn't fall.
Tyler McCord-Wolbert led all scorers with 15 points for North Clarion while adding nine rebounds. He talked about the victory.
Kyle Mills added nine points and 16 rebounds in the victory with Korey Mills and Logan Minich each scoring seven points.
Deas paced C-L with 11 points with Hayden Callen scoring nine and Ian Callen seven.
North Clarion, which is in the D9 title game for the first time since 1999, will take on Elk County Catholic in the title game at 7:30 p.m. Friday, March 1, at DuBois High School.
C-L's season is far from over. The Lions will take on Johnsonburg in the consolation game at 6 p.m. Friday in DuBois. Both of those teams will also advance to the PIAA playoffs.
DUBOIS 55, CARRICK 45
CLARION, Pa. – Chase Husted scored nine of his game-high 19 points in the first quarter to help DuBois to a 13-point lead after one quarter, and the Beavers withstood a couple of Carrick charges to get a 55-45 win over the Raiders in the District 8-9-10 semifinals at Clarion High School.
Relisten to the game:
"This win is great," Husted said. "We haven't gotten a (playoff) win in a couple of year. It just feels great to get a win under our belt."
Watch all of Husted's postgame interview.
Behind Husted, who had a double-double with 10 rebounds, DuBois built an 18-5 lead after eight minutes.
But Carrick switched to a zone defense, and the Beavers struggled in the second quarter scoring just four points on two Husted baskets as Carrick cut the deficit to 22-16 at halftime.
DuBois, though, got hot from 3-point land in the third quarter nailing four long balls, including a pair of Justin Manduley, to push the lead back to 11, 39-28, at the end of the third quarter when Manduley's triple beat the horn.
The Beavers got the advantage to 14, 48-34, on an Alex Beers free throw with 1:52 to play before Carrick came roaring back going on an 11-2 run to close within five, 50-45, with 42.3 seconds to play.
A pair of Amaru Caldwell 3-pointers and another triple from Skyler Giannetti helped spark the comeback.
But DuBois, which had missed three straight free throws during the Raiders comeback, hit seven of their last eight charity shots to seal the deal.
Beers added 16 points in the win with Jonathan Cruz scoring nine on three 3-pointers and Manduley adding eight while hitting a pair of triples.
Caldwell hit four 3-pointers on his way to a team-high 12 points for Carrick. Giannetti hit three 3-pointers and finished with 10 points while A.J. Perella had eight.
DuBois will take on District 10 champion Meadville in the subregional title game Saturday, March 2, at time and District 10 site to be determined.