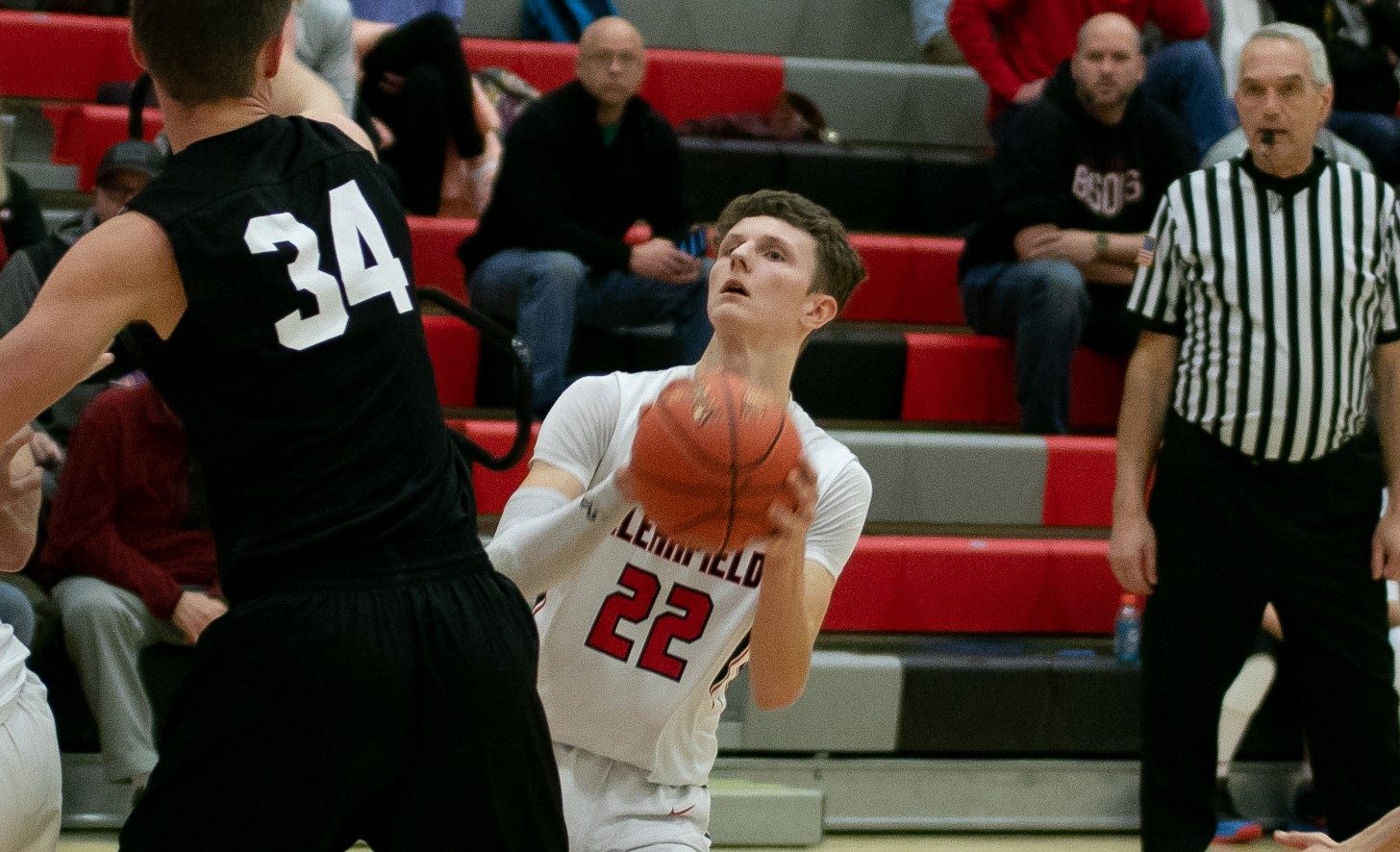 Feb. 3 boys' basketball recaps.
(Photo of Clearfield's Karson Rumsky, who had 19 points and 13 reboudns in the Bison's win over West Branch Monday. Photo by Jared Bakaysa of JB Graphics. See more of Bakaysa's work here)
CLEARFIELD 63, WEST BRANCH 37
MORRISDALE, Pa. – Karson Rumsky and Cade Walker each recorded double-doubles to help visiting Clearfield topple West Branch, 63-37.
Rumsky scored a game-high 19 points to go with a team-best 13 rebounds, while Walker added 18 points and 11 rebounds.
Andrew Lopez chipped in eight points, five assists and four steals for the Bison with Cole Miller adding 12 points.
Chance Eboch and Doug Kolesar each scored 12 points for West Branch.
BROCKWAY 61, CAMERON COUNTY 56
BROCKWAY, Pa. – A strong second quarter lifted Brockway past visiting Cameron County, 61-56.
The Rovers trailed 16-12 at the end of eight minutes but went on a 20-4 run in the second quarter to take a 32-20 halftime lead.
Cameron County fought back in the third quarter and cut the deficit to four, 39-35, but Brockway held on for the win.
Alec Freemer scored seven of his game-high 24 points in the second quarter and 15 of his points in the first half. He then came alive again in the fourth quarter adding seven more points to help the Rovers hold on for the victory.
Jon Wood added six of his 16 points in the big second quarter for Brockway, while Austin Schmader scored eight of his 12 tallies in the fourth quarter.
Caden Beldin led Cameron County with 23 points. Dylan Guisto added 12 points for the Red Raiders with Dino Brown and Hayden Brown each scoring eight.
KANE 45, SMETHPORT 41
SMETHPORT, Pa. – Carson Whiteman scored 10 of his game-high 19 points in the third quarter, as Kane erased a 3-point halftime deficit and then held off a late Smethport charge to pick up a 45-41 road victory.
The Wolves led 13-8 at the end of a quarter but trailed 20-17 at halftime before outscoring the Hubbbers 16-3 in the third quarter behind Whiteman to take a 33-23 lead into the fourth quarter.
But Smethport charged back and made it a game thanks to a pair of fourth-quarter 3-pointers from Layne Shall and a triple in the quarter from Richie McDowell.
Whiteman added five rebounds to go with his 19 tallies for Kane with Chad Greville adding 12 points, Matt DeLuca six points and Zuke Smith four points and 12 rebounds.
Hitting three 3-pointers, Shall led Smethport with 12 points with Noah Lent adding 11 points.
FOREST AREA 61, TIDIOUTE CHARTER 25
TIDIOUTE, Pa. – Racing out to a 13-0 lead at the end of the first quarter visiting Forest Area beat Tidioute Charter for the third time this season, 61-25.
Franklin Meals scored 14 of his game-high 18 points in the middle two quarters for the Fires, while Julian Gillenwater added 10 points, seven rebounds and five assists.
Noah Burke also had eight points and 13 rebounds in the win for Forest Area with Allen Johnston also scoring 10 points and Jacob Eddy adding two points and eight rebounds.
Blake Sabella hit three 3-pointers and scored a team-best 11 points for Tidioute Charter with Derek Kloss going 5 of 7 from the free-throw line on his way to nine tallies.
CRANBERRY 56, VENANGO CATHOLIC 47
OIL CITY, Pa. – JT Stahlman scored eight of his game- and career-high 22 points in the first quarter to help Cranberry get off to a fast start on its way to a 56-47 win at Venango Catholic.
Stahlman added 12 more points in the fourth quarter to help the Berries hold off a second-half comeback attempt by the Vikings, who trailed 31-16 at halftime but got back within eight, 37-29, by the end of the third quarter.
Matt McQuaide added 18 points for Cranberry.
Reza Reese hit five 3-pointers, including four in the second half, and scored 18 of his team-high 21 points after halftime for Venango Catholic. It was a career-best for Reese.
Andrew Burda chipped in 17 points for the Vikings.
NORTH CLARION 50, DUBOIS CENTRAL CATHOLIC 33
FRILLS CORNERS, Pa. – Behind the play of Matson Higgins and Devon Walters North Clarion pulled away from visiting DuBois Central Catholic in the second half to gain a 50-33 win.
The Wolves led by just two, 21-19, at halftime but outscored the Cardinals 29-14 in the second half including 15-8 in the third quarter.
Walters hit a 3-pointer and scored seven third-quarter points while scoring nine of his 11 points in the second half, while Higgins scored eight of his game-high 18 points in the fourth quarter.
Parker Meholik led DCC with eight points with Jalen Kosko scoring six.
KEYSTONE 82, SAEGERTOWN 40
KNOX, Pa. – Eleven different Keystone players etched their names in the scorebook, as the Panthers rolled past visiting Saegertown, 82-40.
Using a 26-12 second-quarter advantage, Keystone led 44-23 at halftime and then used a 28-7 fourth quarter to send the game to the Mercy Rule.
Troy Johnson was one of four Panthers in double digits with a game-high 15 points to go with six assists. Isaak Jones and Brandon Pierce each added 13 points, Marc Rearick scored 10 points and Alex Rapp had four points and four steals.
Jaden Wilkins led Saegertown with 10 points, Max Fuller added nine tallies, Brady Greco scored eight and Logan Ingram had seven.
WARREN 51, ST. MARYS 43
ST. MARYS, Pa. – Overcoming a slow start visiting Warren beat St. Marys, 51-43.
The Dragos trailed 13-5 at the end of the first quarter and 27-23 at halftime before taking the lead with a 14-6 third-quarter edge.
Ben Berdine got the comeback started scoring 15 of his game-high 25 points in the second quarter before adding seven more third-quarter tallies.
Mitchell Grosch chipped in nine points in the win for Warren.
Cahill Parrish scored 14 of his team-high 16 points before halftime including eight in the first quarter. Nick Catalone chipped in 13 points.
PUNXSUTAWNEY 65, REDBANK VALLEY 55
NEW BETHLEHEM, Pa. – Racing out to a 19-point halftime lead visiting Punxsutawney beat Redbank Valley, 65-55.
Daren Byers led the Chucks, who led 41-22 at the break, with 21 points while Nick Humble added 14 points, Andrew Young 10 and Andrew Wehrle nine.
Bryson Bain scored 19 of his game-high 26 points in the fourth quarter when he hit seven shots, including three 3-pointers, and went 2 of 3 from the free-throw line.
Chris Marshall added eight points for the Bulldogs.