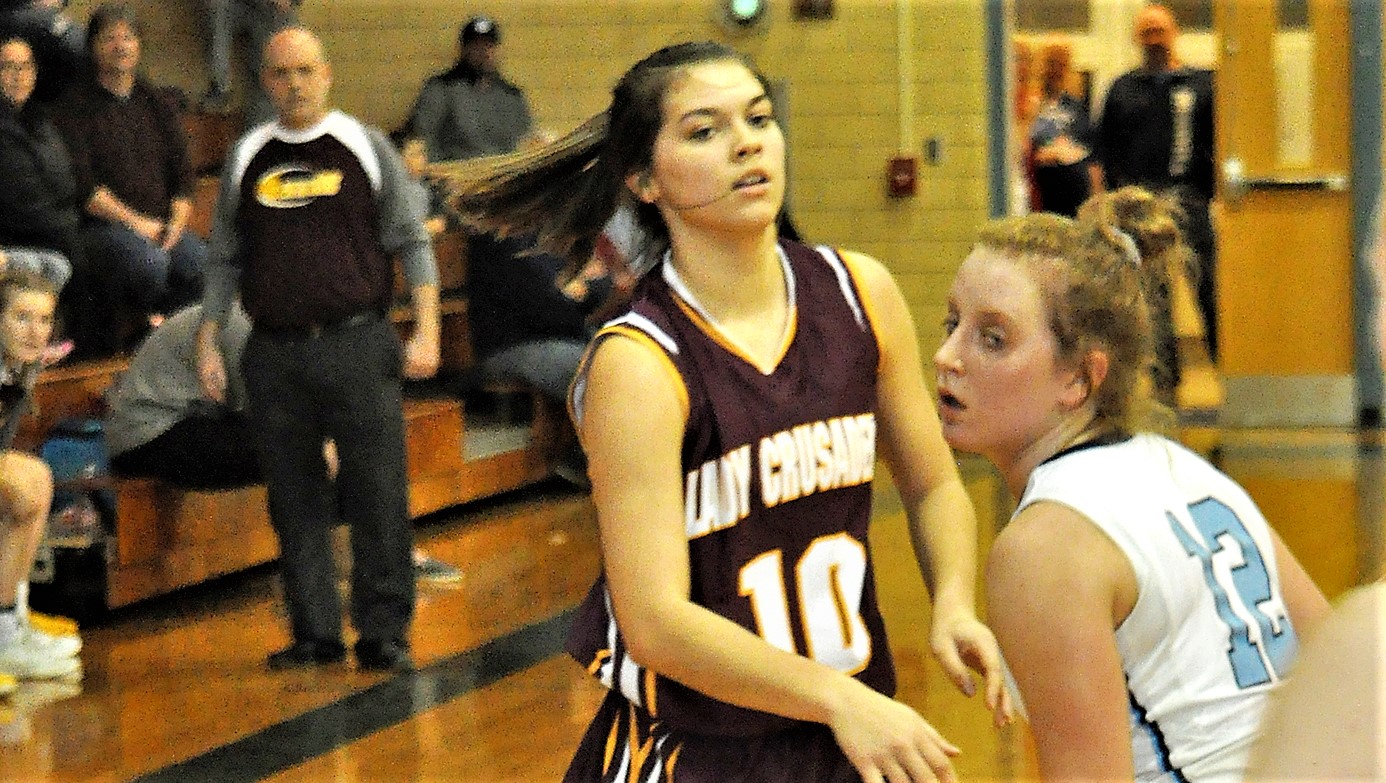 Feb. 4 girls' basketball recaps.
(Photo of ECC's Julia Aikens whose 3-pointer with 1.3 seconds left lifted ECC to a 44-42 win at Bradford)
ELK COUNTY CATHOLIC 44, BRADFORD 42
BRADFORD, Pa. – Julia Aikens hit a 3-pointer with 1.3 seconds left to lift visiting Elk County Catholic to a come-from-behind, 44-42, win over Bradford in D9 League action.
Aikens finished the night with 13 points, and her last-second shot helped ECC rally from a 38-34 deficit going to the fourth quarter.
Taylor Newton had a big night for the Lady Crusaders scoring a game-high 27 points to go with 10 rebounds. She scored five of ECC's 10 fourth-quarter points.
Erica Marshall paced Bradford with 19 tallies, Hannah Lary added 12 and Morgan Tyger seven.
PUNXSUTAWNEY 48, BROOKVILLE 43
BROOKVILLE, Pa. – Kate Horner netted 13 points, came away with four steals, dished out three assists and grabbed two rebounds to help Punxsutawney stay unbeaten with a 48-43 win at Brookville in D9 League action.
Sarah Weaver added 10 points for the Lady Chucks, who led 23-22 at halftime before taking a 35-28 lead after three quarters, while Ryley Casady and Katelyn Griebel each chipped in eight points and Abby Gigliotti three points and 11 rebounds. Casady also had five steals
Marcy Schindler had 12 points and a game-high 17 rebounds for Brookville with Morgan Johnson adding 14 points and Lauren Hergert eight.
Twenty-six of Brookville's 43 points came from the free-throw line with the Lady Raiders going 26 of 37 from the line on the night led by Johnson going 9 of 10 and Schindler 8 of 10. Punxsutawney was 14 of 29 from the charity stripe.
MONITEAU 48, UNION 38
WEST SUNBURY, Pa. – Andie Arblaster scored a game-best 17 points, grabbed six rebounds and swiped four steals to lead Moniteau past visiting Union, 48-38, in a non-conference game that also served as the rubber match between the teams this season.
Kristin Auvil also contributed 12 tallies, five blocks and nabbed four steals respectively for the Lady Warriors while Aslyn Pry scored six points and collected 11 rebounds to go with four blocked shots. Also for Moniteau, Mia Loos had six points, eight rebounds and three blocks.
Dominika Logue paced Union with 13 points while Marli Hawk chipped in eight.
BROCKWAY 52, SHEFFIELD 29
SHEFFIELD, Pa. – A balanced offensive attack guided Brockway to a 52-29 road victory over Sheffield in AML action.
Selena Buttery posted a double-double with 13 points and 12 rebounds while Macie Smith and Morgan Lindenmuth each chipped in 12 tallies, which was a career-high for Smith. Danielle Wood also added 10 points and Maggie Schmader grabbed 12 rebounds.
Marissa Grubs led Sheffield with 10 points while Lily Lauffenburger added eight.
ST. MARYS 59, PORT ALLEGANY 30
ST. MARYS, Pa. – St. Marys used a balanced offensive effort to defeat visiting Port Allegany, 59-30.
Kaylee Muccio paced the Lady Dutch with 13 points, Allison Schlimm added 12 tallies, Megan Quesenberry tickled the twine for 11 points and Kyla Johnson added nine points.
Cailey Barnett paced Port Allegany with a game-high 16 points.
COUDERSPORT 54, WELLSBORO 17
WELLSBORO, Pa. – Sarah Chambers, Shae Black and Roselyn Page combined to score 38 points, as visiting Coudersport rolled past Wellsboro, 54-17.
Chambers led the Lady Falcons with 14 points with Black and Page each adding 12 tallies.
Emma Poirier paced Wellsboro with six points.
JOHNSONBURG 47, CAMERON COUNTY 23
EMPORIUM, Pa. – Maria Jones posted a team-best 12 points to lead Johnsonburg to a 47-23 road victory over Cameron County.
Cassidy King and Rylee Casilio were also in double-figures with Casilio posting 11 points and King 10. King netting 12 tallies and Casilio 11. Lindsey Kocjancic also added eight points.
Aliva McKimm paced Cameron County with 12 points.
RIDGWAY 56, SMETHPORT 11
SMETHPORT, Pa. – Ridgway had significant contributions from a cluster of players to guide them to a 56-11 road victory over Smethport.
Gabby Rohr led all scorers with 11 points while also snatching three steals and Alyssa Kazmerski posted a double-double with 10 points and 10 rebounds. Christina Fullem chipped in nine points with Casey Woodford adding eight. The pair each grabbed five rebounds and blocked two shots apiece.
Erin Herzog paced Smethport with six points.
PHILIPSBURG-OSCEOLA 65, CURWENSVILLE 36
PHILIPSBURG, Pa. – Halle Herrington exploded for a 44-point performance to lead Philipsburg-Osceola to a 65-36 victory over visiting Curwensville.
Samantha Bainey chipped in nine points while Kyleigh Kennedy added six for the victors.
Madi Weber led the Lady Tide with 13 points with Briana Swindell posting 10 tallies.