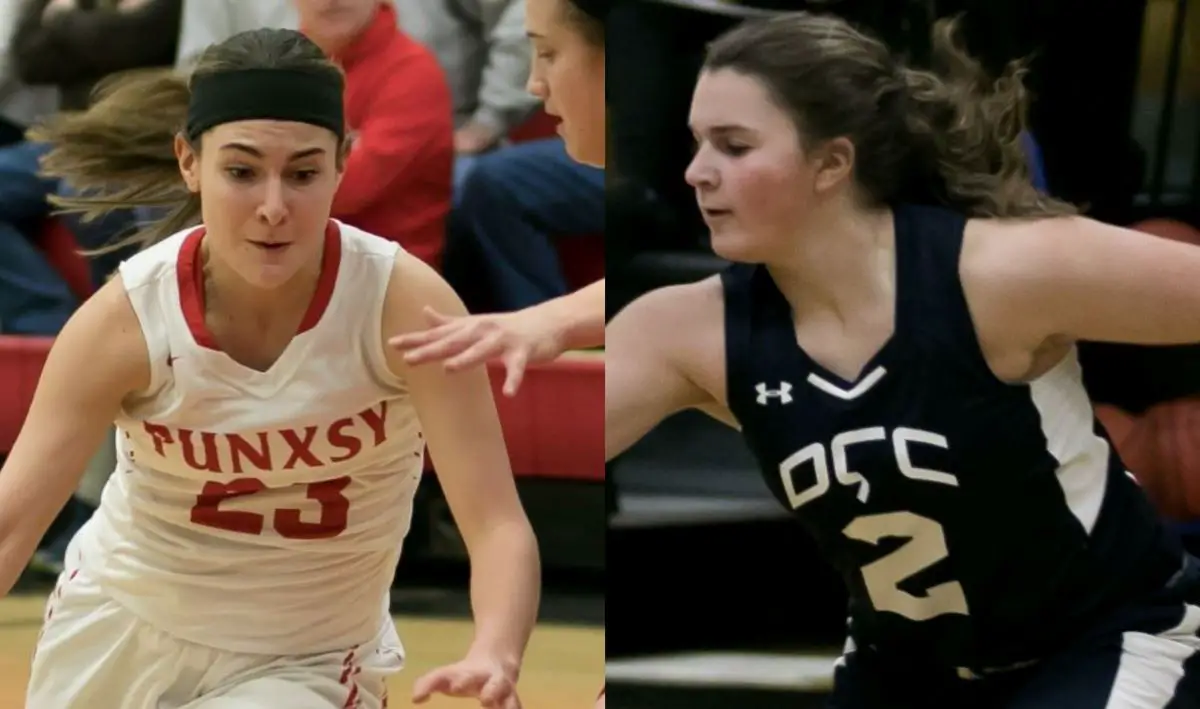 Feb. 4 girls' basketball recaps.
(Photo of Punxsutawney's Sarah Weaver (left) and DCC's Maia Cogley (right) who helped their teams to league/division crowns Tuesday. Photos by Jared Bakaysa of JB Graphics. See more of Bakaysa's work here)
Also see: Redbank Valley, Cranberry Win to Keep Pace in KSAC South Race
PUNXSUTAWNEY 43, ST. MARYS 37
ST. MARYS, Pa. – In a close game through, visiting Punxsutawney was just a little bit better than St. Marys gaining a 43-37 win that clinched the Lady Chucks fifth straight D9 League championship.
The game was tied at 18 at halftime before Punxsutawney took a 29-27 lead going to the fourth quarter. The Lady Chucks then survived a 5 of 9 performance from the line in the final eight minutes to get the win with Chloe Presloid hitting a big 3-pointer in the quarter.
Sarah Weaver led Punxsutawney with 15 points while adding three steals, two rebounds and two assists. Ryley Casaday chipped in 10 points and nine rebounds, while Riley Presloid had nine points and four rebounds and Chloe Presloid four points, four steals, four rebounds and three assists.
Kyla Johnson hit four 3-pointers and finished with a team-best 13 points for St. Marys. Kaylee Muccio added six tallies for the Lady Dutch.
Punxsutawney, which finished perfect in league play at 10-0 from 2016-2018 before winning the league at 9-1 last season, is now 8-0 this year and 47-1 in league play since the start of the 2016 season.
DUBOIS CENTRAL CATHOLIC 38, CURWENSVILLE 26
CURWENSVILLE, Pa. – Behind 21 combined points from Maia Cogley and Martina Swalligan, visiting DuBois Central Catholic outlasted Curwensville, 38-26, and claimed its second consecutive AML South title.
Cogley hit a pair of triples and finished with 11 points to lead the Lady Cardinals offense. Swalligan added 10 tallies while Shay Gulvas chipped in eight.
Brianna Swindell paced the Lady Tide with seven points and Alyssa Bakaysa had six in the loss.
UNION 57, FOREST AREA 22
TIONESTA, Pa. – Dominika Logue tied her season and career high with 30 points while adding eight rebounds to help Union secure a District 9 Class 1A playoff spot with a 57-22 win over Forest Area at West Forest.
The playoff berth is the first for Union's third-year head coach Aly Kepple and the first for the program since 2016. The victory also assures the Golden Damsels of their first regular season finishing at or above .500 since 2011. Union, 11-10, closes the regular season Friday by hosting A-C Valley.
Hailey Kriebel added six points and six assists in the win with Keira Croyle also scoring six points.
Megan Clow led Forest Area with 14 points.
KANE 44, BROCKWAY 34
KANE, Pa. – In a game that saw all but one of its points scored in the first three quarters, Kane beat visiting Brockway, 44-34, in AML action delivering a blow to the Lady Rovers hopes of an AML playoff spot.
The Lady Wolves led 43-34 going to the fourth quarter and scored the only fourth-quarter point on a Sarri Swanson free throw.
Swanson finished with a double-double of 14 points and 11 rebounds, while Emily Bucheit scored a game-high 16 points for Kane. Ainsley Saf also added 10 points and hit two of the Lady Wolves three first-quarter 3-pointers. Bucheit had the other, and that helped Kane take a 21-17 lead after a quarter of play.
Brockway, which got 11 points and 13 rebounds from Selena Buttery, got within a point, 30-29, at halftime only to watch Kane pull away in the third quarter outscoring the Lady Rovers, 13-5.
Bucheit, who hit four 3-pointers in the game, hit another in the third quarter and scored five of her points in the quarter with both Saf and Swanson adding four points in the frame.
Danielle Wood led the Brockway offense with 13 points, while Morgan Lindemuth added eight points, three blocked shots and three assists. Macie Smith grabbed eight rebounds.
The loss drops Brockway a half-game back of Ridgway for second place in the AML South with the top two teams making the AML playoffs – the Lady Rovers are in the District 9 playoff regardless of the AML playoff situation.
Brockway, which beat Ridgway, 28-27, Jan. 7 at Ridgway hosts the Lady Elkers Friday now needing a win to claim the AML playoff spot.
Kane is securely in second place in the AML North and will play AML South champion DuBois Central Catholic in the AML semifinals. Elk County Catholic already won the AML North and will play the second-place team from the AML South in the AML semifinals.
BRADFORD 68, DUBOIS 45
DUBOIS, Pa. – Hannah Larry and Erica Marshall combined for 43 points and eight 3-pointers to help Bradford defeat DuBois on the road, 68-45.
Larry led the Lady Owls offense with 22 points and hit five triples while Marshall had three 3-pointers and 21 points. Emily Warner chipped in nine points and Alanna Benson had six points on a pair of 3-pointers.
Oliva Johnson had 12 points and Abby Guiher had 11 to pace the Lady Beavers offense.
NORTH CLARION 68, CLARION-LIMESTONE 20
FRILLS CORNERS, Pa. – Abby Gatesman and Mackenzie Bauer combined to score 38 points, as North Clarion rolled past visiting Clarion-Limestone, 68-20.
Gatesman led the She-Wolves, who led 39-4 at halftime, with 20 points with Bauer adding 18.
Trinity Thompson chipped in nine points for North Clarion with Haley Sherman and Gabby Schmader each scoring eight.
Frances Milliron paced C-L with eight points with Anna Kennemuth scoring six.
MONITEAU 35, KARNS CITY 33
KARNS CITY, Pa. – Kristen Auvil scored five fourth-quarter points to help Moniteau outlast Karns City, 35-33, and qualify for the District 9 Class 3A playoffs.
The teams were tied 21-21 entering the fourth quarter, but the Lady Warriors came out on top after outscoring the Lady Gremlins, 14-12, in the final eight minutes.
Ashlyn Pry had a double-double for Moniteau with 10 points and 11 rebounds. Abby Rottman also had 10 tallies and Auvil finished the night with eight points and six blocks.
Rossi McMillen and Emma Johns each netted seven points to pace the Lady Gremlins offense.
COUDERSPORT 47, WELLSBORO 23
COUDERSPORT, Pa. – Behind 21 points from Sarah Chambers, Coudersport picked up a 47-23 victory over visiting Wellsboro.
Lauren Stimaker added 11 points for the Lady Falcons while Rosalyn Page chipped in seven.
Cathrun Brought had 10 points to pace Wellsboro in the loss.