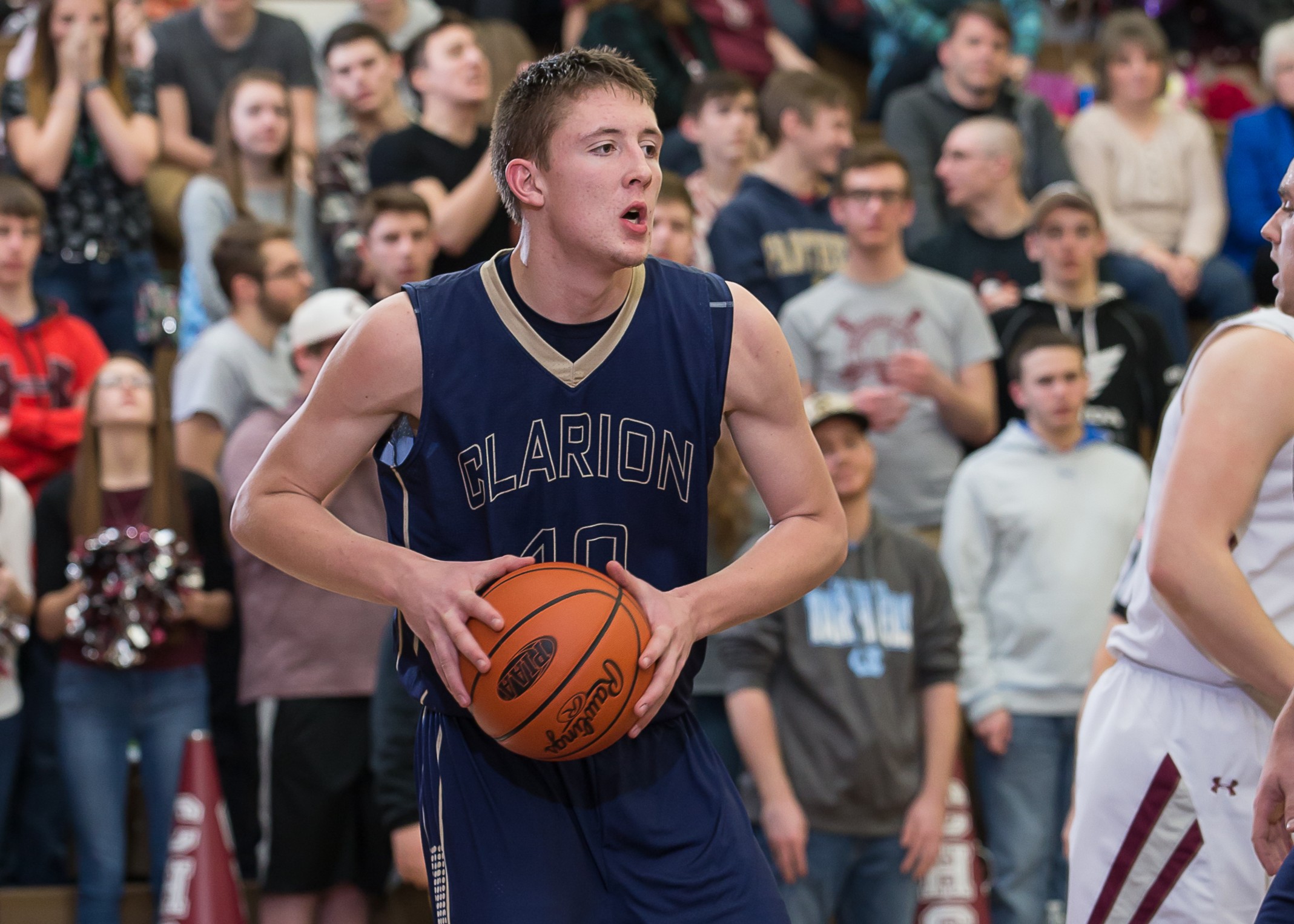 CLARION-LIMESTONE 76, CRANBERRY 64
SENECA, Pa. – Scoring 70 or more points for the 18th straight game, KSAC North champion Clarion-Limestone held off Cranberry, 76-64.
Junior Dan Callen scored a game-high 22 points, including 10 in the fourth quarter, upping his career total to 996.
Callen was one of four Lions to reach double figures.
Noah Rankin added 16 points, Taylor Smith 16 and Ian Callen 11.
Brendan Zerbe paced Cranberry with 19 points. Evan Lutz added 17 and Caleb McCandless 10.
C-L led 18-13 at the end of the first quarter and 40-30 at halftime.
OTTO-ELDRED 61, CAMERON COUNTY 59
DUKE CENTER, Pa. – Heath Stewart's two free throws with about five seconds to play lifted Otto-Eldred to a 61-59 win over visiting Cameron County in North Tier League action.
Jordan Sherwood had given the Terrors a 59-57 lead on a turn-around banked in jumper with 50 seconds to play.
Derek Rieder then tied the game at 59 for Cameron when he hit two free throws with 9.4 seconds left following an inbounds play after Stewart blocked a Trea Smith 3-pointer out of bounds.
On the ensuing inbounds for Otto, Stewart took off and was fouled going to the hole.
Following Stewart's made free throws, Smith drove the lane and dished to Rieder, whose last-second runner from the corner was off the mark.
The Terrors trailed by 10, 41-31, at halftime but outscored the Red Raiders 30-18 in the second half.
Daman Palmer finished with 17 points for Otto while hitting four 3-pointers. Dylan Close added 11 points, Sawyer Drummond nine and Stewart eight for the Terrors.
Smith exploded for 30 points for Cameron County while hitting fie 3-pointers. Adam Shaffer added 13 points.
BROOKVILLE 57, BRADFORD 56, OVERTIME
BROOKVILLE, Pa. – Bryan Dworek hit one of two free throws with 3.5 seconds left in overtime to lift Brookville to a 57-56 win over visiting Bradford in D9 League action.
Ben Reitz led the Raiders with 14 points, going 10-for-13 from the line including 4-of-6 in overtime. Kurt Schindler scored 13 points while Dworek and Jimmy Moore each finished with nine points.
Bradford led 56-54 with 39 seconds left in the extra session before Brookville scored the game's final three points from the free-throw line. In fact, all seven of the Raiders points in overtime came from the foul line, where the Raiders were 20 of 27 on the night.  
Andy Pantuso led the Owls, who were 14 of 20 from the line, with 18 points and 11 rebounds. Deondre Terwilliger added 13 points and John Eakin finished with 11 points and eight rebounds.
ELK COUNTY CATHOLIC 86, ST. MARYS 44
ST. MARYS, Pa. – Nate DaCanal exploded for a career-high 33 points, as unbeaten Elk County Catholic made a late-season statement with an 86-44 win over crosstown rival St. Marys at ECC in D9 League play.
DaCanal scored all of his points in the first three quarters and 22 of them in the first half, as the Crusaders, who are 21-0, led 54-26 at intermission.
Gabe Kraus also had a big game scoring 17 of his 22 points in the first half.
Former ECC teammate Jeff Wehler, who transferred to St. Marys prior to the season, led the Dutch with 25 points.
CLEARFIELD 75, PHILIPSBURG-OSCEOLA 27
PHILIPSBURG, Pa. – Clearfield took the Mountain League title outright with a 75-27 win at Philipsburg-Osceola.
Will Myers poured in 24 points and grabbed seven rebounds to lead the Bison, who led 45-16 at halftime and got it to the 40-point PIAA Mercy Rule, 65-25, by the end of the third quarter.
Cody Spaid added 15 points, 15 rebounds and four blocked shots while Evan Brown scored
16 points for Clearfield.
UNION 59, KEYSTONE 51
Read Full Story on ExploreClarion.com
KNOX, Pa. – Union built a 19-point halftime lead and then held off a Keystone rally in the second half to claim a 59-51 KSAC South road victory.
The Golden Knights led 34-15 at the break and were still up 15, 42-27, at the end of three quarters before Keystone fought back getting as close as seven, 50-43, in the fourth quarter.
Lucas Bowser led Union with 19 points, eight rebounds and three steals while shooting 8 of 9 from the floor. Hank Murphy added 18 points, while Cole Morris had 14 points, eight assists, four steals and four rebounds.
Austin Ion paced Keystone with 17 points and seven rebounds. Tanner Wilson added 15 points, five rebounds and three assists, while Brayden Shick had 10 points.
MONITEAU 39, REDBANK VALLEY 33
WEST SUNBURY, Pa. – Aaron Marterella and Lake Pry both reached double digits, as Moniteau beat visiting Redbank Valley, 39-33, in KSAC South action.
Moniteau led 25-16 at the end of three quarters before Sam Heeter scored 12 of his game-high 14 points in the fourth quarter for Redbank Valley.
Marterella led Moniteau with 12 points with Pry adding 10 and Jake Jewart eight.
Kaleb Reed chipped in 10 points for Redbank Valley.
KARNS CITY 65, A-C VALLEY 29
FOXBURG, Pa. – All 15 Karns City players who dressed scored, as the visiting Gremlins ran right past A-C Valley for a 65-29 win in a KSAC South game.
Noah Pollock led the Gremlins with 11 points, while Reese Barger added 10. Collin Dunmyre grabbed eight rebounds for Karns City.
Austin Heeter scored 10 points for A-C Valley, which trailed 24-0 at the end of the first quarter.
VENANGO CATHOLIC 59, NORTH CLARION 47
OIL CITY, Pa. – Brady Kingston had a triple-double and Noah Puleo scored 23 points, as Venango Catholic beat visiting North Clarion, 59-47, in KSAC North action.
Kingston finished with 16 points, he was 10 of 16 from the free-throw line, 11 rebounds and 11 assists. He scored 12 points in the fourth quarter helping the Vikings break a 33-all tie heading to the quarter. Puleo added nine points in the decisive quarter.
Ian Hidinger chipped in 12 points for VC, who also got eight from Tim Wagner.
Zayn Hargenrader scored 15 points to lead North Clarion, but the Wolves leading scorer was just 6 of 13 from the line as North Clarion went 10 of 19 from the line in the game.
PORT ALLEGANY 50, GALETON 33
PORT ALLEGANY, Pa. – Behind 19 points from Jordan Seefeldt, Port Allegany beat visiting Galeton, 50-33, in North Tier League play.
Tre Garzel added 10 points for the Gators, who also got nine from Dylan Kio.
McKinley Ward's 17 points paced Galeton.
NORTHERN POTTER 53, AUSTIN 50
ULYSSES, Pa. – Ticker Kosa, Frank Gardner and Jacob McConnell all reached double digits, as Northern Potter rallied past visiting Austin to gain a 53-50 North Tier League victory.
NoPo trailed 35-32 going to the fourth quarter but outscored the visitors 21-15 in the quarter thanks to eight points from McConnell and six from Kosa.  
Anderson Nicka paced Austin with 26 points and 19 rebounds. Blake Burgett added 10 points.
CLARION 76, FOREST AREA 42
CLARION, Pa. – Clarion led visiting Forest Area by just three points after the first quarter but pulled away from there for a 76-42 rout of the Fires.  
The Bobcats 19-16 at the end of the first quarter but outscored Forest Area 57-26 after than.
Jonathan Smith led Clarion with 26 points and was the lone Bobcat in double figures.
Nic Smail paced the Fires with 20 points.
KANE 64, CURWENSVILLE 49
CURWENSVILLE, Pa. – Andrew Bucheit returned to the Kane' lineup after missing three games with an injury and delivered 25 points and 10 rebounds to lead the Wolves past the host Curwensville Tide, 64-49 in AML action.
Davis Gardner scored 14 points and Tyler Rolick added 11 points for Kane, which outscored the Tide 28-21 in the second half to pull away.
Jake Terry scored 25 points for Curwensville.
BROCKWAY 44, JOHNSONBURG 34
BROCKWAY, Pa. – Carter Adams and Corey Carr led Brockway a fourth-quarter surge for Brockway in a 44-34 win over visiting Johnsonburg in non-conference play.  
Adams and Carr scored 15 and 10 points respectively for the Rovers, who won their fourth straight game and fifth out of their last six. Adams scored 10 of his points in the second half while the duo scored 11 of the Rovers' 17 points in their 17-6 fourth-quarter advantage after trailing by a point going into the final eight minutes.
Kevin Benson scored eight points to lead the Rams.
PUNXSUTAWNEY 58, DUBOIS 48
DUBOIS, Pa. – Dylan Huey and Brandon Matthews each scored 19 points as Punxsutawney pulled away for a 58-48 D9 League win at DuBois.
The Chucks led 32-30 at halftime and outscored the Beavers 26-18 in the second half to send DuBois to its fifth straight loss.
Nick LaBrasca scored 18 points to pace the Beavers.
RIDGWAY 57, ST. JOSEPH'S CATHOLIC ACADEMY 49
BOALSBURG, Pa. – Down seven points at halftime, the Ridgway Elkers notched a 57-49 non-conference road win at St. Joseph's Catholic Academy.
Jeremy Breier netted 30 points, 19 of them coming in the second half with the Elkers outscoring St. Joe's 34-19 after trailing 30-23 at halftime. Andy Breier finished with 11 points.
COUDERSPORT 58, SMETHPORT 34
COUDERSPORT, Pa. – The Coudersport Falcons put three players in double figures and notched a 58-34 win over visiting Smethport.
Jared Green led the way with 17 points while Owen Chambers and Darren Keglovits each scored 12 points.
Caleb O'Neal scored 18 points for the Hubbers.