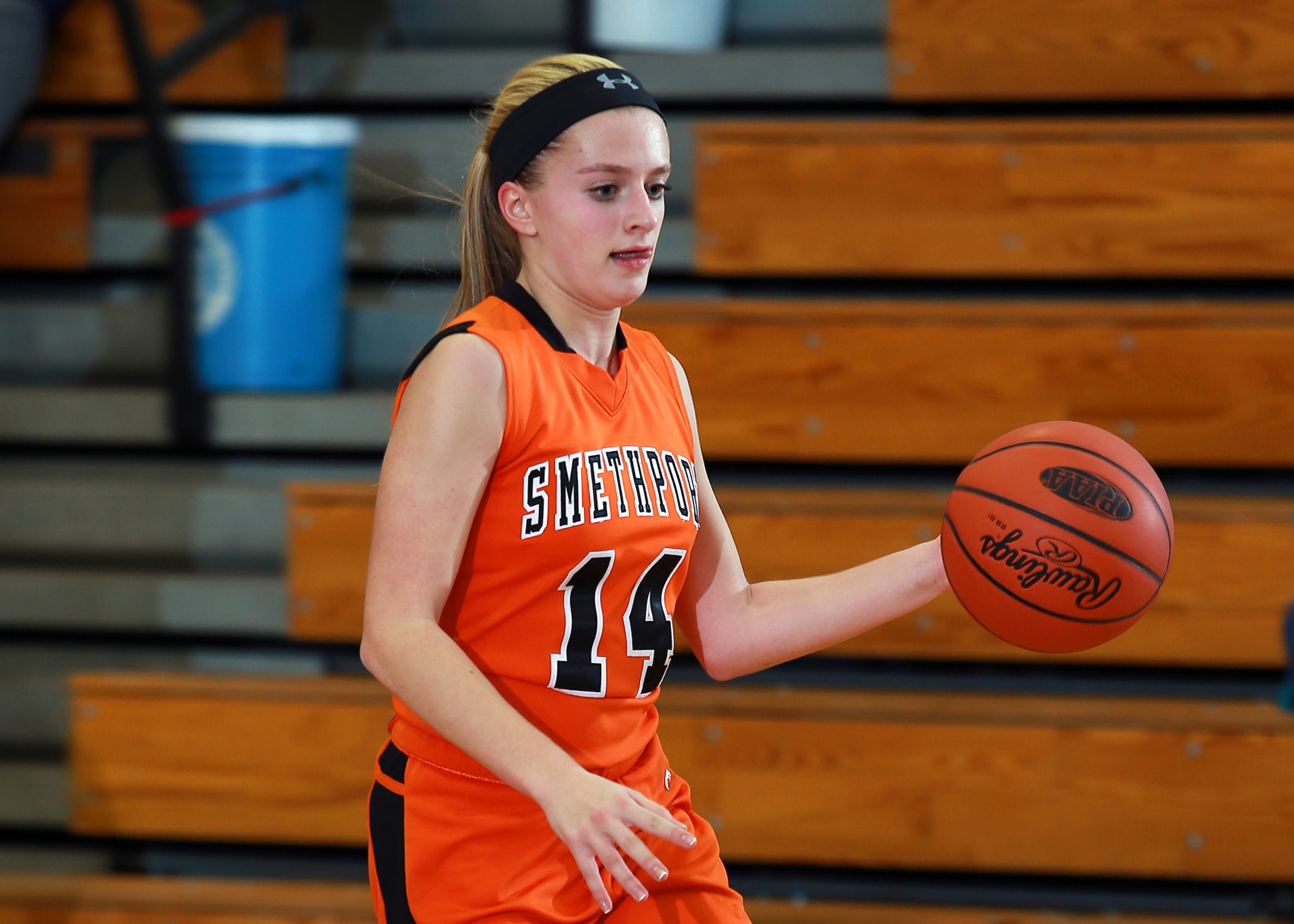 SMETHPORT 52, RIDGWAY 41
RIDGWAY, Pa. – Emily Treat caught fire in the third quarter hitting four 3-pointers to help visiting Smethport rally past Ridgway, 52-41, in non-conference play.
The Lady Hubbers trailed 21-18 at halftime after the Lady Elkers overcame a 13-6 deficit at the end of quarter.
But Treat, who finished with a game-high 24 points while nailing six triples, started raining threes in the the third quarter to help Smethport outscored the hosts, 21-14, to take a 39-35 lead. The Lady Hubbers then pulled away in the final eight minutes.
Abbey Woodard added 12 points for Smethport and was a perfect 8 of 8 from the free-throw line.
Jessica Kifer paced Ridgway with 18 points, 10 rebounds, three blocked shots and two assists. Emily Fullem added eight points, 12 rebounds and six blocked shots.
PUNXSUTAWNEY 46, DUBOIS 28
PUNXSUTAWNEY, Pa. – Leah Miller and Hope Bridge combined for 24 points, as D9 League champion Punxsutawney beat visiting DuBois, 46-28.
Miller scored a game-high 14 points for the Lady Chucks with Bridge adding 10.
Dayna DeSalve and Ashley Hallowell each scored eight points for the Lady Beavers.
KANE 55, CURWENSVILLE 41
KANE, Pa. – Kane pulled away from Curwensville late to get a 55-41 win over the visiting Lady Tide in AML action.
On Senior Night, the Lady Wolves led by four, 37-33, but outscored the visitors 18-8 in the final eight minutes.
Trinity Clark led Kane with 14 points and 19 rebounds, while freshman Ella Marconi had 13 points, eight rebounds and four blocked shots. Sydney Dyne added 10 points. Camryn Cummings chipped in seven points, seven assists, six steals.
Hannah Dixon paced Curwensville with 12 points, Madison Weber added 11 points and Christine Limbert 10.
KEYSTONE 44, UNION 41
RIMERSBURG, Pa. – Keystone built a double-digit lead after three quarters and then had to withstand a comeback attempt from Union to pull out a 44-41 KSAC South road victory.
The Lady Panthers, on the strength of a 19-7 second-quarter advantage, led 36-24 going to the fourth quarter but were outscored 17-8 by their hosts.
Taylor Geer paced Keystone with 13 points, 11 before halftime, 18 rebounds, three steals and three blocks. Amber Hess added nine points six rebounds, two assists, two steals and two blocks, while Josselin Geer chipped in seven points four rebounds and two blocks. Tessa Weaver added 12 rebounds.
Shaley Shick led Union with 12 points with Kali Flick adding 11 and Frankee Remmick seven. Leading scorer Lexey Shick was held to three points, all in the first half.
MONITEAU 62, REDBANK VALLEY 56
NEW BETHLEHEM, Pa. – Alazia Greaves scored 15 of her team-high 21 points in fourth quarter, as visiting Moniteau rallied past Redbank Valley for a 62-56 win in KSAC South action.
The Lady Warriors trailed by three, 42-39, going to the fourth quarter but rode the quickness of Greaves to the victory.
Kristina DeMatteis added 17 points, 10 rebounds, seven blocked shots and six steals for Moniteau, while Sara Hull chipped in 12 points.
Brooke Hinderliter continued her fantastic late-season run scoring a game-high 32 points to go with 11 rebounds. She was 16 of 17 from the free-throw line and now has 1,948 career points moving into seventh-place all-time in District 9 history in scoring.
Macy King added 10 points for the Lady Bulldogs, with Lexi Holt chipping in eight and Becca Dougherty six.
KARNS CITY 71, A-C VALLEY 50
KARNS CITY, Pa. – Karns City rode a quick start to a 71-50 win over visiting A-C Valley in KSAC South play.
The Lady Gremlins, behind a combined 12 points from the Gibson sisters, raced out to a 20-10 lead at the end of the first quarter and led 36-21 at halftime.
LeeAnn Gibson scored seven of her 17 points in the first quarter, while her younger sister, Alyssa, added five of her 14 points in the opening eight minutes.
The second and third quarters belonged to Emily Hegedus for Karn City. The sophomore scored 10 points in each scorer on her way to a game-high 26 points.  
Ellie Thompson led A-C Valley with 19 points with Morgan Cratty adding 15.
NORTH CLARION 64, VENANGO CATHOLIC 26
FRILLS CORNERS, Pa. – Tori Obenrader scored a career-high 28 points to go with 19 rebounds, as North Clarion cruised past visiting Venango Catholic, 64-26, in KSAC North action.
It was the 13th game of at least 16 rebounds for Obenrader, who is averaging 17.1 rebounds to go with 17.4 points per game. It was also her 15th consecutive double-double and her 20th double-double in 21 games this season.
Abbie Schmader added her 17th double-double of the year – her fifth straight – with 17 points and 12 rebounds. She is also averaging a season double-double with 19.1 ppg and 10.6 rpg. Cassie Wagner chipped in eight points for the She-Wolves.
Ava Homan paced Venango Catholic with 14 points.  
CLARION 34, FOREST AREA 23
MARIENVILLE, Pa. – Clarion used a game-closing 11-0 run to hold off an upset bid by Forest Area on Cancer Awareness Night at East Forest.
The Lady Cats found themselves deadlocked with the Lady Fires at 23 with 2:30 to play before finishing with the contest's final 11 points.  
Kelly Beveridge led Clarion with 13 points, tying Forest Area's Morgan Silvis for game-high honors.
Bianca Hetrick had a team-high 11 rebounds for the Lady Fires.
CRANBERRY 67, CLARION-LIMESTONE 21
STRATTANVILLE, Pa. – Malliah Schreck and Hannah Duncan both reached double figures, as visiting Cranberry downed Clarion-Limestone, 67-21, in KSAC North play.
Schreck led all scorers with 16 points, all coming after halftime, and added 16 rebounds with Duncan adding 10 tallies. Erin Merryman and Tori Flinspatch both chipped in nine points for the Berries. Merryman also had five steals.
Josie Stitt led C-L with 10 points.
YOUNGSVILLE 60, SHEFFIELD 30
YOUNGSVILLE, Pa. – Despite scoring a season-high 30 points, Sheffield was doubled up by Youngsville, 60-30, in non-conference action.
Emily Knowles led the Lady Wolverines with seven points, while Lexi Lyon added six and Destiny Wynn five.
Caitlin Craig and Autumn Haltberg each scored 10 points to pace Youngsville.
COUDERSPORT 55, DUBOIS CENTRAL CATHOLIC 53
DUBOIS, Pa. – Coudersport took a huge step towards locking up the No. 1 overall seed in the District 9 Class A playoffs with a 55-53 win at DuBois Central Catholic in a rare late-season non-conference game between two of the better teams in Class A.
The Lady Falcons can secure the top spot in the postseason with a win at Smethport Monday or a North Clarion loss to Forest Area.
Haley Keck was a big reason for the win scoring 13 of her game-high 28 points in the fourth quarter and 21 of her points in the second half. The Lady Falcons trailed 23-20 at halftime before taking a 38-37 lead after three quarters. Keck added six rebounds, while Macey Gleason had 14 points, seven rebounds and three steals. Emily Morey chipped in six points and four assists.
Riley Assalone paced DCC with 21 points with Jordy Frank and Libby Maurer each scoring eight points.
JOHNSONBURG 51, BROCKWAY 23
JOHNSONBURG, Pa. – Behind 10 points and 13 rebounds from Nicole Myers, Johnsonburg won for the seventh time in its last nine games thanks to a 51-23 win over visiting Brockway in a non-conference game.
Cassidy King added nine points and eight steals for the Ramettes, who had 10 players etch their names in the scorebook.
Leah Lindemuth and Adriana Azzato each score six points for Brockway.
BRADFORD 45, BROOKVILLE 41
BRADFORD, Pa. – Bradford held off a furious fourth-quarter comeback attempt by Brookville to pull out a 45-41 D9 League victory over the visiting Lady Raiders.
The Lady Owls held a 34-20 lead going to the fourth quarter only to watch Brookville start the quarter on a 19-5 run to tie the game at 39 with 2:48 to play. But Bradford was able to hit some free throws to score the contests next five points and hold on for the victory.
Lee Woodmansee led Bradford with 14 points. Bri Wells added 11 tallies for the Lady Owls.
Hali Olsen paced Brookville with a game-high 24 points.