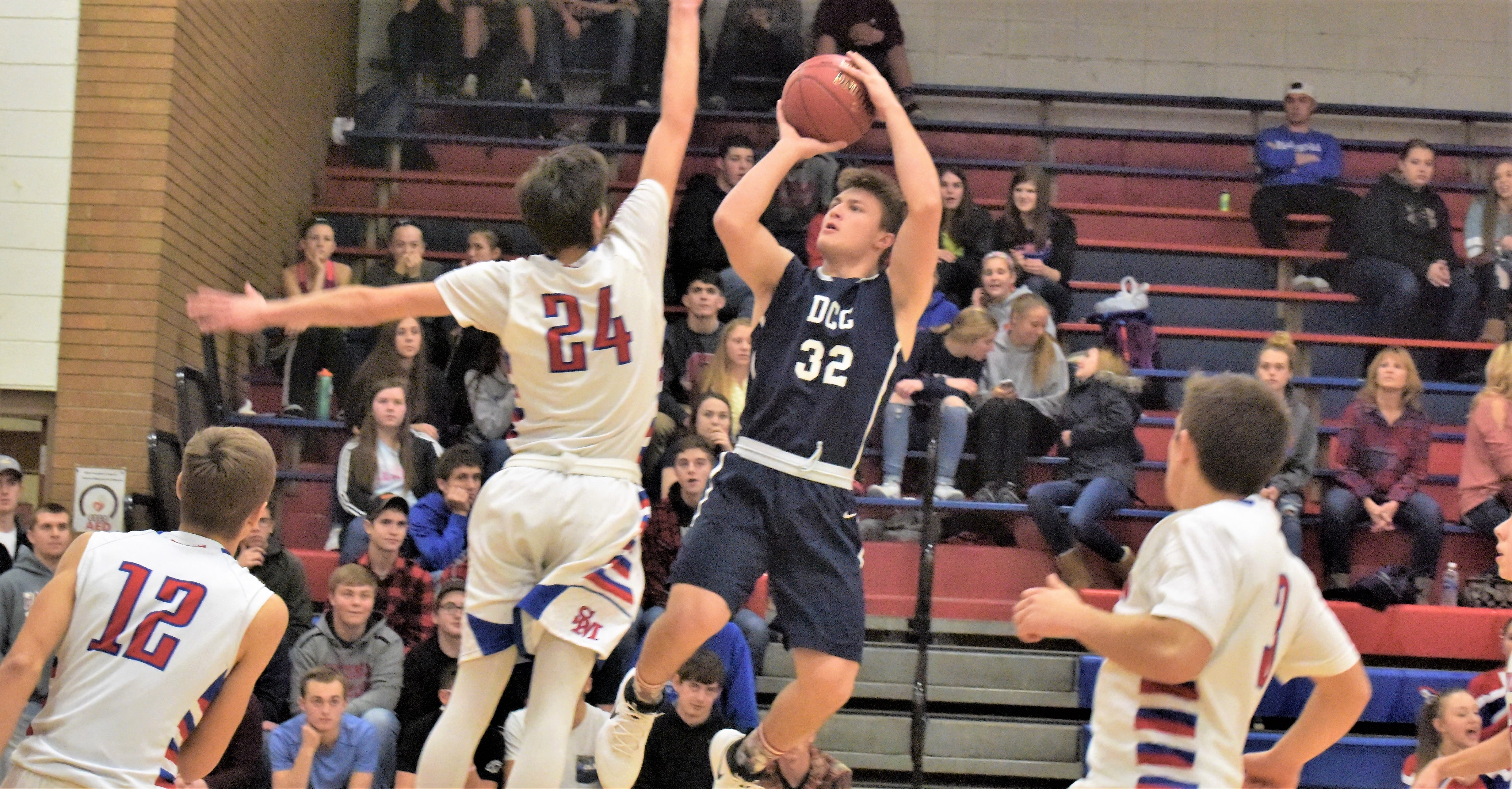 Feb. 5 recaps.
(Photo of DCC's Justin Miknis. Photo by Rhonda Beimel)
DUBOIS CENTRAL CATHOLIC 54, KANE 50
KANE, Pa. – Justin Miknis exploded for 32 points to lead visiting DuBois Central Catholic to a 54-50 win over Kane in AML action.
Josh Solonsky added 10 points for the Cardinals, who trailed 25-21 at halftime.
Chad Greville paced Kane with 28 points. Austin Pierson and Al Rezzelle each added eight points.
JOHNSONBURG 40, BROOKVILLE 39
BROOKVILLE, Pa. – After building a 14-point lead late in the game, Johnsonburg had to hold on for a 40-39 win at Brookville.
Isaac Schloder hit one of two free throws with 3.7 seconds left to put the Rams up four before Aaron Park's buzzer-beating 3-pointer set the final score.
Austin Green led the Rams with 11 points off the bench. Ben Freeburg and Kacey Raubenstrauch each scored seven points. Freeburg had a team-high eight rebounds.
Park scored 14 of his game-high 19 points in the fourth quarter and finished off a double-double with 13 rebounds. Trenton Gilhousen and Brady Caylor each scored seven points.
Johnsonburg, hampered with poor shooting in the first half, led 6-2 after the first quarter and 12-10 at halftime.
PUNXSUTAWNEY 77, CLARION-LIMESTONE 53
PUNXSUTAWNEY, Pa. – Brandon Matthews recorded a triple-double with 28 points, 11 rebounds and 10 assists to help Punxsutawney roll right past Clarion-Limestone, which lost for the second straight time and for the fourth time in six games.
The Chucks outscored the Lions 45-28 after halftime.
Tyler Richardson added 19 points and Ethan Blose 13 for Punxsutawney.
Ian Callen had 20 and Christian Smith 17 for C-L.
TIDIOUTE CHARTER 77, FOREST AREA 57
TIDIOUTE, Pa. – Jared Veasey scored 28 points to help Tidioute Charter to a 77-57 win over visiting Forest Area.
Ryan Williams added 17 points for the Bulldogs with Julian Gillenwater scoring 15 and Patrick Shields 11.
Seth Berlin paced Forest Area with 21 points and 10 rebounds. Jarrett Kahle added 12 points and Franklin Meal 10.
GALETON 57, PORT ALLEGANY 55
GALETON, Pa. – Evan Brooks hit two free throws late to lift Galeton to a 57-55 home North Tier League win over Port Allegany.
The Tigers overcame a slow that saw them down 24-16 after a quarter and 36-32 at halftime to get the win.
Brooks led the way with 27 points with Isaiah Shuemaker adding 18 tallies for Galeton.
Howie Stuckey had a game-high 30 points for Port Allegany with David Talkington chipping in 10 tallies.
OTTO-ELDRED 50, CAMERON COUNTY 48
DUKE CENTER, Pa. – Jordan Sherwood's layup and free throw with eight seconds left lifted Otto-Eldred to a 50-48 win over visiting Cameron County in North Tier League action.
Cameron County tried a late 3-pointer to win the game but air-balled the shot. After the ball went out of bounds with 1.8 left, the Terrors threw it deep, touched the ball and let the clock run out.
It was a balanced effort for Otto-Eldred with Trey Dalton and Sawyer Drummond each scoring 11 points and Dylan Close chipping in 10 tallies. Drummond completed a double-double with 12 rebounds with Close adding six boards and five helpers.
Marcus Brown paced Cameron County with 17 points with Adam Shaffer adding 15 and Caden Beldin eight.
AUSTIN 53, OSWAYO VALLEY 51
AUSTIN, Pa. – Mason Valenti drilled a 3-pointer with under 20 seconds left to lift Austin to its 11th win of the season, 53-51, over visiting Oswayo Valley in North Tier League play.
Watch Valenti's shot.
Nathan Prouty had a late shot for Oswayo Valley but it was off the mark.
Valenti and Dempsey Glover both had 16 points for Austin with Blake Burgett and Jackson Glover both adding nine tallies. Jackson Glover also had seven rebounds, five assists and four steals with Dempsey Glover coming away with four steals as well.
Theo Henry led Oswayo Valley with 17 points, Gavin Babcock added 16 and Taige Bryant 10.
COUDERSPORT 71, SMETHPORT 25
SMETHPORT, Pa. – Visiting Coudersport claimed at least a tie for the North Tier League title with a 71-25 win over Smethport.
Thanks to Otto-Eldred's victory over Cameron County, the worst the Falcons can do is a tie with Cameron County at the top of the division with two games left. A win over either Cameron County Friday or Oswayo Valley next week gives the division outright to Coudersport.
Owen Chambers led the way for the state-ranked Falcons with 27 points. Hunter Ricke chipped in with 14 points and Derek Keglovits added 12.
Eric Szarowicz paced Smethport with seven tallies.