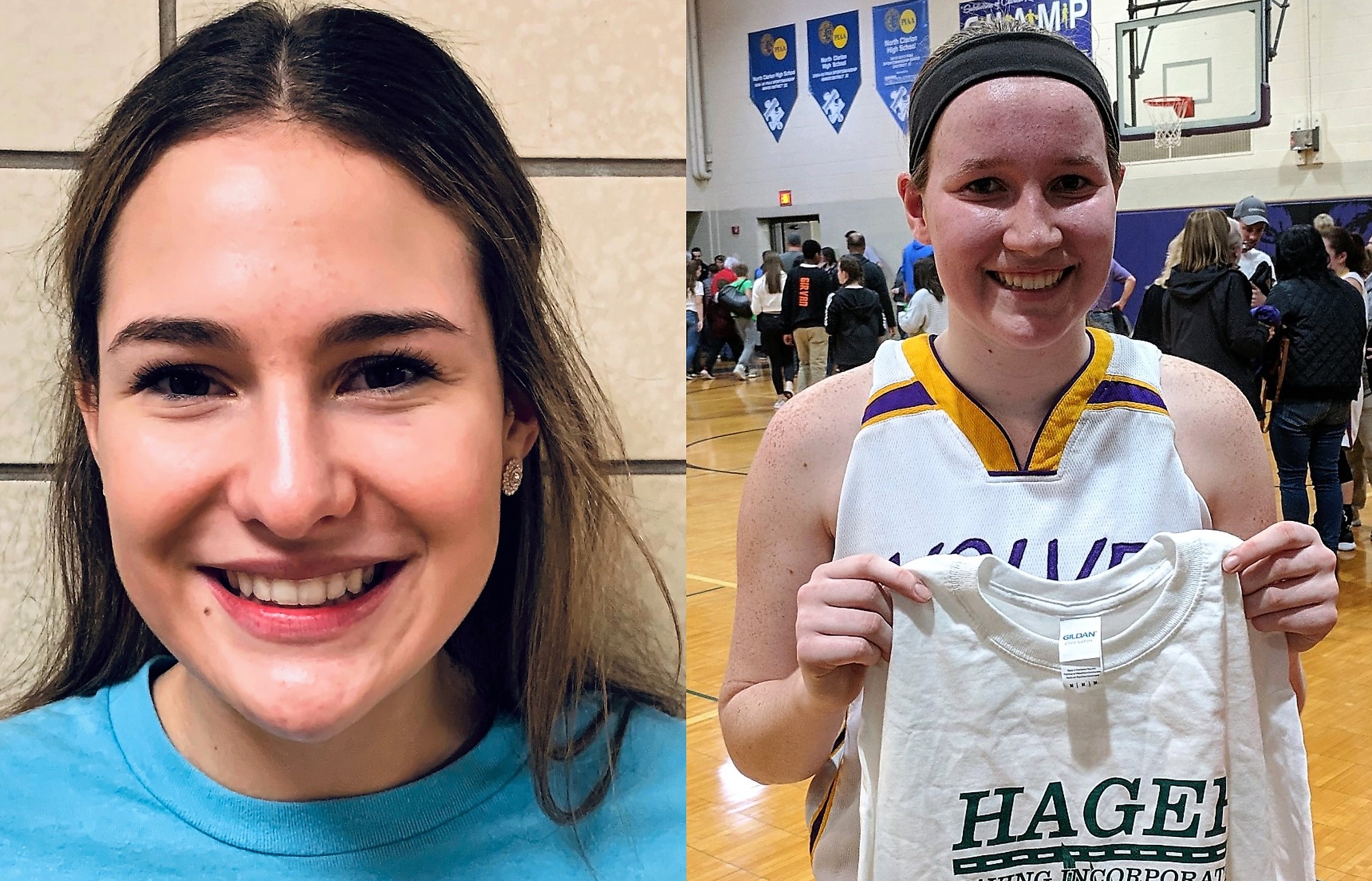 Feb. 5 girls' basketball recaps.
(Photo of Punxsutawney's Sarah Weaver (left) and North Clarion's Abby Gatesman)
PUNXSUTAWNEY 44, ST. MARY 37
PUNXSUTAWNEY, Pa. – Using a balanced offensive effort, Punxsutawney wrapped up its fourth straight D9 League title with a 44-37 win over visiting St. Marys.
Sarah Weaver, Kate Horner and Abby Gigliotti each scored 10 points for the Lady Chucks, who have won 41 straight D9 League contests. Weaver was 5 of 6 from the free-throw line, while Horner scored seven of her points in the fourth quarter on a 3-pointer and four free throws.
"It is a big accomplishment for our kids," Punxsutawney head coach Mike Carlson said. "We kind of went on a drought there in Punxsutawney for a while without a league title. Now, these seniors have four in a row. It's tough every year, and it's been tough the last two nights (Punxsutawney beat Brookville on the road Monday night). It's good to win with a lot of adversity."
Megan Quesenberry paced St. Marys with 13 points with Kaylee Muccio adding 11.
The Lady Dutch led 19-15 at halftime before being outscored 29-18 in the second half including 16-10 in the third quarter.
Punxsutawney's last D9 League loss came Jan. 30, 2015, 56-33, at Elk County Catholic. The Lady Chucks won their final three D9 League games of the 2015 season and then went 10-0 in the 2016, 2017 and 2018 D9 League campaigns and are 8-0 in league play and 19-0 overall this season.
"Every year the goal is to win the league but it's never to go undefeated," Carlson said. "We know how tough it is. Honestly, it's a testament to the girls, the work they put in. It's been a great streak, but it's not been easy."
NORTH CLARION 46, CLARION 33
FRILLS CORNERS, Pa. – North Clarion wrapped up its fourth straight KSAC North title with a 46-33 win over visiting Clarion.
Relisten to the game:
Abby Gatesman led the She-Wolves with 14 points with Gabby Carll scoring 11, Haley Sherman nine and Mackenzie Bauer seven.
"This one feels pretty good," Gatesman, a junior who has been a part of three KSAC North titles now, two KSAC and two District 9 Class 1A championships, said. "We are excited to make it to the KSAC Championship game."
Watch all of Gatesman's thoughts on the win.
Gatesman's coach, Terry Dreihaup, said this is what his team has been working for all season.
"This is what these girls work for every year," Dreihaup said. "They set goals out at the start of the year, and this was one of them. They have really been working hard to get over the hump the last couple of week. Tonight, they did it. It means everything."
Wendy Beveridge had 11 points for Clarion.
CENTRAL-MARTINSBURG 43, CLEARFIELD 32
HYDE, Pa. – Despite a game-high 15 points from Alayna Ryan, Clearfield fell to Central-Martinsburg, 43-32.
Maddi Metzler led Central with a team-high 14 points and Kylie Metzger chipped in for 11.
MONITEAU 55, KARNS CITY 43
KARNS CITY, Pa. – Kristin Auvil, Andie Arblaster, Haley Pry, Aslyn Pry and Ivie Scott helped visiting Moniteau defeat Karns City, 55-43, in KSAC South play.
Auvil led a balanced Lady Warriors attack with 14 points with Arblaster adding 10 points, six rebounds, six assists and three steals and Aslyn Pry contributing nine points, eight rebounds and three assists, Haley Pry adding 10 points and Ivie Scott eight tallies.
Alyssa Slitt paced the Lady Gremlins with 14 points. Emma Johns chipped in for 12.
DUBOIS 44, BRADFORD 34
BRADFORD, Pa. – Chelsea DeSalve scored 14 points to lead visiting DuBois to a 44-34 win over Bradford in D9 League action.
Abby Guiher added 11 points for the Lady Beavers with Olivia Johnson scoring eight.
Hannah Lary had a game-high 15 points for Bradford with Erica Marshall adding 11.
DUBOIS CENTRAL CATHOLIC 52, CURWENSVILLE 43
DUBOIS, Pa. – Martina Swalligan netted 12 points to help DuBois Central Catholic knock off visiting Curwensville, 52-43, in AML play.
Haley Pettenati added eight points for the Lady Cardinals.
Madi Weber had a game-best 23 points for Curwensville.
KANE 46, BROCKWAY 33
BROCKWAY, Pa. – Ella Marconi scored 13 of her game-high 26 points in the third quarter, as Kane rallied past upset-minded Brockway, 46-33.
The three-win Lady Rovers led the now 17-win Lady Wolves 24-7 late in the first half before six straight Kane free throws got it within 11, 24-13, at halftime.
But behind Marconi, Kane outscored Brockway 26-4 in the third quarter and 38-9 in the second half to stem off the upset bid.
Hannah Buhl added nine points, all after halftime, for Kane.
Danielle Wood paced Brockway with 10 points, Morgan Lindemuth added nine tallies and Selena Buttery had five points and 12 rebounds.
Free-throw shooting both helped and hurt Kane. The Lady Wolves did make 29 charity shots but were just 29 of 46 from the line. Brockway was 12 of 19 from the line in the game.
NORTHERN POTTER 49, COWANESQUE VALLEY 41
WESTFIELD, Pa. – Abbi Anderson led a balanced offense for Northern Potter with 17 points in the Lady Panthers 49-41 road victory over Cowanesque Valley.
Marissa Bliss and Courtney Martin each had 13 tallies apiece for NoPo.
Jessica Hummel paced Cowanesque Valley with 12 points.
REDBANK VALLEY 50, KEYSTONE 43
NEW BETHLEHEM, Pa. – Tara Hinderliter and Kelsie Elmer combined for 25 points, as Redbank Valley knocked off visiting Keystone, 50-43, in KSAC South play.
Hinderliter had a team-high 15 points for the Lady Bulldogs with Elmer adding 10. Kaitleyn Davis chipped in with nine points.
McKenzie Hovis paced Keystone with a game-high 21 points. Jozee Weaver added nine tallies.
GENERAL MCLANE 55, CRANBERRY 32
EDINBORO, Pa. – Hannah Pfeiffer scored a game-high 21 points to help General McLane down visiting Cranberry, 55-32.
Malliah Schreck led Cranberry with 13 points with Maddie Cornelius adding 11.