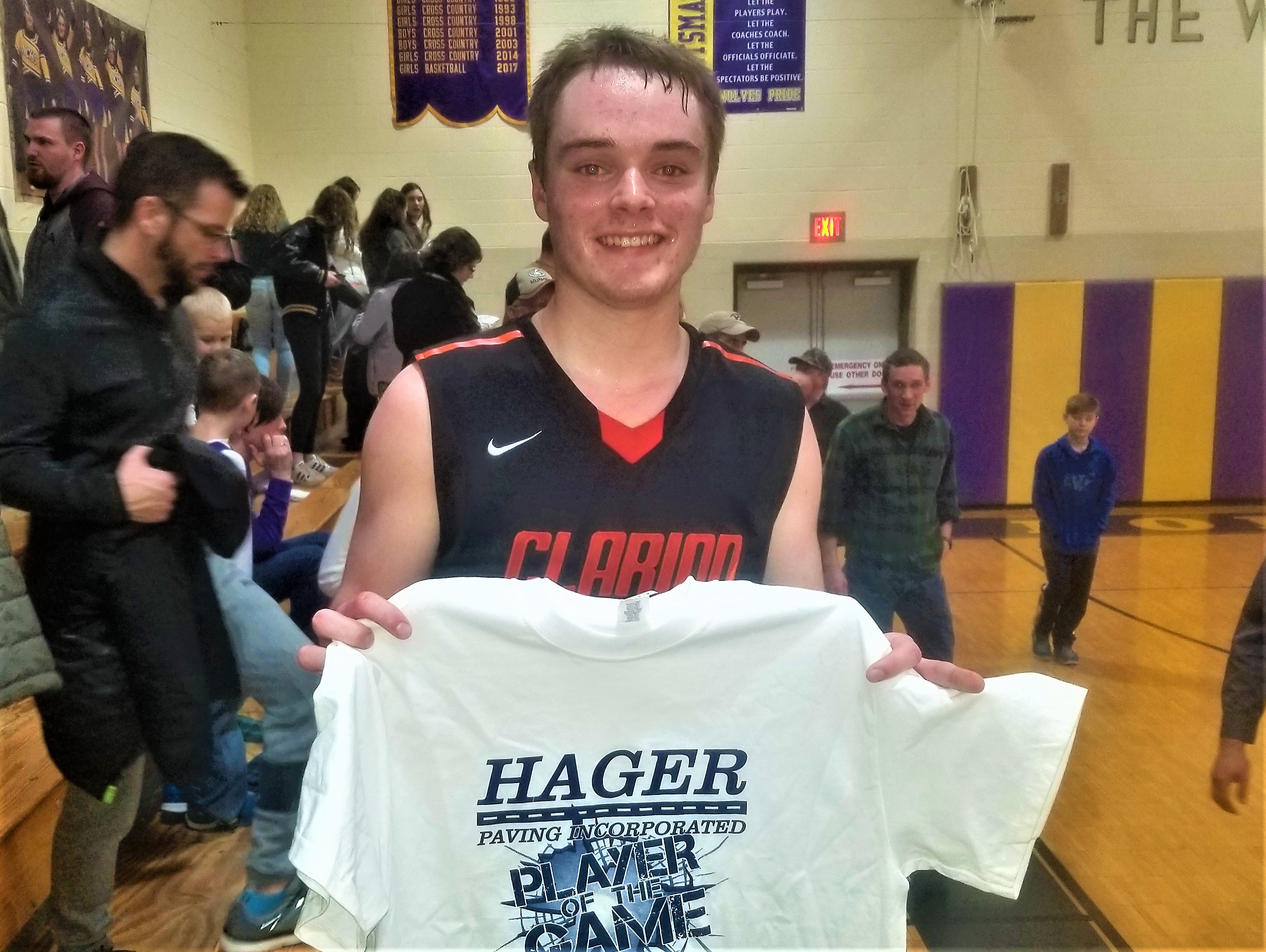 Feb. 6 recaps.
(Photo: Cam Craig of Clarion)
CLARION 55, NORTH CLARION 48
FRILLS CORNERS, Pa. – Cam Craig scored 19 of his game-high 22 points after halftime, as Clarion rallied from a four-point halftime deficit to end North Clarion's dreams of a KSAC North championship with a 55-48 win over the homestanding Wolves.
North Clarion needed to beat Clarion and then Venango Catholic in order to secure a tie atop the KSAC North with Clarion-Limestone, who won its final conference game over Venango Catholic Tuesday. But the loss gives C-L its fifth straight KSAC North championship.
Clarion trailed 23-19 at halftime after a poor shooting half for both teams with the Bobcats going 6 of 27 and the Wolves shooting 9 of 23.
But Clarion turned up the defense in the third quarter to erase a 25-19 deficit with nine straight points, seven off turnovers, to go ahead 28-25.
The teams then traded the lead four times in a span of 2:03 before a Craig 3-pointer gave Clarion the lead for good, 35-35, with 3:40 to play in the third.
That lead may have lasted but it was tenuous at best with Clarion holding a 39-38 lead going to the final eight minutes.
But another three by Craig 47 seconds into the fourth quarter pushed the lead to four, 42-38, and started a 10-2 run that saw Craig score seven of the points pushing the Bobcats lead to 47-40 halfway through the quarter.
Craig talked about the win.
North Clarion never got back to close than five, 51-46, and that with 30.9 seconds to play.
Austin Hummell added 14 points, 12 rebounds and six steals for Clarion with Craig chipping in four steals and five rebounds and Spencer Miller eight points and five rebounds.
But Miller's biggest contribution was on defense where he limited North Clarion's leading scorer, Nathan Banner (16.6 ppg) to a season-low six points. Banner didn't record a field goal until he hit a layup at the final horn.
Keeven Weaver paced North Clarion with a season-high 15 points, the second most of his career and the most for the senior since the first game of last season. Weaver added eight rebounds. Sam and Logan Minich each added eight points for the Wolves with Logan Minich also swiping six steals. Banner added six rebounds and three blocked shots to his six points.
RIDGWAY 50, WARREN 44, OVERTIME
WARREN, Pa. – Neil MacDonald hit back-to-back jumpers at the start of overtime and visiting Ridgway went on to beat Warren, 50-44, to remain unbeaten.
The Elkers (19-0) led 40-33 with 2:43 to play before Warren scored the final seven points of regulation, including five from Griffen Suppa, to force the extra session.
But in overtime, Ridgway won the tip and held the ball for over a minute before MacDonald buried a shot to give the Elkers the lead for good. He then made it 44-40 with another basket, and Ridgway hit it's free throws down the stretch to secure the win.
Andy Breier had given Ridgway the 40-33 lead with 2:43 to play, but Suppa drove to the basket with just over two minutes left to make it 40-35. Suppa then nailed a 3-pointer with 1:13 to go in regulation cutting the Elkers lead to 40-38, and Aiden Morrison tied the game with a layup with 29 seconds left.
Ridgway had a chance to go back in front when Daunte Allegretto was fouled with 22.4 to play, but Allegretto missed the front end of a one-and-one with Warren getting the rebound.
But instead of holding for the last shot, the Dragons missed a shot with seven seconds left, and Ridgway called timeout.
After the timeout, Josh Thorwart had a chance to win the game but missed. Allegretto putback then wouldn't fall, and the game went to overtime.
MacDonald led Ridgway with 16 points with Thorwart adding 11 and Johnny Mitchell 10.
Suppa and Caleb Ei paced Warren with 13 points apiece. Jake Kupchella chipped in nine tallies.
CLARION-LIMESTONE 70, VENANGO CATHOLIC 49
STRATTANVILLE, Pa. – While rival Clarion was helping Clarion-Limestone out with the win over North Clarion, the Lions still needed to take care of business and they did with a 70-49 win over visiting Venango Catholic to secure the fifth straight KSAC North title in a row.
Ian Callen had a double-double for C-L with 23 points and 13 rebounds while adding seven steals and five assists. Christian Smith led the Lions with 24 points while chipping in seven rebounds and Hayden Callen had 14 points and nine boards.
Josh Puleo and Ben Gillispie each scored 19 points for Venango Catholic.
CURWENSVILLE 62, DUBOIS CENTRAL CATHOLIC 55
DUBOIS, Pa. – Devon Barrett and Christian Bakaysa combined to score 32 points to help visiting Curwensville to a come-from-behind, 62-55, AML win over DuBois Central Catholic.
Barrett netted 17 points and Bakaysa 15 for the Golden Tide, who trailed 30-29 at halftime before outscoring the Cardinals 33-25 in the second half including 20-14 in the fourth quarter.
Avery Francisco chipped in 10 tallies for Curwensville with Josh Terry adding eight.
Justin Miknis had a game-high 19 points for DCC with nine of them coming in the fourth quarter. Josh Solnosky added 15 tallies.
KARNS CITY 56, MONITEAU 46
KARNS CITY, Pa. – Behind hot outside shooting in the third quarter from Ethan McElroy and Chase Beighley Karns City kept its hopes alive for a KSAC South title by rallying from an eight-point halftime deficit to beat rival and upset-minded Moniteau, 56-46.
The visiting Warriors led 28-20 at halftime but McElroy hit three 3-pointers while scoring nine third-quarter points and Beighley hit a pair of third-quarter long balls while netting eight points in the quarter to help the Gremlins win the quarter, 23-8, and take control of the game.
The freshman Beighley led Karns City with 13 points and five assists with McElroy finishing with 12 points on four 3-pointers. Austin Fahlor also scored 12 points for the Gremlins with Nolan Riley chipping in eight points and five assists, Nathan Waltman seven points and eight rebounds and Jacob Friel four points and 10 rebounds.
Ethan McDeavitt had a game-high 21 points for Moniteau with Ross Tenney adding nine points and Tyler McFadden eight.
Karns City and Keystone are both 8-1 in the KSAC South after the Panthers beat Redbank Valley Tuesday. Each team has one KSAC South game left with Karns City traveling to A-C Valley Friday and Keystone hosting Union Friday. If both teams win, then the KSAC South could come down to how Keystone fairs against North Clarion Thursday and Karns City fairs against Clarion-Limestone Feb. 14.
If the Gremlins beat A-C Valley but lose to C-L then Keystone will win its second straight KSAC North title as long as it beats Union. But if Karns City beats A-C Valley and C-L then the KSAC South could come down to how Keystone fairs against North Clarion. A loss to North Clarion by the Panthers would give Karns City the title with the win over C-L considering they would have beaten the top two teams in the North while Keystone would have split with them. But if Keystone beats North Clarion and Karns City beats C-L, then the next tiebreaker, wins vs. teams above .500, would have to be used.
KEYSTONE 53, REDBANK VALLEY 38
NEW BETHLEHEM, Pa. – Keystone also had to overcome a slow start to keep its hopes for the KSAC South alive with a 53-38 win at Redbank Valley.
The Panthers led by just a point, 17-16, at halftime but outscored the Bulldogs 36-22 in the second half including 16-7 in the third quarter when Dalton Jones scored eight points while hitting a pair of 3-pointers.
Jones finished with a game-high 16 points while Corey Rapp added 15, Nate Wingard nine and Brooks LaVan seven for the Panthers.
Logan Wadding led Redbank Valley with 13 points with Keaton Kahle adding nine and Brock Barrett seven.
ELK COUNTY CATHOLIC 49, BROOKVILLE 35
ST. MARYS, Pa. – Outscoring visiting Brookville by 16 points in the second half, Elk County Catholic erased a two-point halftime deficit and clinched at least a share of the D9 League title with a 49-35 win.
Down 22-20 at halftime, ECC outscored the Raiders 13-4 in the third quarter with Ryan Newton scoring seven of his game-high 17 points in the fame.
Alex Breindel kept the Crusaders close in the second quarter netting eight of his 12 points in the quarter and eight of ECC's 10 in the frame.
Bryan Dworek led Brookville with nine points with Aaron Park adding eight.
ECC, which has a two-game lead on Bradford, who it beat in overtime in Bradford, with two league games to play has now won 53 straight D9 League games since losing to visiting Bradford, 42-39, Jan. 23, 2013. The league title is the sixth in a row for the Crusaders who are 60-1 in their last 61 D9 League games dating back to Feb. 10, 2012.
A-C VALLEY 50, UNION 49
RIMERSBURG, Pa. – Eddie Stevanus had 18 points, six rebounds and three steals to help visiting A-C Valley escape Rimersburg with a 50-49 win over Union.
Russ Carr added 15 points and six rebounds for the Falcons while Levi Orton added seven points.
Lucas Bowser led Union with 18 points and seven rebounds, while Nolan Cumberland had 13 points.
FOREST AREA 68, CRANBERRY 60
MARIENVILLE, Pa. – Dillon DiCorpo netted a career-high 21 points to go with three steals as Forest Area beat visiting Cranberry, 68-60, in KSAC North action at East Forest.
Seth Berlin had another monster night for the Fires with 20 points, 21 rebounds and five steals, while Jarrett Kahle added 10 points and eight steals.
Dan McQuaide paced Cranberry with 17 points with Matt McQuaide adding 13 tallies and JT Stahlman 11.
BROCKWAY 66, KANE 44
BROCKWAY, Pa. – Behind 21 Carter Adams' points Brockway secured an AML playoff berth with a 66-44 win over visiting Kane.
Noah Vokes added 14 points for the Rovers with Jon Wood chipping in eight and Anthony Esposito seven.
Al Rezzelle led Kane with 12 points with Chad Greville adding nine.
BRADFORD 58, DUBOIS 45
BRADFORD, Pa. – Thanks in part to 19 points, four assists and three steals from Tyler Gigliotti Bradford dispatched visiting DuBois, 58-45, in D9 League action.
Deondre Terwilliger added 12 points, five rebounds and three assists for the Owls with Donny Pattison chipping in 11 points and six boards.
Alex Beers hits four 3-pointers and scored 18 points to pace DuBois. Justin Manduley added 16 tallies.
JOHNSONBURG 63, SHEFFIELD 43
JOHNSONBURG, Pa. – Another balanced effort led to lucky win No. 13 for the Johnsonburg Rams who beat visiting Sheffield, 63-43, in AML action.
Dilen Surra paced Johnsonburg with 12 points while Kacey Raubenstrauch and Austin Green each added 11 tallies. Nick Bliss contributed eight points to the cause.
Cale Albaugh paced Sheffield with 12 points, Luke Davidson added 11 and Matt Dunham 10.