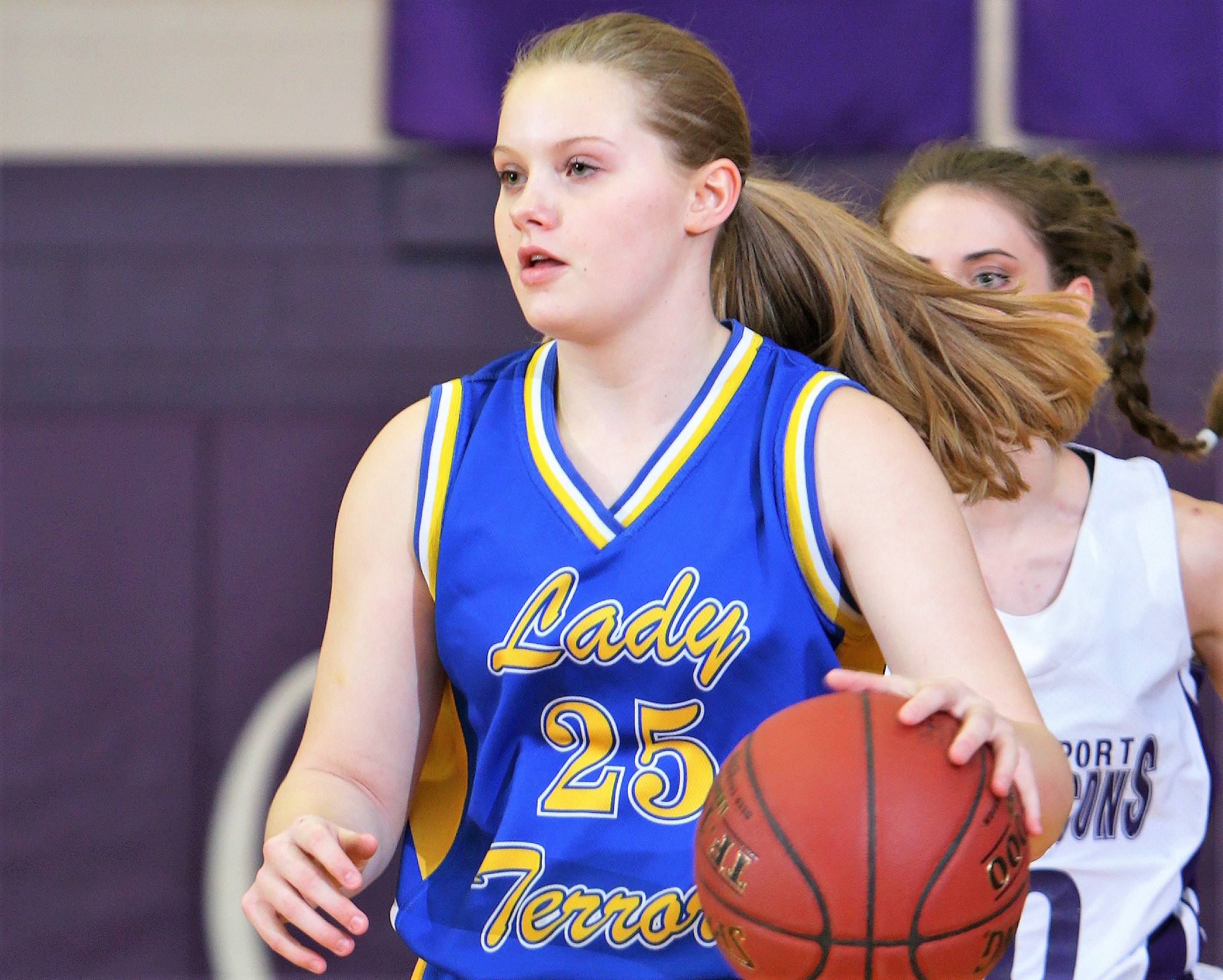 Feb. 6 recaps.
(Photo of Otto-Eldred freshman Kayley Heller who had a double-double for the Lady Terrors In a win over Oswayo Valley Tuesday. Photo by Paul Burdick. Check out more of Burdick's work here)
OTTO-ELDRED 83, OSWAYO VALLEY 49
DUKE CENTER, Pa. – Freshman Kayley Heller had the best game of her young career with 17 points and 14 rebounds to help Otto-Eldred beat visiting Oswayo Valley, 83-49, in North Tier League action.
Camryn Thomas added 18 points, seven rebounds, five steals and five assists for the Lady Terrors with Ali Cousins chipping in 13 points, five assists, five rebounds and four steals and Autumn Smith 10 points.
Shayla Bickel led Oswayo Valley with 20 points with Karina West and Faith Coole each adding 12 points.
The wins moves Otto-Eldred into a tie for first place with Coudersport in the NTL.
NORTHERN POTTER 50, GALETON 30
GALETON, Pa. – Mikayla Lewis netted a game-high 18 points to help visiting Northern Potter beat Galeton, 50-30, in North Tier League play.
Kalie Cowburn added 13 points for the Lady Panthers with Jenna Hyde chipping in nine.
Makaya Shadle had nine points for Galeton.
CAMERON COUNTY 47, SMETHPORT 40
SMETHPORT, Pa. – Kaelee Bresslin scored a career-high 21 points and added three assists to help visiting Cameron County to a 47-40 win over Smethport in North Tier League action.
Alyvia McKimm added 12 points for the Lady Raiders while Amily Schatz grabbed 12 rebounds and scored seven points.
Abbey Woodard had a game-high 26 points for Smethport.
PORT ALLEGANY 57, AUSTIN 22
AUSTIN, Pa. – Bree Garzel had a team-high 16 points to help Port Allegany roll to a 57-22 road North Tier League win over Austin.
Cailey Barnett added 13 points for the Lady Gators with Erin Stauffer chipping in nine.
Jordan Brewer paced Austin with 12 points with Sydnee Shupe adding eight. Angie Watson had a game-high 14 rebounds.
DUBOIS CENTRAL CATHOLIC 37, CURWENSVILLE 35
CURWENSVILLE, Pa. – Shay Gulvas and Ashley Wruble combined to score 27 points to help visiting DuBois Central Catholic escape Curwensville with a 37-35 AML win.
Gulvas led the Lady Cardinals with 14 points with Wruble adding 13.
Madi Weber had a game-high 20 points for Curwensville with Sabrina Spencer adding eight tallies.
KANE 56, BROCKWAY 17
KANE, Pa. – Kane started the game on a 24-0 run and easily cruised to a 56-17 win over visiting Brockway in AML action.
Ella Marconi led the way for the Lady Wolves with 16 points, 14 rebounds and four blocked shots. Trinity Clark added 15 points and six rebounds, Hannah Buhl had 11 points and seven assists, Rachael Morgan seven points and eight rebounds and Emily Bucheit five steals.
Leah Lindemuth had a double-double for Brockway with 10 points and 11 rebounds. It was her 12th double-double of the year.
JOHNSONBURG 50, SHEFFIELD 40
SHEFFIELD, Pa. – Thanks to 23 Cassidy King points Johnsonburg picked up a 50-40 AML road victory over Sheffield.
Maria Jones chipped in nine points for the Ramettes with Rylie Casilio adding eight.
Lexi Lyon netted a team-high 22 points for Sheffield with Eliza Davidson chipping in eight tallies.
CRANBERRY 55, YOUNGSVILLE 23
SENECA, Pa. – Malliah Schreck had an 18-point, 11-rebound double-double to lift Cranberry to a 55-23 win over visiting Youngsville.
Hannah Duncan and Ashley Finch each added 10 points for the Berries with Ava Ferringer contributing nine tallies.
PUNXSUTAWNEY 59, ST. MARYS 37
ST. MARYS, Pa. – Behind another Leah Miller monster double-double Punxsutawney stayed unbeaten in D9 League play with a 59-37 road win over St. Marys.
Miller had 22 points, 23 rebounds and three blocked shots for the Lady Chucks while Kate Horner added 15 points and five assists and Sarah Weaver eight points, four rebounds and three assists.
Megan Quesenberry had 11 points to pace St. Marys.
DUBOIS 62, BRADFORD 53
DUBOIS, Pa. – Ashley Hallowell exploded for 25 points and 19 rebounds to lead DuBois past visiting Bradford, 62-53, in D9 League action.
Olivia Johnson added a career-high 14 points for the Lady Beavers with Chelsea DeSalve chipping in 13 tallies.
Hannah Lary led Bradford with 23 points with Erica Marshall adding 15 and Brinya Moffett eight.
PENNS VALLEY 46, CLEARFIELD 42
HYDE, Pa. – Hannah Montming led a trio of Penns Valley players in double digits with 12 points as the Lady Rams picked up a 46-42 Mountain League road win over Clearfield.
Jordan Adius added 11 points and Emma Butler 10 for Penns Valley.
Alyana Ryan paced Clearfield with a game-high 15 points with Brooke Clune adding 13.