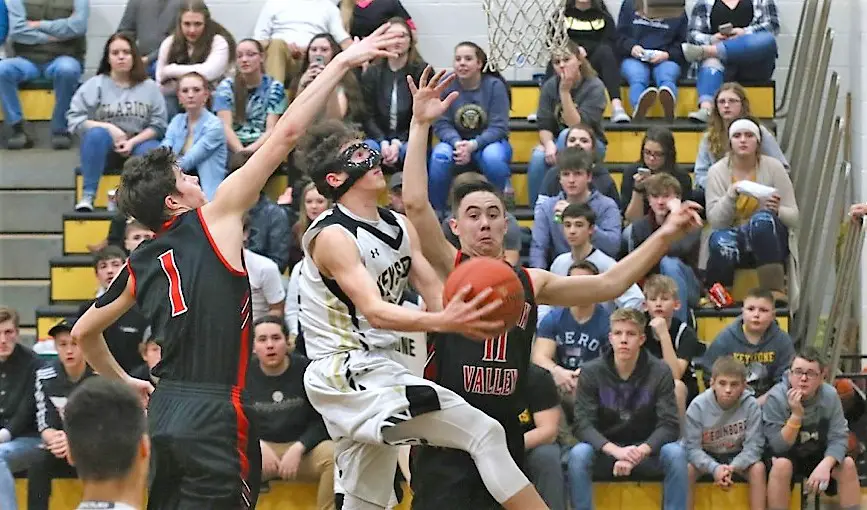 Feb. 6 boys' basketball recaps.
(Photo: Dawson Steele splits the Redbank Valley defense for two of his 14 points during Keystone's 60-47 win over Redbank Valley Wednesday night. Photo by Mary Rearick)
KEYSTONE 60, REDBANK VALLEY 47
KNOX, Pa. – Breaking open a tie game at halftime, Keystone retook control of its own destiny in the KSAC South with a 60-47 win over visiting Redbank Valley.
The Panthers and Bulldogs were knotted at 26 at the break before 20-11 third-quarter advantage put Keystone ahead 46-37 after three quarters.
Dawson Steele and Brooks LaVan each scored seven points in the third quarter for Keystone. LaVan broke out of a recent slump by tying for team-high honors with 14 points. Andrew Lauer also scored 14 and added nine rebounds for the Panthers, while Steele had 12 points and Troy Johnson nine points and 13 rebounds.
Chris Marshall paced Redbank Valley with 15 points with Keaton Kahle adding 12.
The win coupled with Moniteau's 42-32 loss to Karns City leaves Keystone alone in first place in the KSAC South at 7-2. The Panthers came close out their second divisional title in three years with a win at Union Friday.
KARNS CITY 42, MONITEAU 32
MONITEAU, Pa. – Chase Beighley and Nathan Waltman combined for 26 points to help Karns City hand rival Moniteau's bid for the KSAC South title a serious blow with a 42-32 road win over the Warriors.
Beighley posted a game-high 14 points with Waltman adding 12 for the Gremlins. Austin Fahlor chipped in for five points, six assists and eight rebounds.
Gage Neal led all Moniteau scorers with 10 points. Jared Lominski added nine.
Moniteau is now a game back of Keystone in the loss column in the KSAC South race – as is Karns City. For either team to have a chance at the South title, Keystone would need to lose to Union Friday.
NORTH CLARION 68, CLARION 54
CLARION, Pa. – For the second consecutive game, Logan Minich scored a career high, as he netted 22 points in a 68-54 North Clarion road KSAC North win over Clarion.
Kyle Mills chipped in 16 points and six rebounds for the Wolves who also got nine points for Korey Mills, four points and seven rebounds from Sam Minich and 10 points and six rebounds from Tyler McCord-Wolbert.
Cal German paced Clarion with 18 points with Jake Burns chipping in 12 tallies.
COUDERSPORT 95, AUSTIN 66
AUSTIN, Pa. – Coudersport lit up the scoreboard with a balanced offensive attack in a 95-66 road win over Austin in NTL play.
Owen Chambers continued his march to 2,000 career points scoring a game-high 31 points. Needing 29 points, less than his season average of 31.3 points per game, Chambers will aim to become the fifth player in District 9 history to score 2,000 points in boys' basketball when the Falcons host Cameron County Friday night. Calvin Grumley (Johnsonburg, 2,255) and Jesse Bosnik (ECC, 2,083) were the last two D9 players to hit the 2,000-point mark both doing so in the 2007 season. Garret Heath of Keystone (2,215 points in 2004) and Brandon Housler (2,084 points in 1999) are the only other two to reach that mark.
Dillon Keglovits added 22 points in the win for the Falcons and Hayden Keck scored 13.
Dempsey Glover had an impressive night of his own for Austin with 21 points and nine rebounds. Mason Valenti chipped in 13 points while Blake Burgett netted 11.
The 31-point effort from Chambers marked the sixth time in the last seven games the senior has scored at least 30 points – he netted 40 vs. Johnsonburg – and the 11th time in 17 games this season he has reached 30 twice scoring 40. Chambers is averaging 31.5 points per game.
KANE 65, PORT ALLEGANY 59
KANE, Pa. – Alex Rezzelle and Chad Greville combined for 39 points to help Kane pick up a 65-59 victory over visiting Port Allegany.
Rezzelle scored a team-high 20 points while Greville was not far behind his teammate with 19.
Port Allegany also had an impressive duo with Jordan Card scoring a game-best 26 points and Howie Stuckey posting 25 tallies.
ST. MARYS 52, PUNXSUTAWNEY 43
ST. MARYS, Pa. – Balanced scoring helped St. Marys defeat visiting Punxsutawney, 52-43, in D9 League action.
Mitchell Rieter led the Dutch scorers with 14 points, Cahil Parrish added 13 and Nick Catalone chipped in for 12.
Cam Smith paced the Chucks with a team-high eight points.
JOHNSONBURG 37, BROCKWAY 30
JOHNSONBURG, Pa. – Austin Green led a balanced offensive attack with 12 points to help Johnsonburg defeat visiting Brockway, 37-30.
Nick Bliss added seven points for the Rams.
Alec Freemer had a game-high 16 points to pace the Rovers.
CLARION-LIMESTONE 93, VENANGO CATHOLIC 45
OIL CITY, Pa. – Hayden Callen and Deion Deas explode for 53 combined points to help visiting Clarion-Limestone defeat Venango Catholic, 93-45.
Hayden Callen had a game-high 29 points to lead all Lions scorers. Deas added 24 tallies with Ian Callen chipping in for 14 points, seven rebounds, six steals and nine assists.
Ben Gillispie paced Venango Catholic with a team-high 28 points.
CENTRAL-MARTINSBURG 44, CLEARFIELD 34
MARTINSBURG, Pa. – Braden Kitt and Jacob Muthler combined for 27 points to lead Central-Martinsburg to a 44-34 Mountain League win over visiting Clearfield.
Kitt led the Dragons with 14 points with Muthler adding 13.
Cade Walker paced Clearfield with 12 points with Karson Rumsky adding 11.
CRANBERRY 77, FOREST AREA 47
CRANBERRY, Pa. – Cranberry was efficient on offense in picking up a 77-47 win over visiting Forest Area in KSAC North play.
Cameron Russell scored a team-best 15 points while J.T. Stahlman posted a double-double with 12 points and 10 rebounds. Eric Sharp also added 10 tallies while Zac Kiefer grabbed 10 rebounds.
Noah Burke paced Forest with a double-double of 15 points and 11 rebounds and Franklin Meals chipped in 13 tallies. Jonah Spuck also grabbed 11 rebounds and Miles Miller had seven boards for the Fires.
A-C VALLEY 65, UNION 48
FOXBURG, Pa. – Levi Orton lit the lamp with a 28 point-performance to guide A-C Valley to a 65-48 victory over visiting Union in KSAC South action.
Eddie Stenvanus chipped in 14 points while Caleb Penny added 10 for the Falcons.
For Union, Luke Bowser had a team-high 12 points with Caden Rainey adding 11 tallies.