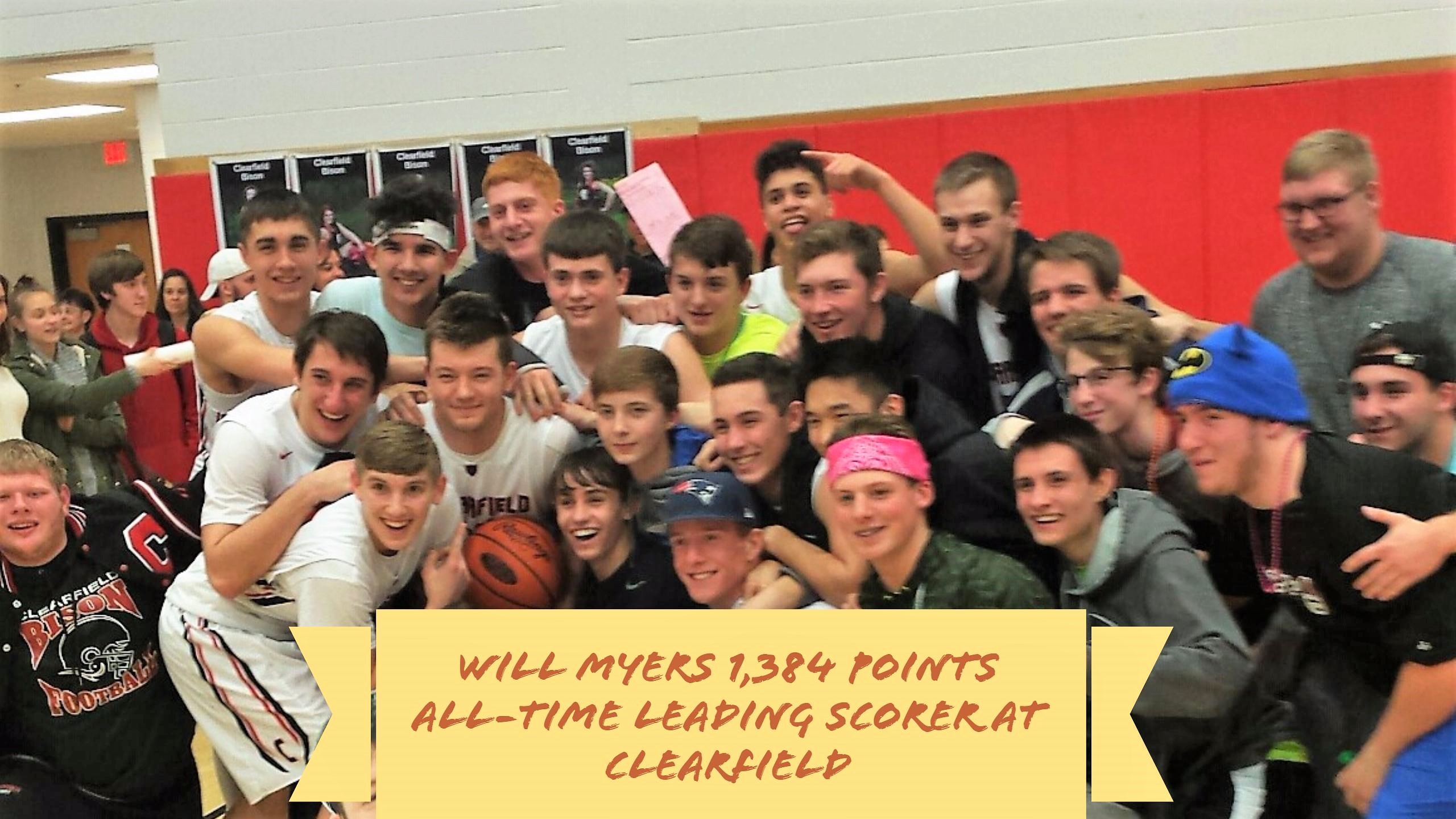 Feb. 6 boys' basketball recaps.
CLEARFIELD 85, CURWENSVILLE 37
CLEARFIELD, Pa. – With a 20-point effort in an 85-37 win over visiting Curwensville, Will Myers became the all-time leading scorer in Clearfield boys' basketball history with 1,384 career points.
Myers broke the previous mark of 1,382 points held by Chris Moore, Class of 1991, who was in attendance to watch Myers top the mark.
Myers added six rebounds and two steals to his 20-point game, which was his third straight contest of at least 20 points and his fourth in his past five games.
Tommy Hazel chipped in 16 points, seven rebounds, four assists and two steals with Evan Brown adding 13 points, six rebounds and four steals. Jon Gates also had 10 points for the Bison.
All 37 Curwensville points came from three players. Josh Terry led the Golden Tide with 14 points, Devon Barrett added 13 and Christian Bakaysa 10.
NORTH CLARION 66, TIDIOUTE CHARTER 36
TIDIOUTE, Pa. – Chase Schmader led a trio of North Clarion players in double digits with 14 points, as the Wolves secured a playoff-clinching 11th win, 66-36, at Tidioute Charter.
Nathan Banner added 12 points, seven rebounds, five assists and five steals for North Clarion, which has a .500 policy to qualify for the "open" District 9 tournament. Sam Minch chipped in 13 points, four assists and four steals.
Jared Veasey and Masion Deloe led the Bulldogs with nine points each.
COUDERSPORT 80, AUSTIN 30
AUSTIN, Pa. – Coudersport clinched its second consecutive North Tier League title by rolling past homestanding Austin, 80-30.
Jared Green led the Falcons, who have won 30 straight NTL games, 45 of 46 and 59 of 62 while going 105-13 in conference regular-season play since 2010, with 18 points. Aaron Wolfinger chipped in 13 points, Owen Chambers had 12 and Hunter Ricke 11.
Mason Valenti's eight points led Austin.
CAMERON COUNTY 66, PORT ALLEGANY 60
EMPORIUM, Pa. – Jake Walters and Derek Rieder combined to score nine points in the third quarter, as Cameron County outscored Port Allegany by six in the quarter on its way to a 66-60 win over the visiting Gators in North Tier League action.
Rieder finished with 19 points and 11 rebounds, while Walters added 13 points. Adam Shaffer led the Red Raiders with 22 points, and Marcus Brown chipped in seven points and seven assists.
Port Allegany, which was tied at 34 at halftime before being outscored 14-8 in the third, got a game-high 27 points from Howie Stuckey. Brandon McCaslin added 17 points with David Talkington chipping in 10.
SMETHPORT 49, GALETON 36
GALETON, Pa. – Bobby Pearson and Caleb Lutz combined to score 30 points, as visiting Smethport picked up a 49-36 North Tier League victory over Galeton.
Pearson led the Hubbers with 18 points and Lutz chipped in 12 points.
Evan Brooks paced Galeton with 12 points.
OSWAYO VALLEY 79, NORTHERN POTTER 52
SHINGLEHOUSE, Pa. – Gavin Babcock and Theo Henry both reached the 20-point mark in a 79-52 North Tier League victory for Oswayo Valley over visiting Northern Potter.
Gavin Babcock led the Green Wave with 23 points with Henry adding 20 points, six rebounds and five steals. Garrett Babcock chipped in 13 points, four steals, four assists and three rebounds.
Tucker Kosa led Northern Potter with 22 points with Blake Jeffers adding 19 points.
ST. MARYS 66, OTTO-ELDRED 58
DUKE CENTER, Pa. – Thanks to Matt Marconi and Nathan Schneider, visiting St. Marys outscored Otto-Eldred by 16 in the second half to erase an eight-point halftime deficit and pick up a 66-58 win.
The Dutch trailed 40-32 at the break but behind 11 points from Marconi and nine from Schneider outdistanced the Terrors 34-18 in the second half.
Marconi finished with 18 points and Schneider with 13. Jeff Wehler led St. Marys with 26.
Damen Palmer led Otto-Eldred with 17 points with Dylan Close adding 13.
CLARION-LIMESTONE 70, FOREST AREA 31
STRATTANVILLE, Pa. – Sam Leadbetter knocked down 19 points, as Clarion-Limestone remained unbeaten in KSAC North action with a 70-31 win over visiting Forest Area.
Christian Smith added 11 points and Dan Callen 10 for the Lion.
Seth Berlin paced the Fires with 11 points and 11 rebounds with Dillon DiCorpo adding eight tallies.
KEYSTONE 56, VENANGO CATHOLIC 28
KNOX, Pa. – Venango Catholic held its own for the first 12 minutes, but in the end Keystone was too much for the visiting Vikings taking home a 56-28 victory.
In a game that secured a 5-1 KSAC Crossover record the Panthers, which would give them the tiebreaker over both Karns City and Moniteau if the KSAC South would come down to a tie of any kind, Keystone led by three, 17-14, just over three minutes into the second quarter but ended the first half on an 8-1 run and then outscored the Vikings 31-13 after halftime.
Austin Ion led Keystone with 17 points and 11 rebounds. Isaak Jones chipped in 10 points.
Ion talked about the win after the game.
Josh Puleo led Venango Catholic with 14 points with Tim Wagner chipping in 11.
RIDGWAY 41, EISENHOWER 27
RIDGWAY, Pa. – Justin Kasmierski netted a game-high 18 points to help Ridgway beat visiting Eisenhower, 41-27.
Andy Breier and Josh Thorwart each chipped in seven for the Elkers.
Jaydon Hayes paced Eisenhower with 11 points.
PHILIPSBURG-OSCEOLA 79, DUBOIS CENTRAL CATHOLIC 41
PHILIPSBURG, Pa. – Marcus Wisor scored 17 points to help Philipsburg-Osceola to a 79-41 win over visiting DuBois Central Catholic.
Josiah Davis added 11 points for the Mounties.
Justin Miknis scored 12 points for DCC with Thomas Grecco adding nine.