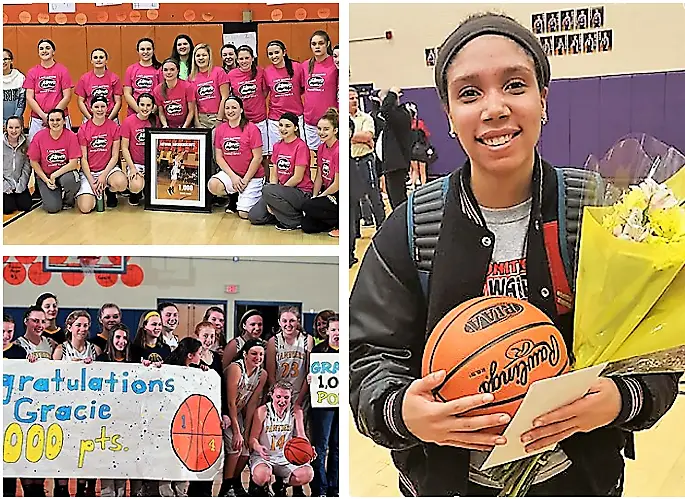 It was another night of milestones in District 9 girls' basketball Tuesday night with three more players going over the 1,000-point mark as well as a late shot to decide a game between two of the top teams in District 9.
Joining the 1,000-point club were Port Allegany's Autumn Buchsenschutz, Northern Potter's Gracie Hamilton and Moniteau's Alazia Greaves.
Meanwhile, Karns City's Mackenzie Craig lifted the Lady Gremlins to a 47-44 win over Greaves and the Lady Warriors with a 3-pointer with six seconds to play.
KARNS CITY 47, MONITEAU 44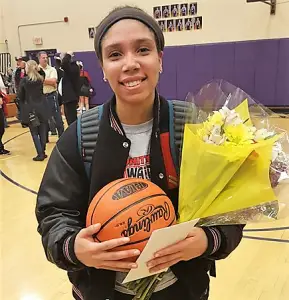 KARNS CITY, Pa. – Craig's game winner pulled Moniteau into a first-place tie with Moniteau in the KSAC South, although the Lady Warriors hold the tiebreaker having beaten North Clarion, the KSAC North winner while Karns City lost to the She-Wolves.
The shot came after Emily Hegedus had missed a pair of layups with around 10 seconds to play with Hegedus getting her own rebound on the first one and Haley Scherer pulling down the board on the second missed Hegedus shot. Scherer then found a wide open Craig at the top of the key, and she drained the winning shot.
Moniteau called timeout with 1.4 seconds left but couldn't tie the game.
Watch the game-winning shot via Karns City's facebook page.
The ending ended an otherwise joyous night for Greaves, who scored 10 points and joined teammate Kristina DeMatteis in going over the 1,000-point mark this season. Greaves now has 1,002 career tallies. She reached the mark on her second free throw of the third quarter.
Karns City, which got 17 points for Hegedus, herself a 1,000-point scorer, and 16 from Craig, trailed 36-34 going to the fourth quarter but outscored the Lady Warriors 13-8 in the quarter thanks to five points from Hegedus. The Lady Gremlins were 6 of 10 from the line the quarter and 21 of 33 for the game.
Moniteau, which was led by 11 points from DeMatteis while also getting nine from Emma Bair, trailed 10-5 after a quarter and 21-20 at halftime before taking the lead after three thanks in part to five points from Greaves in the third quarter. The Lady Warriors were 11 of 18 from the free-throw line.
The only way Karns City can win the KSAC South is if it finishes with a better conference record than Moniteau. The Lady Gremlins finish the South season on the road against A-C Valley and Redbank Valley, while Moniteau hosts Redbank Valley and travels to Union.
PORT ALLEGANY 51, CAMERON COUNTY 31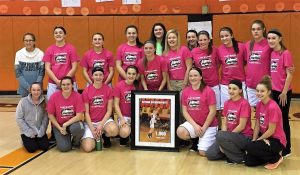 PORT ALLEGANY, Pa. – Needing five points to reach 1,000 in her career, Buchsenschutz reached the mark on a second-quarter 3-pointer that helped the Lady Gators take a 28-12 halftime lead on their way to a 51-31 North Tier League victory over visiting Cameron County.
Buchsenschutz, who scored seven first-half points, really caught fire in the second half netting 14 of her 21 points in the half to finish the night with 1,016 career tallies.
Cailey Barnett also had another big night for Port Allegany also scoring 21 points including 14 during a 20-point first quarter that helped the Lady Gators to a 20-5 lead after one.
Madison Harrier paced Cameron County with eight points with Amily Schatz adding seven.
NORTHERN POTTER 66, OSWAYO VALLEY 28
ULYSSES, Pa. – It had been over a decade since Northern Potter had a 1,000-point scorer. That all changed on a fourth-quarter baseline jumper by Gracie Hamilton during a 66-28 Lady Panthers win over visiting Oswayo Valley in North Tier League action.
Hamilton's fourth-quarter hoop gave her 15 points on the night and 1,001 in her career becoming the first Northern Potter player to 1,000 career points since Sherri Thompson scored 1,292 in a career that ended in 2006.
Hamilton completed a double-double in the contest with 11 rebound, while Kalie Cowburn and Tory McCutcheon also had double-doubles for NoPo.
Cowburn scored a game-high 22 points to go with 12 rebounds while McCutcheon added 12 points and 10 steals. Mikayla Lewis also reached double digits with 11 points.
Shayla Bickel paced Oswayo Valley with 13 points.
NORTH CLARION 70, CLARION 50
FRILLS CORNERS, Pa. – A career night from Tori Obenrader helped North Clarion to a 70-50 win over visiting Clarion in KSAC North play while getting the She-Wolves another step closer to securing the top seed in the District 9 Class 1A playoffs.
Obenrader, who sat out the final five minutes of the game because of the score, hit six 3-pointers on her way to a career-high 42 points while also pulling down 22 rebounds.
The 42 points were one better than her previous career best of 41 earlier this season vs. A-C Valley. It also marked the seventh 20-rebound game of the season for the junior, who is averaging 22.4 points and 16 rebounds per game. She retook the D9 scoring lead with the game, and she ranks second in the district in rebounding.
Ally Carll added eight points for North Clarion.
Alexis Constantino paced Clarion with 21 points while Wendy Beveridge added 15.
COUDERSPORT 68, AUSTIN 25
COUDERSPORT, Pa. – Even without leading scorer Haley Keck, Coudersport rolled to the North Tier League title with a 68-25 win over visiting Austin.
Kiara Perkins led the Lady Falcon with 17 points with Ally Easton adding 16 points. Macy Gleason chipped in nine points and five steals with Shae Black grabbing 10 rebounds to go with five points and Skyler VanWagenen adding four points and five assists.
Jordan Brewer paced Austin with 10 points.
KANE 55, BROCKWAY 41
BROCKWAY, Pa. – Trinity Clark, Ella Marconi and Rachel Morgan combined for 35 points and 29 rebounds to help Kane to a 55-41 AML road win over Brockway.
Clark had a double-double with 14 points and 11 rebounds with Marconi chipping in 13 points, eight rebounds and three blocked shots and Morgan eight points and 10 rebounds. Camryn Cummings also had eight points and five assists for the Lady Wolves.
Leah Lindemuth paced Brockway with 16 points with Kaitlyn Morelli adding 12.
DUBOIS CENTRAL CATHOLIC 49, CURWENSVILLE 34
DUBOIS, Pa. – Riley Assalone netted a team-high 15 points to help DuBois Central Catholic finish off AML play with a 49-34 win over visiting Curwensville.
Jordy Frank and Gabby Caruso each added 12 points for the Lady Cardinals.
Hannah Dixon led Curwensville with 18 points.
JOHNSONBURG 56, SHEFFIELD 14
JOHNSONBURG, Pa. – Cassidy King and Skylar Sherry combined to score 25 points to help Johnsonburg to a 56-14 AML win over visiting Sheffield.
King led the Ramettes with 14 points with Sherry adding 11.
Lexi Lyon scored 12 points for Sheffield.
PUNXSUTAWNEY 43, ST. MARYS 37
PUNXSUTAWNEY, Pa. – Leah Miller had 14 points, 19 rebounds and five blocked shots to help Punxsutawney hold off visiting St. Marys, 43-37, in D9 League action.
Kate Horner added 10 points for the Lady Chucks, who outscored St. Marys 12-7 in the second quarter to take a 24-18 halftime lead.
Michelle Bauer paced the Lady Dutch with eight points.
DUBOIS 51, BRADFORD 42
BRADFORD, Pa. – Ashley Hallowell scored 19 points and hauled down 17 rebounds to help DuBois to a 51-42 D9 League road win at Bradford.
Chelsea DeSalve chipped in 18 points for the Lady Beavers.
Bri Wells led Bradford with 19 points.
A-C VALLEY 56, UNION 37
RIMERSBURG, Pa. – Ellie Thompson scored a career-high 30 points to lead A-C Valley to a 56-37 road KSAC South win over Union.
Thompson hit 10 shots from the field and was also a perfect 10 of 10 from the free-throw line.
Frankee Remmick paced Union with 15 points.
CRANBERRY 58, FOREST AREA 25
TIONESTA, Pa. – Malliah Schreck had 20 points and 14 rebounds to lift Cranberry to a 58-25 win over Forest Area in KSAC North action at West Forest.
Bree Swartzfager added 10 points, five steals and five assists for the Berries, who also got 10 points from Erin Merryman.
Jasmine Ginnery and Glory Wagner each scored five points for the Lady Fires.
PHILIPSBURG-OSCEOLA 73, CLEARFIELD 57
PHILIPSBURG, Pa. – Halle Herrington exploded for a school-record 45 points to lead Philipsburg-Osceola to a 73-57 win over visiting Clearfield in Mountain League play.
Herrington's 45 points broke the previous school mark of 44 set by Emily Wagner during the 1993-94 season.
Ally Lindstrom led Clearfield with 24 points with Alayna Ryan chipping in 17.
SMETHPORT 60, GALETON 27
SMETHPORT, Pa. – A season-high 31 points from Abbey Woodard helped Smethport to a 60-27 win over visiting Galeton in North Tier League action.
Cortney Parsell paced Galeton with seven points.
RIDGWAY 42, EISENHOWER 38
RIDGWAY, Pa. – Behind 16 points, 17 rebounds, seven blocked shots, four assists and two steals from Emily Fullem, Ridgway rallied past visiting Eisenhower, 42-38.
The Lady Elkers trailed 34-32 going to the fourth quarter but behind four points each from Fullem and Karley LaBenne, who finished with 12 points, they outscored the Lady Knights 10-4 in the fourth to get the win.
Casey Woodford added nine points, five assists and four rebounds for Ridgway.