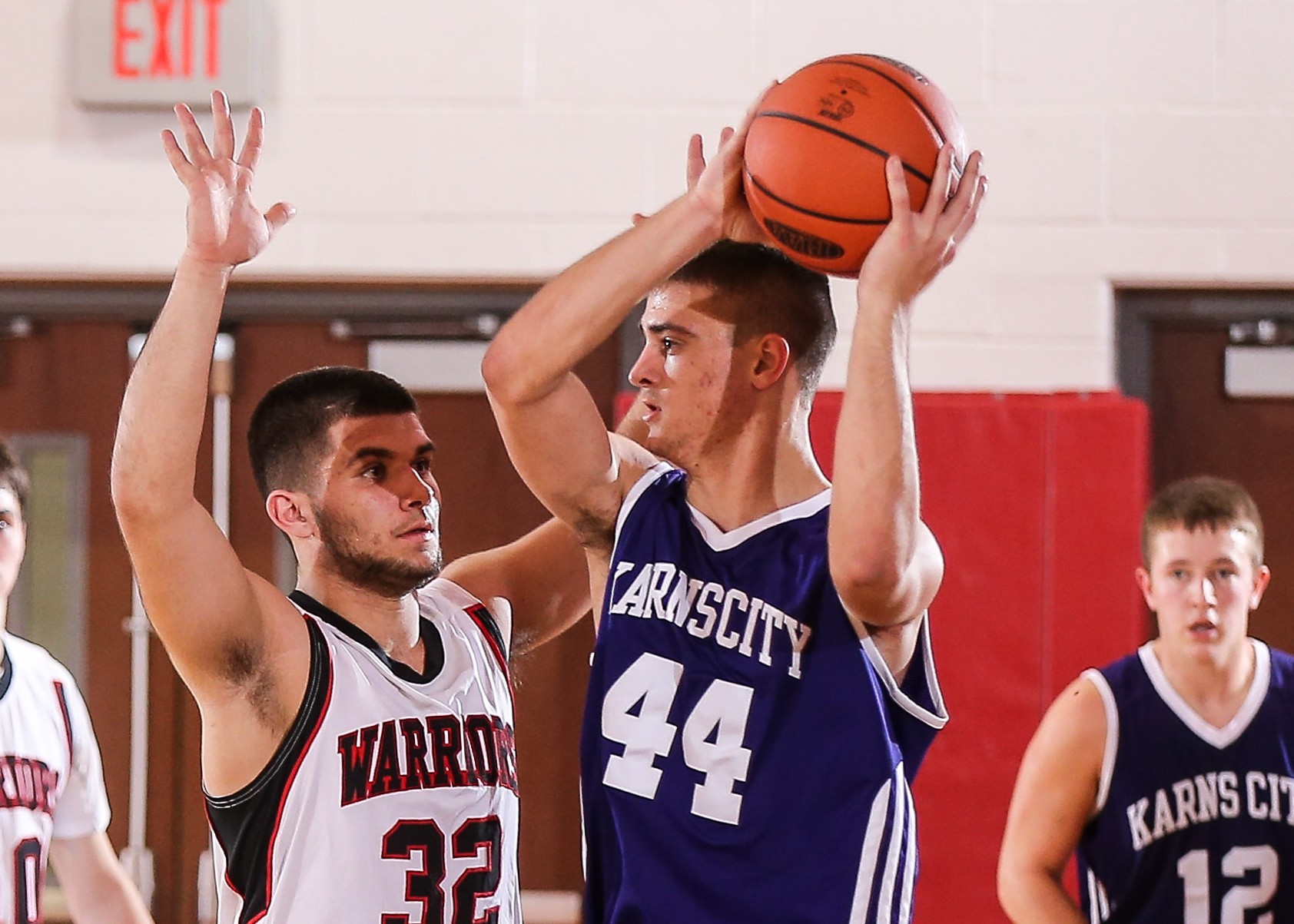 KARNS CITY 53, WEST SHAMOKIN 51
KARNS CITY, Pa. – Chandler Turner hit a 15-foot jumper at the buzzer to lift Karns City to a 53-51 must-win victory over visiting West Shamokin in non-conference action.
A loss to the Wolves, who beat Karns City by 18 at the end of December, would have basically eliminated the Gremlins from postseason consideration. Now Karns City most likely needs to beat Redbank Valley Wednesday to go to the D9 Class AA playoffs with an over .500 record (although it's possible the Gremlins could go at 10-11 as well).
A 15-5 advantage in the second quarter was key to the victory for Karns City.
The Gremlins trailed 16-13 at the end of a quarter but got a pair of 3-pointers from Ian McElroy and another three from Reese Barger in the second quarter to take a 28-21 lead at halftime.
Karns CIty still led by five, 39-34, going to the fourth quarter before West Shamokin rallied to tie the game at 51.  
Barger led the Gremlins with 14 points while hitting three 3-pointers. Noah Pollock added eight points, while Holden Martin and Turner each had seven. Turner added a team-high 12 rebounds.
Brandon Stover had 15 points to pace West Shamokin.
KANE 52, CRANBERRY 49
SENECA, Pa. – Trailing by five with 1:20 to play, Kane rallied to pick up a key non-conference road win at Cranberry, 52-49.
Tyler Rolick gave the Wolves the lead, 50-49, on a layup with 28 seconds to play, his only basket of the game. Then, following a Cranberry travel, Andrew Bucheit hit two free throws with six seconds left to set the final score.
Bucheit had a huge game with 29 points and 19 rebounds. Frank Truden and Davis Gardner each added seven points.
Evan Lutz and Caleb McCandless each scored 14 points for Cranberry.
DUBOIS CENTRAL CATHOLIC 62, MONITEAU 41
WEST SUNBURY, Pa. – Christian LaParne scored 18 second-half points on his way to a game-high 30, as DuBois Central Catholic shook off a sluggish first half to pick up  62-41 non-conference road win at Moniteau.
The Cardinals led by just four, 26-22, at halftime but LaParne and Joey Varischetti, who finished with 12 points, each scored six points in the third quarter to help DCC outscore the Warriors 16-8 in the quarter to expand the lead to 42-30. LaParne then added 12 more points in the fourth quarter to finish off the victory.
Justin Miknis picked up an additional 14 points for DCC, while Aaron Marterella and Lake Pry led Moniteau with 10 points each. Nate Sosigian chipped in eight for the Warriors.  
ST. MARYS 79, CLARION 72
CLARION, Pa. – Five different St. Marys players reached double figures, as the visiting Dutch rallied past Clarion, 79-72, in non-conference action.
Clarion led at the conclusion of each of the first three quarters, but St. Marys outscored the Bobcats 25-17 in the fourth quarter to pull out the seven-point win.
Nick Bauer scored eight of his team-tying-high 14 points in the fourth quarter for the Dutch, while Jordan Romain added six of his 10 points and Nathan Schneider five of his 10 points in the fourth quarter.
Parker Housler also scored 14 points for St. Marys with Jeffrey Wehler adding 10.
Clarion, which led 22-17 at the end of the first quarter, 40-38 at halftime and 55-54 after three, got a game-high 22 points from Jonathan Smith. But St. Marys held Smith scoreless in the fourth quarter after he scored 10 third-quarter points.
Ceventh Lynch-Skunda chipped in 13 points for the Bobcats with Bo Miller and Reed Anthony each adding 12 points with Anthony hitting four 3-pointers. Clarion was without point guard Cam Craig for the fourth straight game.
JOHNSONBURG 40, DUBOIS 32
JOHNSONBURG, Pa. – Andrew Akers netted five of his eight points in the fourth quarter, as Johnsonburg rallied past visiting DuBois for a 40-32 win.
The Rams trailed 29-26 going to the fourth quarter but outscored the Beavers 15-3 in the final eight minutes.
Kevin Benson led Johnsonburg with 11 points with Kacey Raubenstrauch and Drew Kilhoffer also scoring eight apiece.
Zach Sloan paced DuBois, which was just 1 of 10 shooting in the fourth quarter and 4 of 22 from the floor in the second half, with a game-high 15 points. John Oberlin added 13 points for the Beavers.
NORTH CLARION 69, TIDIOUTE CHARTER 22
FRILLS CORNERS, Pa. – Griffin Schmader, Fuquanah Seales and R.J. Graham all recorded career highs, as North Clarion blew past visiting Tidioute Charter, 69-22, on Senior Night.
Schmader netted  game-high 19 points to go with six rebounds with Seales adding 15 points and six rebounds and Graham seven points and four steals.
Danny Sherbine grabbed a game-high 13 rebounds to go with five points, and Zayn Hargenrader added nine points.
Patrick Shields led Tidioute Charter with six points.  
BROOKVILLE 76, REDBANK VALLEY 59
NEW BETHLEHEM, Pa. – Kurt Schindler exploded for 25 points, 12 steals and six rebounds to lead visiting Brookville past Redbank Valley, 76-59, in non-conference action.
Jimmy Moore added 17 points, nine in the first quarter, for the Raiders, who shot 28 of 53 for the game including 15 of 22 in the first half. Jordan Tosh chipped in 13 points.
Sam Heeter led all scorers with 28 points for Redbank Valley while shooting 10 of 19 from the floor. Eleven of his points came in the fourth quarter after Brookville had taken a 56-34 lead. Dalton Dougherty added a double-double for the Bulldogs with 13 points and 12 rebounds while also blocking six shots.
CLEARFIELD 72, CURWENSVILLE 39
CURWENSVILLE, Pa. – Behind 15 points, eight rebounds and four steals from Cody Spaid, visiting Curwensville ran past neighboring Curwensville, 72-39, in non-conference action.
Will Myers added 14 points for the Bison, who also got 13 points and 13 rebounds from Evan Brown.
Jake Terry's 10 points led Curwensville with Quamone Newkirk adding nine tallies.