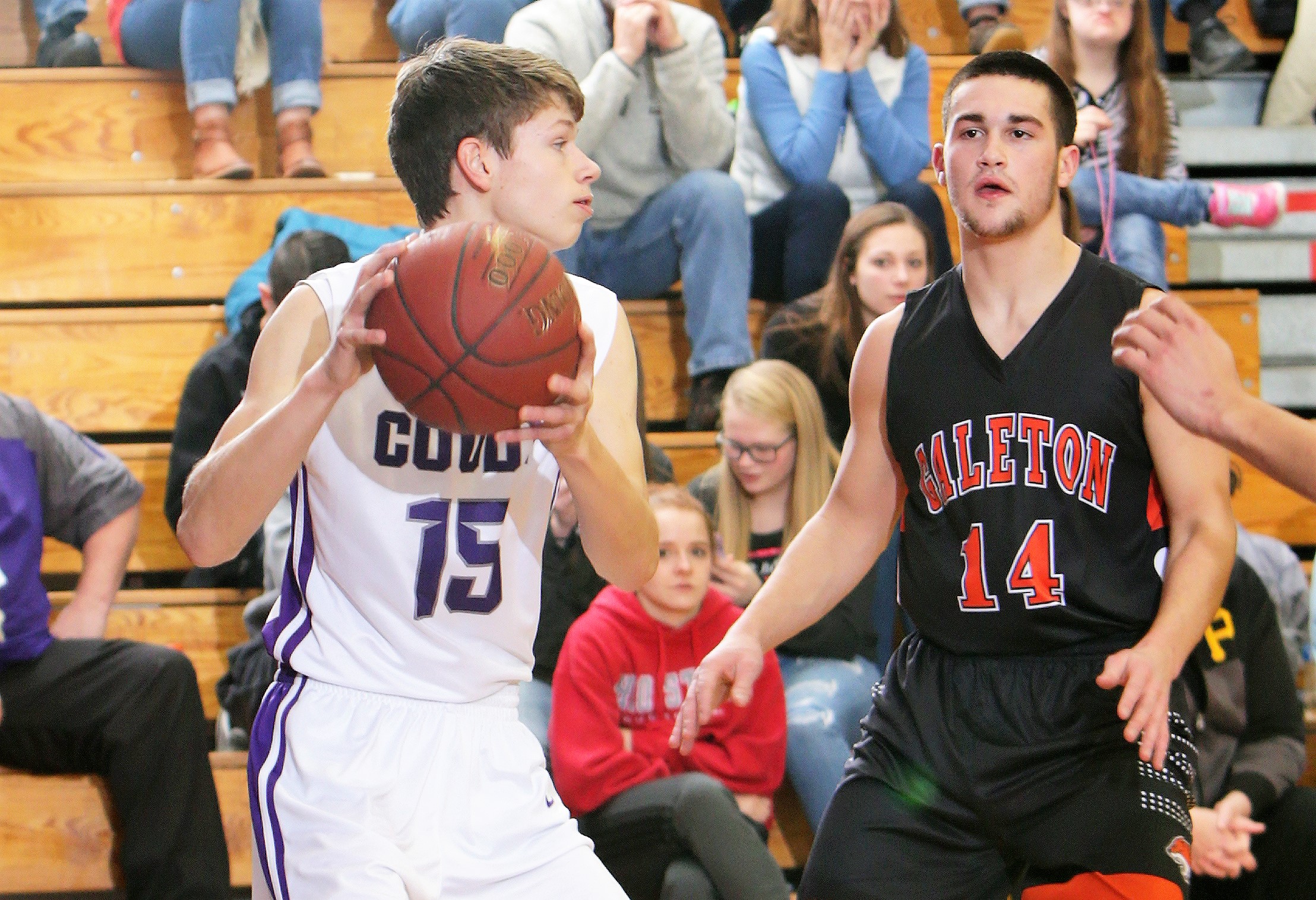 Feb. 8 recaps.
(Photo of Coudersport's Owen Chamber, who scored 26 points in a win over Clarion Thursday. Photo by Paul Burdick. Check out more of Burdick's work here)
COUDERSPORT 75, CLARION 46
COUDERSPORT, Pa. – Coudersport showed just how much of a divide there is in District 9 Class 2A from the top teams to the next level of team racing past visiting Clarion, 75-46.
The Falcons, who are considered co-favorites to win the District 9 2A title with Ridgway, who beat Coudersport by two Saturday, had little trouble with a Clarion team that had lost just once since Christmas.
Derek Keglovits hit a pair of first-quarter 3-pointers, and Coudy knocked down four triples in the quarter as it raced out a 26-16 lead after eight minutes.
Things got worse for Clarion in the second quarter when the Falcons' Owen Chambers netted nine of his game-high 26 points to expand the lead to 46-24 by halftime.
Chambers continued hitting on all cylinders in the third quarter scoring 10 more points to expand the Coudy lead to 70-35.
Keglovits added 15 points in the win with Jared Green scoring 14 and Hunter Ricke 13.
Freshman Calvin German paced Clarion with 16 points while hitting four 3-pointers including three in the first quarter. Cam Craig chipped in 11 points, Austin Hummell eight and Spencer Miller seven.
NORTH CLARION 52, KEYSTONE 44
KNOX, Pa. – North Clarion overcame a slow start to knock off reeling Keystone, 52-44, in KSAC Crossover play.
The win by the Wolves, who trailed 8-2 early and 8-5 at the end of the first quarter before outscoring the Panthers 33-18 over the middle two frames, leaves Karns City controlling its own destiny in the KSAC South.
As long as the Gremlins beat A-C Valley Friday and Clarion-Limestone Wednesday, they will win the South. If Karns City trips up against either A-C Valley or C-L and Keystone beats Union Friday, then the Panthers will win the South.
On Thursday, after getting the early 8-5 lead, Keystone failed to score for nearly eight minutes allowing North Clarion to grab an 18-14 halftime advantage.
Then in the third quarter, the Wolves got scoring from six different players led by five points from Nathan Banner and four each from Jesse Schmader and Kyle Mills to expand the advantage to 38-26 going to the fourth quarter.
The lead was 10, 45-35, following a Mills basket with 3:45 to go before a 7-0 Keystone run paced by five points from Isaak Jones cut the advantage to 45-42 on a Dalton Jones pull-up jumper with 2:04 left.
After Mills, who had 14 points, answered with another basket to make it 47-42, Dalton Jones appeared to score and get fouled with 1:39 to play. But the referee ruled the foul was on the floor, the basket didn't count and Dalton Jones missed the front end of the one-and-one.
Dalton Jones did cut the lead back to three, 47-44, on a bucket with 58.1 left after Sam Minich missed a free throw, but Nathan Banner answered with an old-school 3-point play with 47.9 to play pushing the lead back to six, and Keeven Weaver scored and was fouled – he missed the free throw – with 29.4 to go to set the final.
Banner also scored 14 for North Clarion with Schmader adding eight.
Isaak Jones had a game-high 23 points for Keystone with Dalton Jones adding 13. But only two others Panthers scored – Corey Rapp with five tallies and Nate Wingard with three.
MONITEAU 52, CRANBERRY 32
WEST SUNBURY, Pa. – Led by 16 points from Gage Neal, three Moniteau players reached double digits in a 52-32 Warriors win over visiting Cranberry.
Ross Tenney chipped in 12 points in the victory with Tyler McFadden scoring 10.
Matt and Dan McQuaide combined for 20 points for Cranberry with Matt scoring 11 and his older brother, Dan, nine.
JOHNSONBURG 48, BROCKWAY 35
BROCKWAY, Pa. – Behind 13 points from Trevor Lobaugh visiting Johnsonburg earned a split of the season series with Brockway thanks to a 48-35 non-conference win over the Rovers.
Austin Green and Ben Freeburg each chipped in 11 points for the Rams, who have won five straight, while Tyler Singer had eight tallies.
Carter Adams scored 13 points to lead Brockway with Jon Wood adding eight.
DUBOIS CENTRAL CATHOLIC 75, HARMONY 60
WESTOVER, Pa. – Justin Miknis exploded for 27 points to lead visiting DuBois Central Catholic to a 75-60 win over Harmony.
Miknis, a junior, is now 17 points shy of 1,000 in his career.
Josh Solnosky chipped in 12 points for the Cardinals with Brandon Walker adding nine, Jonathan Krutz eight and Peter Downer seven.
Mike Kablosky netted 19 points to lead Harmony with Jayden Westover adding 13 tallies.
OTTO-ELDRED 50, OSWAYO VALLEY 44
SHINGLEHOUSE, Pa. – Sawyer Drummond's double-double helped visiting Otto-Eldred knock off Oswayo Valley, 50-44, in North Tier League action.
Drummond had 15 points and 11 rebounds for the Terrors, who raced out to an 18-13 lead after a quarter.
Nick York added eight points and Trey Dalton seven for Otto-Eldred.
Theo Henry netted a game-high 23 points for Oswayo Valley with Gavin Babcock chipping in 10.
The win was Otto-Eldred's ninth in 10 tries, while Oswayo Valley lost for the sixth time in 10 games.