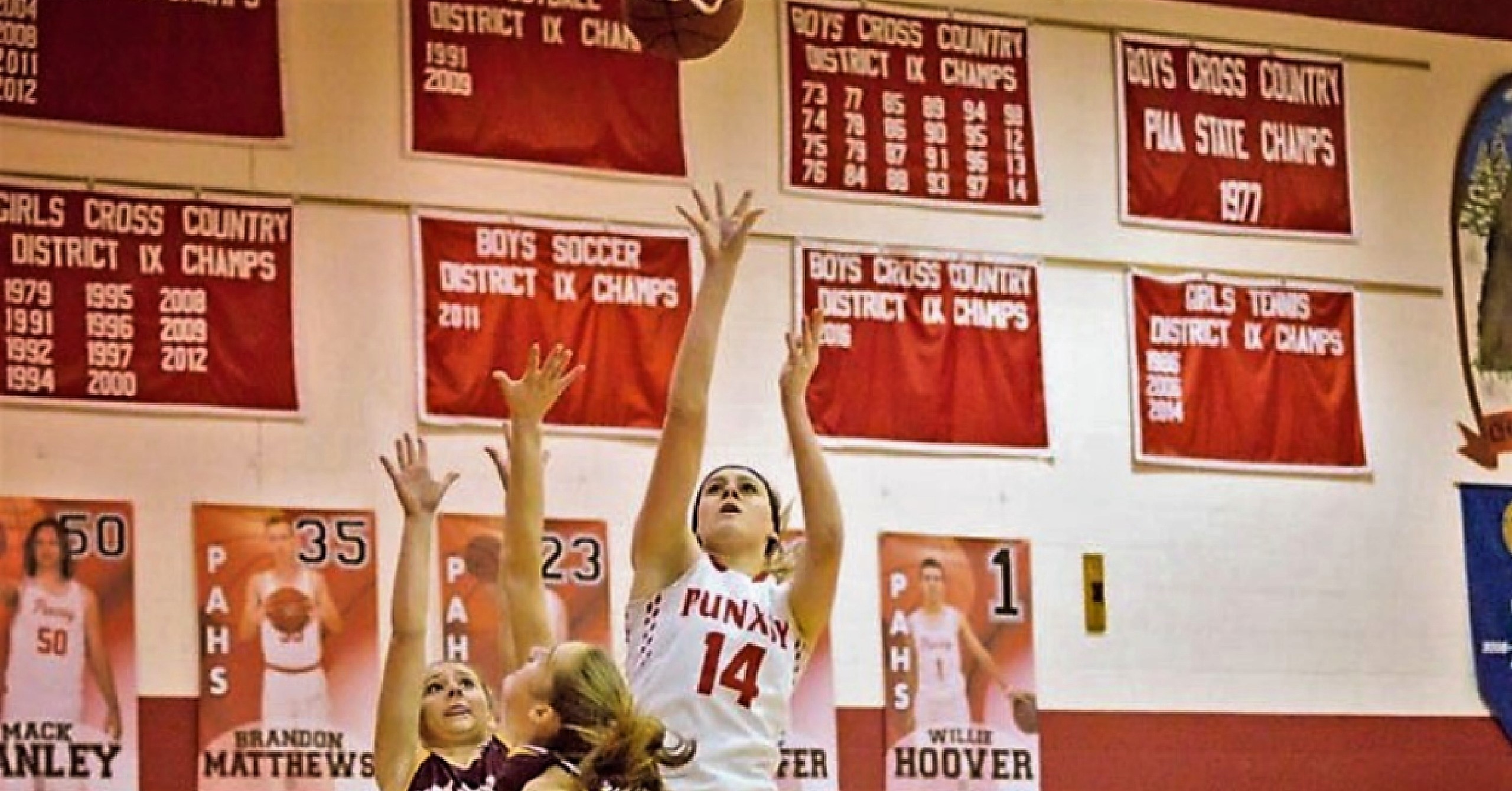 Feb. 8 recaps.
(Photo of Punxsutawney's Leah Miller. Photo by Vanessa Huey. Photo submitted by Miller)
PUNXSUTAWNEY 52, DUBOIS 29
PUNXSUTAWNEY, Pa. – Leah Miller continued her outstanding play of late with 18 points, 18 rebounds, seven steals, four blocked shots and two assists to help Punxsutawney claim its third consecutive D9 League title with a 52-29 win over visiting DuBois.
Miller, who has had four straight games of at least 15 points and 15 rebounds, scored eight of her 18 points in the second quarter to help Punxsutawney pull away from the Lady Beavers.
The Lady Chucks led 11-9 at the end of a quarter but outscored DuBois 15-2 in the second quarter to take a 26-11 halftime lead.
Kate Horner and Abby Gigliotti each added 10 points for Punxsutawney, which had won 31 straight D9 League contests, with Sarah Weaver chipping in four points, six assists, six rebounds and two steals.
Chelsea DeSalve had 10 points for DuBois with Ashley Hallowell adding seven.
BROOKVILLE 47, ELK COUNTY CATHOLIC 25
BROOKVILLE, Pa. – Avenging a 21-point loss in December, Brookville earned a season split with Elk County Catholic in a 47-25 rout at home in a D9 League game.
Morgan Johnson was one of nine players to score for the Lady Raiders in a balanced attack, finishing with 12 points. Kira Powell had nine points and nine rebounds and Marcy Schindler scored eight points.
Brookville led 25-12 at halftime and stretched its lead to as many as 25 points in the second half.
Taylor Newton turned in a double-double for ECC with 12 points and 12 rebounds. No other Lady Crusader had more than three points.
JOHNSONBURG 34, BROCKWAY 24
JOHNSONBURG, Pa. – Needing a win to secure a District 9 playoff berth, Johnsonburg got a game-high 18 points from Cassidy King to beat visiting Brockway, 34-24.
Maria Jones chipped in 10 points for the Ramettes, who secured their 10th win on the year.
Brockway, which trailed 19-12 at halftime, got within three, 19-16, in the third quarter but never any closer.
Leah Lindemuth paced the Lady Rovers, who have lost seven of nine after a 6-4 start, with 12 points but no other Brockway player had more than four tallies.
ST. MARYS 83, CLARION-LIMESTONE 42
STRATTANVILLE, Pa. – Kaylee Muccio netted 19 points and was one of five St. Marys players in double digits, as the visiting Lady Dutch enjoyed their most productive offensive game of the D9sports.com-era (2001-present) with an 83-42 win over Clarion-Limestone.
Bekka Bauer added 13 points for St. Marys, who reached 80 points for the first time since interim head coach Kayla Hoohuli, then a sophomore, helped the Lady Dutch net 81 in an 81-49 win over Bradford Dec. 16, 2008.
Samantha Hayes and Lauren Ecker each chipped in 12 points in the win.
Morgan Clark had a team-high 16 points for C-L with Maddy Craig adding seven.
A-C VALLEY 72, UNION 31
FOXBURG, Pa. – A-C Valley inched closer to its first-ever KSAC South title with a 72-31 win over visiting Union.
The Lady Falcons can secure the championship with a win at Karns City Friday or a Karns City loss to Moniteau Monday.
Kylee Eaton led the A-C Valley with 22 points with Ellie Thompson adding 18, Brooke Irwin 12 and Cami McNany 10.
Frankee Remmick led Union with 15 points with Hannah Atzeni adding nine.
NORTHERN POTTER 62, AUSTIN 16
ULYSSES, Pa. – Becca Morgan recorded a double-double to help Northern Potter cruise past visiting Austin, 62-16 in North Tier League play.
Morgan had 10 points and 10 assists while adding five steals.
Kalie Cowburn had a game-high 15 points for NoPo with Mikayla Lewis adding 11.
Jordan Brewer paced Austin with eight tallies.
SMETHPORT 70, OSWAYO VALLEY 54
SHINGLEHOUSE, Pa. – Abbey Woodard exploded for a career-best 37 points to lead visiting Smethport to a 70-54 North Tier League win over Oswayo Valley.
Woodard netted 13 points in the first quarter and 21 in the first half.
Emily Treat added 16 tallies for the Lady Hubbers with Mykayla Deyarmin adding nine and Hailey Wright eight.
Shayla Bickel had a team-high 29 points for Oswayo Valley with Karina West adding 10 points.
OTTO-ELDRED 48, PORT ALLEGANY 33
PORT ALLEGANY, Pa. – Camryn Thomas netted a game-high 16 points to go with seven rebounds and five blocked shots as visiting Otto-Eldred knocked off Port Allegany, 48-33, in North Tier League play.
Ali Cousins chipped in 14 points for the Lady Terrors, who led 22-10 at halftime, while Autumn Smith contributed two points, seven rebounds and four steals.
Bree Garzel paced Port Allegany with 10 points with Brianna Roys adding eight tallies.
COUDERSPORT 69, CAMERON COUNTY 36
EMPORIUM, Pa. – Haley Keck and Sarah Chambers combined for 41 points, as visiting Coudersport rolled past Cameron County, 69-36 in North Tier League action.
Keck led the Lady Falcons with a game-best 22 tallies with Chambers adding 19. Shaelyn Black had a double-double with 16 points and 11 rebounds. Keck chipped in seven assists.
Alviya McKimm paced Cameron County with 10 points, Kamme Guisto added eight tallies and Kaelee Bresslin and Laila Smith seven each. Senior Amily Schatz had a game-high 13 rebounds to go with two points on Senior Night.