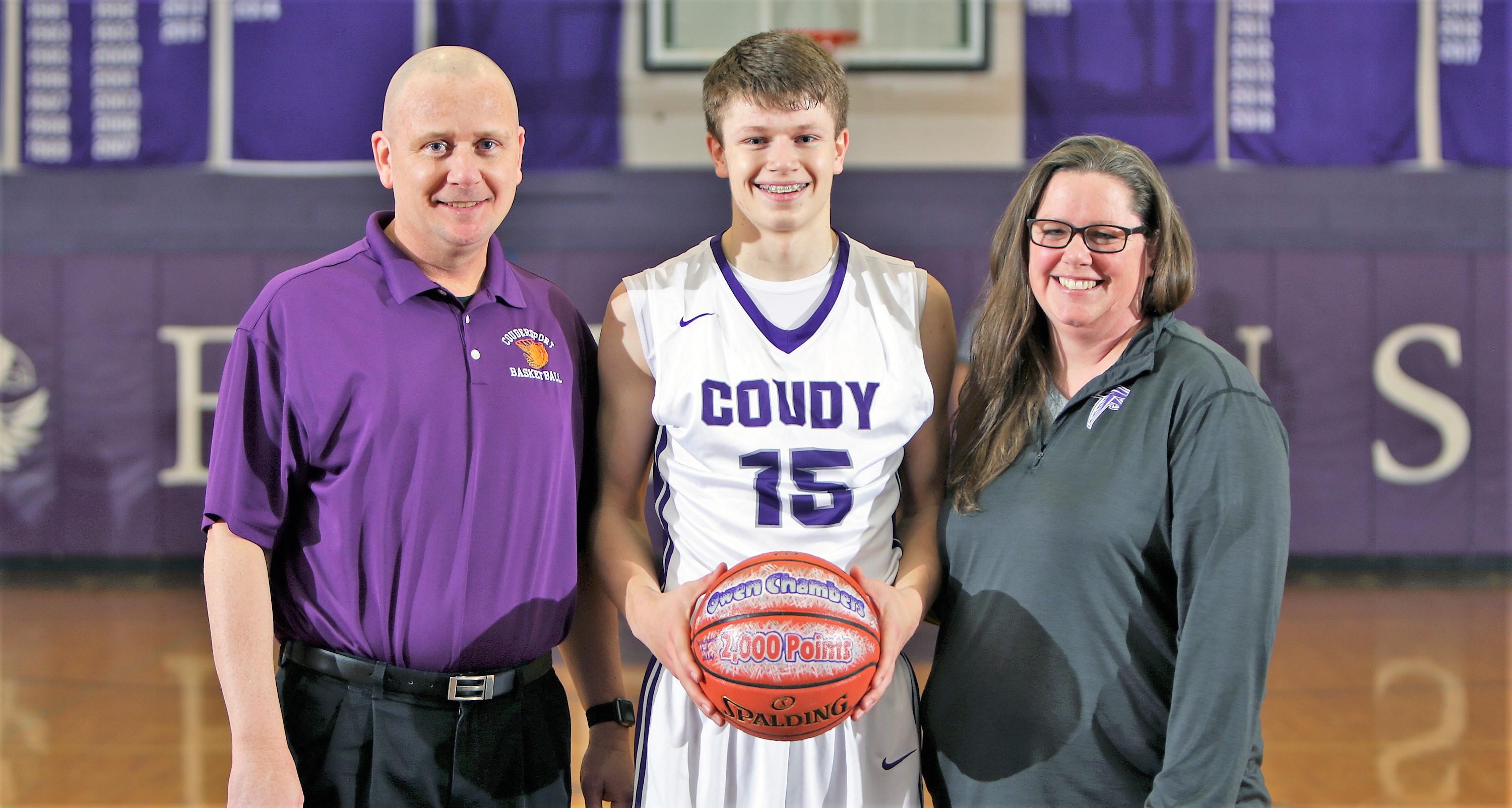 Feb. 8 boys' basketball recaps.
(Photo of Coudersport's Owen Chambers with his parents, Mark and Jennifer, after becoming the fifth boys' player in District 9 history to score 2,000 career points. Photo by Paul Burdick. Check out more of Burdick's work here)
COUDERSPORT 72, CAMERON COUNTY 53
COUDERSPORT, Pa. – Needing 29 points to reach the 2,000 career-point mark, Owen Chambers scored 31 points, the final three on a fourth-quarter 3-pointer, to become the fifth District 9 boys' player to reach 2,000 career points while helping the Falcons wrap up the NTL title with a 72-53 victory over visiting Cameron County.
Chambers (2,002) joins Calvin Grumley (Johnsonburg, 2,255), Jesse Bosnik (ECC, 2,083), Garret Heath (Keystone, 2,215) and Brandon Housler (Cameron County, 2,084 points) on the 2,000-career points list in District 9 boys' basketball.
The historic shot came when Daniel Frame found Chambers on the left wing, and the senior buried the triple. Frame reacted before the shot even went in, and Dillon Keglovits quickly greeted Chambers with a hug as the Coudersport bench emptied and the home crowd went wild.
Watch Chambers score his 2,000th career point. Submitted video.
Frame and Hayden Keck added 12 points apiece for the Falcons.
Jake Walters paced the Red Raiders with 17 points and 13 rebounds with Caden Beldin chipping in for 15 points.
KEYSTONE 57, UNION 48
RIMERSBURG, Pa. – Thanks to 15 points from Troy Johnson, Keystone defeated Union, 57-48, and captured its second KSAC South title in three years.
Dawson Steele added 11 points for the Panthers with Isaak Jones chipping in for eight.
Union was paced by Caden Rainey's 12 points.
ELK COUNTY CATHOLIC 78, ST. MARYS 55
ST. MARYS, Pa. – Alex Breindel exploded for 26 points, as unbeaten Elk County Catholic wrapped up the D9 League title with a 78-55 win over visiting St. Marys.
Breindel hit five 3-pointers on his way to his game-high output.
Regis Wortman chipped in 11 points for the Crusaders with Carter Lindemuth scoring 10.
Cahil Parrish had 19 points to pace St. Marys with Nick Catalone adding 12.
RIDGWAY 66, BROCKWAY 26
RIDGWAY, Pa. – Matt Dush had a game-high 15 points helping Ridgway defeat visiting Brockway, 66-26.
Jake Reynolds netted 13 points and Will Thompson added 12 for the Elkers. Daunte Allegretto chipped in for 10 tallies.
Zane Puhala paced the Rovers with eight points.
JOHNSONBURG 50, KANE 39
KANE, Pa. – Austin Green netted 20 points in Johnsonburg's 50-39 victory over Kane.
Gabe Watts had 15 points for the Rams with Isaac Schloder adding nine.
Chad Greville paced Kane with 11 tallies.
PUNXSUTAWNEY 54, DUBOIS 47
PUNXSUTAWNEY, Pa. – Ethan Blose led a balanced offensive attack and helped Punxsutawney upset DuBois, 54-47.
Blose led all the Chucks scorers with 11 points with Darin Byers adding 10. Cam Smith and Micah Kriebel each chipped in for nine points.
Chase Husted tallied a game-high 15 points to pace DuBois. Justin Manduley added 12 points and Alex Beers 10.
NORTH CLARION 74, VENANGO CATHOLIC 58
FRILLS CORNERS, Pa. – Kyle Mills' double-double helped North Clarion defeat visiting Venango Catholic, 74-58.
Mills netted 20 points and grabbed 14 rebounds for Wolves. Logan Minich added 19 points and Sam Minch tallied 13 points and seven assists.
Ben Gillispie and Andrew Burda tallied 21 points apiece to pace Venango Catholic.
CURWENSVILLE 73, SHEFFIELD 52
CURWENSVILLE, Pa. – Thanks to 38 combined points from Christian Bakaysa and freshman Ty Terry, Curwensville defeated Sheffield, 73-52.
Bakaysa had a game-high 20 points for Curwensville with Terry hitting four 3-pointers and scoring 18 points.
Tyler Hepinger led Sheffield scorers with 17 points.
BROOKVILLE 44, BRADFORD 43
BRADFORD, Pa. – A balanced team effort lifted visiting Brookville over Bradford, 44-43.
Aaron Park netted 10 points and Jace Miner added nine for the Raiders. Robert Keth chipped in for eight and Jack Krug had seven.
Steve Knowlton paced the Owls with a game-high 14 points with Donny Pattison and Tyler Gigliotti adding eight apiece.
Down one late, Bradford had a chance to win the game when Gigliotti went the length of the floor with 6.9 seconds left. But his tough shot in traffic at the buzzer was off the mark giving the visiting Raiders the victory.
CLARION-LIMESTONE 68, CRANBERRY 27
STRATTANVILLE, Pa. – Ian Callen set the Clarion-Limestone school record for career steals when he swiped seven balls in the Lions 68-27 win over Cranberry.
Callen now has 365 career thefts breaking the previous mark set by RJ Laugand.
The senior also led the C-L offense in the win with 23 points while adding eight rebounds.
Curvin Goheen also posted a double-double for the Lions, who found out bad news prior to the game when it was learned that Deion Deas will most likely miss the remainder of the season with the foot injury he suffered last week against North Clarion, with 15 points and 11 rebounds. Hayden Callen also chipped in 10 points and eight rebounds.
JT Stahlman led Cranberry with 10 points.
REDBANK VALLEY 62, MONITEAU 54
NEW BETHLEHEM, Pa. – Keaton Kahle netted 19 points to help lift Redbank Valley over Moniteau, 62-54.
Chris Marshall added 10 points for the Bulldogs with Nick Smith and Bryson Bain adding nine apiece.
Jared Lominski had a game-high 23 points and 13 rebounds to pace Monteau.
KARNS CITY 69, A-C VALLEY 53
KARNS CITY, Pa. – Erik Pfeifer and Chase Beighley led Karns City past A-C Valley, 69-53, with both players netting a game-high 19 tallies.
Nathan Waltman added 18 points in the win for the Gremlins.
Eddie Stevanus paced the Falcons with a team-high 17 points and Levi Orton adding 11.
AUSTIN 79, NORTHERN POTTER 73
AUSTIN, Pa. – Blake Burgett and Dempsy Glover combined for 46 points to help Austin defeat upset-minded Northern Potter, 79-73.
Burgett had a team-high 26 points for Austin and Glover added 20 points to go along with 16 boards.
Ryan Langworthy paced a game-high 28 points to pace Northern Potter. Foster Kosta posted 18 tallies.
SMETHPORT 72, OSWAYO VALLEY 21
SMETHPORT, Pa. – Connor Alfieri and Ian Woodruff combined for 32 points and helped Smethport defeat visiting Oswayo Valley, 72-21.
Alferi netted a game-high 17 points and Woodruff added 15 for the Hubbers. Eric Szarowicz chipped in for nine tallies.
Camden Graves and Carter Sledman paced Oswayo Valley with six points apiece.
CLARION 91, FOREST AREA 57
TIONESTA, Pa. – Three players scored in double digits to help Clarion roll past Forest Area, 91-57.
Cal German led all scorers with 23 points, Nick Frederic added 18 tallies and Gavin Brinkley scored 13 points. Josh Craig, back from injury, and Archer Mills each added eight tallies.
Noah Burke had a double-double of 20 points and 10 rebounds for Forest Area with Franklin Meals adding 17 points and Jonah Spuck added 10 tallies.
CLEARFIELD 58, BELLEFONTE 33
HYDE, Pa. – Seventeen points each from Keegan Hess and Karson Rumsky lifted Clearfield over visiting Bellefonte, 58-33.
Taye Lynch added 12 points for the Bison and Andrew Lopez had nine.