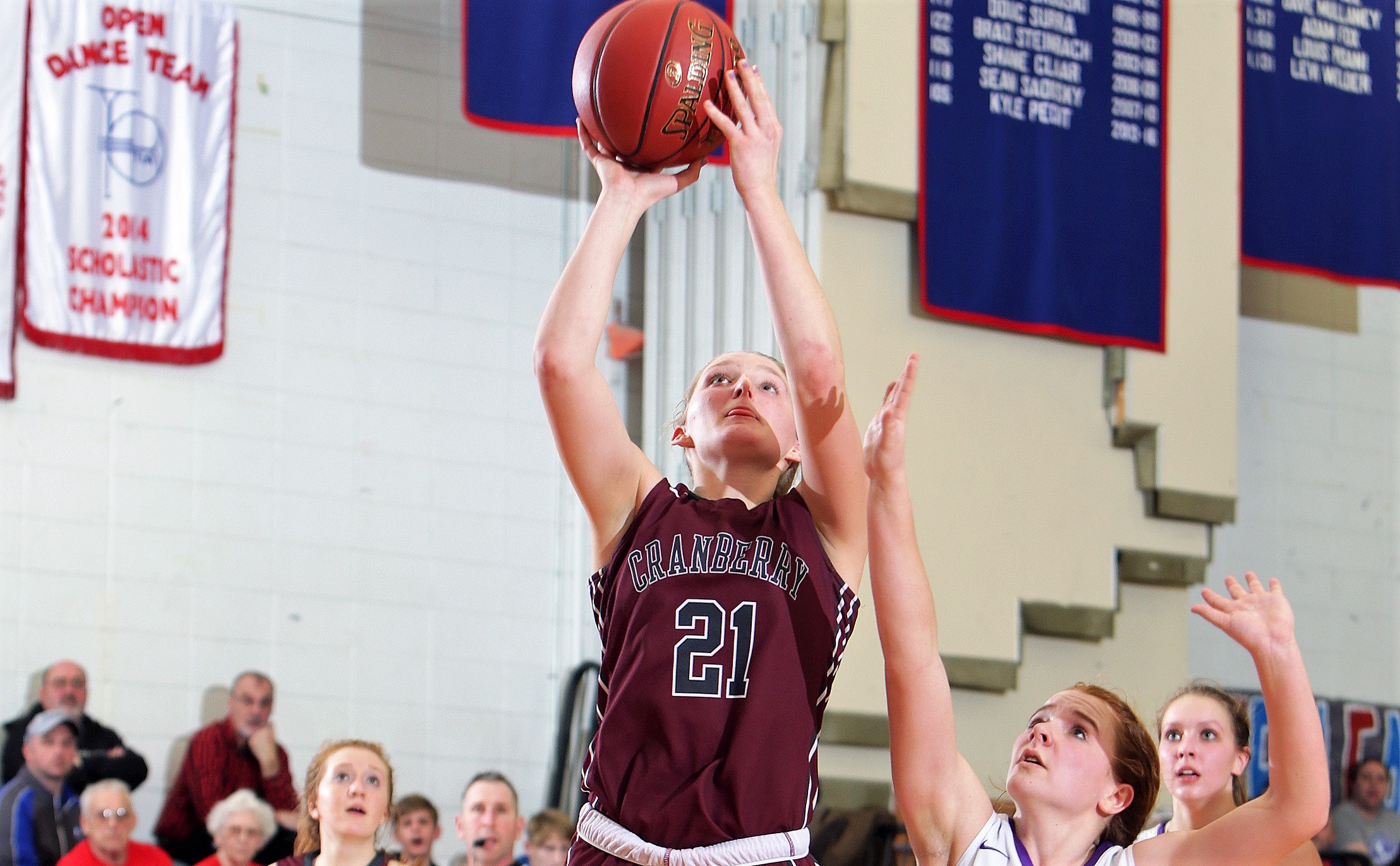 Feb. 8 girls' basketball recaps.
(Photo of Cranberry's Malliah Schreck, who hauled in her 1,000th career rebound Friday night. Photo by Paul Burdick. Check out more of Burdick's work here)
CRANBERRY 56, CLARION-LIMESTONE 19
SENECA, Pa. – Cranberry's Malliah Schreck became a 1,000-point, 1,000-rebound player when she hauled down 16 rebounds to give her 1,001 in her career in a 56-19 Berries win over visiting Clarion-Limestone in KSAC North action.
Schreck, who scored a game-high 19 points Friday night, netted her 1,000th career points last year.
Maddy Cornelius added seven points in the win for Cranberry, while Maddy Craig paced C-L with six points.
KANE 58, JOHNSONBURG 50
JOHNSONBURG, Pa. – Ella Marconi exploded for 24 points and lifted Kane over Johnsonburg, 58-50 and helped the Lady Wolves secure the AML North crown.
Hannah Buhl netted 14 points and Katlyn Young chipped in for eight for Kane.
Rylee Casilio had a team-high 15 points to pace Johnsonburg with Maria Jones adding 13 points.
RIDGWAY 42, BROCKWAY 39
BROCKWAY, Pa. – Despite a slow start, Ridgway rallied and defeated Brockway, 42-39.
Casey Woodford had 15 points and six rebounds and Christina Fullem had 10 points and four blocks for the Lady Elkers. Gabby Rohr added six points and Alyssa Kasmerski chipped in for four points and nine rebounds.
Morgan Lindemuth paced the Lady Rovers with 15 points. Maggie Schmader tallied nine points and 16 boards with Selena Butter adding seven points and 16 rebounds.
MONITEAU 49, REDBANK VALLEY 36
MONITEAU, Pa. – A team effort lifted Moniteau over Redbank Valley, 49-36.
Kristin Auvil had a team-high 14 points for Moniteau with Aslyn Pry adding 11. Andie Arblaster and Ivie Scott added seven points apiece. Scott also had a team-best 13 rebounds, while Mia Loss added eight boards and three steals to go with four points.
Tara Hinderliter had 16 tallies to pace the Lady Bulldogs.
KEYSTONE 59, UNION 37
KNOX, Pa. – Emma Lauer led a balanced offensive attack in Keystones 59-37 victory over visiting Union.
Lauer led the Lady Panthers scorers with a game-high 18 points with Maddie Dunlap chipping in for 11 and Alyssa Dunlap 10.
Dominika Logue paced Union with 11 points.
CURWENSVILLE 58, SHEFFIELD 22
SHEFFIELD, Pa. – Madi Weber exploded for 25 points and helped visiting Curwensville defeat Sheffield, 53-22.
Tarah Jacobson netted 10 points and Brittney Wagner added nine for the Lady Tide.
For Sheffield, Emily Leitchenberger had a team-high 12 points.
A-C VALLEY 55, KARNS CITY 25
FOXBURG, Pa. – Thanks to 21 points from Cami McNany, A-C Valley got past Karns City, 55-25.
Kylee Eaton added 15 points for the Lady Falcons and Olivia Boocks chipped in for nine.
Emma Johns paced the Lady Gremlins with 15 points.
BELLEFONTE 46, CLEARFIELD 44
BELLEFONTE, Pa. – Despite 28 points from Alayna Ryan, Clearfield fell to Bellefonte, 46-44.
Mallorie Smith netted 17 points for Bellefonte with Maddie Tice adding eight.
BROOKVILLE 66, BRADFORD 33
BROOKVILLE, Pa. – Morgan Johnson and Marcy Schindler combined for 29 points, leading Brookville to a D9 League 66-33 win at home against Bradford.
Johnson scored 16 points while Schindler finished with 13 points.
Hannah Lary scored 13 of her 15 points in the first half to lead Bradford.