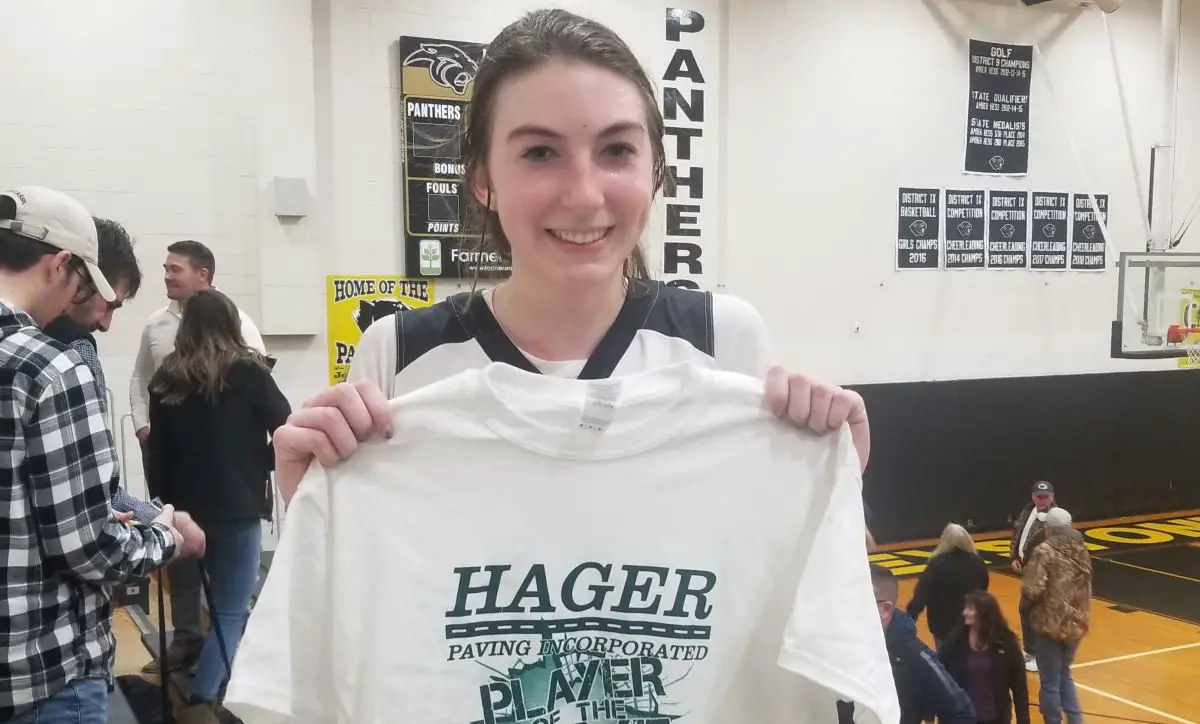 Feb. 8 girls' basketball recaps.
(Photo of Keystone's Emily Lauer, whose five points in the final 2:05 helped Keystone rally past Cranberry Saturday. Photo by Chris Rossetti)
KEYSTONE 39, CRANBERRY 37
KNOX, Pa. – Emily Lauer scored five points in the final 2:05 to help Keystone rally past visiting Cranberry, 39-37, and end the Berries hopes of a KSAC South title.
Relisten to the game:
The Lady Panthers win coupled with Clarion's win over Karns City gives the KSAC South title to Redbank Valley, which didn't play Saturday. Even if the Lady Bulldogs lose to Moniteau Wednesday, they will win the KSAC South based on having beaten Clarion twice in the regular season while Keystone and Cranberry both split their season serieses with the Lady Cats.
On Saturday, Cranberry (13-7 overall, 7-3 KSAC South), which trailed 33-30 three minutes into the fourth quarter, took a 34-33 lead thanks to four straight free throws from Ava Ferringer with the first set coming at the 3:08 mark and the second set at the 2:37 mark.
But following a Keystone timeout with 2:13 to play, Lauer drove strong to the hoop to give the Lady Panthers (14-7, 7-3) the lead back for good, 35-33.
Ferringer then walked at the other end, and Keystone was able to run off 1:15 before Jozee Weaver hit one of two free throws to make it 36-34 with 38.0 seconds left.
Megan Hadden then missed a 3-pointer at the other end, and Lauer hit a pair of free throws to make it 38-34.
Maddie Cornelius hit a late 3-pointer with 4.7 seconds left to get Cranberry within one, but Lauer hit one of two free throws with 0.8 of a second to play to set the final score.
Lauer finished with a game-high 14 points and was named the Hager Paving Player of the Game. She talked about the win.
Cranberry held a 15-7 lead early in the second quarter before Keystone cut the deficit to one point, 18-17, by halftime thanks to six points to close out the half by Maddie Dunlap.
Four points from Ferringer, who was held scoreless in the first half before finishing with eight points, helped Cranberry go back up 24-19 late in the third quarter before Keystone scored the final seven points of the quarter, including five from Weaver, to take a 26-24 lead.
Weaver added 10 points and nine rebounds in the win for Keystone.
Hadden led Cranberry with 11 points, including seven in the first quarter. Kaylie Bruce chipped in three points and six rebounds.
CLARION 63, KARNS CITY 28
CLARION, Pa. – Kait Constantino went 12 of 14 from the free-throw line on her way to a game-high 30 points, as Clarion had little trouble with visiting Karns City gaining a 63-28 victory.
It was the third 30-point game of the year for Constantino, who is averaging 20.6 ppg for the Lady Cats (11-9 overall, 5-5 KSAC South) who secured a playoff berth in D9 Class 2A with the win.
Constantino added six rebounds and three steals, while Jordan Best, who was 5 of 8 from the line helping Clarion go 20 of 26 from the charity stripe in the game, added 13 points, eight rebounds and four steals. KK Girvin also chipped in nine points.
Brooke Manuel had a double-double for Karns City (7-14, 0-10) with 12 points and 12 rebounds with Emma Johns adding 11 points.
Clarion led 21-2 at the end of the first quarter thanks to 14 points from Constantino.
ST. MARYS 53, ELK COUNTY CATHOLIC 23
ST. MARYS, Pa. – Kyla Johnson tied for game-high honors with 17 points, as visiting St. Marys rolled to a 53-23 win over crosstown rival Elk County Catholic.
In her first action since mid-January, Gloria Baciga added seven points in the win for the Lady Dutch (15-5, 6-3) with Allison Schlimm and Samantha Hayes each chipping in six points.
Taylor Newton led ECC (13-8, 3-6) with 17 points and 13 rebounds, her 17th double-double of the year. She is averaging 17.3 ppg and 12.6 rpg for the Lady Crusaders.