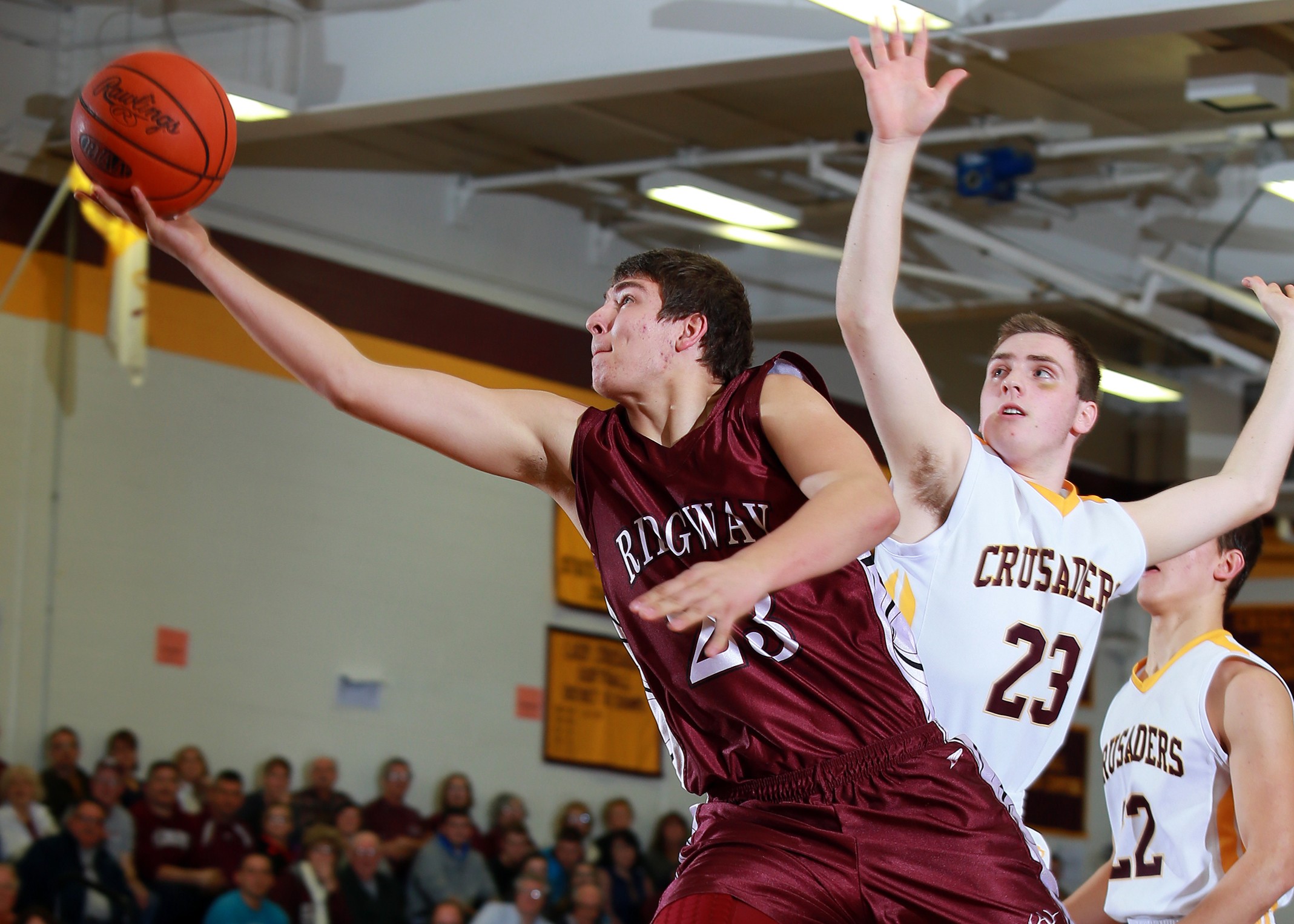 RIDGWAY 54, COUDERSPORT 45
RIDGWAY, Pa. – On the strength of a 12-1 run to close out the first half, Ridgway knocked off visiting Coudersport, 54-45, in a late-season battle between two of District 9's top Class A teams.
The Elkers trailed 20-17 with 3:30 to play in the opening half but closed the half with a 29-21 lead. The lead reached double digits in the third quarter before Ridgway went up nine, 38-29, going to the fourth quarter.
Coudersport got to within seven, 50-43, late in the game but couldn't get any closer.
Jeremy Breier paced Ridgway with 18 points, 12 in the first half, while Andy Breier added 11 points, eight after halftime.
Darren Keglovits led Coudersport with 16 points with Owen Chambers adding 14.   
Ridgway is now 20-2 on the year, while Coudersport falls to 20-2. The win should assure the Elkers have at least the No. 3 seed with a possibility of grabbing the No. 2 seed if Clarion-Limestone loses to Clarion Wednesday. A C-L loss to Clarion could also move Coudersport into the No. 3 seed – the tiebreaker may come down to a coin flip in that case.
GALETON 55, NORTHERN POTTER 41
GALETON, Pa. – Three players reached double digits for Galeton led by 14 points and six rebounds from Isaiah Shuemaker to lead the Tigers to a season-ending 55-41 win over visiting Northern Potter in North Tier League action.
McKinley Ward added a double-double with 12 points and 11 rebounds to go with three steals and two assists, while Mitchell Smith had 12 points, seven rebounds, five assists and five steals. Also for the Tigers Evan Brooks hauled in a game-high 16 rebounds to go with four blocked shots. while Joel Griffen had seven points and five assists.
For Northern Potter, which trailed by just a point (23-22) at halftime, Tucker Kosa and Travis Morgan each scored 10 points.
Galeton finished the season 6-16 overall and 5-11 in the NTL, while Northern Potter ends 4-18 overall and 4-12 in league play.
CAMERON COUNTY 53, OSWAYO VALLEY 46
EMPORIUM, Pa. – Behind 21 points from Trae Smith, Cameron County knocked off visiting Oswayo Valley, 53-46, in the regular-season final for both teams.
Adam Shaffer added nine points and seven steals for the Red Raiders (13-9 overall, 12-4 NTL), while Vinny Olivett and Jordan Crosby each scored eight poitns. Derek Rieder had a team-high 10 rebounds.
Brandon Brabham paced Oswayo Valley (16-6, 13-3) with 23 points, 16 in the first half, while Theo Henry added seven points. The Green Wave were playing their fourth straight game without point guard Dylan Buccholz, who is reported to be out for the season.  
PORT ALLEGANY 52, SMETHPORT 28
SMETHPORT, Pa. – Jordan Seefeldt and Tre Garzel combined to score 44 points, as visiting Port Allegany downed Smethport, 52-28, in the season finale for both teams.
Seefeldt scored a game-high 24 points to lead the Gators (9-13 overall, 8-8 North Tier League), while Garzel added 20 tallies.
Caleb O'Neal paced Smethport (4-18, 4-12) with 10 points with Bryce Nelson adding nine.
OTTO-ELDRED 74, AUSTIN 43
AUSTIN, Pa. – Heath Stewart exploded for 27 points to lead visiting Otto-Eldred to a 74-43 win at Austin in North Tier League action.
Stewart was one of 10 Terrors to score in the contest with Dylan Close adding eight points and Damen Palmer, Trey Dalton and Jordan Sherwood six each.
Anderson Nicka scored 21 points to pace Austin, whose season comes to a close.
Otto is now 14-8 overall and 10-6 in the NTL. The Terrors move onto the District 9 Class A playoffs. Austin finishes 1-21 overall and 0-16 in league play.