KEYSTONE 58, A-C VALLEY 56
KNOX, Pa. – Josselin Geer's runner with 1.6 seconds left capped a frantic comeback by Keystone, as the host Lady Panthers knocked off A-C Valley, 58-56, in KSAC South action.
Keystone trailed by 12, 48-36, at the end of the third quarter and was still down six, 52-46, with 3:24 to play before ending the game on a 12-4 run.
Amber Hess tied the contest at 56 when she hit two free throws with about 24 seconds left.
The Lady Panthers defense then got the ball back, and Geer was able to hit the game-winning shot, the only basket she made in the game – she also hit a pair of free throws.
Hess led Keystone (15-6, 11-5 KSAC South) with 21 points including eight in the fourth quarter, while Taylor Geer added 18 points and Kaci Weaver seven, five in the fourth quarter. Taylor Geer completed a double-double with 11 rebounds and also had four steals. Hess had six boards, three steals and two blocked shots with Weaver adding six rebounds, two steals and two blocks.
Morgan Cratty led A-C Valley (9-13, 6-10) with 25 points, while Ellie Thompson and Lauren McNany each had nine points.
Keystone moves into the District 9 playoffs, while A-C Valley's season comes to a close.    
NORTH CLARION 59, FOREST AREA 20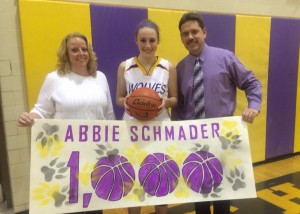 FRILLS CORNERS, Pa. – Abbie Schmader became the seventh girls' player in North Clarion history to reach the 1,000-point mark when she scored 17 to give her exactly 1,000 in her career in the She-Wolves 59-20 win over visiting Forest Area in KSAC North play.
Schmader scored all 17 of her points before halftime and is the first North Clarion girls' player to reach 1,000 career points in six years. Jess Tarr (1,047) was the last She-Wolves player to hit the mark doing so in 2010.
In fact, Schmader, who added seven rebounds, is just the second North Clarion girls' player to reach 1,000 career points in the 21st century.
Sarah Schettler, meanwhile, scored a career-high 15 points for North Clarion, who had nine different player score. Tori Obenrader had four points and 10 rebounds but saw her streak of 15 straight double-doubles come to a close as she saw limited action.
North Clarion led 37-7 at halftime.
Glory Wagner paced Forest Area, who played without leading scorer Morgan Silvis, with seven points. Chloe Saxton added five,
North Clarion closes the regular season 20-2 overall and 15-1 in the KSAC North. The She-Wolves will meet Karns City in the KSAC Title Game at 8 p.m. Friday at Clarion University's Tippin Gym.
Forest Area, which closes out its season Thursday when it hosts Tidioute Charter at West Forest, is now 4-16 overall and 1-15 in the KSAC North.
KARNS CITY 54, REDBANK VALLEY 45
KARNS CITY, Pa. – LeeAnn Gibson and Emily Hegedus each scored seven points during a crucial 17-6 third-quarter run for Karns City that lifted the Lady Gremlins to a 54-45 win over upset-minded Redbank Valley in the KSAC South finale for both teams.
Karns City (20-2 overall, 16-0 KSAC South) led the visiting Lady Bulldogs (15-7, 9-7) by just a point, 26-25, at halftime before moving the lead to 12, 43-31, after three quarters.
Hegedus finished with 18 points with Gibson added 17 and Mackenzie Craig 12.
Brooke Hinderliter paced all scorers with 20 points while adding 11 rebounds and four blocked shots for Redbank Valley. Lexi Holt chipped in eight points for the Lady Bulldogs.
Both teams are headed to the District 9 Class AA playoffs, although Karns City will also play in the KSAC Title game against North Clarion at 8 p.m. Friday at Clarion University's Tippin Gym.
MONITEAU 72, UNION 33
WEST SUNBURY, Pa. – Led by 19 points from Alazia Greaves and 18 from Kristina DeMatteis, Moniteau had four players score in double digits in a 72-33 win over visiting Union in the KSAC South ender for both teams.
Emma Bair added 12 points for the Lady Warriors (15-7 overall, 12-4 KSAC South) with Kara Mental chipping in a season-high 11 points. Sara Hull added four points and 14 rebounds.
Shaley Shick scored 17 points to lead Union (10-12, 4-12) with Frankee Remmick adding 11. But leading scorer Lexey Shick was held scoreless before fouling out, the fourth time in the last five games the junior who came into the game averaging 14.8 ppg has been held under 10 points.  
Both teams move into the postseason with Moniteau in the D9 Class AA bracket and Union in the D9 Class A tournament.
CLARION 54, CLARION-LIMESTONE 35
CLARION, Pa. – Freshman Wendy Beveridge scored 14 points to lead Clarion to a 54-35 win over crosstown rival Clarion-Limestone in the KSAC North finale for both squads.
Kelly Beveridge added 10 points for the Lady Cats (12-10 overall, 9-7 KSAC North), while Anna Reed had eight points and six steals and Jenna Beichner eight points. Gloria Kroh grabbed a team-high nine rebounds to go with six points.
Josie Stitt paced C-L (2-20, 1-15) with 18 points.
CRANBERRY 48, VENANGO CATHOLIC 28
SENECA, Pa. – Erin Merryman and Andrea Altman each scored nine points to lead Cranberry to a season-ending 48-28 win over visiting Venango Catholic in KSAC North action.
Hannah Duncan and Katie Whitling each chipped in eight points for the Berries (9-13 overall, 7-9 KSAC North).
Ava Homan paced Venango Catholic (6-15, 5-11) with 11 points with Ashley Finch adding seven.
HARMONY 49, CURWENSVILLE 44
CURWENSVILLE, Pa. – Tarra Hauser scored 18 points to lead visiting Harmony to a 49-44 win at Curwensville in Moshannon Valley League play.
Christine Limbert led all scorers with 19 points for Curwensville (2-19), while Hannah Dixon added 12.