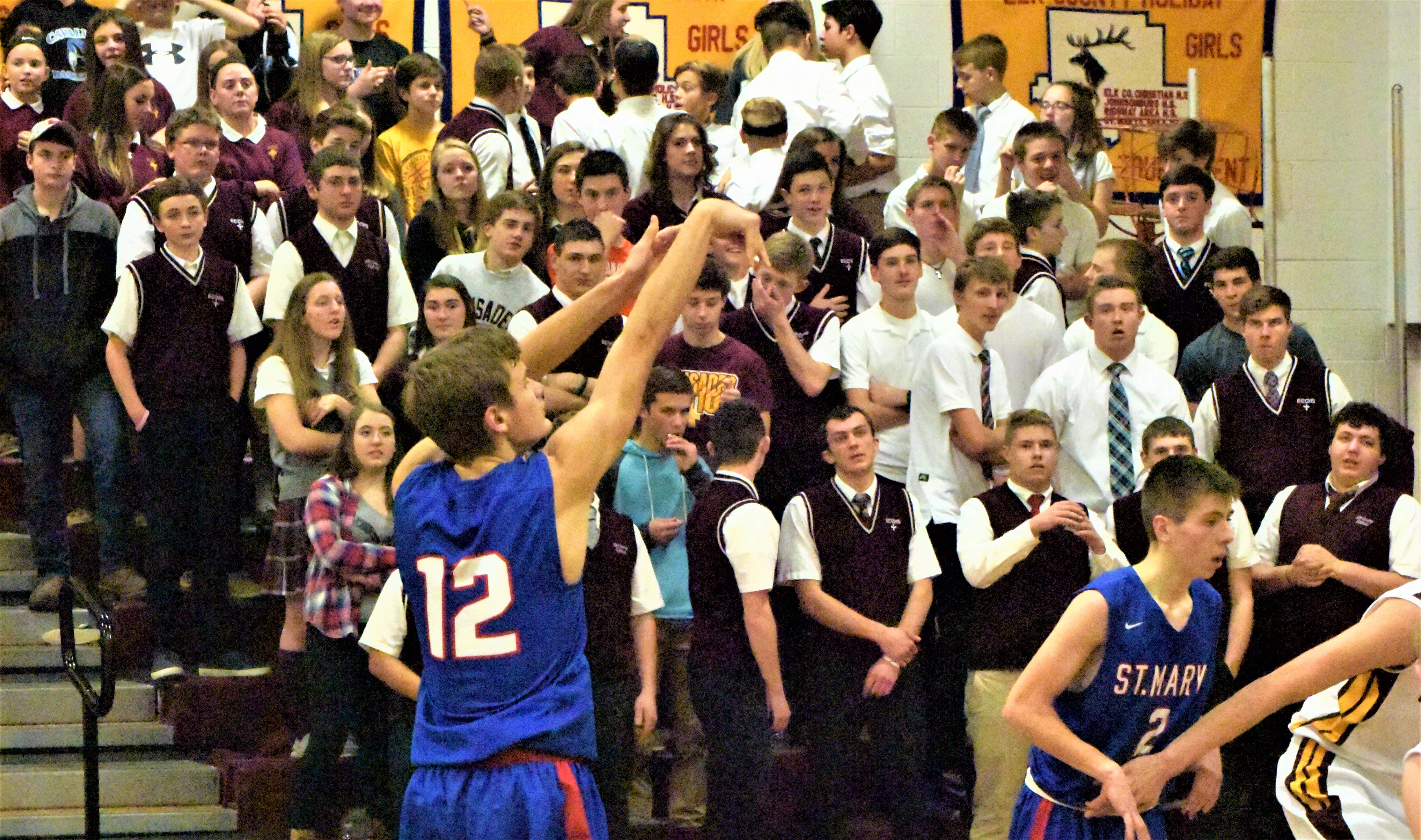 Feb. 9 recaps.
(Photo: Nathan Schneider scored 29 points as St. Marys broke ECC's 53-game D9 League win streak. Photo by Rhonda Beimel)
ST. MARYS 81, ELK COUNTY CATHOLIC 76
ST. MARYS, Pa. – Nathan Schneider scored 17 of his game-high 29 points to help St. Marys rally past shorthanded and visiting Elk County Catholic, 81-76, ending the Crusaders 53-game D9 League win streak.
St. Marys, which led 36-32 at halftime, trailed the Crusaders, who were without leading scorer Ryan Newton and two others, 53-49 going to the fourth quarter before Schneider caught fire to lead the comeback win.
Cahil Parish added 18 points for the Dutch, who lost two close games earlier in the season to ECC and broke an 18-game losing streak to the Crusaders, with Austin Goodrow chipping in 13 tallies, Jared Groll eight and Nicky Catalone seven.
Alex Breindel had a career-high 29 points while hitting five 3-pointer for ECC, which hadn't lost a D9 League contest since Bradford beat it 42-39 in the 2012-13 season. Logan Hoffman chipped in 17 points, Leo Gregory 11 and Alec Wehler nine.
COUDERSPORT 66, CAMERON COUNTY 51
COUDERSPORT, Pa. – Hunter Ricke scored a game-high 23 points to help Coudersport claim its third straight North Tier League title with a 66-51 win over visiting Cameron County.
The Falcons have now won 47 straight NTL games dating back to the start of the 2016 season and are 76-3 in the regular season in NTL play since the 2014 season (they did lose a tiebreaker playoff game to Cameron County in 2015 when they went 15-1 during the regular season splitting with the Red Raiders).
Owen Chambers added 20 points for Coudersport with Jared Green chipping in 14.
Marcus Brown had 18 points and Adam Shaffer 12 for Cameron County.
AUSTIN 77, NORTHERN POTTER 40
AUSTIN, Pa. – Austin's remarkable season continued with Blake Burgett scoring 19 points to lead the Panthers to a 77-40 win over visiting Northern Potter in North Tier League action.
The win improved Austin to 12-8 on the year and guarantees no worse than a .500 season (that would include a PIAA playoff berth) for a program that hasn't been over .500 since 2004 and won a combined 12 games (12-139) from 2011 to 2017 while going 19-271 since 2005.
Jackson Glover added 12 points for the Panthers, who were just 2-20 last year and 4-84 since 2014 with Dempsey Glover scoring 11 points and Garrett Rees adding four points and eight rebounds. The team's lone senior, Esteban Coronel, netted five tallies.
Holden Cowburn scored a game-high 22 points for Northern Potter.
The win was the third since Saturday for the playoff-bound Panthers, who had 10 seasons from 2005-2017 where they didn't record three victories. The last over .500 record and playoff season for Austin was 2004 when the Panthers finished 19-6 and in second place in the NTL.
BRADFORD 60, BROOKVILLE 55
BROOKVILLE, Pa. – Tyler Gigliotti and Deondre Terwilliger led Bradford to a D9 League road win at Brookville by combining for 37 points in a 60-55 victory.
Gigliotti scored 21 points and Terwilliger finished with 16 points as the Owls built a 40-28 lead going into the fourth quarter after a 15-5 third-quarter edge. The Raiders outscored the Owls 27-20 in a high-scoring final eight minutes. The Owls were 31-for-37 from the foul line.
Aaron Park scored 24 points while Trenton Gilhousen finished with 13 points for the Raiders.
OTTO-ELDRED 63, PORT ALLEGANY 59
DUKE CENTER, Pa. – Sawyer Drummond's monster night of 17 points and 20 rebounds helped Otto-Eldred hold off visiting Port Allegany and Howie Stuckey, 63-59, in North Tier League action.
Stuckey was a large reason Port Allegany had a chance. The sophomore drilled eight 3-pointers on his way to a career-high 37 points. Jordan Card added nine for the Gators.
Trey Dalton also had a double-double for Otto-Eldred with 15 points and 10 rebounds, while Jordan Sherwood added 12 tallies.
PUNXSUTAWNEY 65, DUBOIS 50
DUBOIS, Pa. – Brandon Matthews knocked down 12 shots on his way to a game-high 28 points to help Punxsutawney continue its late-season surge with a 65-50 win at DuBois in D9 League play.
Tyler Richardson and Willie Hoover each chipped in nine points for the Chucks, who have won three in a row.
Justin Manduley paced DuBois with 15 points with Chase Husted adding 14.
JOHNSONBURG 52, KANE 46
JOHNSONBURG, Pa. – Austin Green had 12 points and 15 rebounds to help Johnsonburg stave off visiting and upset-minded Kane, 52-46, in AML action.
The Rams jumped out to a 15-3 lead at the end of the quarter before the Wolves whittled it down to four, 23-19, at halftime. It remained a four-point game, 33-29, going to the fourth quarter.
Trevor Lobaugh chipped in 10 points for Johnsonburg with Dilen Surra adding eight and Kacey Raubenstrauch seven.
Chad Greville had a game-high 22 points for Kane with Austin Pierson adding nine and Reed Williams seven.
RIDGWAY 68, BROCKWAY 42
RIDGWAY, Pa. – Johnny Mitchell led a trio of Ridgway players in double digits with 19 points, as the Elkers crept closer to a perfect regular season with a 68-42 AML win over visiting Brockway.
Neil MacDonald chipped in 16 points for Ridgway (20-0) with Andy Breier adding 13.
Anthony Esposito paced Brockway, which has dropped three of four, with 13 points with Alec Freemer adding 12.
CURWENSVILLE 69, SHEFFIELD 48
SHEFFIELD, Pa. – Behind 25 Josh Terry points visiting Curwensville picked up a 69-48 win over Sheffield in AML play.
Devan Barrett added 15 tallies for the Golden Tide with Christian Bakaysa chipping in 13 and Avery Francisco 12.
Tyler Hepinger and Matt Dunham paced Sheffield with 11 points each with Luke Davidson adding eight and Cale Albaugh seven.
KARNS CITY 68, A-C VALLEY 48
FOXBURG, Pa. – Chase Beighley and Austin Fahlor combined to score 44 points, as Karns City continued to control its own destiny in the KSAC South with a 68-48 win at A-C Valley.
The freshman Beighley had a game-high 24 tallies with Fahlor adding 20. Logan Pistorius chipped in eight for the Gremlins, who finished the KSAC South season at 9-1, tied with Keystone for first place. Karns City will claim the tiebreaker if it beats Clarion-Limestone at home Wednesday, but a Gremlins loss to the Lions will give Keystone the KSAC South's berth in the KSAC Title Game.
Eddie Stevanus led A-C Valley with 14 points, and Russ Carr chipped in nine.
CLARION 88, FOREST AREA 69
CLARION, Pa. – Playing for the third time in four nights, Clarion placed four players in double digits in an 88-69 win over visiting Forest Area in KSAC North play.
Cam Craig led the Bobcats with 23 points, Austin Hummell added 17 tallies, Calvin German 16 points and Spencer Miller 15.
Seth Berlin recorded his fourth 30-point game for Forest Area with 32 points and 11 rebounds. Dillon DiCorpo added 21 points, six rebounds, five steals and three assists and Franklin Meals had seven points and five assists.
NORTH CLARION 90, VENANGO CATHOLIC 59
OIL CITY, Pa. – Nathan Banner netted a game-high 28 points to lead visiting North Clarion to its second road win in as many days, 90-59, over Venango Catholic in KSAC North action.
Kyle Mills added 16 points for the Wolves, who finished the regular season a perfect 10-0 away from home, while Sam Minich chipped in 14 points.
Banner's big night puts the senior 41 points shy of 1,000 in his career.
Parker Slagle had a career-best 24 points for Venango Catholic with Josh Puleo adding 14 and Brady Cicatella 12.
MONITEAU 47, REDBANK VALLEY 36
WEST SUNBURY, Pa. – Ross Tenney scored 15 points to help Moniteau dispatch visiting Redbank Valley, 47-36.
Jared Lomenski added 12 points for the Warriors.
Logan Wadding netted eight points for Redbank Valley with Brock Barrett scoring seven.
KEYSTONE 67, UNION 32
RIMERSBURG, Pa. – Luke Hurrelbrink hit five 3-pointers on his way to a game-high 17 points, as Keystone kept its KSAC South title hopes alive with a 67-32 win at Union.
Isaak Jones continued his good play of late with 14 points for the Panthers, who need C-L to beat Karns City Wednesday to take home their second straight KSAC South crown. Dalton Jones also chipped in 11 tallies with Corey Rapp scoring eight. Nate Wingard had six assists, and head coach Greg Heath credited him with limiting Union's leading scorer and 1,000-point career scorer Lucas Bowser to 12 points.
Bowser was the only Golden Knight to score more than four.
CLEARFIELD 51, PHILIPSBURG-OSCEOLA 42
HYDE, Pa. – Ryan Chew had 16 points, six rebounds, four steals and two assists to help Clearfield knock off visiting Philipsburg-Osceola, 51-42, in Mountain League action.
Jon Gates added 14 points for the Bison with Cade Walker adding 11. Taye Lynch had a team-best eight rebounds to go with three steals, two assists and two points.
Marcus Wisor paced P-O with 16 points with Carson Jones adding 13.
SMETHPORT 55, OSWAYO VALLEY 45
SMETHPORT, Pa. – Ian Woodruff netted 17 points to help Smethport to a 55-45 North Tier League home win over Oswayo Valley.
Caleb Lutz chipped in 11 points for the Hubbers with Eric Szarowicz scoring 10 tallies.
Gavin Babcock (20 points) and Theo Henry (16 points) combined for 36 of Oswayo Valley's 45 tallies.