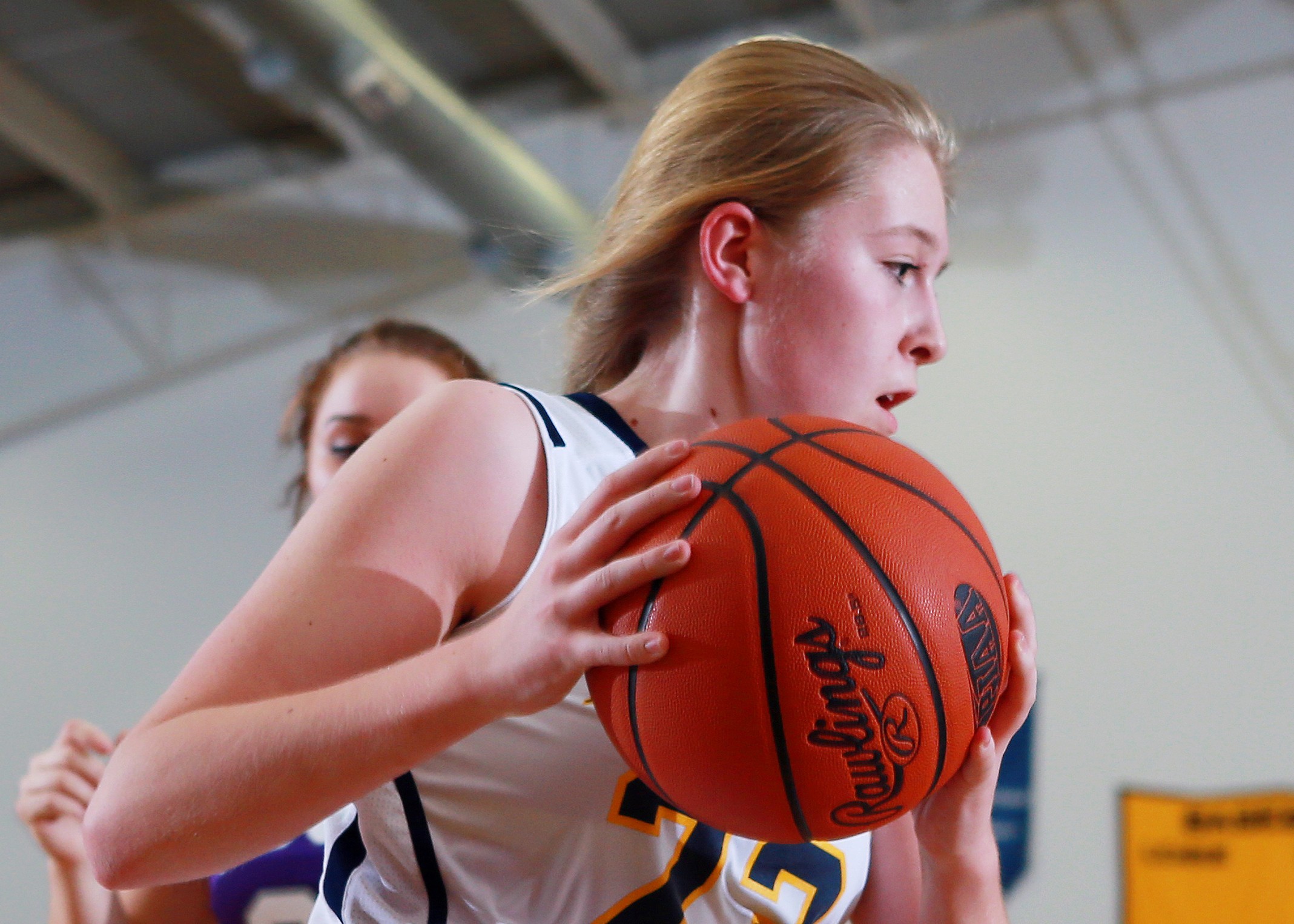 Feb. 9 girls' and boys' basketball roundup.
(Cover photo of Kali Cowburn of Northern Potter. Photo by Paul Burdick. Check out more of Burdick's work here)
GIRLS' RECAPS
NORTHERN POTTER 51, CAMERON COUNTY 49
EMPORIUM, Pa. – Kalie Cowburn's basket with 4.1 seconds left lifted visiting Northern Potter to a 51-49 win over Cameron County in North Tier League action.
In a game that was close throughout, Northern Potter used a 10-5 third-quarter advantage to erase a one-point halftime deficit, 24-23, and take a 33-29 lead into the fourth quarter.
The teams then combined for 38 fourth-quarter points with Cameron gaining a 20-18 advantage in the quarter.
Gracie Hamilton led NoPo with 11 points, Tory McCutcheon added 10, Mikayla Lewis nine and Cowburn eight.
Madi Guisto and Madison Harrier each had 15 points for Cameron County. Amily Schatz chipped in nine points, 13 rebounds, four blocked shots and three steals.
CLARION 53, ST. MARYS 51
CLARION, Pa. – Alexis Constantino scored eight of her game-high 24 points in the fourth quarter to help Clarion rally past visiting St. Marys, 53-51.
The Lady Cats, who led 28-24 at halftime, found themselves down 41-37 going to the fourth quarter but rallied behind the play of Constantino.
Wendy Beveridge added 12 points for Clarion.
Becca Bauer's 12 points paced St. Marys.
OTTO-ELDRED 58, OSWAYO VALLEY 42
SHINGLEHOUSE, Pa. – Fresh off a seven-game absence because of injury, Alli Cousins had a team-high 10 points to go with three steals to help Otto-Eldred to a 58-42 road North Tier League win over Oswayo Valley.
Camryn Thomas added seven points and nine rebounds for the Lady Terrors who also got five points, eight rebounds and three steals from Britney Greeley. Haylee Frederick and Alyssa Shelander also scored seven points with Tiffany Bair adding nine in a balanced effort for Otto.
Sarah Malogrino had a game-high 17 points, 12 in the fourth quarter, and 18 rebounds for Oswayo Valley with Shayla Bickel adding 10 points.
PORT ALLEGANY 60, AUSTIN 16
AUSTIN, Pa. – Cailey Barnet scored 18 points and grabbed eight rebounds to give visiting Port Allegany a 60-16 win over Austin in North Tier League action.
Autumn Buchsenschutz added 13 points and seven steals for the Lady Gators who also got seven points and eight boards from Erin Stauffer and four points and 15 rebounds from Hannah Lathrop.
Jade McKeirnan paced Austin with 6 points.
COUDERSPORT 65, GALETON 40
GALETON, Pa. – Behind the play of Haley Keck and Ally Easton visiting Coudersport beat Galeton, 65-40, in North Tier League play.
Keck had a game-high 26 points to go with three steals for the NTL champion Lady Falcons with Easton adding 13 points and 20 rebounds.
Makaya Shadle had 15 points to lead Galeton with Cortney Parsell adding 13.
BOYS' RECAPS
CLARION-LIMESTONE 81, CRANBERRY 35
SENECA, Pa. – Freshman Deion Deas had a career-high 19 points as visiting Clarion-Limestone claimed its fourth straight KSAC North title with an 81-35 win over Cranberry.
The Lions are 9-0 in league play and hold a one-game lead in the loss column over Clarion (7-1) with the teams playing each other Wednesday at Clarion. But C-L owns the tiebreakers having gone 6-0 vs. the KSAC South while Clarion was 5-1 vs. the South. It is the Lions fifth KSAC North title, the most divisional crowns by any team since the KSAC went to two divisions for the 2007 season.
Deas was one of four C-L players in double digits with Dan Callen adding 16 points, Ian Callen 14 and Christian Smith 13.
Dan McQuaide and Andrew Gunn paced Cranberry with 12 points each.