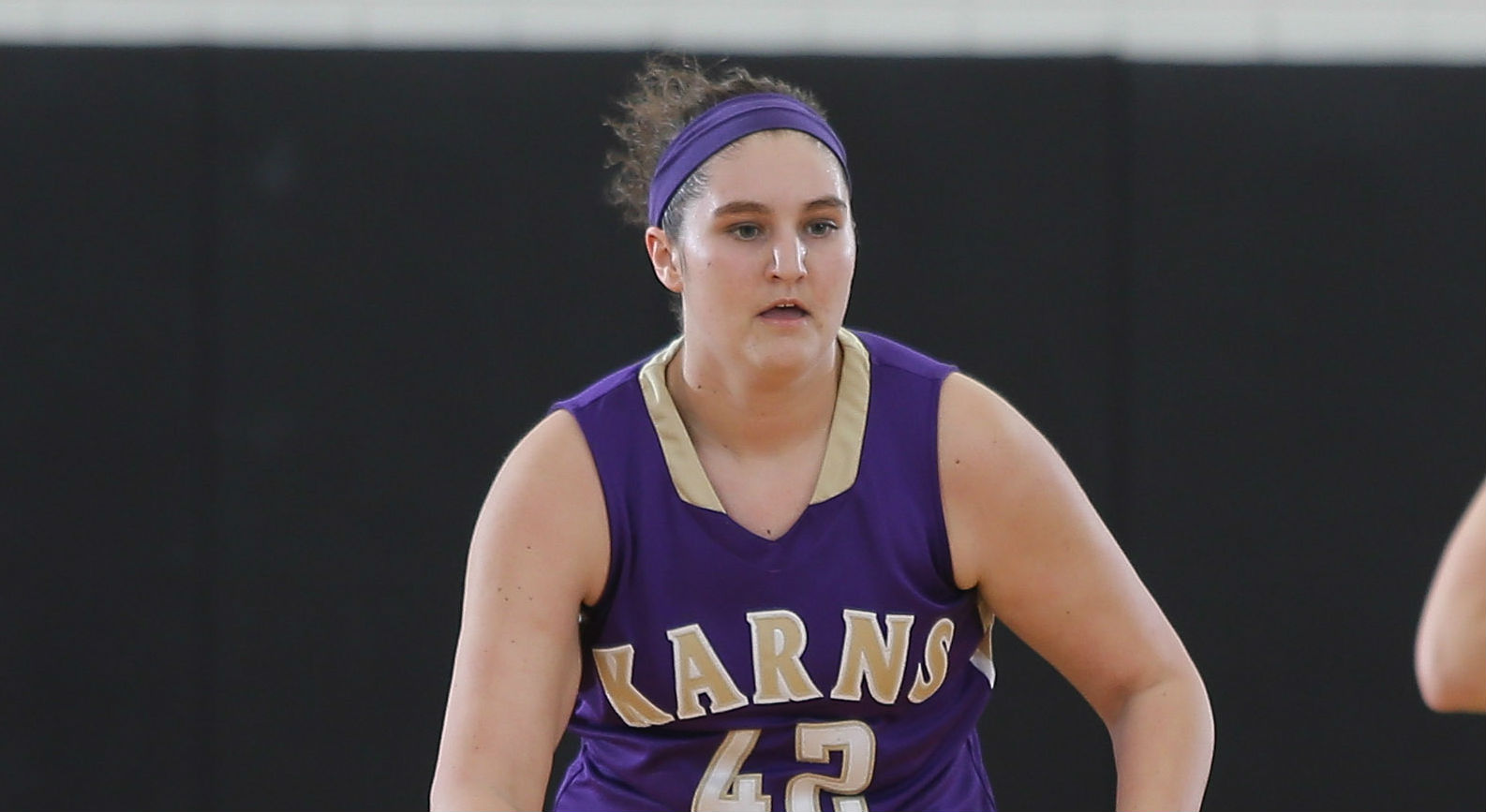 KARNS CITY 47, MONITEAU 31
KARNS CITY, Pa. – Shanel Preston scored 24 points to lead Karns City to its second straight KSAC South title with a 47-31 win over visiting Moniteau Monday night.
The Lady Gremlins (18-3, 8-1) can finish no worse than 8-2 in the KSAC South and Keystone can finish no better than 8-2. The teams split their regular-season meetings, but Karns City wins the tiebreaker because it beat fourth-place Redbank Valley twice while Keystone split with the Lady Bulldogs.
Karns City did receive some potentially bad news prior to the game according to Mike Kilroy of the Butler Eagle who tweeted out that Lady Gremlins leading scorer LeeAnn Gibson, a first-team All-District performer last year, was slated to have surgery on a broken finger Tuesday to insert screws and a plate. Kilroy also tweeted that depending on how fast Gibson heals and how far Karns City goes in the postseason her season may not be over.
Kristina DeMatties led Moniteau, which trailed 26-14 at halftime, with 14 points.
The loss snapped an 8-game win streak for Moniteau, which hadn't lost since falling 52-4 at home to Karns City Jan. 10.
CLARION 48, NORTH CLARION 47
CLARION, Pa. – Two days after blowing out North Clarion, Clarion had to survive a late She-Wolves rally to hold on for a 48-47 win Monday night in Clarion.
North Clarion had a chance to tie the game down three with the ball following a Clarion turnover with 8.9 seconds left, but instead of taking a 3-pointer, the She-Wolves settled for a layup by Abbie Schmader, who finished with  17-point, 10-rebound double-double, as time ran out leaving them a point short.
The fact North Clarion (11-10, 5-4 KSAC North) was in position to tie the game was a small miracle in itself, as the She-Wolves trailed by eight, 46-38, following what appeared to be a dagger 3-pointer by Clarion's Nicki Glenn with 2:45 to play.
But freshman Tori Obenrader, who had another double-double with 14 points and 15 rebounds, scored five points in a span of just under 40 seconds first hitting a pair of free throws and then nailing a 3-pointer, her second of the game with 1:36 to play to get North Clarion within three, 46-43.
Maci Thornton, who had a game-high 21 points – 15 in the first half – to go with seven rebounds, four assists and three steals, restored the lead to two possession, 48-43, for Clarion (12-8, 8-2) with a jumper in the lane with 58.5 seconds left.
Gloria Kroh then had a chance to add to the lead when she was fouled with 23.4 to play, but Kroh missed the front end of a 1-and-1, and Taylor Gatesman scored with 10 seconds left to make it a 3-point game, 48-45.
On the inbounds pass, Thornton lost the handle on the ball and it went out of bounds to North Clarion with 8.9 to play.
Following timeouts by both teams, North Clarion got the ball to the top of the key, but instead of taking a 3-pointer, Ashton Obenrader dumped it inside to Schmader who was given an uncontested layup by a more than willing Clarion team as time ran out.
Coming off a dominating 54-19 win over North Clarion Saturday, the Lady Cats looked like they were going to blow the She-Wolves out of the gym for a second straight game when they used a 15-2 second-quarter run to take a 30-16 lead on a Kelly Bevarage 3-pointer with 1:23 left before halftime.
But North Clarion scored the final five points of the half on a triple by Michaela Higgins, her only points of the night, and a Tori Obenrader layup with 5.3 seconds left in the half, to close within single digits, 30-21, at halftime.
The She-Wolves then started the second half on a 10-3 run to get within two, 33-31, on a pair of Schmader free throws 4:13 into the half. A Tori Obenrader 3-pointer was the key basket of the run.
Clarion was able to stabilize things a bit the rest of the quarter and led 39-35 going to the final eight minutes.
The Lady Cats then scored seven of the first 10 points of the fourth quarter to take the 46-38 lead.
Glenn added 13 points for Clarion, while Anna Reed had nine.
North Clarion, which shot 6 of 41 Saturday and had 25 turnovers, was much better in both categories Monday going 16 of 46 from the floor and turning the ball over 14 times. Free-throw shooting, though, hurt the She-Wolves, who were just 11 of 21 from the line.
Clarion shot 17 of 45 from the floor but was 8 of 12 from the line. The Lady Cats were outrebounded 42-24 and gave up 21 offensive rebounds to North Clarion. Clarion turned the ball over 10 times but five of those were in the fourth quarter.
CLARION 48, NORTH CLARION 47
Score by Quarters
North Clarion 10 11 14 12 – 47
Clarion 13 17 9 9 – 48
North Clarion – 47
Tori Obenrader 4 4-9 14, Cassie Wagner 3 0-0 6, Taylor Gatesman 2 0-3 4, Abbie Schmader 5 7-9 17, Ashton Obenrader 1 0-0 3, Sara Schettler 0 0-0 0, Michaela Higgins 1 0-0 3. Totals 16 11-21 47.
Clarion – 48
Gloria Kroh 0 0-1 0, Anna Reed 2 5-6 9, Lauren Wiser 0 0-0 0, Nicki Glenn 5 0-2 13, Maci Thornton 8 3-3 21, Julie Kenneson 1 0-0 2, Maddy Weaver 0 0-0 0, Kelly Bevarage 1 0-0 3. Totals 17 8-12 48.
Three-pointers – North Clarion 4 (T. Obenrader 2, A. Obenrader, Higgins). Clarion 6 (Glenn 3, Thornton 2, Bevarage).
DUBOIS CENTRAL CATHOLIC 45, BROOKVILLE 44
DUBOIS, Pa. – Riley Assalone hit a hook shot at the buzzer to lift homestanding DuBois Central Catholic to a 45-44 win over Brookville Monday.
Brookville's leading scorer Elaina Powell left the game in the second quarter with an injury and didn't return.
DCC improved to 12-8 on the year, while Brookville fell to 12-7.
No other information is available on this game.
BROCKWAY 72, SHEFFIELD 42
BROCKWAY, Pa. – For the first time since the 1991-93 seasons, the Brockway girls' basketball program has consecutive-winning regular seasons after downing visiting Sheffield 72-42 Monday night to finish the regular campaign at 12-8 aftet going 11-9 a year ago in the regular season.
The Lady Rovers, who have won 11 of 13, got a triple-double from Juli Esposito, who had 11 points, 10 assists and 12 steals and also moved into fourth-place in school history in scoring with 778 career points.
Kaitlyn Morelli came off the bench to add a double-double for Brockway with 14 points and 10 rebounds, and Leah Lidemuth had 15 points and seven boards with all of her stats coming before halftime.
Jade Moore had 15 points, including hitting four 3-pointers, to lead Sheffield (1-21).
BROCKWAY 72, SHEFFIELD 42
Score by Quarters
Sheffield 6 9 15 12 – 42
Brockway 19 25 16 12 – 72
Sheffield – 42
Kifer 1 0-0 2, Leictenberger 1 2-4 4, Maines 1 1-3 4, Moore 4 3-7 15, Fitzgerald 4 0-0 9, Hansen 3 2-10 8, Grubbs 0 0-0 0, Knowles 0 0-0 0. Totals 14 8-24 42.
Three-pointers – Sheffield 6 (Moore 4, Maines, Fitzgerald)
Brockway – 72
Adrianna Terwilliger 3 1-2 7, Katlyn Cappetta 3 1-2 7, Ashley Moore 3 0-0 6, Leah Lindemuth  6 3-4 15, Juli Esposito 4 3-3 11, Adriana Azzato 1 2-2 4, Lilly Larson 2 0-1 4, Leigha Pertz 2 0-0 4, Katlyn Morelli 3 8-11 14, Sabrina Bundy 0 0-0 . Toals. 27 18-25 72.
DuBOIS 50, RIDGWAY 40
DuBois, Pa. – Dayna DeSalve scored 23 points and helped her DuBois Lady Beavers end a six-game losing streak in a 50-40 non-league win over Ridgway.
DeSalve made 11 of 13 free throws, including 10 of 11 in the second half as DuBois (7-13) outscored Ridgway 29-19 in the second half. Courtney Chandler also reached double figures with 12 points.
Hannah Park and Jessica Kifer each scored 13 points for Ridgway, which finished the season 7-15.
A-C VALLEY 60, CRANBERRY 42
FOXBURG, Pa. – Erin Logue had 18 points, seven assists and four steals to lead A-C Valley to a 60-42 win over visiting Cranberry Monday.
Danielle Kaufman added 10 points for the Lady Falcons.
No Cranberry information is available.