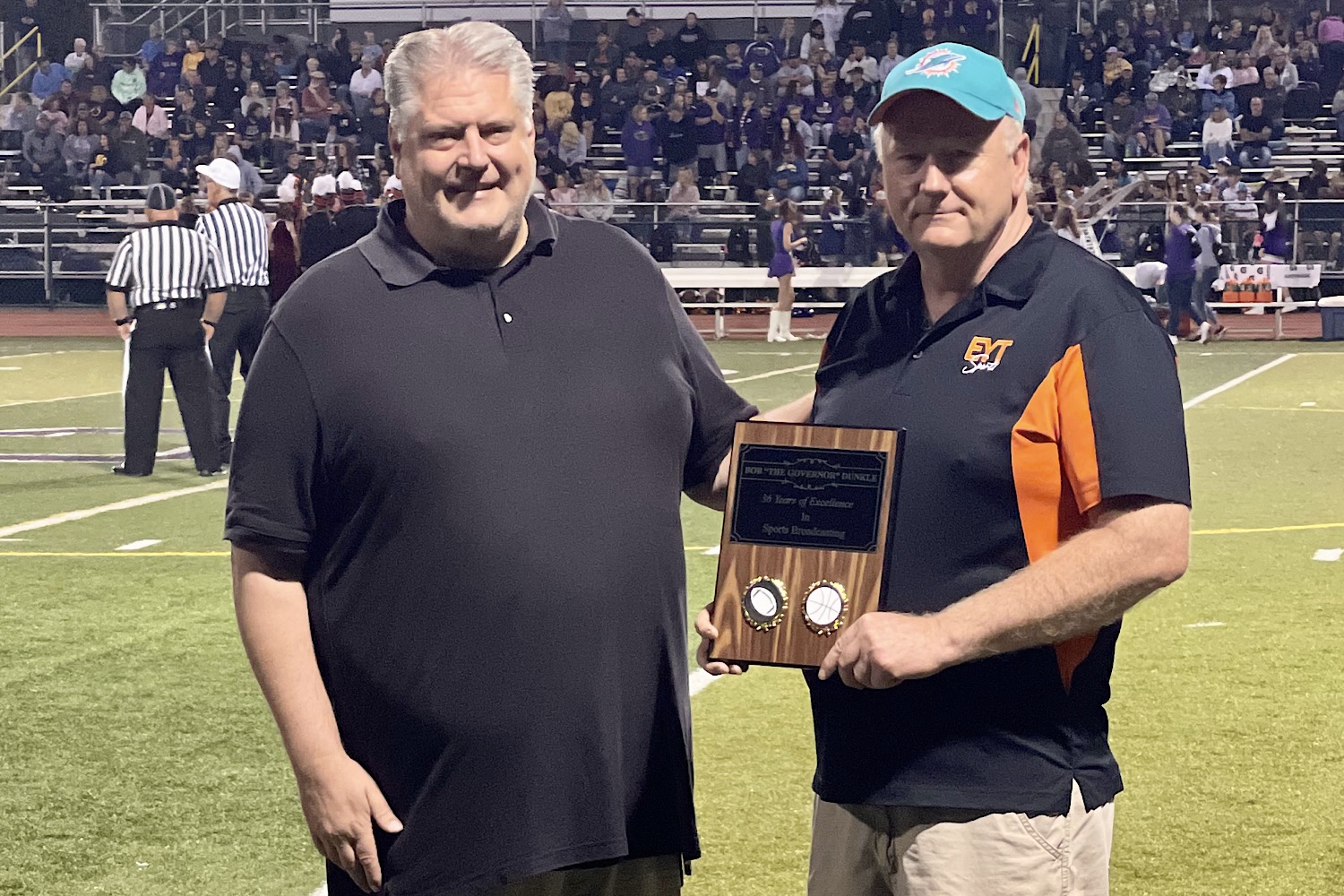 NEW BETHLEHEM, Pa. (EYT/D9) — The story of how longtime broadcaster Bob Dunkle got the nickname "The Governor" begins in a bar.
"As most interesting stories do," Dunkle quips.
In the early 1990s and a fresh graduate of Clarion University, Dunkle had his hands in many things around Clarion. He managed a softball team, was the president of a softball league and was the treasurer of the quarterback club at Redbank Valley.
As he walked into the establishment, someone yelled to him, "Governor!"
Dunkle look around and mouthed, "Me?"
The man nodded.
Dunkle walked over to him and asked, "Why did you call me that?"
The man answered, "Well, you run everything else. You may as well be the governor."
And it stuck.
On Friday, "The Governor" finished his final term in the booth.
Dunkle in the both prior to Friday's Redbank Valley-Karns City game.
His four-decade journey there was a winding one and began with a near tragedy.
Dunkle had just turned 17 when an automobile accident changed his life forever.
A center on the football team at Redbank Valley, Dunkle suffered a serious neck injury in the crash during his junior year.
"The surgeon who performed the procedure told my parents right away that they knew I was either a football player or a wrestler," Dunkle said. "They said that's the only two athletes that would have that type of muscle in between the vertebrae."
That strength helped Dunkle survive.
It also changed the course of his life.
"I really express a lot of thanks to my football coaches for having that type of program that I was able to build up those back and neck muscles in the weight room," Dunkle said. "We had a neck machine and that was something that our coaching staff wanted to see all the players use, and I certainly took advantage of it."
No longer able to play football, Dunkle looked for other ways to stay involved in the sport.
One of those was broadcasting.
When Dunkle graduated from Redbank Valley in 1987, he enrolled at Clarion University as a communication major. His dream: become a sports announcer.
"I was like a lot of teenagers. I loved athletics," Dunkle said. "And I wanted to be as close to it as I could. I knew I was never going to be able to play as an athlete again. The next logical thing to me was to become an announcer."
After a 36-year career as a local broadcaster, Dunkle stepped into the booth for maybe the final time when he offered color commentary with longtime play-by-play parter Mike Kalinowski on Friday night at Karns City when the Gremlins took on his alma mater, Redbank Valley.
It was a surreal night for Dunkle and all who have heard his voice through various outlets over those three-plus decades.
It was also surreal because of the serious injury suffered by Karns City senior Mason Martin, who is fighting for his life in a Pittsburgh hospital.
"I've announced for a long time and I've never witnessed anything like that," Dunkle said. "Over the years, I've seen more injuries than I care to remember. My heart and prayers go out to his family, friends and teammates."
Dunkle has close ties to Karns City as well.
Leaving the booth at that school was bittersweet.
"For all intents and purposes, it's my last one," Dunkle said. "It's hard to think of that as the last one because I've been doing this for 36 years. It's kind of a weird feeling. I haven't had this feeling before."
Dunkle will soon move to Port Charlotte, Fla., with his wife of 21 years, Lora.
Dunkle will also retire from LandPro, where he sold John Deere equipment.
It paid the bills while he remained involved in athletics through announcing — one of his true passions.
Dunkle and his various partners, including Pat Kahle, Dustin Kifer and Kalinowski, have seen area teams and individuals achieve historic victories and milestones over the decades.
"I was fortunate to call (longtime Clarion football coach) Larry Wiser's first district championship," Dunkle said. "That was pretty special. They defeated a heavily favored Smethport team on a Saturday night. What I think about that game, what I remember is the night before Karns City won a district title against Port Allegany and a number of the media people felt that Clarion would not stand a chance against a very good Smethport team.
"Pat Kahle and I cracked a smile and never said a word," Dunkle added. "We sort of knew Clarion was a lot better than what they did. And in the end Clarion winds up winning that game on a muddy football field."
Mike Kalinowski, Pat Kahle, and Bob Dunkle broadcasting a game for C-93 radio.
One of the highlights of his long career was following the state title run by the Karns City girls basketball team during the 1999-2000 season.
He remains close to several of the players on that team to this day.
Dunkle is also amazed by how much technology has changed since he started at Clarion University as a green broadcaster in 1989.
Through it all, whether it be on audio or video through streaming, Dunkle's preparation and attention to detail has remained the same.
"I'd love to hear the hours I put into this, not just on the air, but the drive time and setup time — I think I'd be almost ill if I sat down and figured it out — but it's been a fun ride," Dunkle said. "With the exception of taking off and going hunting in the fall the last handful of year, every other year every Friday night I've either been watching or playing football for as long as I can remember."
Mike Kalinowski, Bob Dunkle, Dustin Kifer, and Chase Steinman during an exploreSports high school basketball broadcast. Photo by Tyler Ochs.
Dunkle may not be completely off the radar down in the Sunshine State.
"We might figure something for me to do down in Florida that could be incorporated in the broadcast," Dunkle said. "I've been fortunate to work with some really good people. Dustin Kifer — at times he doesn't get the attention he deserves for the outstanding job he did. Pat Kahle, he was a super partner. Mike Kalinowski, he's been a close friend. I've just been lucky to be a part of it. I keep wondering sometimes what I did to deserve to be associated with those guys."
Dunkle is also grateful for the athletic directors, coaches and fans.
"Without their support," he said, "none of the broadcasts would be possible."
And of course the players.
"We've done it so long, I'd had the pleasure to announce for multiple generations of athletes," Dunkle said. "I've had guys who I played with that I went on to announce their children. I've announced the games of players who went on to become coaches. And, of course, I remember certain things about them as players and sometimes I'll mention them on air. I'll watch a student-athlete and I'll see a lot of his father's actions coming out. It's a pretty unique experience."