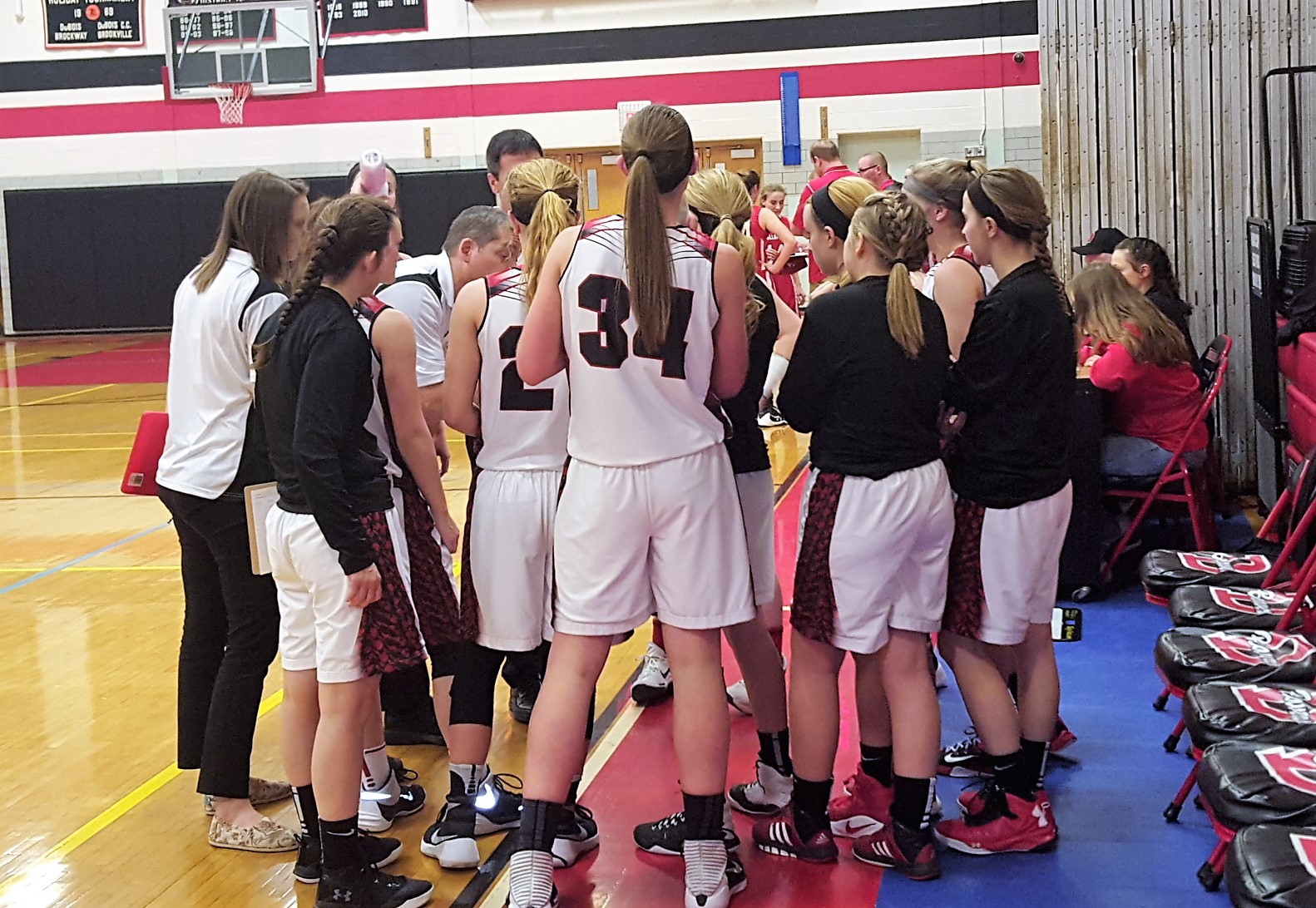 By Chris Rossetti
DUBOIS, Pa. – If only the DuBois girls' basketball team could have replayed the first quarter Tuesday.
(Click here for other D9 Scores/Stories from Feb. 21)
A bad first eight minutes cost the Lady Beavers dearly in a 42-36 loss to Bellefonte in the District 6-8-9 Class 5A semifinals before a nearly packed house at DuBois High School. DuBois trailed 16-6 after one but outscored the Lady Raiders 30-26 the rest of the way with the final four Bellefonte points coming from the free-throw line after DuBois was forced to foul late trailing by three.
"I think we played a little bit out of sorts at the beginning because we were nervous," DuBois head coach Keith Kriner said. "That was pretty much the difference in the game. Starting the way we did was a killer."
Bellefonte (12-11) used an 11-0 run in the first quarter to take the 10-point lead at the end of the quarter, as DuBois (13-10) turned the ball over seven times in the frame while also shooting 2 of 9 from the floor.
"A lot of the time when we drove to the basket, they weren't good looks," Kriner said. "We just threw up terrible shots."
The second quarter wasn't much better from an offensive standpoint for DuBois – the Lady Beavers turned the ball over five more times while shooting 4 of 13 – but things stabilized a little thanks in part to a late 3-pointer by Chelsea DeSalve that kept DuBois within 10, 25-15, at the half.
DuBois then made a run at Bellefonte in the second half closing the third quarter on a 6-2 run before a pair of Ashley Hallowell baskets got the Lady Beavers within three, 35-32, with 5:46 left to play.
"We just told them to play your game, relax," Kriner said. "You know what you are doing. We've been here before. I think that helped."
After Hallowell's second basket of the fourth quarter, DuBois had a couple of chances to tie the game or take the lead but just couldn't get shots to fall.
A 3-pointer by DeSalve, who made a pair of triples in the game on her way to 14 points, that would have tied the game with five minutes left rattled in and out. Then an open foul-line jumper by Abby Kirk about 30 seconds later also rattled in and out, and DuBois made just one of its final 10 shots of the game.
"We closed it to within three and then a three rattled out and Abby Kirk's shot from the top of the key rattled out," Kriner said. "We were right back in it, but we couldn't get the shots to fall when we needed them to."
DuBois still trailed by just three, 39-36, after DeSalve made two free throws with 52.6 seconds left. But the Lady Beavers had only committed a couple of fouls at that point, and it took another 15 seconds for them to send Bellefonte to the line.
"Unfortunately, because we didn't have very many fouls, we had so many fouls to give there until we got them shooting one-and-one," Kriner said. "We had to take time off the clock."
When Bellefonte got to the line, freshman Maddie Steiner, who netted seven tallies, hit both of her free throws to make it a 41-36 lead with 37.9 seconds left, and freshman Mallorie Smith, who had a team-high 10 points, close out the scoring when she hit one of two with 18.1 to play.
"I couldn't be any prouder of these girls," Kriner said. "What everyone expected going into the season, they didn't expect us to be here. We were actually one or two shots from winning that ball game."
DuBois appears to be in good shape heading into next season with both DeSalve and Hallowell, who finished with 18 points and 14 rebounds and end the season averaging 16.8 points and 18.0 rebounds per game, returning.
"I think Chelsea stepped up again tonight," Kriner said/ "And Ashley did too. We took a little while to get her involved, but once she settled down …."
DuBois' biggest issues Tuesday was secondary scoring. Only two other players – Laura Fatula and Maddie Smith – scored for the Lady Beavers tallying a total of four points between them.
"We probably needed a little more scoring out of our other guards," Kriner said.
Bellefonte, on the other hand, got scoring from all six of the players who played with five of them scoring at least seven points. Lauren Young, who is headed to Penn State-DuBois to continue her hoops career, had eight points and 13 rebounds, Abbie Carr also scored eight points and Raise Gregor chipped in seven points.
"They perplexed us a few times," Kriner said. "They changed some things up. We had too many unforced errors. I attribute that to nerves, us not being there before. There was a lot of pressure (on the players). The town was talking about it. It was the first time in 20 years (DuBois had a home playoff game). I think they might have psyched themselves up a little bit."
Bellefonte will take on Obama Academy out of the Pittsburgh City League (District 8) in the championship game at 6 p.m. Saturday at Mt. Aloysius College. Both of those teams will also advance to the PIAA playoffs.
FAST BREAK
DuBois shot 14 of 44, 31.8 percent, from the field while Bellefonte was 16 of 42, 38.1 percent.
The Lady Beavers outrebounded the Lady Raiders 32-27 with DeSalve adding seven boards to go along with Hallowell's 14.
Hallowell had double-doubles in 22 of her 23 games this season including 18 in a row to finish the season.
DeSalve scored in double digits in seven of her final eight games averaging 13.9 ppg during that stretch after 11.9 ppg in her first 15 contests.
DuBois finished with 17 turnovers but only five in the second half. Bellefonte scored 11 points off those turnovers including seven before halftime. The Lady Raiders had 14 turnovers, seven in each half.
After and 0-5 start, DuBois went 13-5 in its final 18 games.
BELLEFONTE 42, DUBOIS 36
Score by Quarters
Bellefonte 16 9 8 9 – 42
DuBois 6 9 13 8 – 36
BELLEFONTE – 42
Maddie Steiner 2 2-2 7, Mallorie Smith 3 4-8 10, Abbey Bruni 1 0-0 2, Lauren Young 3 2-3 8, Raisa Gregor 3 1-1 7, Abbie Carr 4 0-0 8. Totals 16 9-14 42.
DUBOIS – 36
Chelsea DeSalve 5 2-2 14, Sarah Snyder 0 0-0 0, Laura Fatula 0 2-2 2, Abby Kirk 0 0-0 0, Ashley Hallowell 8 2-2 18, Maddie Smith 1 0-0 2, Morgan Henry 0 0-0 0. Totals 14 6-6 36.
Three-pointers: Bellefonte 1 (Steiner). DuBois 2 (DeSalve 2).
Rebounding Leaders: Bellefonte 27 total (Young 13, Smith 6). DuBois 32 totals (Hallowell 14, DeSalve 7).