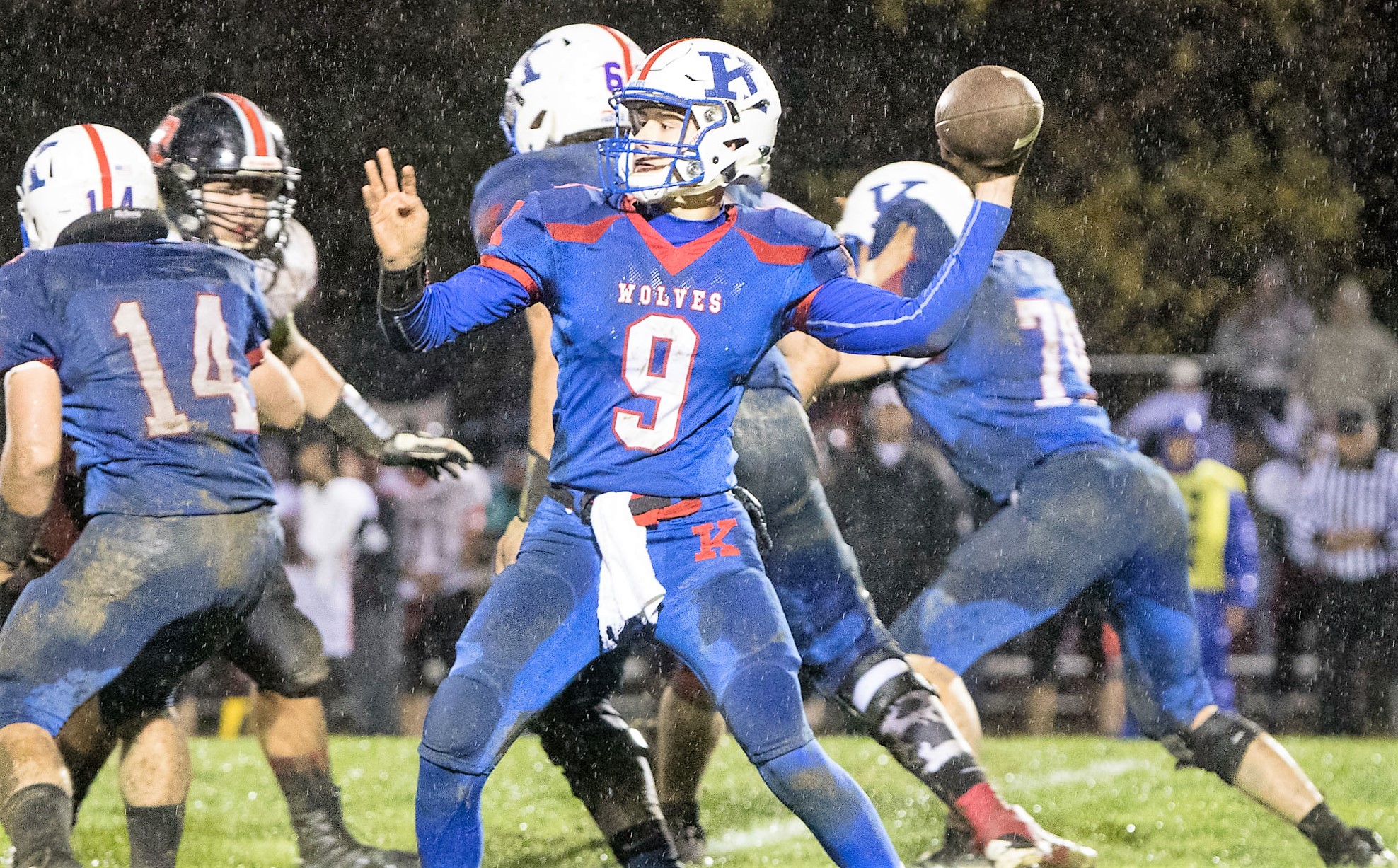 The District 9 football playoffs get started this weekend, with seven of eight games scheduled for Friday night.
Here is a game-by-game and class-by-class look:
Reed Williams and the Kane Wolves open the D9 Class 2A playoffs Friday night at home against Moniteau looking to win a third straight district title. (Photo by Paul Burdick)
CLASS 1A
Outlook: Ridgway (8-2) has a first-round bye and with that, a nod as the favorite. The Elkers will play the Coudersport at Curwensville winner in the semifinals. How will the bracket play out. It's been thought to be a wide-open field all season and Otto-Eldred's late-season surge including a respectable effort in last week's loss to Kane in the Allegheny Mountain League Championship game gives reason to not doubt the Terrors' ability to make noise.
Friday
Coudersport (5)(5-4) at Curwensville (4)(5-4)
It's the sixth time these teams have met in the postseason and Golden Tide host the Falcons looking for their first win over them in the playoffs. Coudersport beat Curwensville in 2011, 2009, 2006 (finals), 2005 and 2001 (finals).
As the AML crossover schedule went this year, they didn't meet. Both teams are coming off bye weeks. Curwensville, after sweeping the AML-North in a 4-0 start, dropped four of five games in the AML-South and ended a four-game losing streak two weeks ago with a 37-8 win over Bradford. Coudersport sort of reversed its season compared to Curwensville as the Falcons were the only AML-North team two in a crossover game — also Bradford in a 36-34 win in Week 1 — and won four of their final five games. However, the Week 7 loss to Otto-Eldred cost Coudersport the AML-North title.
The Golden Tide are run-heavy as usual, averaging 257 of their 314 yards on the ground with workhorse junior running back Nick Stewart (234-1,732, 22 TDs) leading the way. Stewart, who accounts for just over 65 percent of the Tide's yards from scrimmage, is the district's third all-time leading rusher at 5,236 yards with a year to go and he trails two Golden Tide runners at the top — No. 1 Nick Sipes (5,963) and No. 2 Alex Holland (5,754).
Senior Kaleb Witherite (56-302, 5 TDs) is the Tide's second-leading rusher while junior quarterback Bryce Timko (33-80, 490 yards, 6 TDs, 3 TDs.) takes the snaps. Stewart (10-156) and Zach Marshall (9-199, 2 TDs) are the leading receivers.
Defensively, Stewart leads the Tide with five sacks. Noah Von Gunden has four interceptions.
Coudersport comes in much more balanced at 261 yards — 137 rushing, 124 passing — per game offensively. Leading the offense are quarterback Aaron Wolfinger (78-156, 1,129 yards, 14 TDs, 13 Ints.), running back Brock Wilson (102-531, 7 TDs) and Jared Green (48-257, 4 TDs rushing; 27-502, 7 TDs receiving). Wolfinger (88-213, 3 TDs) is third on the team rushing while two other receiving targets are Derek Keglovits (12-223, 2 TDs) and David Burd (14-218, 4 TDs).
Green leads the defense with 9.3 tackles per game with Wolfinger (6.8) and Wilson (6.8) following him.
The Golden Tide are making their 14th playoff appearance with a 12-10 record while the Falcons are 16-12 in 16 appearances. Coudersport made its first playoff appearance last year for the first time since 2011, also the last year it won a playoff game in a 28-27 first-round win over Curwensville.
Otto-Eldred (7)(5-5) at Clarion-Limestone (2)(7-2)
While the Lions are making their first playoff appearance since 2005, the visiting Terrors are making their postseason debut.
After starting 0-4 against the AML-South, the Terrors ran the table to win the AML-North before losing to Kane for a second time, 37-26, which was a big improvement considering the Wolves beat them 42-7 earlier this year.
Meanwhile, the also-resurgent Lions won the KSAC Small with their lone losses to Karns City and Clarion.
C-L comes in at 410 yards per game offensively — 238 rushing, 172 passing — and junior quarterback Brendan Makray (97-185, 1,545 yards, 13 TDs, 11 Ints.) and senior fullback Mike Macefe (204-1,420, 19 TDs). Makray's top receivers are Riley Hummell (35-527, 4 TDs) and Sam Leadbetter (29-562, 6 TDs). Macefe also leads the Lions' defense with 11 tackles per game. Leadbetter has six interceptions.
Otto-Eldred averages 242 yards per game — 127 rushing, 115 passing — with the Drummond brothers, junior quarterback Sawyer (69-120, 907 yards, 11 TDs, 6 Ints.) and senior running back Seth (160-690, 6 TDs) at the center of attention. Sawyer has also rushed for a second-best 222 yards. Grant West (24-400, 4 TDs) and Dylan Close (23-328, 5 TDs) are the leading receivers.
C-L is playing its first home playoff game since 2005 as well when it routed Johnsonburg, 42-14, in the opener. The Lions are playing their 20th district playoff game, owning a 10-9 lifetime record.
Saturday
Redbank Valley (6)(5-4) at Elk County Catholic (3)(6-3)
The lone Saturday game kicks off at 4 p.m. at Dutch Country Stadium and the two meet for the first time since the 2007 when the second-seeded Bulldogs hammered the seventh-seeded Crusaders, 39-14, in New Bethlehem.
This time around, the Bulldogs travel north to take on a Crusaders team that has losses to top-seeded Ridgway and two Class 2A powers Brockway and Kane from its AML-South schedule. The Bulldogs have losses to No. 2 seed C-L, Clarion, Karns City and St. Marys.
The Crusaders average 298 yards per game offensively out of their throwback single-wing set. The passer out of the set and key cog in it is Nate DaCanal (59-for-139, 934 yards, 9 TDs, 8 Ints). He's the third-leading rusher (73-368, 6 TDs) behind Jared Braun (85-600, 8 TDs) and Dan Stauffer (102-498, 5 TDs). Brad Dippold (22-299, 5 TDs), Eric Gerber (12-239, 2 TDs) and Braun (12-257, 1 TD) are DaCanal's leading receivers.
Redbank Valley averages 277 yards — 178 rushing, 99 passing — per game offensively. Sophomore quarterback Keaton Kahle (58-126, 822 yards, 6 TDs, 5 Ints.) and receiver Brock Barrett (25-361, 3 TDs) lead the passing game while the trio of Colten Mohney (78-385, 4 TDs), Curtis Mohney (78-385, 4 TDs) and Clint Thurston (57-371, 7 TDs) leads the running game.
Defensively, the Crusaders' Ryan Heary leads his team at 9.7 tackles per game. Joe Kucenski has seven sacks while Braun leads the unit with four interceptions. For the Bulldogs, Barrett and Colten Mohney have seven and five interceptions respectively and the defense has 21 in all.
Redbank Valley plays its 25th district playoff game and is 9-15 overall. ECC is 3-12 in the playoffs, its last win coming in 2012 in a first-round game against Union.
CLASS 2A
Outlook: Moniteau entering the tournament sets up a neat four-team bracket, although the Warriors will be heavy underdogs against the unbeaten Wolves. The matchup of the week is in Brockway where the Rovers host the Bobcats in a battle of 8-1 teams.
Friday
Moniteau (4)(3-6) at Kane (1)(10-0)
The top-seeded Wolves roll into their playoff opener with a 26-game winning streak against D9 foes, looking for a third-straight title. Meanwhile, the Warriors finished the season with a three-game losing streak and four losses in their last five games.
Kane shook off a scrappy effort from Otto-Eldred to win last week's AML Championship game. The Wolves, who gave up a season-high 26 points last week, are yielding just 8.2 points per game. Offensively, they're scoring 41.2 points per game while piling up 402 yards per game offensively — 249 rushing, 153 passing.
Junior running back Erik DeLong (185-1,440, 18 TDs) is the workhorse back for the Wolves while junior quarterback Reed Williams (76-129, 1,525 yards, 20 TDs, 4 Ints.) having a very effective season. Williams' top receivers are Davis Gardner (29-439, 7 TDs) and Ray Maze (25-649, 8 TDs).
DeLong, from his linebacker spot, leads the Wolves with 8.9 tackles per game. Gardner has a team-high four interceptions.
Moniteau averages a modest 250 yards per game — 153 rushing, 97 passing — as sophomore quarterback Chance Nagy (44-110, 771 yards, 7 TDs, 13 Ints.) also leads the team in rushing (98-303, 5 TDs). Freshman fullback Nick Martino (73-302, 2 TDs) is a yard behind Nagy for the team lead. Receiver Dalton Anderson (32-569, 5 TDs) leads the team in all-purpose yards and touchdowns (7). Warriors junior kicker Steven Fawcett has made 7 of 8 field goals.
The Wolves have won six straight district playoff games and they're 12-8 going their 12th playoff appearance. The Warriors are 7-11 in their 13th trip to the playoffs.
Clarion (3)(8-1) at Brockway (2)(8-1)
It'll be a grudge match at Varischetti Field where the Rovers host the Bobcats and it's the third time they'll meet in the playoffs in the past five years. The Bobcats won the first two meetings, both in the old Class 1A bracket, 35-14 in 2012 and 56-12 in 2013.
The Rovers, who didn't play last week, come averaging big numbers offensively at 47.1 points while piling up 404 yards — 227 passing, 177 rushing — per game. Quarterback Hunter Miller (95-165, 1,777 yards, 17 TDs, 9 Ints.) is the catalyst and he's second (62-330, 10 TDs) on the team in rushing behind Mark Latuska (99-867, 12 TDs).
Miller's top receivers are Andrew Trunzo (30-564, 3 TDs), Dylan LeCates (17-347, 5 TDs) and Noah Vokes (8-200, 2 TDs).
Sixteen players have combined to score 56 TDs for the Rovers, who also have a solid kicking game led by Jarrett Esposito, who's made 52 of 55 point-after kicks while going 4-for-8 in field goals.
Defensively, Brian Elias (8.1) leads the Rovers in tackles while Vokes, Trunzo and LaCates each have four interceptions.
The Bobcats boast big offensive numbers at 37.2 points per game along with 384 yards — 269 rushing, 115 passing — per game. They're also giving up just 9.6 points per game.
Junior running back Colton Rapp (158-1,337, 13 TDs) and junior quarterback Spencer Miller (56-110, 1,035 yards, 19 TDs, 8 Ints.) lead the Bobcats offense. Also for the Bobcats are junior Ryley McMaster (24-222 rushing; 13-184, 1 TD receiving), senior Mike McCloskey (44-242, 6 TDs rushing; 10-120, 3 TDs receiving) and the leading receiver in senior Ty Burford (22-549, 12 TDs).
Colt Stimmell (6.8) and Rapp (6.2) are the Bobcats' leading tacklers. Thomas Wurster has seven sacks, and Miller and McMaster each have three interceptions.
The Bobcats are 20-16 going into their 20th trip to the district playoffs. The Rovers are 18-13 in their 19th trip to the playoffs.
CLASS 3A
Outlook: Who gets to play Karns City in the championship game? Matching up a 3-6 Perry team against 6-3 St. Marys is an interesting challenge. The nearly 2 1/2-hour trip for Perry to Elk County led to a 6 p.m. kickoff.
Friday
Perry (3)(3-6) at St. Marys (2)(6-3)
The Commodores have lost four of their last five games, including last week's 40-6 loss to University Prep in the City League (District 8) semifinals. Ironically, the loss allowed them to enter the District 8-9 playoffs.
And similar to Perry, the Flying Dutchmen will try to shake off last week's 40-7 loss to Clarion that saw them trail 27-0 after one quarter and 40-0 by halftime.
The Dutch are seeking their third postseason win in program history with a 2-8 all-time record going into Friday. Their lone wins are a first-round Class 2A win over Moniteau in 2014 and a Class 3A semifinals against Clearfield.
St. Marys weighs in at 284 yards per game offensively — 203 rush, 81 pass — with running back Matt Marconi (162-848, 5 TDs) leading the running game. Quarterback Pat Schlimm (44-for-96, 739 yards, 8 TDs, 5 Ints.) and Jeff Wehler (20-396, 5 TDs) lead the passing game. Wehler has nine interceptions on defense and is second on the team behind Marconi with 904 all-purpose yards, which includes 308 yards in punt returns.
Quarterback Doug Johnson and running back James Goodwine are the top players for Perry.  Randy Williams caught a 70-yard pass from backup QB David Freeman late in the game last week for Perry's lone score.
CLASS 4A
Outlook: The winners of these games meet in next week's final? Can it be a Week 0 (yes, zero) rematch between the Bison and Beavers? The bigger burden appears to be on the Beavers, who must win on the road against 9-1 Johnstown. The Bison play Bellefonte for the second time this year, the first one a 28-0 shutout win in Week 5.
Friday
Bellefonte (4)(5-5) at Clearfield (1)(9-1)
It's a rematch of their Week 5 game also at the Bison Sports Complex when the Bison blanked the Red Raiders, 28-0, limiting them to just 85 yards of offense.
Clearfield has won nine straight since its season-opening loss to DuBois and is coming off a come-from-behind 35-28 win over Karns City. The points allowed to the Gremlins ended a stretch where the Bison had allowed just 10 points with three shutouts in the previous five games.
Meanwhile, the Bison average 372 yards per game — 210 rushing, 162 p6-3)assing. Last week's Player of the Week, sophomore quarterback Isaac Rumery (85-for-161, 1,618 yards, 16 TDs, 9 Ints.) has thrown at least one touchdown in all 10 games. His top receivers are junior Micah Heichel (33-763, 7 TDs) and senior Ryan Lezzer (31-600, 5 TDs).
Rumery is also the second-leading rusher at 512 yards with 4 touchdowns. Senior running back Seth Caldwell (216-1,107, 15 TDs) is the workhorse leading the Bison ground game.
Middle linebacker Matt Collins leads the Bison defense with 15.6 tackles per game. Senior Hunter Bumbarger has five sacks while Lezzer leads the team with four interceptions.
The Red Raiders had to get help from Philipsburg-Osceola to get into the fourth spot for the playoffs. The Mounties' win over St. Joseph's Academy ended a 36-game losing streak last week, vaulting Bellefonte past Somerset.
The Red Raiders, 2-2 since their first loss to Clearfield, average 257 yards per game offensively. Senior quarterbacks Tyler Kreger (31-57, 556 yards, 4 TDs, 1 Int.) and Chase Gardner (61-104, 728 yards, 3 TDs, 10 Ints.) have shared chores behind center, but Kreger was 9-for-14 for 205 yards and two TDs in last week's 35-0 win over Bald Eagle Area.
Dexter Gallishaw (72-392, 3 TDs) and Kreger (57-349, 6 TDs) leading rushers.
The Bison have beaten Bellefonte seven straight times dating back to the Red Raiders' last win in 2007. It's also the 21st straight season in the playoffs for the Bison and 24th overall.
DuBois (3)(6-4) at Johnstown (2)(9-1)
Once again, the Beavers take a crack at ending a long playoff drought. They haven't won a postseason game since 1996, a stretch of 11 straight losses. Last year, the Beavers fell in the District 6-9 Class 4A Championship to State College, 29-7.
This time around, it's a matchup against the second-seeded Trojans who dropped their only game of the season two weeks ago against Bishop Guilfoyle (21-14), the No. 2 team in the state in Class A according to Penn Live.
Johnstown's schedule is heavier on the smaller schools with just one team 4A or bigger, that coming in a 21-14 win over Somerset. Conversely, the Beavers have played one team this year smaller than 4A and that was their 42-35 shootout win over state-ranked 2A Newport.
The Trojans feature Division I recruit Exree Loe, a 6-foot-1, 195-pound West Virginia recruit who de-committed from Pittsburgh last summer before signing with the Mountaineers this fall. Loe, a receiver-defensive back, doesn't own any eye-popping stats this year — 23-566, 5 TDs receiving, third on team at 6.5 tackles per game and no interceptions with modest numbers on a combined 13 kick and punt returns to go with eight touchdowns, second-best on the team.
Junior quarterback Austin Barber (67-123, 1,407 yards, 16 TDs, 3 Ints.) and running back Bryce Gibson (149-1,096, 13 TDs) give the Trojans plenty of balance offensively. They average 34 points and 327 yards per game.
The Beavers try to bounce back from a 35-21 loss to Hollidaysburg in their season-finale. The Tigers limited the Beavers to minus-3 yards rushing, although quarterback Matt Miller threw up 57 passes, completing 31 for 357 yards. Kyle Hopson caught 15 more passes for 210 yards and a touchdown, although much of that came with the Beavers down in the second half.
Hopson (92-1,540, 17 TDs) set district single-season records for catches and receiving yards — the previous marks were Port Allegany's Nick Conway's 1,482 yards in 2012 and Brockway's Mike Vervoort's 88 catches in 2009 — while Miller (140-231, 2,082 yards, 19 TDs, 6 Ints.) continues to climb up the D9 passing ladder. Now with 5,702 career yards, he moved up to No. 7 on the district's all-time list.
Also for the Beavers, running back Brock Adams (152-980, 14 TDs) is edging close to a 1,000-yard season. Miller's other receiving targets are Dylan McCluskey (36-390, 2 TDs), Kenny Garvey (15-201, 2 TDs) and Adams (17-156).
Defensively for the Beavers, Garvey (9.1), Ryan Pasternak (8.3) and Dylan Oswalt (8.0) are the top tacklers. Pasternak has a team-high 5 1/2 sacks.