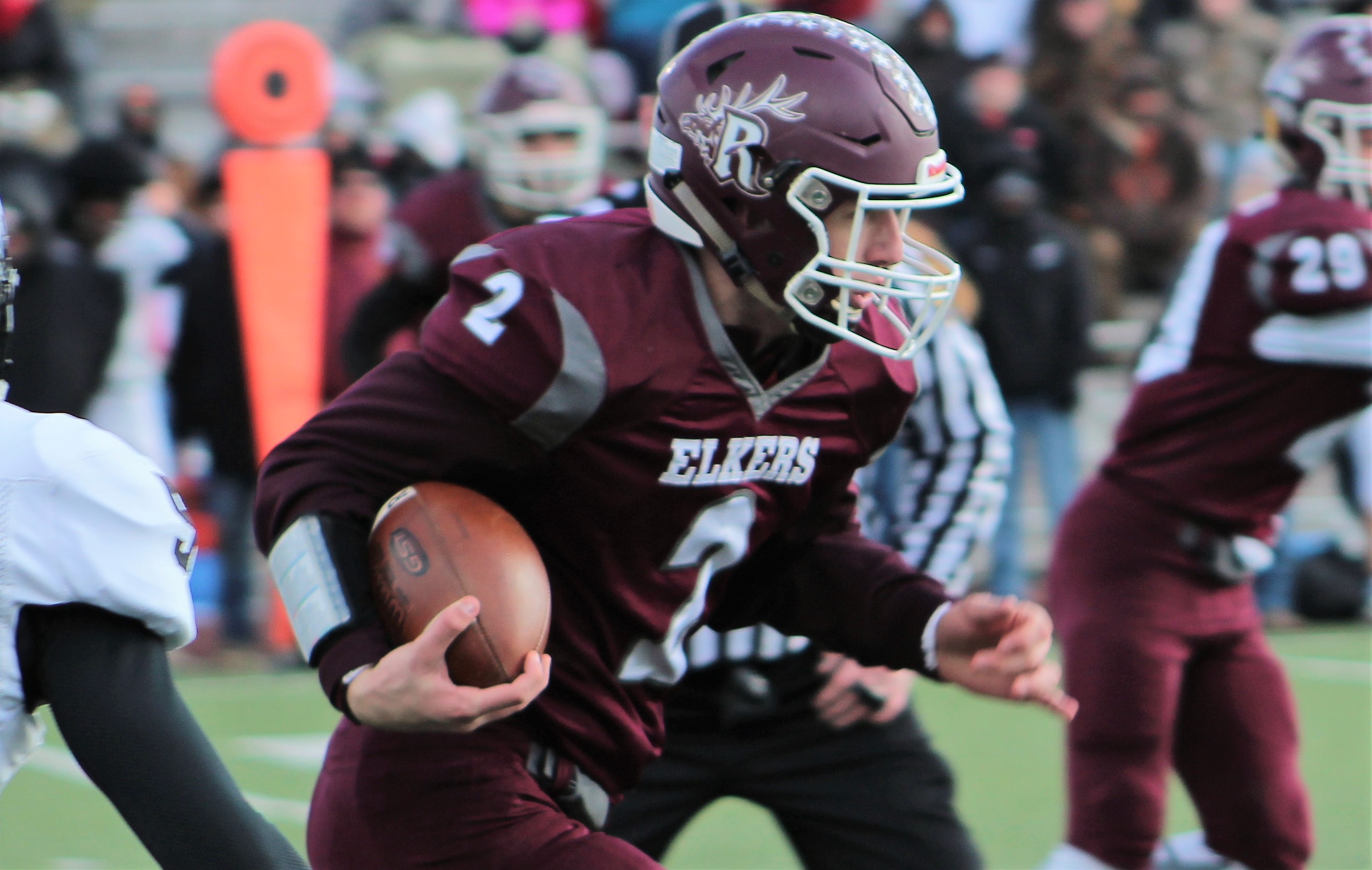 With one game already out of the way by Friday night, District 9 has 11 games on the docket, one of them Saturday afternoon.
(Photo: Ridgway's Gabe Watts helps lead the Elkers into their home matchup with unbeaten Clarion Friday night. Photo by Jared Bakaysa of JB Graphics. See more of Bakaysa's work here)
We're down to three unbeatens going into the weekend, the seventh week of the schedule, or Week 6 by PIAA decree. Redbank Valley took on Curwensville Thursday night while Clarion and Coudersport go on the road for their games.
The Bobcats (6-0) travel to Ridgway (5-1) in a Large School Division game while the Falcons (5-0) visit Otto-Eldred (1-5) in a Small School North Division matchup.
In other games in the Large School Division, Brookville (5-1) hosts St. Marys (3-3), Karns City (4-2) travels to Kane (5-1), Brockway (1-5) visits Moniteau (1-5) and Bradford (0-6) hosts Punxsutawney (0-6).
The other Small School North game on Friday has Smethport (4-1) hosting Cameron County (0-5) while on Saturday, Sheffield (1-5) hosts Port Allegany (1-5) in a 1:30 p.m. start.
In the Small School South, Keystone (5-1) visits Union/A-C Valley (5-1) in Rimersburg. Elk County Catholic has a bye this week.
Clearfield (5-1) hosts Tyrone (2-4) in a Mountain League matchup and DuBois (0-6) hosts Fort LeBoeuf (3-3) in a District 10 Region 7 game.
The Bobcats dealt Kane its first loss of the year last week in a 47-28 win on the road. They'll get on the bus again this week and go north to Ridgway to face an Elkers team that's won four straight games since their lone loss of the year in a 25-21 decision to Kane.
Clarion is rolling along, putting up 46.5 points per game and amassing 444 yards of offense per contest — 258 yards rushing and 186 passing. Austin Newcomb (89-937, 15 TDs) nears another 1,000-yard while quarterback Cal German (40-for-68, 1,117 yards, 16 TDs, 3 Ints.) is over 1,100 yards passing with his top target Ethan Burford (20-721, 11 TDs) averaging 36 yards per catch. Leading the defense is Ben Smith and Cutter Boggess, who are both averaging 10 tackles per game.
Ridgway has roughed up four opponents since its loss to Kane by a margin of 200-20, including last week's 61-6 rout of Punxsutawney. The Elkers average 372 yards of offense per game — 211 rushing, 161 passing — with Gabe Watts (40-301, 4 TDs), Tyler Watts (33-251, 2 TDs), Jake Wickett (37-213, 4 TDs) and Matt Dush (30-212, 5 TDs) sharing the ball-carrying duties.
Quarterback Paul Gresco (62-for-88, 937 yards, 10 TDs, 2 Ints.) and receivers Jake Wickett (17-314, 3 TDs), Austin Green (16-216, 4 TDs) and Dush (14-188, 2 TDs) key the passing game.
Defensively, Robert Briggs (8.5 tackles per game) and Gabe Watts (6 sacks) lead the Elkers defense.
Coudersport heads to Duke Center outscoring their five opponents so far, 210-14, with three shutouts, including the last two — Port Allegany 55-0 and Curwensville 44-0 last week.
Thomas Wilson (5.2) and John Minor (5.0) lead the team in tackles per game while Hayden Keck and Minor each have two interceptions.
Offensively, the Falcons are run-heavy, 280 of their 346 yards per game. Travis Gleason (69-493, 10 TDs) and Keck (53-357, 7 TDs) lead the running attack. Keck (12-for-21, 328 yards, 3 TDs, 1 Int.) hasn't thrown the ball much, but has been effective when doing so. Minor has four receptions for 164 yards with two TDs.
Otto-Eldred lost 22-12 at Bucktail last week without injured starting quarterback Cole Sebastian. Without him, Cameron Magee completed 8 of 24 passes for 83 yards with a touchdown and interception while running for 155 yards on 15 carries and the Terrors' other TD. Sebastian has passed for 1,255 yards with 15 TDs and leads the Terrors in rushing with 258 yards.
Here's a look at the other games this week:
LARGE SCHOOL
St. Marys (3-3) at Brookville (5-1)
After 19 years as head coach and the previous two seasons as a Raiders assistant, Chris Dworek returns to Brookville as head coach of the St. Marys Flying Dutchmen, who try to end a two-game losing streak against the Raiders who have won two straight.
Dworek and his offensive coordinator Frank Varischetti were part of Raiders head coach Scott Park's staff last year, so the familiarity will be obvious. The Raiders took on Varischetti's spread offense two years ago and so have the Dutch this year.
For the Dutch, it's sophomore quarterback Christian Coudriet (79-for-126, 1,095 yards, 9 TDs, 7 Ints.), receiver Bryce Walker (28-293, 1 TD) and running back Jacob Kline (51-472, 5 TDs).
Brookville got starting quarterback Jack Krug back on the field last week after missing its Karns City game and most of the Clarion game two weeks ago with an ankle injury. He and Robert Keth combined for 337 yards passing in last week's 21-8 win at Moniteau.
For the year, Krug has completed 79 of 125 passes for 932 yards with 10 TDs and two interceptions. Keth has thrown for 642 yards and six TDs, completing 51 of 83 passes. Krug is the team's top rusher (28-328) while Keth is the second-leading pass-catcher (24-300, 4 TDs) and second-leading tackler (6.7 per game) on the defense.
Senior Ian Thrush (47-662, 7 TDs) has caught 25 passes for 405 yards and six TDs in the past two games.
Karns City (4-2) at Kane (5-1)
It'll be an interesting matchup in Kane again this week as the Gremlins visit the Wolves, who are coming off their first loss of the year last week against Clarion.
Clarion beat both teams, the Wolves 47-28 last week and the Gremlins 42-14 after the game was knotted at 14-14 at halftime. The Gremlins lost a 42-41 double-overtime thriller two weeks ago before bouncing back with a 55-20 win at St. Marys last week. Kane visits Brookville next week.
The Wolves average 318 yards offensively — 183 rushing, 135 passing — with quarterback Zuke Smith (44-for-98, 807 yards, 10 TDs, 4 Ints.) taking the snaps. Running backs Teddy Race (53-385, 4 TDs) and Jake Alcorn (55-374, 5 TDs) share the workload out of the backfield. Five receivers have eight to 10 catches with Bobby Rumcik (10-183, 1 TD) leading the team in catches and Alcorn (8-204, 3 TDs) in yardage. 
Alcorn averages 184 all-purpose yards per game with his return yardage. He's returned two punts, one interception and a kickoff for TDs while leading the defense with three interceptions. Race leads the defense in tackles per game (14.0) and sacks (7.5).
Karns City is run heavy, averaging 295 of its 354 yards per game offensively on the ground. Quarterback Anthony Kamenski (91-691, 6 TDs) is the leading rusher with Hunter Rowe (83-387, 5 TDs) and Luke Garing (50-308, 6 TDs) also getting carries. Kamenski has completed 19 of 47 passes for the season with 355 yards, five TDs and three interceptions.
Kaden Scherer (5-161, 3 TDs) is Kamenski's top target. He's also returned two kicks and one punt for touchdowns.
Brockway (1-5) at Moniteau (1-5)
It's a matchup of two one-win teams with victories over winless Bradford.
The Rovers got a Co-Player of the Week performance from Jon Wood, who scored five touchdowns and threw for another score while rushing for 332 yards in last week's 53-13 win over the Owls. Wood is up to 549 yards rushing and 7 TDs for the season.
Moniteau, which beat Bradford 28-0 two week ago, is led by running back J.D. Dessicino (81-453, 4 TDs).
Punxsutawney (0-6) at Bradford (0-6)
Something has to give at Parkway Field where the Chucks visit the Owls. Both teams are winless, lugging in overall losing streaks at 10 and eight respectively. The Chucks have been outscored 313-46 while the Owls have been outscored 279-19.
The Chucks lost 61-6 at Ridgway last week. Quarterback Peyton Hetrick started at quarterback and completed 5 of 15 passes for 77 yards with three interceptions. Kameron Falgout moved from QB to running back and ran for 49 yards and the team's lone score. Max London and Falgout lead the team's running game overall with 356 and 241 yards respectively. London has 12 catches for 221 yards.
Bradford quarterback Caleb Nuzzo has thrown for 331 yards and one TD, completing 42 of 79 passes. Austen Davis (16-209, 1 TDs) is his top target while Derek Sunafrank (37-132) is the team's leading rusher.
The Owls beat the Chucks last year, 34-14, in Punxsutawney as the teams met for the first time since 2007. They haven't lost to the Chucks since losing twice to them during the 2002 season, so the current streak is at six games.
SMALL SCHOOL SOUTH
Keystone (5-1) at Union/A-C Valley (5-1), at Union H.S.
It's been a strong start to the year for both teams as the Falcon Knights have never been 5-1 since the co-operative setup began in 2016 and the Panthers haven't been this good after six games since starting their 1989 PIAA state finalist season 6-0.
The Falcon Knights have won five straight games since a season-opening loss to unbeaten Redbank Valley. The Falcon Knights average a modest 266 yards offensively — 149 passing, 117 rushing — with quarterback Luke Bowser (54-for-107, 689 yards, 7 TDs, 10 Ints.), running back Kylar Culbertson (45-332, 3 TDs), and receivers Caden Rainey (22-313, 2 TDs) and Tanner Merwin (18-288, 2 TDs).
Merwin intercepted three passes and returned two for touchdowns in last week's 32-7 win at Port Allegany. However, Rainey was ejected near the end of the game and won't be available to play against Keystone due to a mandatory PIAA one-game suspension.
For Keystone, quarterback Isaak Jones (48-for-80, 952 yards, 12 TDs, 5 Ints.) leads the offense with running backs Nick Weaver (60-454, 3 TDs) and Taylar Altman (55-424, 4 TDs), and receivers Jayden Blazosky (15-265, 4 TDs) and Alex Rapp (11-300 5 TDs).
It's a key game in the South, with the winner still harboring a chance to at least share a division title. Keystone's lone loss is in the division to unbeaten Redbank Valley while Union/ACV still has to play the Bulldogs.
The Panthers and Falcon Knights share three common foes so far. The Panthers beat Port Allegany (29-6), Curwensville (14-7) and Sheffield (57-0) while Union/ACV did the same with Port last week, Curwensville (24-0) and Sheffield (20-14).
SMALL SCHOOL NORTH
Cameron County (0-5) at Smethport (4-1)
The Hubbers look to rebound from their first loss last week at Redbank Valley against the winless Red Raiders.
Limited to under 100 yards of offense by the Bulldogs, the Hubbers will look to rev up their offense that's getting 200 yards per game rushing with quarterback Noah Lent (98-487, 5 TDs) leading the way. Bryent Johnson (61-345, 2 TDs) will also get some carries. Lent has thrown for 336 yards, completing 30 of 70 passes.
Cameron was shut out for the third time in five games in last week's 41-0 loss to Elk County Catholic.
Port Allegany (1-5) at Sheffield (1-5), Saturday, 1:30 p.m.
The Gators head to Sheffield in a matchup of one-win teams. Port has lost five straight games since opening with a win over Otto-Eldred, scoring just five touchdowns over that span with a 32-7 loss last week at home against Union/A-C Valley.
Quarterback Drew Evens (56-for-120, 542 yards, 2 TDs, 9 Ints.) and receivers Noah Archer (17-122) and Howie Stuckey (8-208, 2 TDs) lead the Gators.
The Wolverines were intercepted eight times in their 57-0 loss at Keystone last week.
MOUNTAIN LEAGUE
Tyrone (2-4) at Clearfield (5-1)
The Bison try to rebound from their first loss of the year last week against Bellefonte with a home matchup with the Golden Eagles, who were blanked 31-0 by Bald Eagle Area and routed 55-10 to Bellefonte two weeks ago.
The Bison lost 28-19 to Bellefonte and haven't played BEA yet. Against Bellefonte, the Bison led 19-15 at halftime, but were shut out the rest of the by the Red Raiders who ended their 17-game regular-season winning streak.
Quarterback Oliver Billotte (73-for-138, 1,125 yards, 10 TDs, 5 Ints.; 77-304, 11 TDs rushing), running back Brett Zattoni (85-422, 3 TDs) and receiver Jake Lezzer (39-610, 4 TDs) lead the Clearfield offense that's still averaging 404 yards per game.
Tyrone has John Franco back on its sideline as head coach after his remarkably successful run there ended after 18 seasons in 2012. The Golden Eagles won a state title in 1999 and lost finals games in 1996 and his last game in 2012. He was most recently at Penn Cambria.
DISTRICT 10 REGION 7
Fort LeBoeuf (3-3) at DuBois (0-6)
The Beavers host the Bison in a conference matchup at Mansell Stadium.
The Bison are coming off two straight wins, including a 24-14 win over Franklin and 34-14 win over General McLane last week. They've also beaten Warren (37-8) with losses to Grove City (16-3), Harbor Creek (39-0) and Meadville (35-7).
DuBois has played three of those teams — General McLane (39-12), Warren (50-28) and Franklin (42-35).
Beavers quarterback Alex Kovalyak (102-for-177, 1,453 yards, 11 TDs, 10 Ints.) leads the district in passing yardage. His top receivers are Nick DiLullo (21-425, 4 TDs), Zach Shilala (29-329, 3 TDs), Dale Kot (21-314, 2 TDs) and Chase Husted (20-284, 2 TDs).