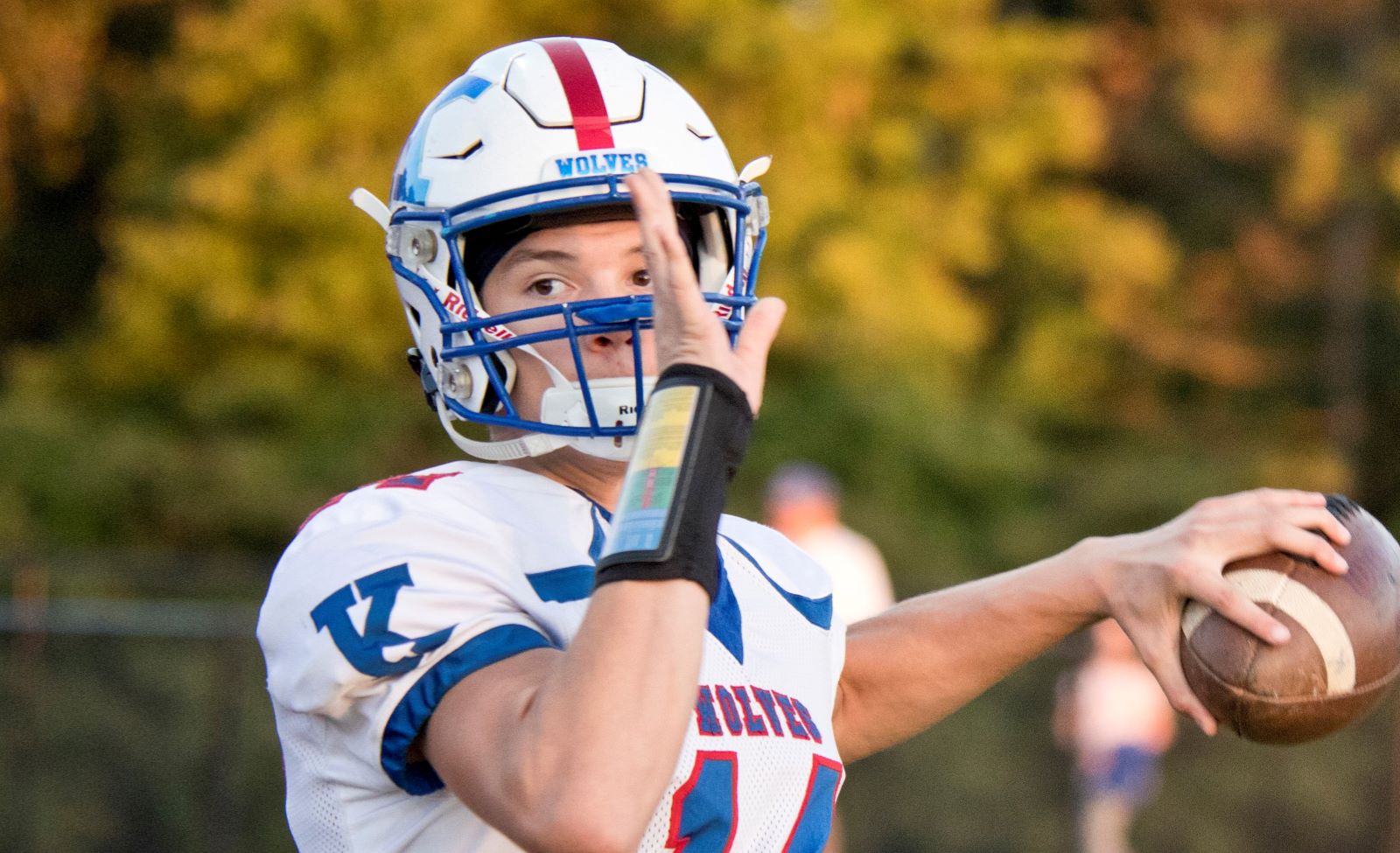 Of District 9's six undefeated teams going into the sixth weekend of the football season (or Week 5 as per PIAA decree), four are wrapped up in two key games as part of a 13-game schedule with 12 scheduled for Friday night.
(Kane quarterback Zuke Smith has helped his team to a 5-0 start. The Wolves host another unbeaten team in Clarion Friday night. Photo by Kyle Yates www.facebook.com/YatesPhoto)
At Kane, it's a battle of two Class 2A and Large School Division 5-0 unbeatens as the Wolves host the Clarion Bobcats while in New Bethlehem, two of the district's three unbeaten Class 1A teams face off when 5-0 Redbank Valley hosts 4-0 Smethport on its Homecoming Night.
The other unbeaten teams are on the road as Class 1A unbeaten Coudersport travels to Curwensville (1-4) and Class 4A unbeaten Clearfield (5-0) has a road test at Bellefonte (4-1) in a Mountain League showdown.
In other Large School Division games, it's Brookville (4-1) at Moniteau (1-4), Ridgway (4-1) at Punxsutawney (0-5), Karns City (3-2) at St. Marys (3-2) and Bradford (0-5) at Brockway (0-5). It's another crossover week in the Small School divisions with the other matchups having Elk County Catholic (2-3) at Cameron County (0-4) and Union/A-C Valley (4-1) heading to Port Allegany (1-4) for the Gators' homecoming Saturday afternoon for a 1:30 p.m. kickoff.
Two non-conference games are scheduled for Friday night — Erie High (2-3) at DuBois (0-5) and Otto-Eldred (1-4) at Bucktail (0-4).
The Clarion-Kane winner gets sole possession of first place in the Large School Division and a really good shot at the top seed in the Class 2A playoff standings at the end of the season.
The Bobcats have beaten Punxsutawney (70-6), Moniteau (42-8), Karns City (42-14), Brookville (29-12) and St. Marys (49-14) while the Wolves are perfect against Moniteau (46-19), Ridgway (25-21), Bradford (47-6), Brockway (41-0) and Punxsutawney (35-0), so give the Bobcats the schedule edge in difficulty so far although it'll be all even by the end of the schedule.
The Bobcats feature some dangerous offensive balance led by running back Austin Newcomb (71-781, 13 TDs, 16 TDs overall), quarterback Cal German (33-for-57, 937 yards, 13 TDs, 3 Ints.) and receiver Ethan Burford (16-558, 9 TDs).
The Wolves average 318 yards per game — 196 rushing, 129 passing — with quarterback Zuke Smith (34-for-75, 646 yards, 9 TDs, 4 Ints.), running backs Jake Alcorn (45-343, 4 TDs rushing; 7-197, 3 TDs receiving) and Teddy Race (45-323, 4 TDs), and receivers Kevin Scharba (7-160, 3 TDs) and Bobby Rumcick (6-103, 1 TD) leading the way.
Alcorn is a dangerous return man as well, with four touchdowns on returns — two on punts and one each on an interception and kick return.
In New Bethlehem, the unbeaten Hubbers make the nearly two-hour trip to face the also-unbeaten Bulldogs. The two share two common foes. Smethport beat Sheffield (40-0) in its season-opener and Otto-Eldred (36-22) in Duke Center last week. The Bulldogs won at Otto-Eldred (47-12) in the second weekend of the season and Sheffield (61-28) two weeks ago.
Neither team has been challenged much so far, the Bulldogs' five foes a combined 8-17 which includes 4-1 Keystone. The Hubbers' four opponents are a combined 4-16.
Redbank Valley relies mostly on the running game, averaging 285 of their 396 yards per game on the ground. It's a mix of four players getting most of the yards with Ray Shreckengost (41-402, 6 TDs), Kobe Bonanno (39-306, 6 TDs), Hudson Martz (33-216, 4 TDs) and quarterback Gunner Mangiantini (26-185, 4 TDs), who has completed 48 of 81 passes for 533 yards and three TDs along with three interceptions. Ethan Hetrick (11-226, 2 TDs), Dalton Bish (12-107) and Javin Brentzel (13-107) are his top receivers.
Smethport quarterback Noah Lent does plenty of work to run the Hubbers offense. He's thrown for 306 yards, although 197 of that came against Sheffield. Since then, the Hubbers have almost run exclusively with Lent leading the team with nearly 500 yards and five TDs. Braedon Johnson (45-308) also gets carries and he's also returned a punt for a score this year.
Bryent Johnson returned an interception and kickoff for touchdowns against the Terrors last week.
Last year, the Hubbers beat the Bulldogs, 20-7, in Smethport. They haven't lost a regular-season game since the end of the 2017 season, their only loss last year coming to Coudersport in the Class 1A final.
Redbank Valley hasn't been 6-0 since starting 2014 7-0.
Here's a look at the rest of the matchups:
LARGE SCHOOL
Brookville (4-1) at Moniteau (1-4)
The Raiders head to Butler County for the second straight week to face the Warriors, who are coming off their first win of the year in a 28-0 blanking at Bradford. The Raiders outlasted Karns City, 42-41, in double-overtime.
The status of injured Raiders quarterback Jack Krug is uncertain. He missed last week's game and Robert Keth filled in quite nicely and threw for 345 yards and five touchdowns, all of them to D9Sports.Com Player of the Week Ian Thrush, who caught 12 passes for 294 yards.
In eight career starts at quarterback since last year, Keth has thrown for 300 or more yards in four of them. With 11 games he's appeared in at quarterback overall, he's at 2,553 yards and 27 TDs, ranking sixth and tied for fifth in program history. This year so far, he's completed 30 of 51 passes for 450 yards and five TDs against two interceptions. Defensively, Keth is second on the team in tackles at 6.6 stops per game, including 10 last week.
Thrush, meanwhile, is up to 34 catches for 551 yards and six TDs with Keth still second on the team behind him in both numbers with 21 receptions for 260 yards.
Last week against Bradford, the Warriors got 155 yards on 23 carries from running back J.D. Dessicino. Mason Mershimer and Nick Martino are also key rushers in the Warriors' run-heavy offense.
Ridgway (4-1) at Punxsutawney (0-5)
Since losing to Kane in their second game, the Elkers have pounded then-winless teams Moniteau (42-7), Bradford (55-0) and Brockway (42-7), and they'll get another winless team this week when they head to Punxsutawney.
The Elkers average 357 yards per game offensively, 197 rushing, 160 passing, with a balanced running attack featuring Gabe Watts (38-300), Tyler Watts (24-187), Matt Dush (25-175) and Jake Wickett (31-153). Quarterback Paul Gresco has completed 50 of 73 passes for 773 yards with eight TDs and two interceptions. Austin Green (15-196, 4 TDs) and Wickett (14-287) are his top targets.
The Chucks have been outscored 252-40, including 35-0 to Kane at home last week. St. Marys beat the Chucks 60-21 two weeks ago. Ridgway dealt the Dutch a 42-6 loss in the season-opener.
Quarterback Kameron Falgout (28-for-67, 225 yards, 2 TDs, 7 Ints.) and running back Max London (57-309) lead the Chucks offense that's averaging 196 yards per game.
Karns City (3-2) at St. Marys (3-2)
Both teams are coming off losses, the Gremlins a 42-41 double-overtime loss at home to Brookville and the Dutch a 49-14 loss to Clarion.
While Karns City senior quarterback Anthony Kamenski has thrown just 37 passes in five games, he's been a vital part of the team's running game, leading the way with 564 yards on 130 carries after last week's 155-yard game against Brookville. Senior Hunter Rowe (66-271) and sophomore Luke Garing (37-222) are the other key runners out of the backfield.
St. Marys sophomore quarterback Christian Coudriet is over 1,000 yards passing for the season, completing 79 of 126 passes for 1,095 yards and nine TDs against seven interceptions. Bryce Walker (28-293, 1 TDs), Michael Fitzgerald (13-211, 3 TDs) and Terry Williams (12-189, 1 TD) are Coudriet's top targets. Jacob Kline (51-472, 5 TDs) is the leading rusher.
Bradford (0-5) at Brockway (0-5), 7:30 p.m.
Either the Rovers and Owls will grab their first win of the season.
The Rovers have been outscored 402-51, giving up 40 or more points in a game four times including a 42-7 loss at Ridgway last week. The Owls have been outscored 226-6, their lone touchdown of the season coming three weeks ago in a 47-6 loss to Kane. Two weeks ago, the Owls lost 55-0 to Ridgway.
For Brockway, running back Jon Wood (64-217 rushing; 10-182 receiving) and quarterback Connor Ford (36-for-71, 443 yards, 2 TDs, 5 Ints.; 71-209 rushing) lead the offense, although Wood moved to quarterback last week and completed 5 of 14 passes for 56 yards with a TD and interception. Ford caught three passes for 26 yards, including the 8-yard TD pass from Wood.
The Owls average 132 yards per game offensively as quarterback Caleb Nuzzo has completed 42 of 78 passes for 331 yards. Austen Davis has 15 catches for 179 yards and the lone team TD.
SMALL SCHOOL CROSSOVER
Sheffield (1-4) at Keystone (4-1)
It's been 30 years since the Panthers were this good after five games. And in 1989, they were even better at 5-0. In fact, that Panthers squad went the whole way in the new PIAA football playoff system, right to the Class 1A Championship game where they lost 57-18 to Dunmore at Middletown High School.
Friday night, the Panthers honor that team prior to playing the Wolverines, who are coming off their first win of the year at home last Saturday against Cameron County.
Keystone has won four straight games since its season-opening loss at Redbank Valley. The Panthers are somewhat balanced with quarterback Isaak Jones (43-for-72, 841 yards, 8 TDs, 4 Ints.), running backs Nick Weaver (49-357, 2 TDs) and Taylar Altman (42-288, 3 TDs), and receiver Jayden Blazosky (15-265, 4 TDs) leading the way. Kirk Wolbert leads the defense in tackles per game at 7.2.
Sheffield quarterback Aujamier Slappy-Washington threw three TD passes in last week's 31-20 win that ended a 23-game losing streak. He threw for 348 yards, completing three long scoring strikes to Caden Smead of 50 and 67 yards, and one to Mirhan Price of 51 yards. Smead returned an interception for a touchdown as well.
Elk Co. Catholic (2-3) at Cameron County (0-4)
Sam Kaul leads the Crusaders to Emporium. He's rushed for 506 yards on 50 carries, rushing for 143 yards in last week's loss to Union/ACV.
The Red Raiders' got three TDs and 158 yards rushing from Dylan Baney in last week's 31-20 loss at Sheffield. Cameron's losing streak stands at eight games.
Coudersport (4-0) at Curwensville (1-4)
The Falcons look to share the ranks of the unbeaten in Class 1A with the Smethport/Redbank Valley winner with a trip to play the Golden Tide. They've allowed just two touchdowns in their four wins and have outscored foes 166-14 this year, including a 55-0 rout over Port Allegany last week.
The Falcons have thrown just 16 passes in four games, all from quarterback Hayden Keck (11-for-16, 282 yards, 3 TDs) who has rushed for 267 yards on 39 carries with five TDs. Travis Gleason leads the 255-yards-per-game running attack with 316 yards on 51 carries.
For Curwensville, it's coming off a tight 14-7 loss at home to Keystone last week as the Panthers scored a late touchdown to get the win. The Tide have scored 27 points all season, 20 coming in its shutout win over winless Cameron County. Freshman quarterback Dan McGarry (30-for-66, 295 yards, 2 TDs, 6 Ints.), junior running back Duane Brady (65-165, 1 TD) and junior receiver Jake McCracken (15-202, 2 TDs) lead the Tide.
Union/ACV (4-1) at Port Allegany (1-4), Saturday, 1:30 p.m.
The Falcon Knights head to Port Allegany for a matinee on a four-game winning streak. They're coming off a 36-7 win at Elk County Catholic last week. Port Allegany lost to the Crusaders, 35-7, two weeks ago.
Senior quarterback Luke Bowser runs a Union/ACV offense that averages 328 yards per game (187 rush, 141 pass), throwing for 555 yards (42-for-87, 6 TDs, 8 Ints.) while rushing for 146 yards on 27 carries with a team-high six TDs. Kylar Culbertson (30-239, 3 TDs) is the leading rusher while Caden Rainey (17-257, 2 TDs) and Tanner Merwin (14-233, 1 TD) are Bowser's top receivers.
Freshman quarterback Drew Evens (44-for-93, 396 yards, 6 Ints.) leads Port's offense that's struggled to put up points since losing Josh Rees for the season with an injury. His top receivers are Howie Stuckey (5-116) and Noah Archer (13-94).
Mountain League
Clearfield (5-0) at Bellefonte (4-1)
After getting swept by the Red Raiders in 2017, the Bison returned the favor with a pair of identical scores last year, 49-21 during the regular season and in the D6/9 Sub-Regional Championship game.
This matchup has both teams coming in with the only 3-0 records in the Mountain League with Bellefonte dropping a non-league season-opener at home to Jersey Shore (55-35). Since then, the Red Raiders have wins over Huntingdon (47-3), Philipsburg-Osceola (55-7), Central Mountain (41-14) and Tyrone (55-10). The Bison beat Central Mountain (42-20) last week and Huntingdon (28-16) two weeks ago.
Senior C.J. Funk (53-791, 9 TDs) leads a Red Raiders offense that averages over 400 yards per game rushing.
For Clearfield, it's quarterback Oliver Billotte (59-for-107, 975 yards, 9 TDs, 4 Ints.; 62-257, 11 TDs rushing) leading an almost totally balanced offense that averages 195 yards passing and 201 rushing. Brett Zattoni (66-374, 2 TDs) is the leading rusher. Jake Lezzer (34-560, 4 TDs) is Billotte's top receiving target.
Non-Conference
Erie High (2-3) at DuBois (0-5)
It's been a frustrating start to the season for the Beavers, who have lost their last two games by a combined eight points. Last week's 55-54 loss to Oil City came down to a missed two-point conversion try at the end of the game.
For the season, the Beavers are scoring 29.8 points per game, but are giving up 43.4 points. Quarterback Alex Kovalyak has thrown for 1,150 yards, completing 78 of 131 passes with eight TDs and five interceptions. Nick DiLullo (19-405, 4 TDs) and Zach Shilala (23-261, 2 TDs) are his top receivers.
The Royals are coming off a 38-8 loss at McDowell, the only team they've played from Pennsylvania. Their other win came against West Toronto (22-0) with other losses coming to Austintown-Fitch, Ohio (48-26) and St. Francis of Hamburg, N.Y. (50-22). Senior quarterback Trevon Tate (14-for-34, 225 yards, 5 TDs, 1 Int.) is also the team's leading rusher (68-350, 1 TD).
Otto-Eldred (1-4) at Bucktail (0-4)
The Terrors head to Renovo for a non-leaguer against the District 4 Bucks, who have losses to Sayre (67-6), Columbia Montour Vo-Tech (20-8), Canton (52-14) and Muncy (28-0) last week.
Otto is looking to stop a two-game losing streak. Quarterback Cole Sebastian (89-for-160, 1,252 yards, 14 TDs) is also the team's top rusher with 255 yards on 34 carries. Cameron Magee (26-377) and Ethan Smith (21-460) were his top receivers going into last week's 36-22 loss to unbeaten Smethport.