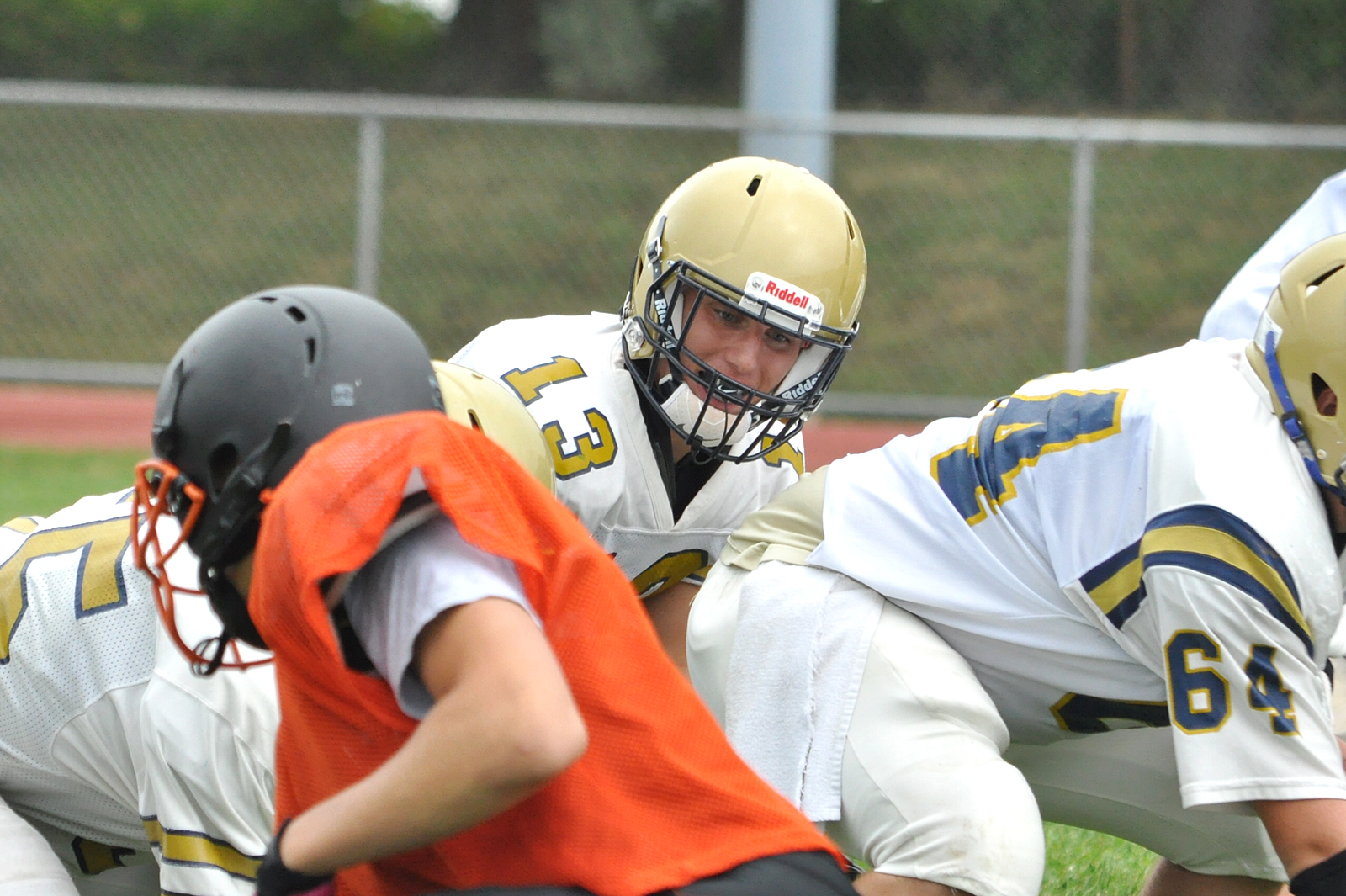 Seven District 9 football teams are off to 3-0 starts going into this weekend and none of them play each other.
Clarion-Limestone quarterback Colby Himes leads the Lions into Friday's game with Coudersport at the C-L Sports Complex, the same place where the Falcons knocked the Lions out of the first round of the playoffs last year.
The unbeatens are Brockway, Ridgway and Clarion in the Large School Division, Redbank Valley in the Small School South and Coudersport and Smethport in the Small School North. Clearfield, playing in District 6's Mountain League, is also off to a perfect start.
That doesn't mean there aren't any good matchups of note, however. In the Large School, the noteworthy game has the 2-1 Bradford Owls hosting Ridgway. It's a crossover schedule among the Small School divisions and the headliner there is at Clarion-Limestone where the 2-1 Lions host Coudersport.
Twelve of the 13 games on the schedule are Friday night with Redbank Valley traveling to Sheffield on Saturday for a 1:30 p.m. kickoff.
The Elkers beat the Owls twice in their only Allegheny Mountain League matchups the past two years, 21-7 last year and 13-0 in 2016.
Ridgway, 36-14 winners over Moniteau last week, has given up three touchdowns in three games while the Elkers are off to a more balanced approach offensively so far this year. They've already thrown for nearly half of last year's total yards in just three games as junior quarterback Paul Gresco has been extremely efficient, completing 22 of 31 passes for 416 yards and five touchdowns. Six of Gresco's receivers have three or more receptions with Austin Green (6-103, 2 TDs) and Daunte Allegretto (3-163, 2 TDs) leading the way.
The Elkers still average 263 yards per game on the ground, with four rushers with at last 158 yards or more — Gabe Watts (18-218, 2 TDs), Jake Wickett (21-191, 4 TDs), Cole Secco (12-158, 1 TD) and Evan Furlong (22-141, 1 TD), who ran for 100 yards against Moniteau last week.
Bradford has won two straight games since the 69-60 opening loss at Brookville — 14-2 over St. Marys and 43-14 at Kane last week.
The Owls move mostly on the ground as senior Donny Pattison (34-490, 7 TDs) is off to a strong start. Derek Sunafrank (33-284, 3 TDs) and Jaron Ambrose (22-195, 3 TDs) also get carries. Quarterback Nathan Blauser (13-for-25, 251 yards, 3 TDs, 2 Ints.) has been effective. Pattison (6-92) is his top target.
At the C-L Sports Complex, it's a rematch of last year's first-round Class 1A playoff game won on the same field by Coudersport in a 44-40 shootout.
The Falcons have routed Cameron County (71-0) and Sheffield (61-6) while beating Elk County Catholic (28-6). They're averaging over 325 yards rushing, led by Stevie Kelly (35-304, 5 TDs) and quarterback Hayden Keck (28-130, 6 TDs) leading the way. With the running game dominating foes so far, Keck has completed only 6 of 9 passes this year for 132 yards and two TDs.
Lions junior Austin Newcomb (47-463, 5 TDs rushing; 12-284, 2 TDs) has been the big gun so far for C-L, which also has quarterback Colby Himes (24-for-41, 447 yrds, 5 TDs, 2 Ints.) and senior running back Ayden Wiles (38-219, 4 TDs).
Here is a look at the other games:
LARGE SCHOOL
Karns City (1-2) at Moniteau (1-2)
The Gremlins and Warriors both try to get back to .500 in the early going and both are coming off losses, the Gremlins to Clarion and the Warriors to Ridgway.
Moniteau has moved the ball mostly on the ground, led by running back Cody Wise (39-299, 2 TDs) and quarterback Chance Nagy (25-127), who's completed 10 of 29 passes for 129 with one TD and four interceptions.
Hunter Jones (29-280, 5 TDs) leads the Gremlins' run-heavy offense while quarterback Anthony Kamenski (24-for-43, 271 yards, 1 TD, 3 Ints.) leads the passing game that has had 11 different receivers.
Brookville (1-2) at Clarion (3-0)
The Raiders and Bobcats clash at Clarion University's Memorial Stadium. The Bobcats have beaten the Raiders seven straight times, including two blowouts last year with a 55-12 playoff win and 58-22 rout during the regular season.
Clarion averages 363 yards of offense per game, getting some balance thanks to senior quarterback Archer Mills (17-for-24, 306 yards, 5 TDs, 1 Int). They have a two-headed backfield with Cutter Boggess (31-197, 2 TDs) and Sam Minich (10-192, 3 TDs), who is also one of Mills' top receiving targets at six catches for 135 yards.
The Raiders head into their second game without injured quarterback Jack Krug and their all-state receiver Bryan Dworek hasn't played yet this season and his status is still uncertain. Raiders receiver Cabe Park has been the team's top threat so far this year. Last week as the Raiders ran a more run-oriented offense, Park ran for 132 yards on 10 carries with two touchdowns. For the season, he's at 28 receptions for 518 yards and eight TDs.
St. Marys (0-3) at Punxsutawney (1-2)
The Chucks and Flying Dutchmen square off as the Chucks try to make it two wins in a row after last week's 23-21 win over Brookville and Dutch try to stop a 14-game losing streak.
Chucks quarterback Dylan Ishman (20-for-45, 287 yards, 6 TDs, 1 Int.) leads the offense with his top receivers Alex Gianvito (9-153, 3 TDs) and Max London (7-113, 4 TDs) coming off big games against the Raiders with Gianvito kicking the game-winning field goal.
St. Marys has scored just nine points this year and one touchdown, that coming in last week's loss to Brockway on quarterback Todd Taylor's 14-yard TD pass to Scott Potter. Taylor (20-for-38, 169 yards, 1 TD) and running back Cody Ritter (35-174) lead the Dutch offense.
Kane (0-3) at Brockway (3-0)
The Rovers try to make it 4-0 against a struggling Kane squad.
Brockway is coming off a 34-7 rout of St. Marys where quarterback Peter Downer threw for 229 yards and three TDs and Tyler Serafini ran for 95 yards on 14 carries. Serafini has rushed for 363 yards on 59 carries. Downer has completed 19 of 41 passes for 347 yards.
The Wolves led 14-7 in last week's game against Bradford before losing 43-14.
SMALL SCHOOL CROSSOVER
Port Allegany (0-3) at Elk Co. Catholic (1-2)
The Crusaders host the Gators, looking to rebound from last week's 20-14 loss at Redbank Valley. Stephen Bobby (69-386) is the workhorse running back for the Crusaders' offense and went for 176 yards on 32 carries last week.
The Gators, shut out last week 40-0 by Smethport, are led by quarterback Trey Ayers and running back Josh Rees.
Union/A-C Valley (1-2) at Otto-Eldred (2-1)
The Falcon Knights and Terrors meet in Duke Center as the Terrors try to make it two wins in a row.
Sophomore quarterback Cole Sebastian (49-for-76, 609 yards, 8 TDs, 3 Ints.) runs the offense and also is a threat running with 123 yards and a touchdown. Chase Sebastian (10-143, 2 TDs) and Cameron Magee (18 catches, 218 yards, 5 TDs) are the leading receivers. Chris Connelly (11-210, 1 TDs) is another receiving threat while Colton Gietler (14-129) leads the team in rushing.
For Union/ACV, it's quarterback Luke Bowser (13-for-39, 222 yards, 1 TD, 2 Int.), with leading rusher Nolan Cumberland (23-144, 3 TDs) and Kyler Culbertson (29-117) also getting carries. Tanner Merwin (5-46) and Caden Rainey (3-83, 1 TD) are Bowser's top receivers.
Smethport (3-0) at Curwensville (2-1)
The Hubbers head south to Clearfield County looking for a 4-0 start against the Golden Tide.
Blake Kinner (22-271, 5 TDs) and Nathan Hallowell (22-202, 2 TDs) lead the Hubbers' running game. Quarterback Grant Ognen has completed 21 of 35 passes for 328 yards and six TDs. Bryent Johnson (8-161, 4 TDs) is Ognen's top target.
The Tide have used three runners with Blake Passarelli (31-183, 1 TD), Cole Bressler (19-155, 2 TDs) and Avery Francisco (17-132, 3 TDs).
Keystone (1-2) at Cameron County (0-3)
The Panthers head to Emporium looking to bounce back from a 50-6 loss to C-L last week. They beat Port Allegany (42-24) two weeks ago in their last trip north. Quarterback Isaak Jones (32-for-60, 449 yards, 5 TDs, 3 Ints.) leads the Panthers offense with Jayden Blazosky (12-133, 2 TDs) his top receiver.
The Red Raiders have been outscored 184-6 in their three losses, including 55-0 last week at Otto-Eldred.
Redbank Valley (3-0) at Sheffield (1-2)
The Saturday matinee has the Bulldogs traveling to Warren County. The Bulldogs are coming off a 24-20 win over Elk County Catholic and face a Wolverines squad that's been outscored 162-12 in three losses, including a 61-6 loss to Coudersport last week.
Bulldogs quarterback Keaton Kahle (35-for-53, 414 yards, 4 TDs, 3 Ints.) continues to have a dual-threat season as he's second on the team with 190 yards rushing. Hunter Wiles (36-305, 2 TDs) leads the team in rushing while Hunter Martz (11-103, 1 TD) is Kahle's top receiving target.
Defensively, first-year senior Hunter Buzard has made an impact, leading the team in tackles per game (7.0) and interceptions, both of his coming last week against ECC.
MOUNTAIN LEAGUE
Clearfield (3-0) at Huntingdon (1-2)
The unbeaten Bison head south to take on a Bearcats squad that's already matched last year's loss total as it finished 10-2, including a 45-27 win over the Bison.
After beating Mount Union 40-0 to start the season, the Bearcats fell to Bellefonte (10-0) and Susquehanna Township (26-21) last week. The Bearcats are mostly a passing team and they've used two quarterbacks in Andrew Hudy (26-for-42, 366 yards, 4 TDs) and Nick Troha (12-for-18, 120 yards) and both played in last week's loss. Their top receivers are Draven Zook (12-170, 3 TDs) and Andrew Miller (10-180, 1 TD).
The Bison are flying high, averaging 42 points and 417 yards of offense per game. Quarterback Isaac Rumery (33-for-48, 561 yards, 3 TDs, 1 Int.; 25-145, 4 TDs rushing) runs the show, but he has some help — running backs Brett Zattoni (44-246, 2 TDs) and Caleb Freeland (39-237, 7 TDs) and receivers Jake Lezzer (14-285, 2 TDs), Taye Lynch (7-134, 1 TD) and Spencer Graham (6-100).
DISTRICT 10 REGION 7
DuBois (1-2) at Franklin (1-2)
The Beavers try to make it two wins in a row when they head west to take on the Knights, who have given up 125 points in their last two losses after starting the season with a 34-21 win over North East. Last week, they fell to Slippery Rock (52-12) after getting blown out by rival Oil City (73-7).
Beavers junior quarterback Alex Kovalyak (19-for-37, 317 yards, 3 TDs, 2 Ints.) is coming off a strong game in last week's 31-8 win over Warren. Dylan McCluskey (46-208, 1 TD) and Eric Schneider (41-144) share the running load. Chase Husted (17-211, 1 TD) is the team's top receiver.
Ian Haynes is accounting for most of the Knights offense in the early going 31 of 66 on the season for 572 yards, seven touchdowns and two interceptions. His top receivers are Eli Stewart and Cade Adams, who hauled in a 62-yard TD last week in a loss to Slippery Rock.