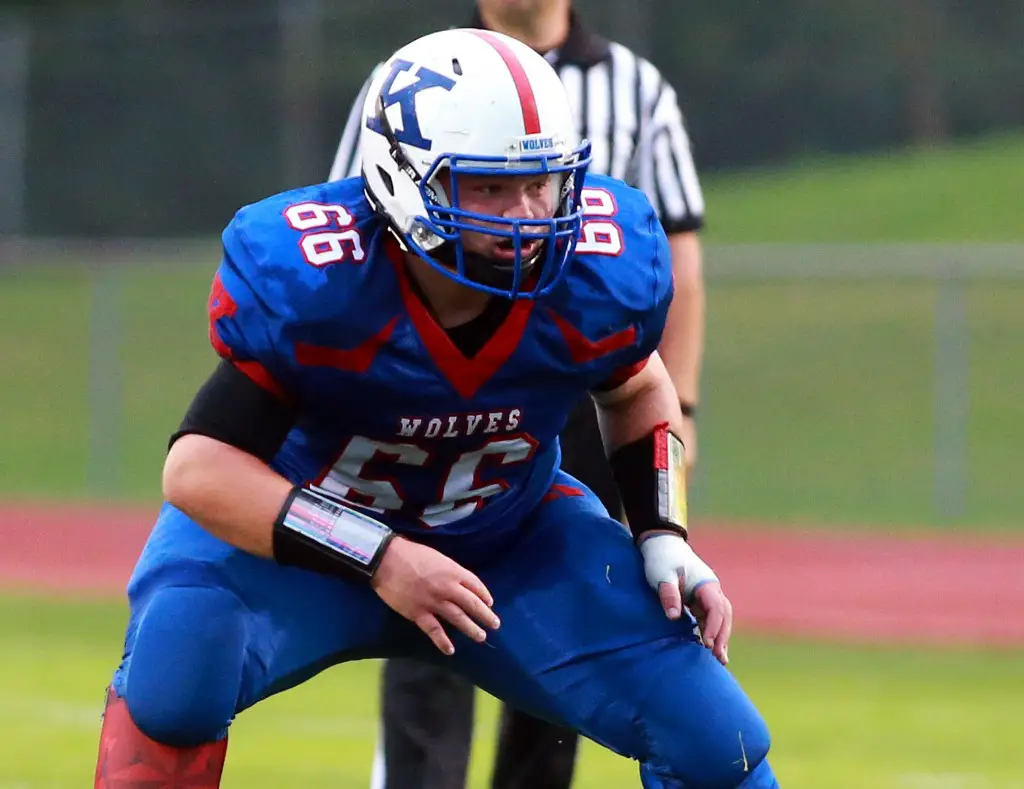 By Chris Rossetti
KANE, Pa. – Anytime a high school athlete decides to play a sport, it takes a commitment.
(Cover photo of East Forest's Anthony Smith, who is a two-way starter for the Kane football team. Photo by Paul Burdick. Check out more of Burdick's work here)
When that athlete decides to play a sport that his school doesn't sponsor and it means driving 50 miles round trip every day for at least four months, it takes an extraordinary commitment.
And that's what makes the story of East Forest junior Anthony Smith and a couple of his schoolmates – Aiden Quinn, James Porterfield and Jonah Spuck – so compelling.
East Forest – to no surprise (there are only 26 boys in the high school – does not sponsor football. But the school, some years ago, did enter into a cooperative agreement with a neighboring school to allow any of its kids who wanted to play football an opportunity to do so.
The only caveat? That neighboring school was a faraway neighbor, Kane. While the school districts touch each other, Kane High School is 25 miles from East Forest High School. Even on a good day, with no traffic, that's at least a 30-minute drive.
"I just have fun when I come up here," Smith said when asked about making the commitment to travel so far to play football. "I like having fun with my friends. Every since seventh grade when I started coming up here, it was also fun coming up. I just know I will have a good time and it's worth it to come up here."
And until recently the kids who wanted to play football at Kane, where own their own to get there. That changed in the last month when East Forest started transporting the kids to the school.
"Credit to my dad (Rick) for getting me up here all that time," Smith said. "My dad actually took off a lot of work to bring me up here last season. Finally, I got my license and started to be able to drive. That helped a lot. But the commitment to finding a ride when I didn't have a ride, it was family members. It was just a lot of work to come up here. It's pretty nice now that we have transportation up here. I can actually sleep on the way up and not have to worry about driving and gas and all that. I'm glad."
Listen to Smith talk about playing football at Kane.
Kane head coach Todd Silfies is glad to have the East Forest kids.
"Anthony is back for a second straight year starting on both sides of the ball," Silfies said. "We've had several good kids going back to Ricky Harp and Shane Cotterman coming in many years ago. And Charles Rini and Hunter Jackovitz. They drive up here every day. We think about the miles and the hours they put in just to get here. They are obviously kids with a high amount of commitment. We love having kids who are committed. And if you are coming up every day from East Forest, you are definitely committed."
Smith has played a key role the last two season for the Wolves as a starter on both sides of the football on the line.
As an offensive lineman, he has helped pave the way for Kane's top two single-season rushing leaders – Shane Rolick (1,529 last year) and Erik DeLong (1,577 this season). On defense, he averaged 4.9 tackles per game with 6 tackles for a loss, a ½ sack, a fumble caused and two fumbles recovered as a sophomore a year ago while adding 5.3 tackles per game with 3 TFLs and a fumble recovery this year.
Not bad numbers for a kid who didn't start playing organized football until he was in seventh grade.
"I played in my backyard," Smith said. "I just loved playing. I'm a bigger kid (5-11, 245), and that's usually a good thing for football. I was going to play (midget football) but I never got into it. I first came up here in seventh grade and started playing."
Smith and Kane have experienced a lot of success over the last three years.
This season, the Wolves are 11-0 heading into Friday's District 9 2A title game with Clarion (7 p.m. at Brockway). It is the fifth straight District 9 title-game appearance for Kane, who lost to Karns City in 2A in 2012 and 2013 before beating Brockway in 2014 and 2015 in 1A.
"I love coming up here and winning and being part of this," Smith said. "It's just great to know I'm worth something on a great team like this. After three years of playing up here and knowing how great these kids are and know I'm part of that, it's awesome to be a part of that."
Some weren't sure if Kane would be back in this spot this year after losing two tremendous players in Shane and Tyler Rolick, who are now at Edinboro. But the Wolves put in a lot of hard work to go unbeaten again according to Smith.
"These guys, I just see how much they want it," Smith said. "How much they really work for it, since two-a-days. The seniors wanted it bad. We all wanted it. I know we are a great team, and we deserve it."
Smith hopes he can take some of the lessons he has gained at Kane back to East Forest and the Forest Area fire teams – he was a member of the Forest basketball team last year, although an injury kept him out most of the season.
"I know it's going to fun with my kids from East Forest, to go back and try to win," Smith said. "They work just as hard (as the Kane kids). The big thing at East Forest is teamwork. We don't always work as a team. If I can bring that down there more, I think we can start winning. We have a great team down there."
Smith missed last week's semifinal against Moniteau with a knee injury he suffered two weeks ago against Brockway, but he is hoping to be back on the field this week, especially against a Clarion team that his uncle played for way back when.
"I just love going out there and looking up in the crowd and seeing everyone cheer me on," Smith said when asked what motivated him to get back from the injury so quickly. "Especially, after I got hurt, I had people coming up to me, some I didn't even know, telling me to get better and how they needed me. That helped a lot."
Having the support of his Kane teammates even though he is from a different school didn't hurt either.
"They are all nice," Smith said. "We all joke around with each other. It's all great. They are like my friends since I was little. They are all awesome."