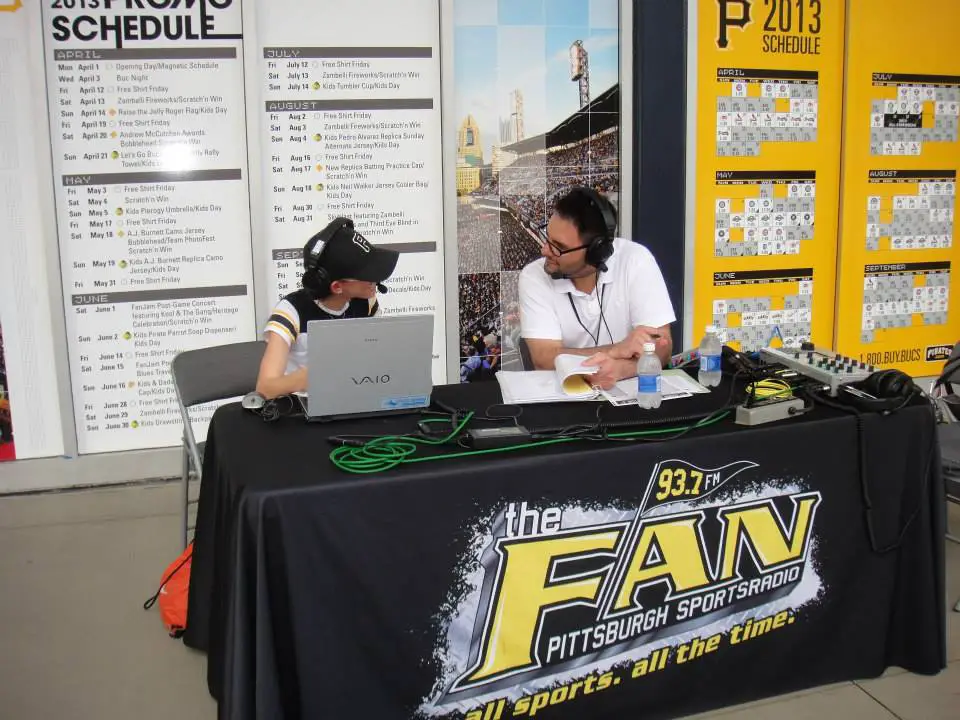 MORGANTOWN, W.Va. – Dan Zangrilli, a 2007 Clarion University graduate and the voice of Golden Eagle basketball during his four years at the school, has joined the IMG Mountaineer Sports Network broadcast team as the assistant director of broadcasting.
Zangrilli, who also was an assistant baseball coach for Clarion High School in 2007, will serve as the host of the West Virginia pregame, halftime and postgame shows, as well as the play-by-play announcer for women's basketball and baseball and will host the Mike Carey Radio Show – Carey is the head women's basketball coach at WVU – and the Mountaineer Insider Podcast on WVUsports.com. He also will work with affiliate relations for the IMG Mountaineer Sports Network.
"We look forward to having Dan join our IMG team here in Morgantown, said Todd Knisley, General Manager of Mountaineer Sports Marketing. "He brings great experience as a host and play-by-play announcer and Mountaineer fans will enjoy his overall knowledge of sports and play-by-play style."
Zangrilli, who serves on the Clarion University Alumni Board, joins the IMG Mountaineer Sports Network team after working as the pregame and postgame show host for the Pittsburgh Pirates since 2012 and as a sports update anchor at 93.7 FM, The Fan in Pittsburgh since 2007.
"Growing up in Western Pennsylvania, my first memories of play-by-play on the radio were of Jack Fleming (the former WVU and Steelers broadcaster)," Zangrilli said. "To be part of the Mountaineer Sports Network, of which he is the patriarch, is one of the greatest honors a broadcaster can have. I can't wait to get started."
From 2009-11, he called select football and basketball games for St. Francis College in Loretto, Pa., and served for three seasons (2008-10) as the director of broadcasting and communications for the Altoona Curve, the Pirates Double A affiliate.
Zangrilli got his start in broadcasting while still in high school at Keystone Oaks just outside of Pittsburgh and then came to Clarion University in the fall of 2003. Once on campus, Zangrilli immediately became with the campus radio station, 91.7 FM, and soon was one of the lead broadcasters for Golden Eagles men's and women's basketball teams.
While calling Clarion hoops action, he witnessed the men's basketball team winning the PSAC West title in 2005 and the women's team qualify for the NCAA Division II Tournament the same season. He also called select football games for both 91.7 FM and the TV-5 and was on the call when Clarion beat California, 35-34, in 2004 on a Hail Mary from Brandon Dando to Joe Farkas uttering the line "The Eagle has landed".
While at Clarion, Zangrilli got his first big break when fellow Clarion University graduate and Punxsutawney native Jason Dambach, now the President of the State College Spikes, helped hired him as a broadcaster for the Spikes broadcasts in 2006 where he worked alongside long-time Penn State football play-by-play announcer Steve Jones. Following graduation, he returned to State College and broadcast Spikes games.
Zangrilli began his broadcasting career in 2001, calling high school football games for the MSA Sports Network in Western Pennsylvania. He replaces Jeff Culhane, who was named the play-by-play voice of North Dakota State.