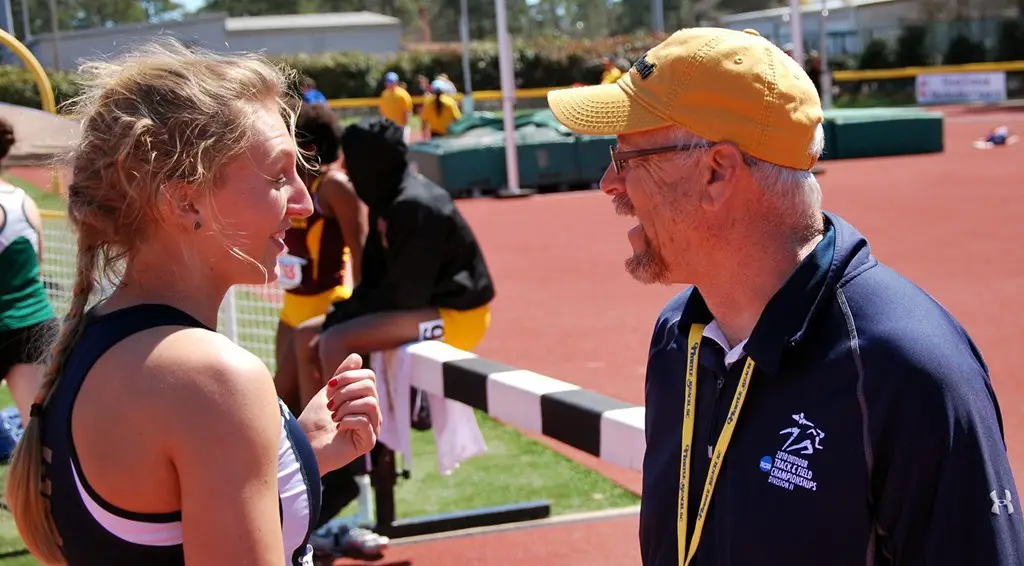 By Chris Rossetti
CLARION, Pa. (EYT) – D.J. Bevevino, a lifelong resident of Clarion County, is the new Interim Assistant Athletic Director at Clarion University effective July 2.
Bevevino will transition from his role as the head women's track and field coach for the Golden Eagles, a position he has held since 2009-2010 – he was also the head women's cross country coach from 2010-2014 – into the administrative position.
"I am very excited to have been offered the opportunity to serve as the Interim Assistant Athletic Director," Bevevino said. "I believe that my experiences in athletics and administration have prepared me well for the new challenges I will be going to face. I appreciate the support of Vice President Susanne Fenske and Interim Athletic Director Wendy Snodgrass.I look forward to working with Wendy as well as the coaches who have been my colleagues. Together we can all continue to propel our Golden Eagles in a positive direction."
Bevevino's connection to Clarion University goes back to before he was born.
His dad, David "Red" Bevevino, was an All-American quarterback for the Golden Eagles and led Clarion to the first undefeated season in school history in 1952, which included a Lions Bowl victory over East Carolina. Red Bevevino was inducted into the Clarion Sports Hall of Fame in 1991.
"I know he would really proud of me," Bevevino said of his late dad, who passed away in February of 2012. "I also think I finally have a real job (said with laughter). He always said in coaching you don't work you just coach. I think he would see this as his son doing pretty well for himself. I know he was extremely proud of me anyway, this is just one more thing. He knows it's going on."
D.J. Bevevino earned a pretty good reputation as an athlete at Clarion as well
A 1977 graduate of Clarion with a degree in Secondary Education/Science, he was an 8-time All-American diver.
"As I said when I first come here as the track and field coach, I feel an unbelievable connection with this place," Bevevino said. "When I walk into Tippin, I still get a feeling this is home to me. This is where I've lived for a long time. I've had some great moments here. I just love being here. If I can help a little in a different capacity now, that's exciting. It's a new challenge I'm looking forward to."
This isn't Bevevino's first experience as an athletic director.
He served two stints as the AD at Clarion High School, where he was spent time as the guidance counselor and Dean of Students, for a total of 12 years first from 1995 through 2004 and then again from 2007-2008. While serving as the athletic director, he was also a member of the PIAA District 9 committee, the governing body of the district, from 2001-2004.
"I certainly hope the connections I've made in the community over the past 50 years will give me some type of advantage working with people in the community," Bevevino said. "In the position I will be in, even though I will be doing so much compliance, there still has to be a relationships-building process with our consumers. I hope I have a decent handle on some of this.
"The fact my dad had a pretty good reputation here has helped with name recognition, especially considering there are still people who remember when he played here. Some of that lore has been passed no. Not that I want to use my dad's name, but it's one more connection to alumni, especially athletic alumni, to help me build better relationships."
Incoming Interim Athletic Director Wendy Snodgrass, who is taking over for Dave Katis, who is transitioning into a classroom role, July 2, is pleased to have someone with Bevevino's knowledge and experience in her old position.
"I am very pleased D.J. Bevevino has accepted the position of Interim Assistant Athletic Director," Snodgrass said in a statement put out by the University. "D.J. brings with him a wealth of experience from an athletic administrative perspective, as well as a deep understanding of NCAA rules, regulations, and compliance. He is looked upon in our department with profound respect from the coaches and staff and I am excited to work alongside him as we continue to move our athletic programs forward."
Bevevino is a 1973 graduate of Clarion High School where he played football, basketball and track and field.
Upon graduation from Clarion, he went to work at A-C Valley High School in Foxburg, Pa., and was the head track and field coach from 1979-1987 and the head football coach from 1982-1986.
After moving over to Clarion High School, he was the head boys' track and field coach from 1990-94 and again from 1996-2008. He helped lead the Bobcats to back-to-back PIAA Class AA titles in 2000 and 2001 and five District 9 championships. He also coached two individual state champions and two state-championship relay teams.
Upon taking over the Clarion University women's track and field and cross country programs, he coached two-time All-American Kim Hanslovan of DuBois, who placed second and sixth in the javelin in 2010 and 2012 respectively at the NCAA Division II championships. Ciara Shorts and Megan Toddy also qualified for the NCAA D-II meet under Bevevino's direction.
Bevevino resides in Clarion with his wife, Patti. The couple has three children, Erika, Ben and Adam. Ben was a member of the track and field team at Clarion, and Erika is married to Kyle Cathcart, who played football for the Golden Eagles and is also a Clarion native. The Bevevinos have one granddaughter.