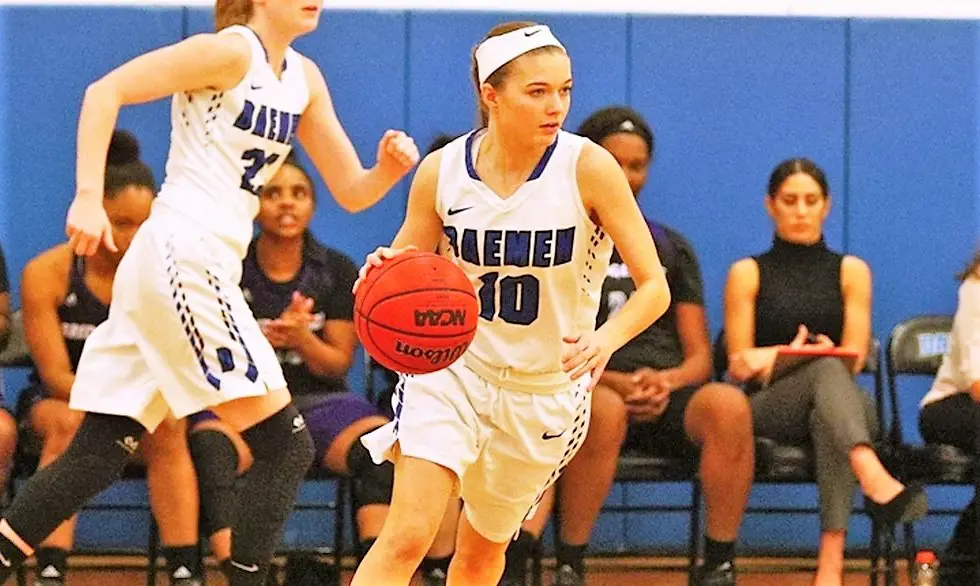 Over the last few years, a number of great girls' basketball players have gone through District 9, and that is no more evident than nine of them playing and contributing strongly at NCAA Division II schools this year.
(Photo of Autumn Buchsenschutz, a Port Allegany graduate playing at Daemen in Buffalo, N.Y. Photo courtesy of Daemen Athletics)
Seven of those players, all from the KSAC, are in the PSAC, including three at Slippery Rock and two at Clarion.
Brooke Hinderliter, a junior at Slippery Rock, is perhaps the best of the group through the first half of the 2018-19 season.
Hinderliter, a Redbank Valley graduate, leads The Rock and ranks sixth in the conference in scoring at 19.3 points per game while also ranking second on her team and 23rd in the conference in rebounding at 6.2 per contest. She also is tied the for the team lead with 15 steals and is third with 14 assists.
Joining Hinderliter at Slippery Rock at Keystone graduate Madison Johnson and Karns City graduate LeeAnn Gibson.
Johnson is a redshirt junior having transferred from St. Francis (Pa.), while Gibson is a junior.
Playing in 10 games with six starts, Johnson is averaging 6.1 points and 3.0 rebounds per contest while adding 11 assists.
Gibson missed the first six games with an injury but has started the past four for Slippery Rock and is averaging 5.5 points and 3.8 rebounds per game.
Slippery Rock is 6-4 on the year including a perfect 4-0 mark in PSAC play and returns to action Jan. 2 against Seton Hill.
Clarion University is the other PSAC school with multiple District 9 players on its roster.
Senior Taylor Moltz from Venango Catholic has played in all 12 games for the Golden Eagles and has made 11 starts. She leads the team with 21 3-pointers, which ranks 12th in the PSAC, and is scoring 7.1 points per game to go with 2.8 rebounds per contest.
Freshman Emily Hegedus, another Karns City graduate, has played in 11 games in her rookie season averaging 3.5 points and 1.8 rebounds per game.
Clarion is 7-5 on the season and is back on the hardwood Dec. 31 at Kent State.
Two players Hegedus matched up with for four years in the KSAC are also making immediate impacts with their respective schools.
North Clarion graduate Tori Obenrader, a freshman at Gannon, is averaging 7.7 points and 7.1 rebounds per game. She leads the Lady Knights in rebounding and ranks tied for 14th in the PSAC in that stat. She also is third on her team with 12 3-pointers.
Gannon is 6-6 on the year and returns to action Jan. 2 at IUP.
Obenrader and A-C Valley graduate Ellie Thompson used to go head-to-head with some epic KSAC battles and Thompson is off to a good start as a freshman at Mansfield, which is coached by Keystone graduate Mike Whitling.
Through eight games, Thompson is averaging 10.0 points and 4.6 rebounds per game for the 0-8 Mountaineers who are back in action Dec. 30 against East Stroudsburg.
A pair of District 9 graduates went outside of the PSAC to practice their craft at the Division II level.
Punxsutawney graduate Leah Miller is a freshman at Chestnut Hill in Philadelphia. She has played in nine games making three starts and is averaging 4.3 points and 4.7 rebounds per game while blocking six shots. Chestnut Hill is back in action Jan. 2 against Goldey Beacom.
Meanwhile, Port Allegany graduate Autumn Buchsenschutz is a sophomore at Daemen in Buffalo, N.Y. She has played and started in all 10 games for the 4-6 Wildcats and is averaging 5.6 points and 2.8 rebounds per game while dishing out a team-high 24 assists and adding eight steals.
Daemen returns to action Jan. 3 against St. Anselm.